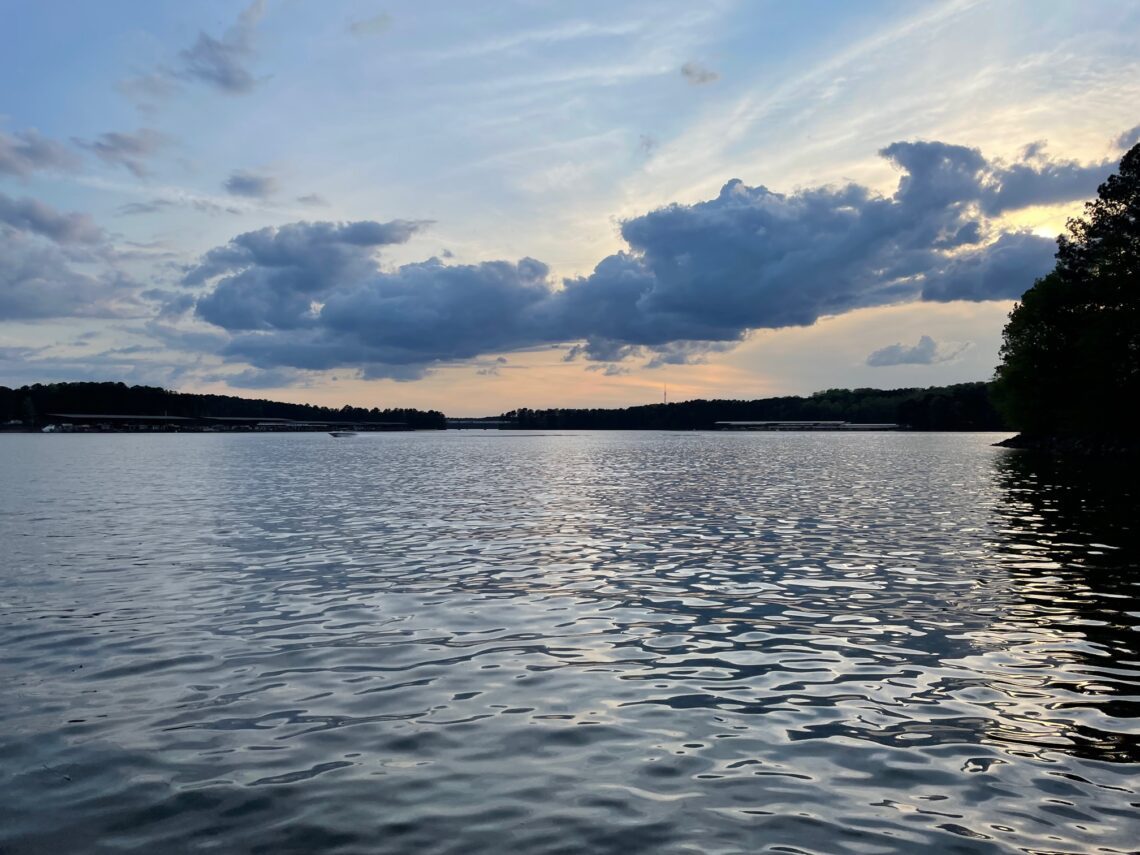 McKinney Campground – 114
03.31.23-04.05.23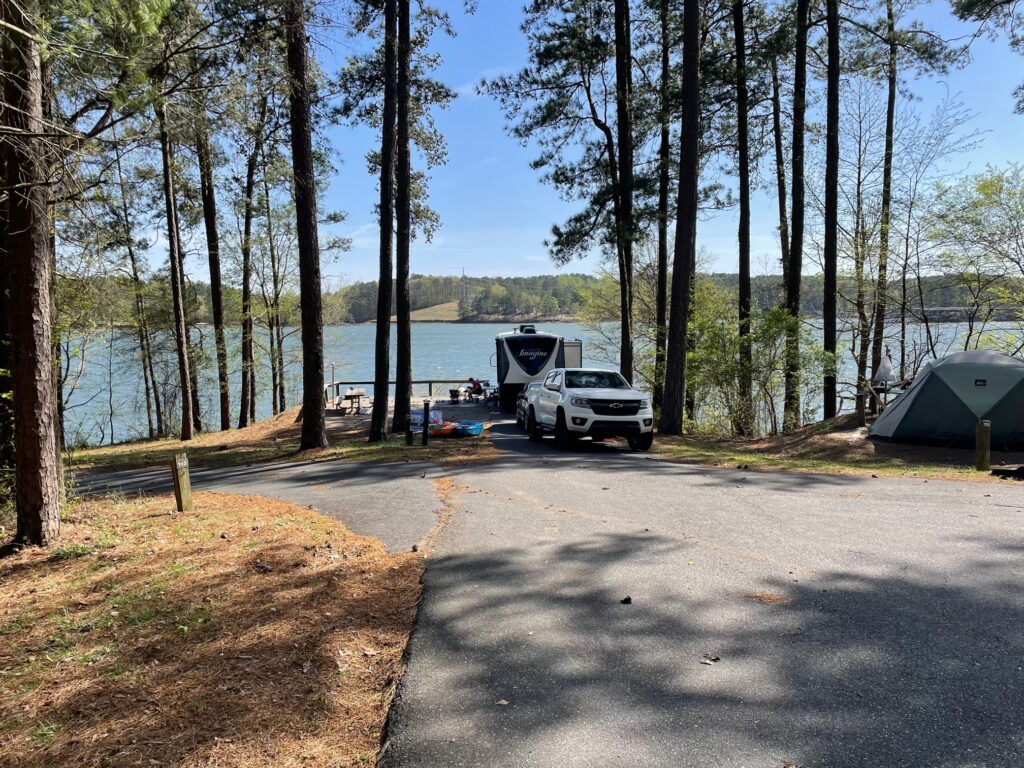 Spring Break at our favorite local campground, McKinney COE on Lake Allatoona.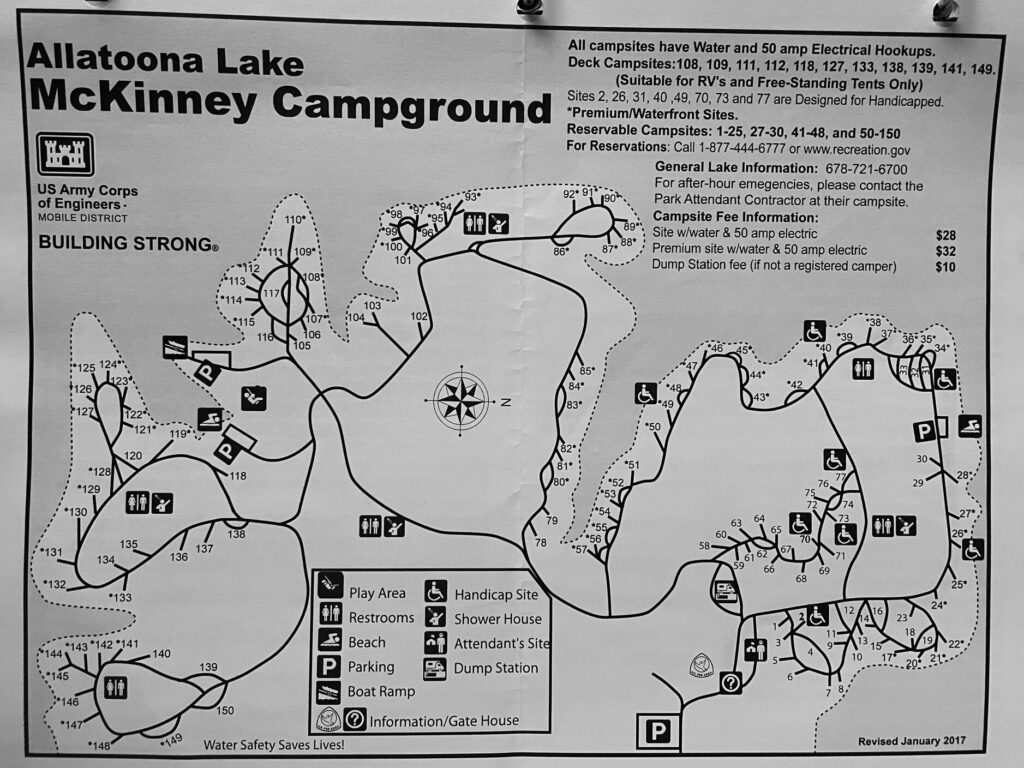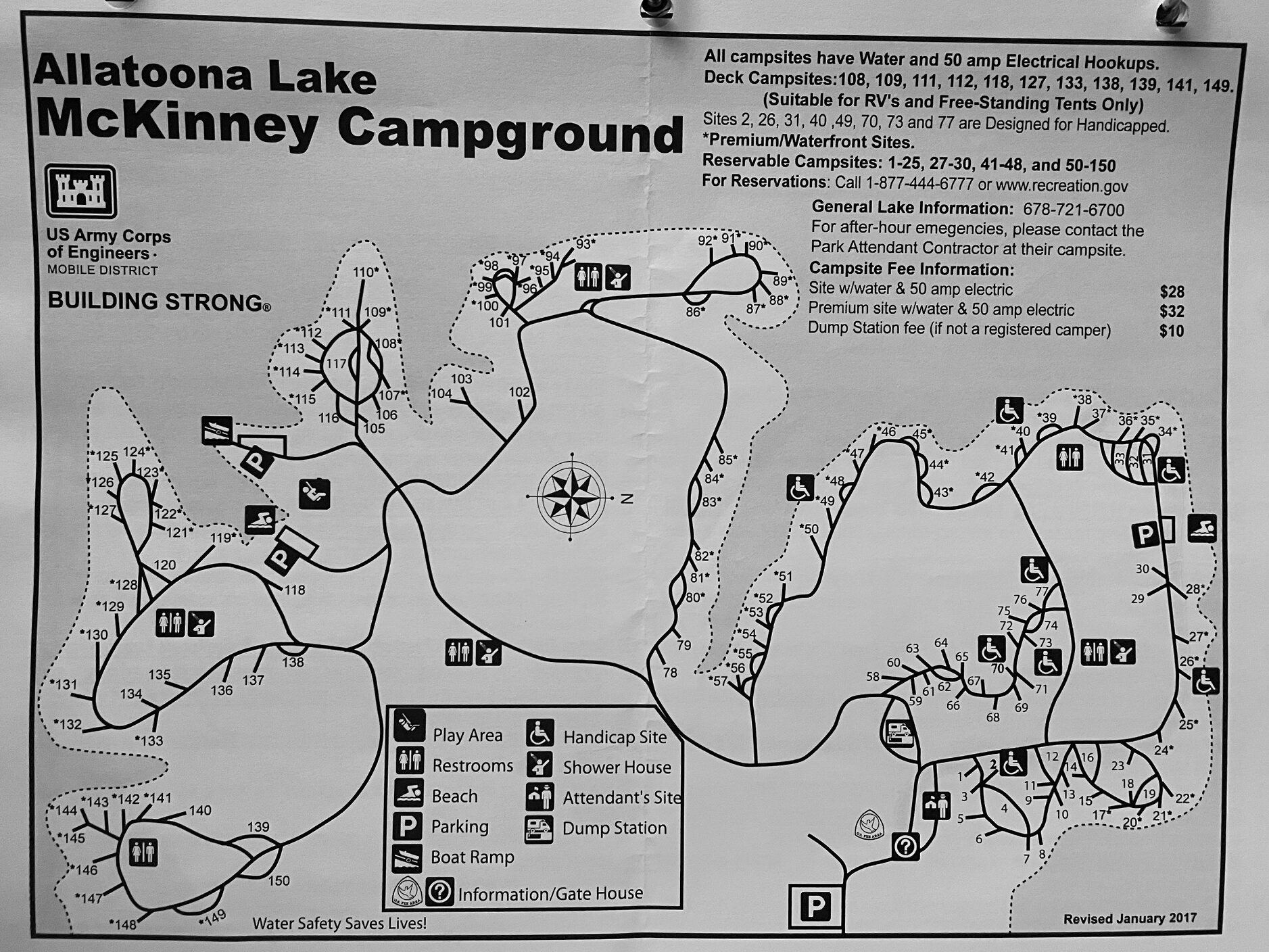 McKinney Campground is located in Acworth, Ga on Lake Allatoona. A Corps of Engineers park, it has 150 RV campsites, two beaches, one playground, and a boat ramp. We have camped at McKinney twelve times; it's our go-to campground, nine miles from home. To help you choose your next reservation, details and photos from all of our previous visits can be found in the McKinney Campground category.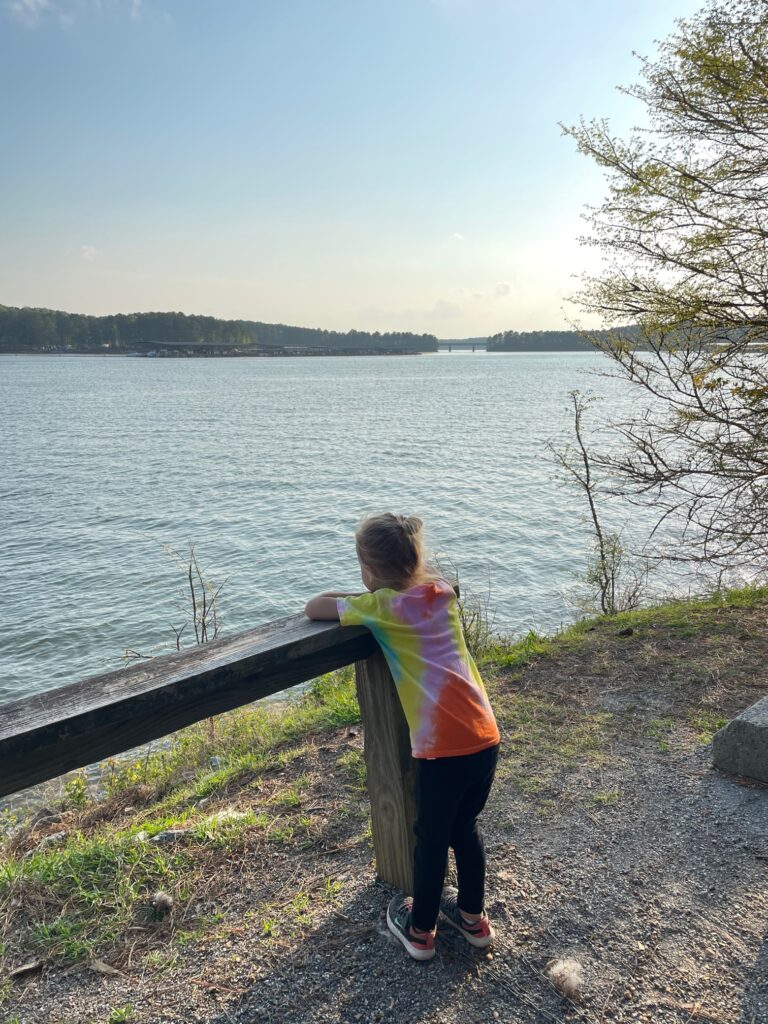 McKinney Campground is close to our home which makes it easy for Heather to commute to work. Fortunately she has flexibility with her start time, because McKinney's gate is locked until 7 a.m.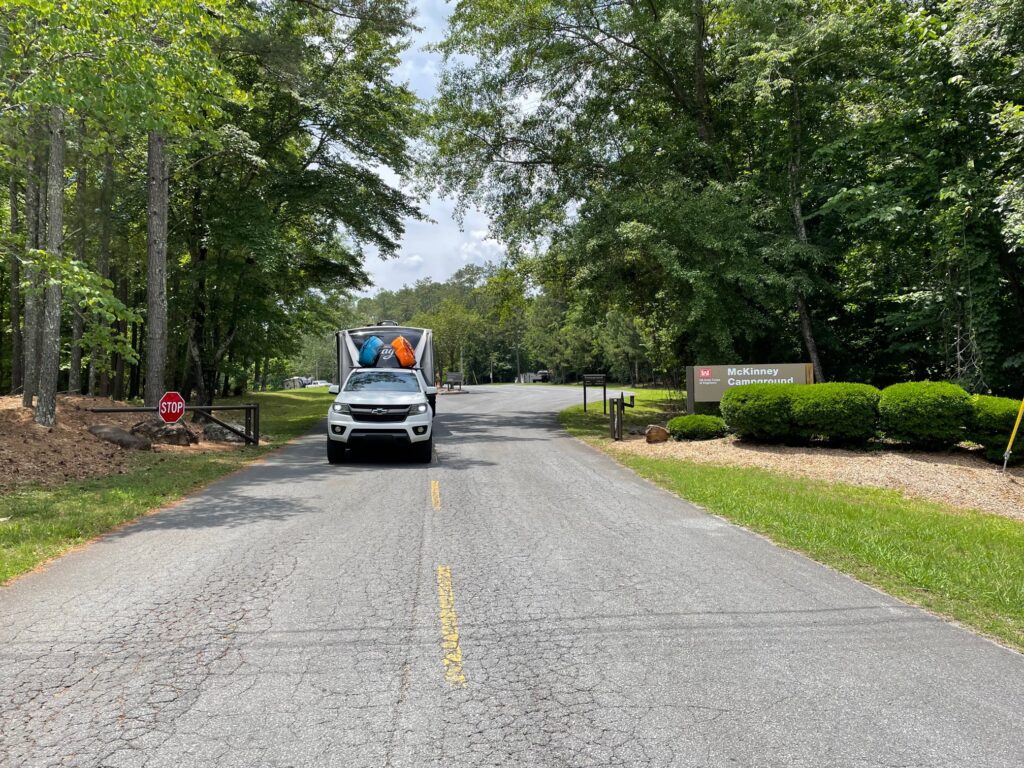 We reserved campsite 114 for the week; we chose it for its water access and view. Site 114 is a 25-ft. back-in campsite with 50/30 amp power. While being marked as 25 feet in length, we had plenty of room for our 26-ft. camper and two vehicles. It is located close to the boat ramp, beach, and playground. We previously stayed in campsite 110 and liked this site when we saw it close by.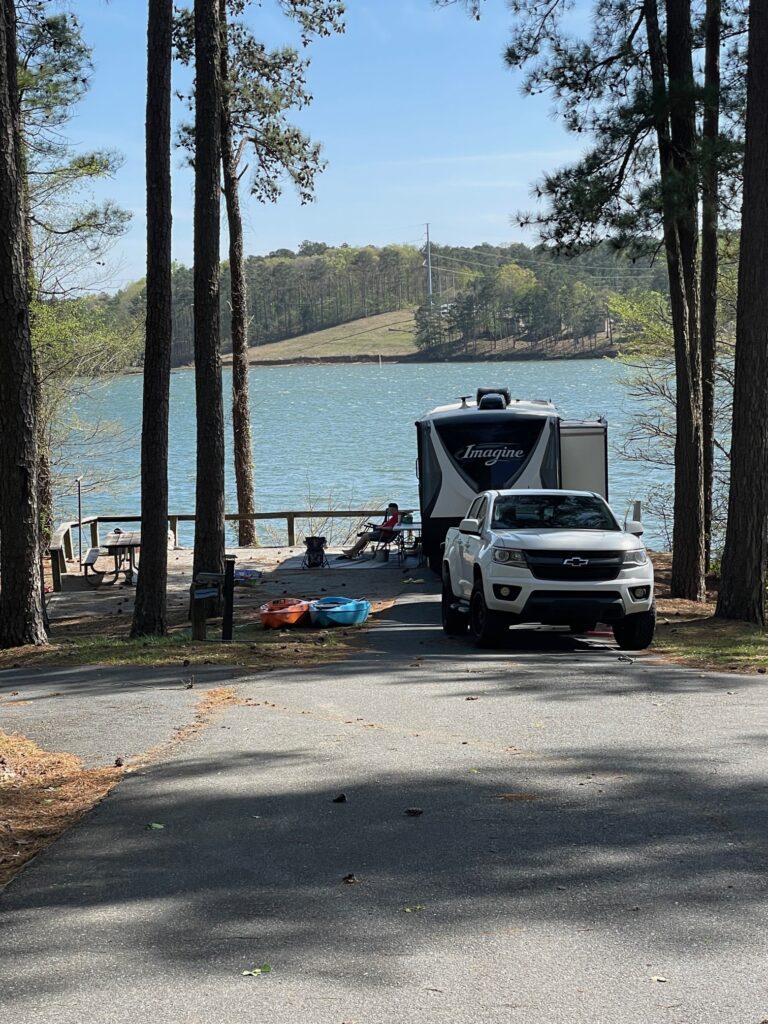 There is a path to the water from the driveway of site 114, however the path cuts right in front of site 113. For this reason I would refer to it as a "shared" path to the water. At the water there is a rocky entry point, but plenty of beach for our toddler to play. We put our kayaks in multiple times from this path.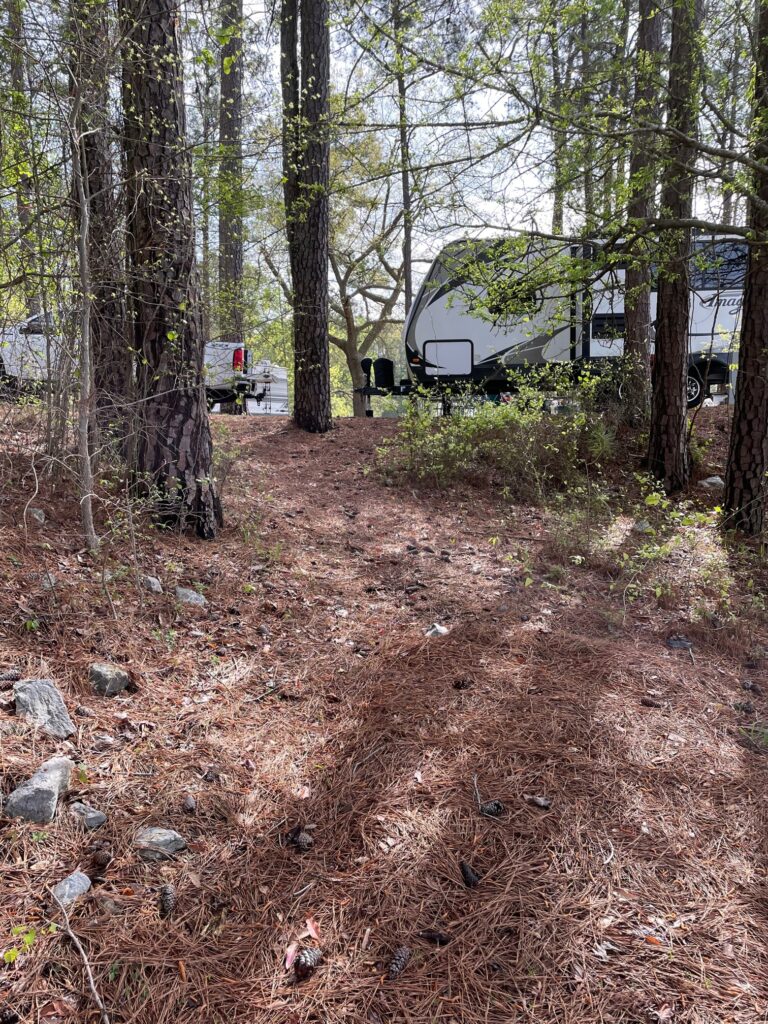 Our site, 114 shares a cul de sac with sites 113 and 115. This space was perfect for our daughter to ride her bike and scooter. Campsite 113 has a great view of the water and it is marked as 25 feet in length, however our neighbors' truck would not fit length-wise in front of their camper. Any additional vehicles were crowded in the road by the site.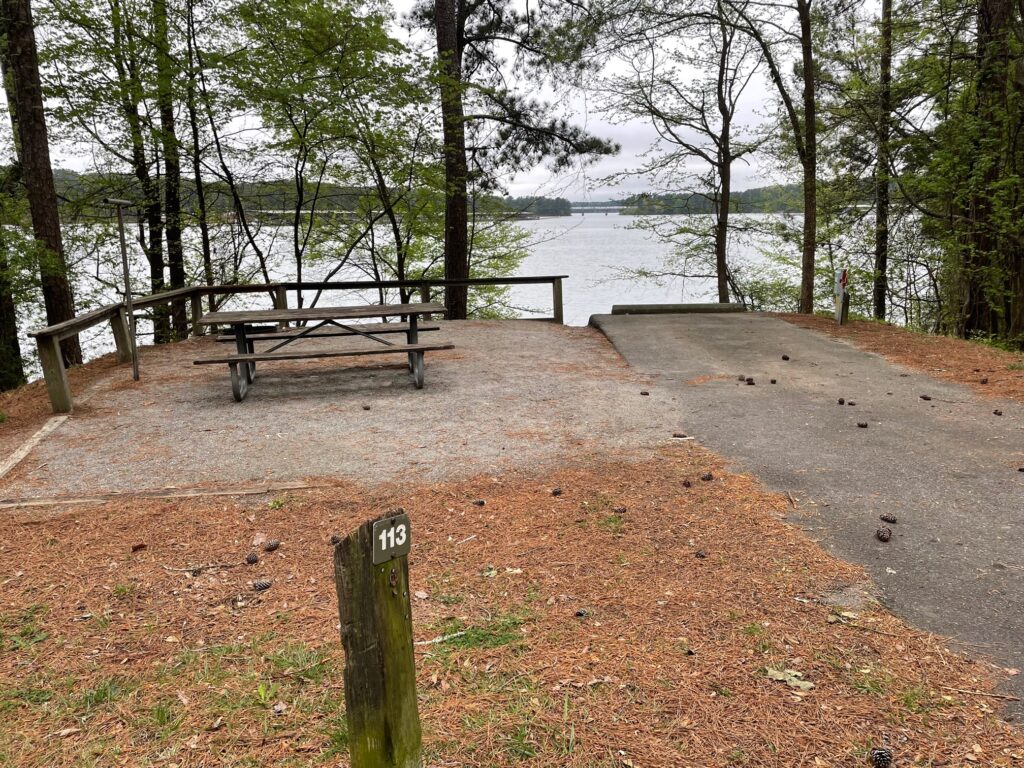 Campsite 115 is across the cove from the boat dock and ramp. It is a great shaded campsite, however we saw multiple kids and adults from other sites cut through site 115 to go around the cove to the boat dock. I believe they even shored their boat right next to campsite 115. Our dogs were not happy that people were walking through the site next door.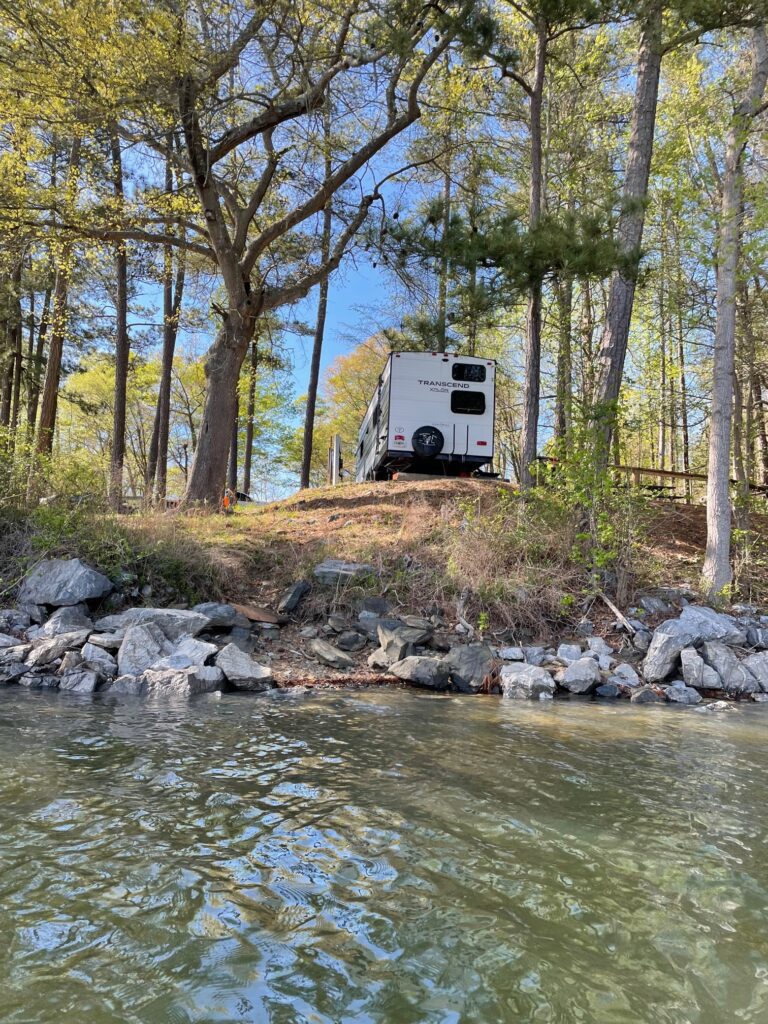 We finally tried out the BBQ place on the corner outside McKinney Campground, Ferley's BBQ. Heather order the Mac and Cheese Brisket Bowl and loved it. I got the BBQ nachos and while they were good I should have ordered BBQ to go with them. They have a couple picnic tables outside, but we took our food back to our campsite. We would eat at Ferley's BBQ again and recommend it. It's open Thursday – Sunday.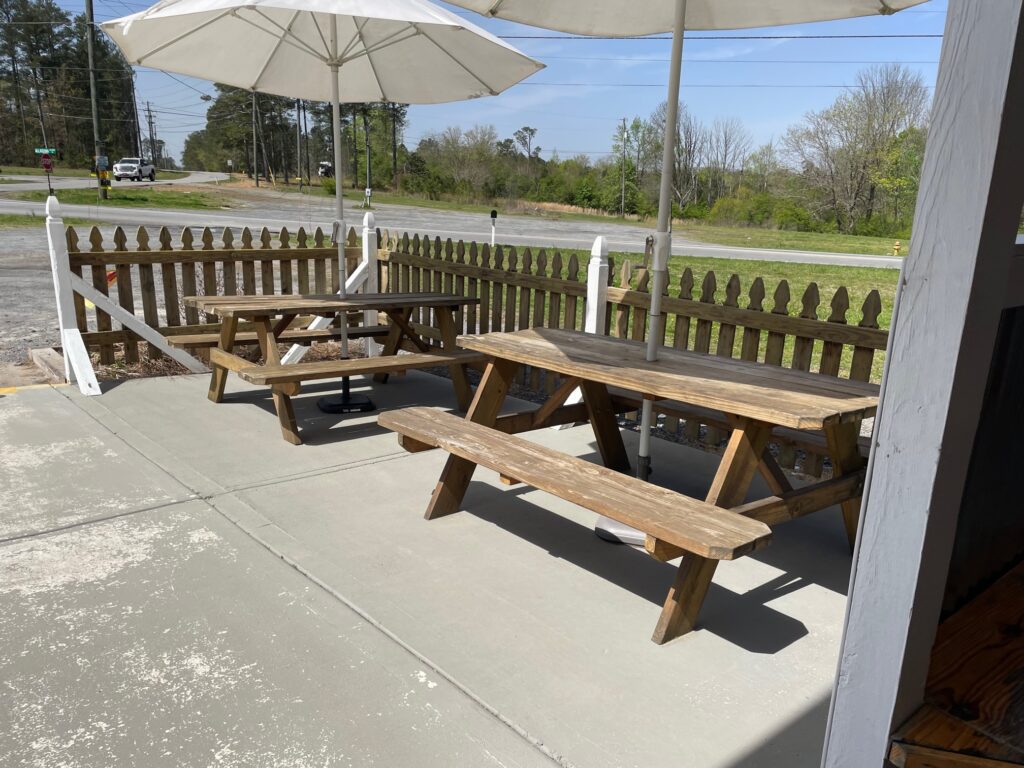 Throughout the week we experienced a wide range of weather. The beginning of the week was super windy, even taking out some trees that caused a power outage in the campground. On Sunday we were without power in the middle of the day for about four hours. Campers that were trying to check into sites 117–150 past the playground were not able to get to their campsite because of the fallen tree.
It was warm enough later in the week for children to swim in the water. We kayaked over to the beach across from our campsite, 114, and our daughter got in the water from there. It was not warm enough for the rest of us to get in the water.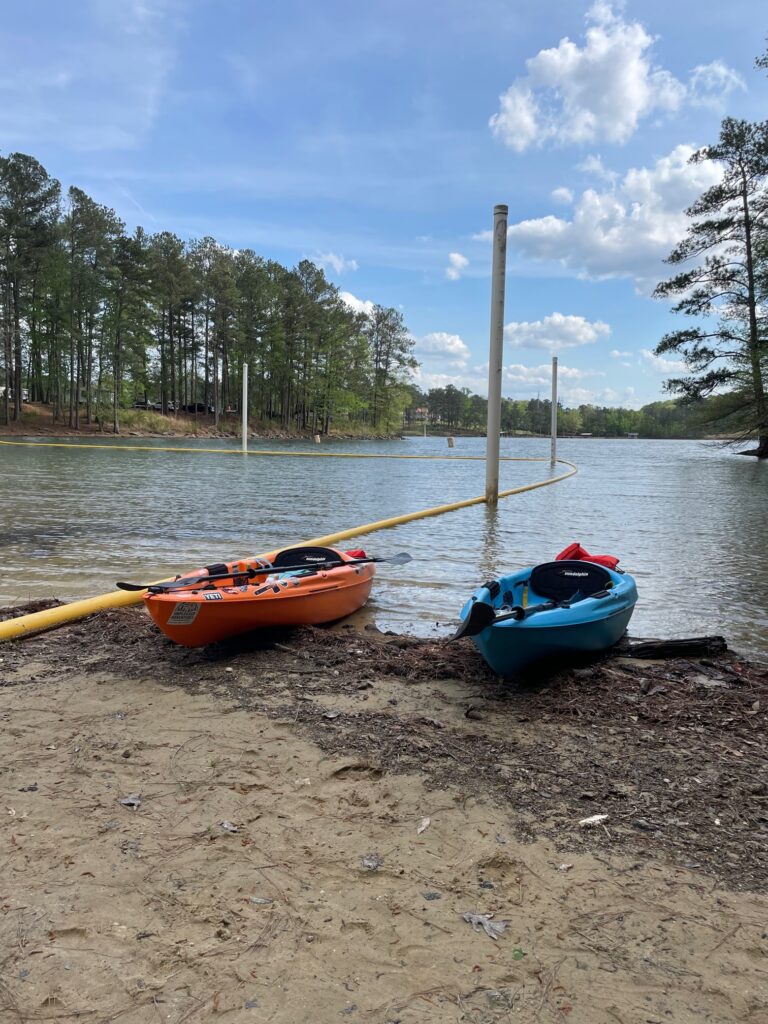 We canceled the end of our reservation because of the bad weather coming in the following weekend. To cancel we drove to the visitors center where they handled the reservation modification. Originally I had tried to call the reservation line and they said they cannot modify a reservation specifically at McKinney, they can only cancel one that has not started yet. The camp hosts at the front are helpful and friendly. We received two full nights reservation fee back and someone else enjoyed our campsite over Easter weekend.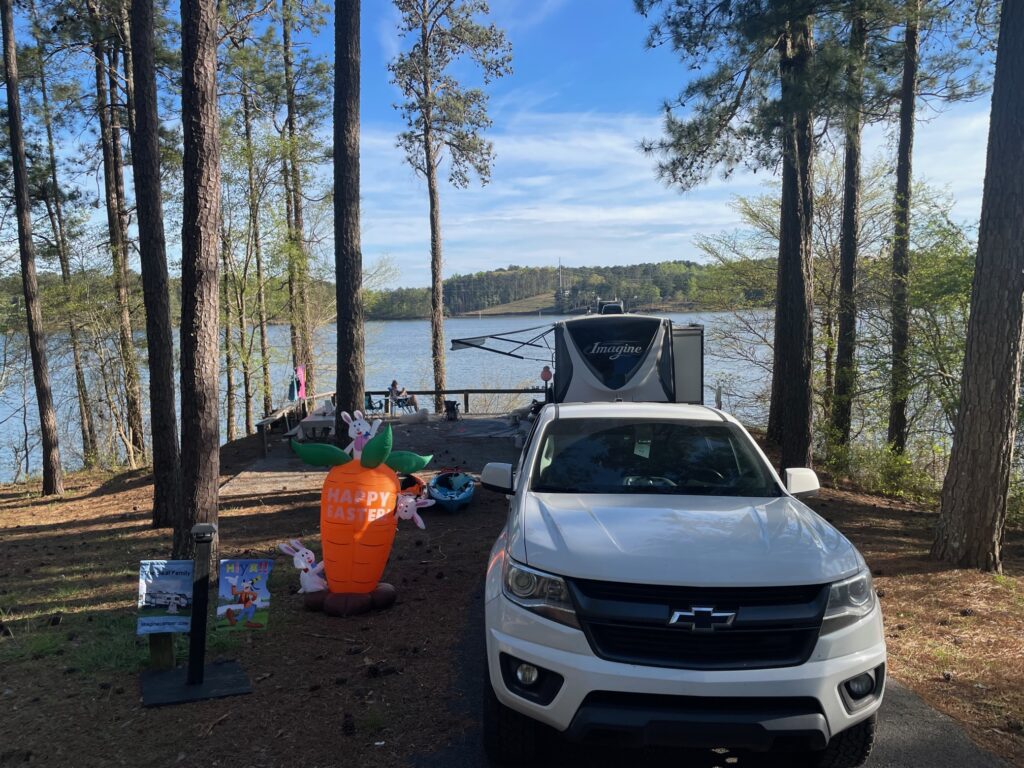 One great campsite activity that we enjoyed this particular week was having Easter egg hunts at our campsite with our toddler. We hid the eggs for her and she hid the eggs for us. Another favorite activity of the week was painting rocks.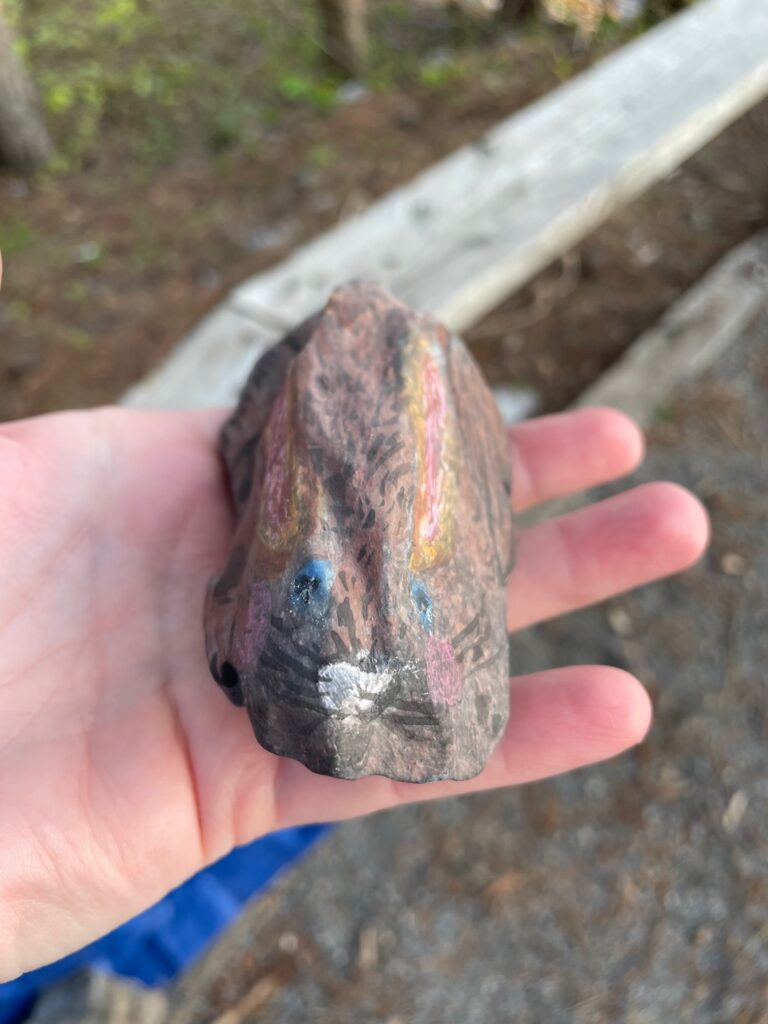 Friday we tested our patience when a camper pulled into the back dump station and not all the way to the first one so we could dump at the same time. Not sure the thought process for them occupying both dump stations, but it happened and we waited nicely.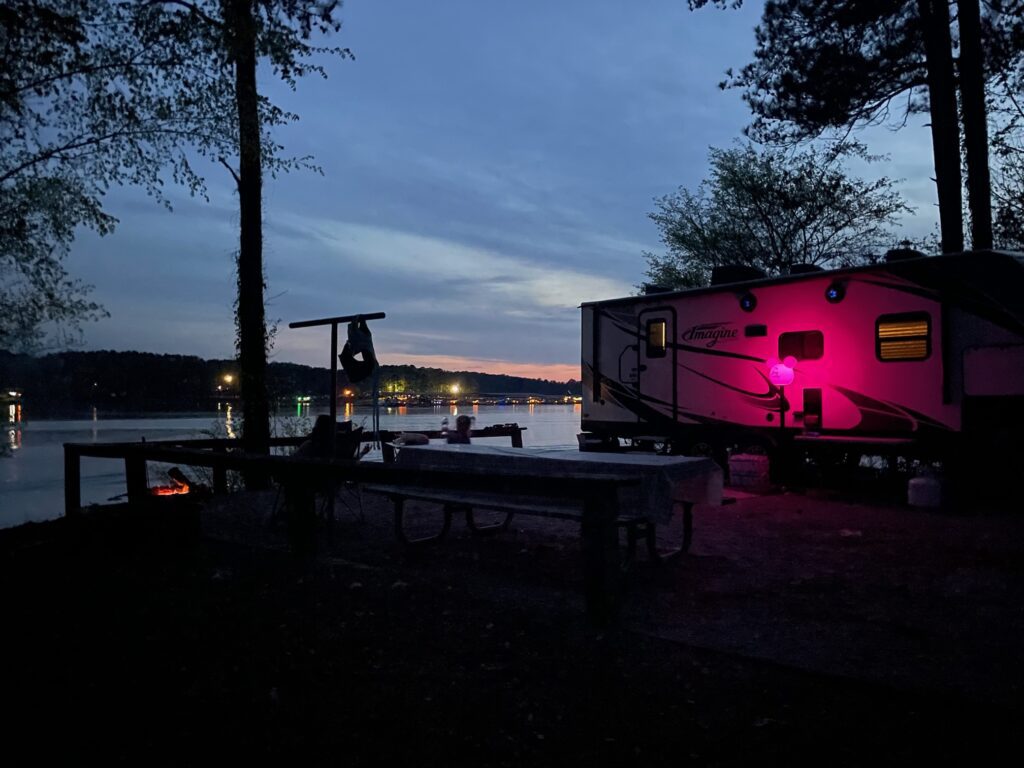 Campsite 114 was a great site for our family and we would book it again.