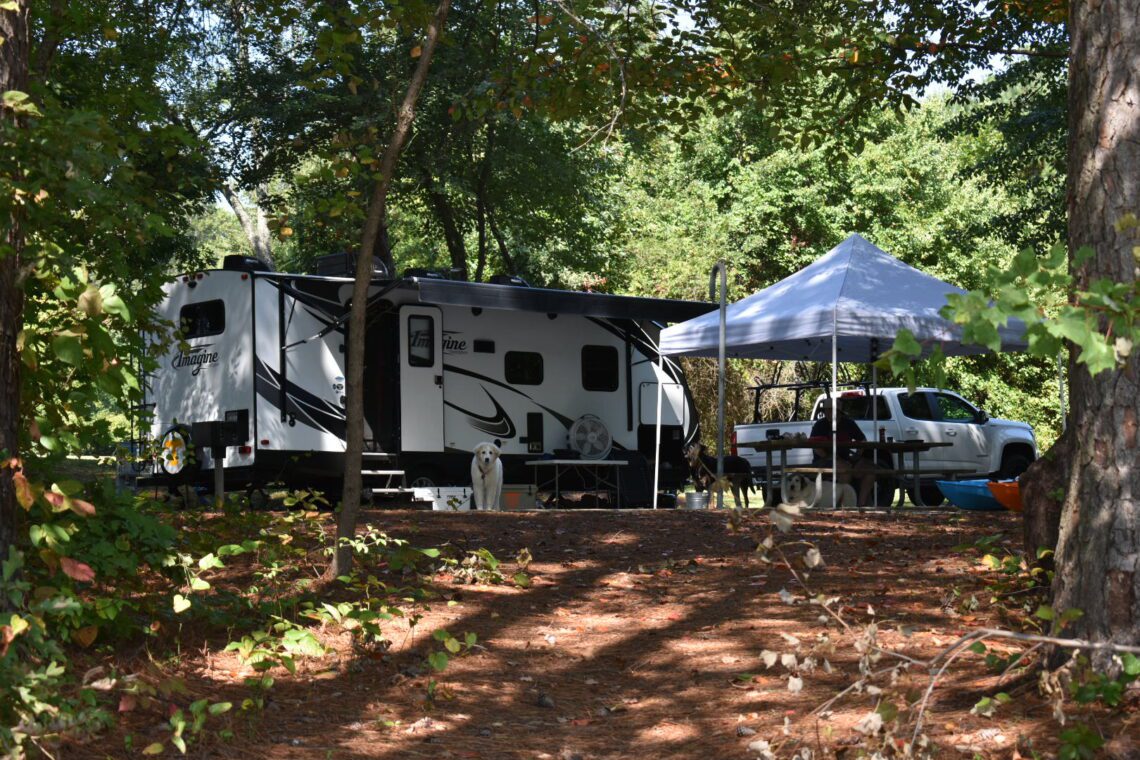 Bald Ridge Campground – 56
9.1.17-9.4.17
After our first stay at Bald Ridge Campground [see first post for more details on the campground] on Lake Lanier we knew we needed to reserve it for the holiday weekends, months ahead of time. Labor Day Weekend the campground was packed. We reserved site 56. It had a short, level walk out to the cove for swimming. If my parents or little kids were joining us, this site would be perfect for them to swim.
Holiday weekends can be a toss up. You get the day off from work so it's a great weekend to spend camping, however everyone else thinks so too. Unfortunately we experienced some holiday campers that were disruptive to others around them. Actually it was just one camper in the whole group. He launched his boat off the ramp blasting music and parked it in the cove we were swimming in. That's his red boat in the pictures at the top. He did not even take it out for a spin, was essentially just using it as a speaker. This guy even left the boat to go up to his site for about twenty minutes, leaving the music on in the boat. Not everyone in the campground wanted to listen to his music. A family on the other side of our site complained to the camp hosts at Bald Ridge and they handled the situation promptly.
The weekend was filled with swimming,
Things we learned:
When you wake up sick Monday morning, it's possible to get packed up and out of there faster than you ever imagined.
Holiday camping welcomes people of all kinds, including those that are not respectful of others.
Campgrounds are a great place to train dogs to behave when strangers approach and want to pet them. Our pups got so much love that weekend!
Please follow and like us: