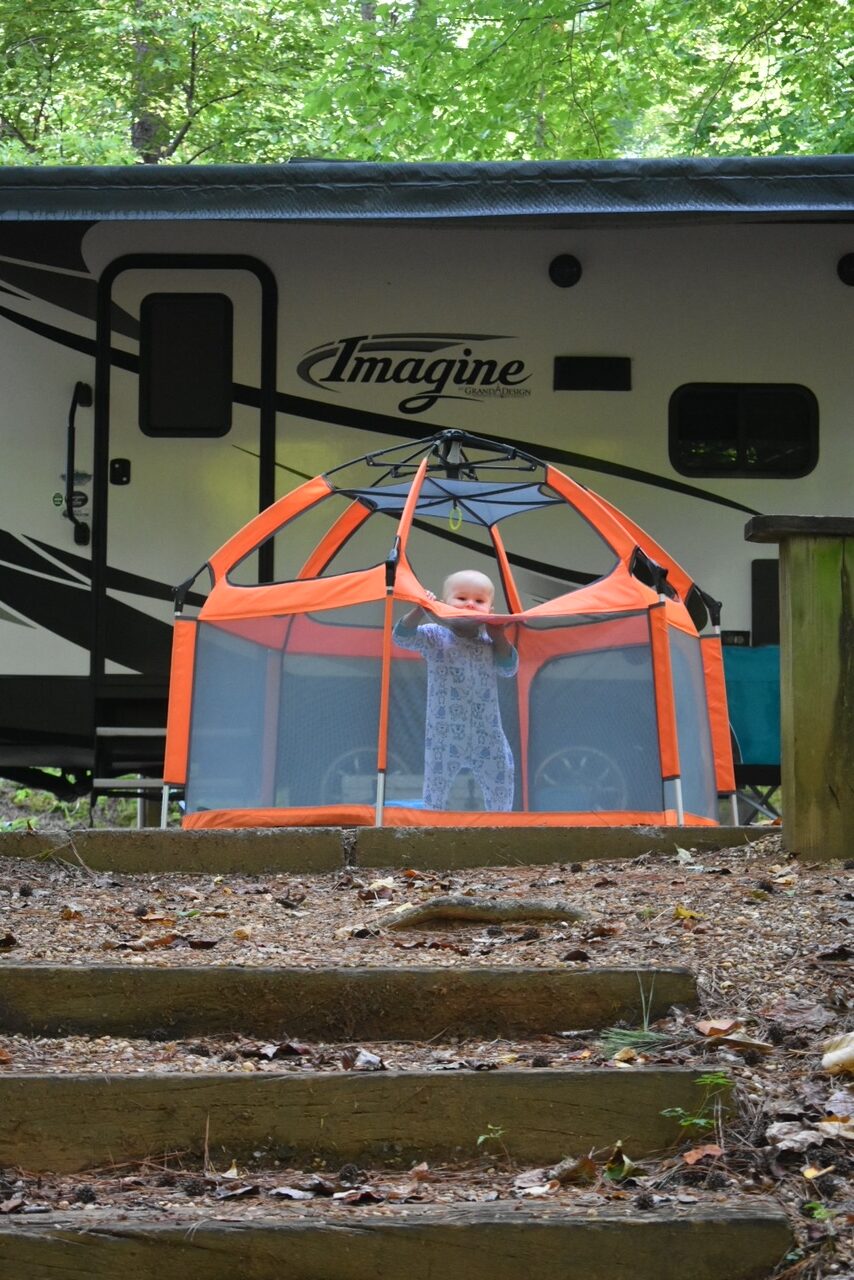 When we bought the camper in 2017, we were many years away from adding kids to our family. We bought the camper for our love of camping, but also so that we could take our dogs with us everywhere. (Check out the post on camping with dogs.)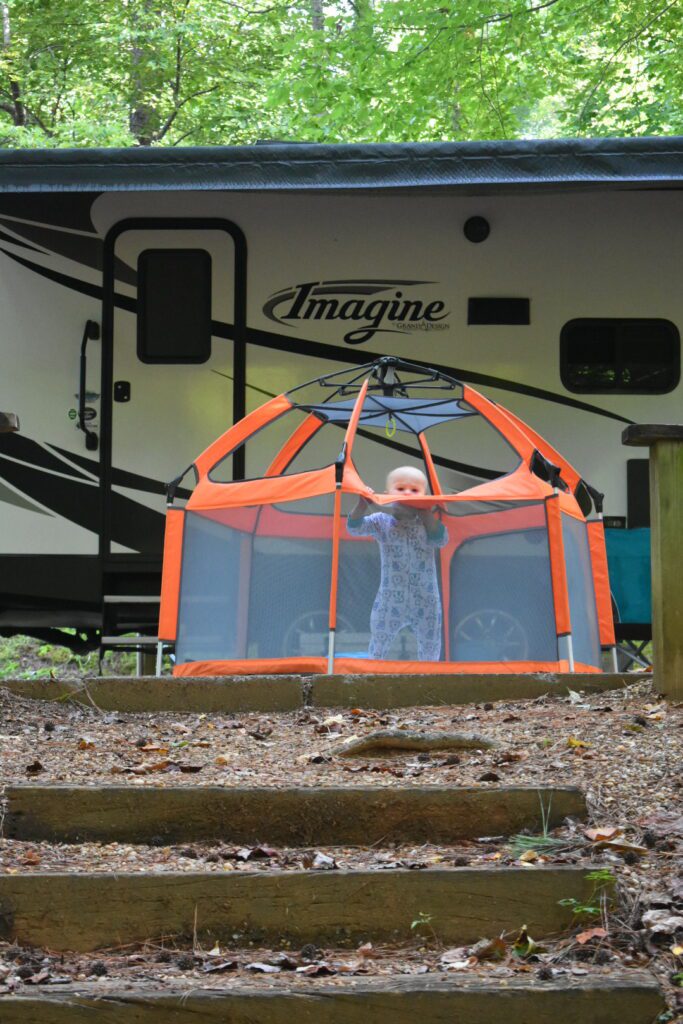 In October of 2019 we added a daughter to our pack. We knew our camping trips would change to accommodate a baby, but she wasn't going to slow us down. We thought that her first camping trip would be early spring 2020, however Covid had other plans for us. Between our elderly dog not doing well and the virus, five trips were canceled.
Camping with babies can be intimating because they need extra gear, but as long as we maintained a routine we still had great camping trips!
Memorial Day weekend 2020 was our first trip as a family of five. Below are a couple products that I consider must-haves when camping with a baby plus some tips along the way. If you have other suggestions or hacks, please share them in the comments!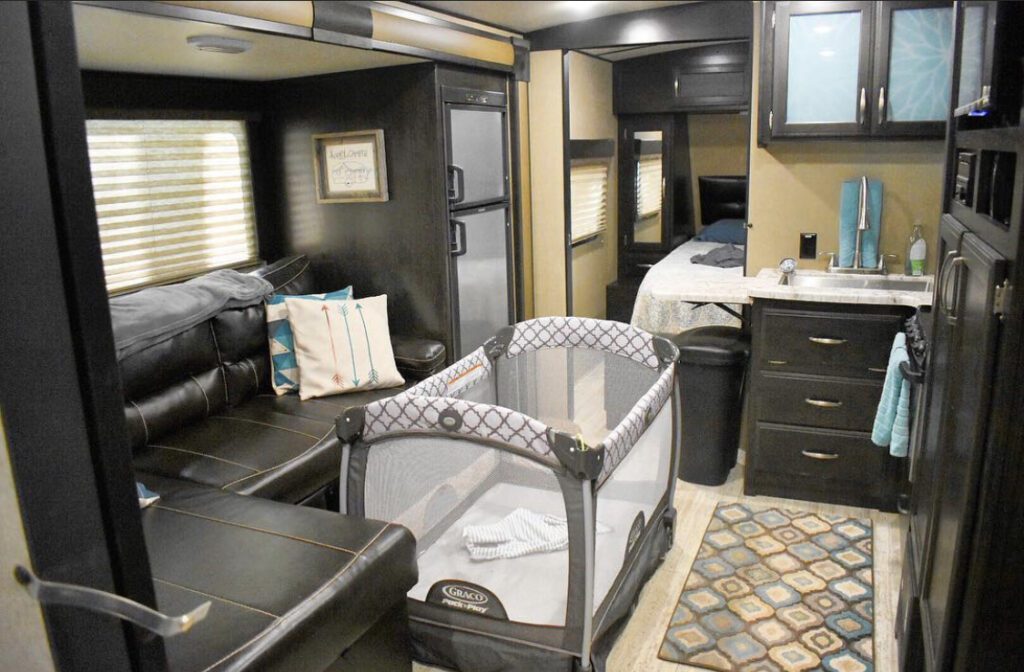 Sleeping:
We follow the Moms on Call books for a sleeping routine that has had our little girl sleeping through the night since she was three months old. This hasn't changed in the camper. She sleeps in a graco pack-n-play near the kitchen. We have had to pull her out toward the middle of the camper floor because now she can reach the handle to the oven. During nap time we put the pack-in-play on top of the bed. We have also successfully moved her (in the pack-n-play) from the bedroom to the living room in the middle of the night. Baby Delight sent us their bungalow cot to try out and we have loved it. She sleeps on a cot at daycare for nap time so we think this will be a great option when she grows out of the pack-n-play. Our most recent beach trip she napped every day in it. Baby Delight has given us a 15% off (entire purchase) discount code to share with our followers! imaginecamper15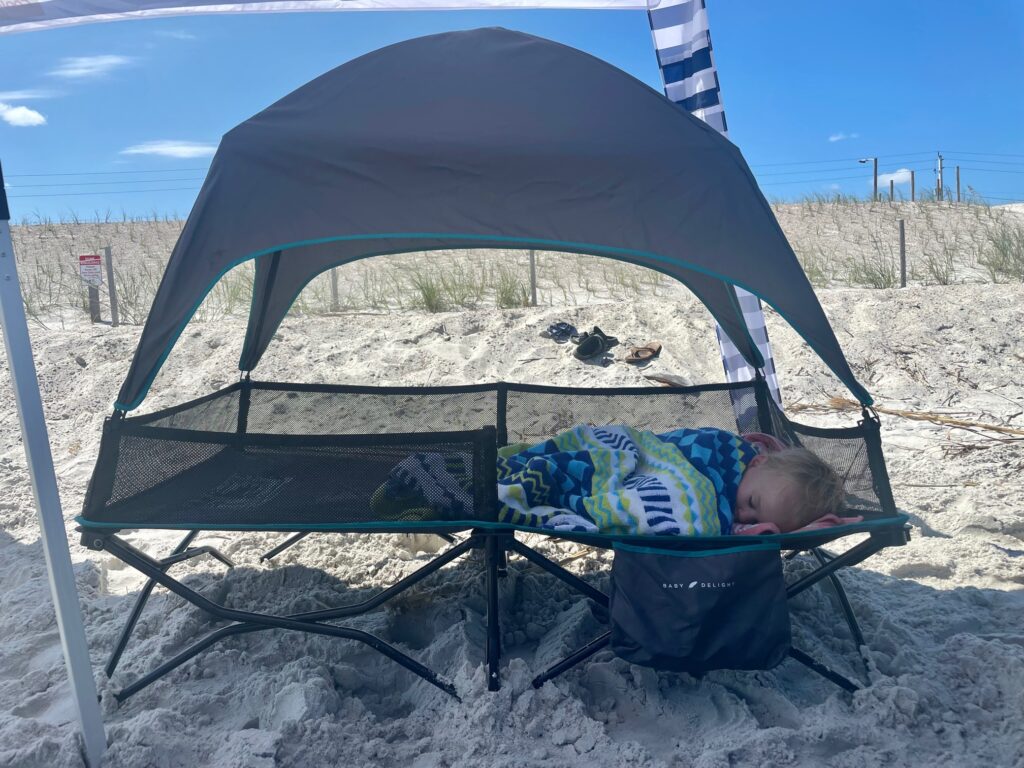 When she is sleeping we use the Hatch sound machine. I was wondering if it was needed because our air conditioning is so loud, but she uses it at home so it is a must-have for our family. After forgetting this item so many times, we purchased one to keep in the camper at all times.
I was packing her baby monitor every trip, but the camera in it is expensive and I did not want to damage it. We purchased a separate baby monitor for the camper—one less item to pack from her nursery. Our friends recommended the AXVUE baby monitor when they camped with us at Bald Ridge. They were on site 43 and the monitor reached our site at 48. (The grandparents were still down at site 43 with their babies asleep.) This monitor was purchased from Amazon and comes with two cameras. It is less expensive than our monitor at home and seems more durable.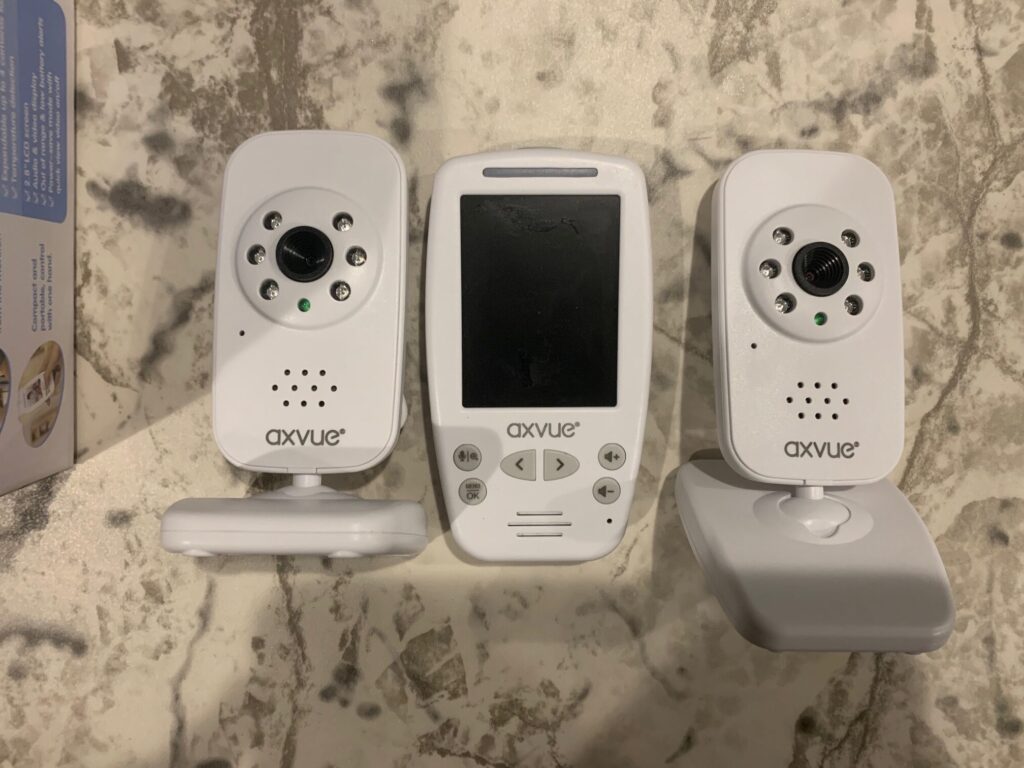 Eating:
If your baby is formula-fed I would recommend bringing jugs of your own water from home. I don't always trust the water at the campgrounds even though we have a filter on the sink faucet. The RTIC jugs have come in handy for this. Each jug holds 60 oz., so I will measure out what I need for the trip and take one or both jugs.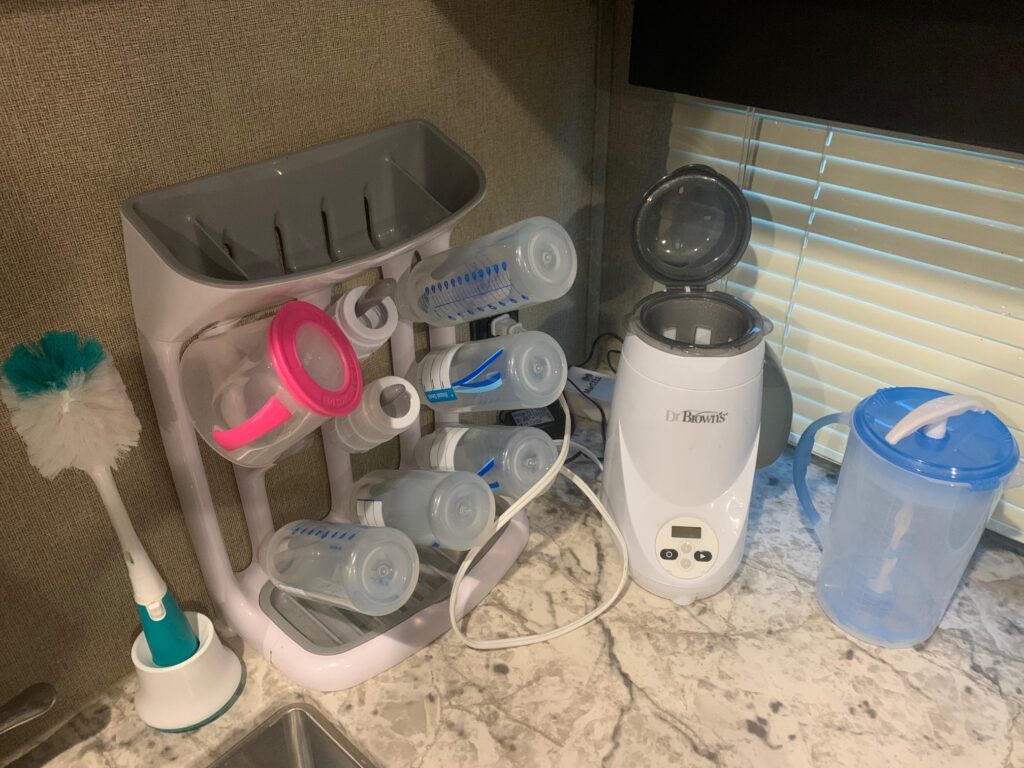 We have used Dr. Brown's bottles at home, but what I would recommend to any type bottle user is the Dr. Brown's pitcher. You can prepare 32 oz. of formula per day and the pitcher does not take up a lot of space in the small RV fridge.
Washing bottles is a pain and in the camper there is barely any counter space for anything. Highly recommend the OXO tot space saving drying rack. We have the green grass drying rack at home, but use this as well. It's perfect for drying bottles in the camper. I also love the oxo tot bottle brush.
When washing bottles at home and in the camper, I use a large plastic bowl to keep any other dishes separate. Only bottles and bottle parts go in this bowl. The plastic bowl also comes with us in the camper.
Our bottle warmer of choice was the Dr. Brown's bottle warmer. It has worked for us for the past ten months and it is easy to pack up in the camper. Be mindful that when packing the bottle warmer the water from the reservoir in the side can leak out. When in route to our location I usually have the warmer sitting in the sink.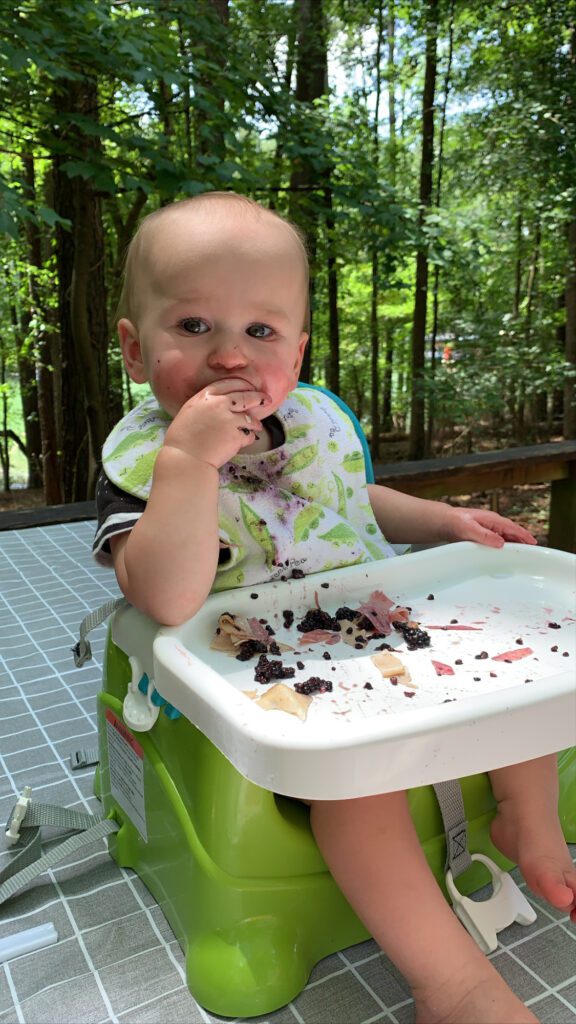 We started our baby girl on solids at about six months of age, following the baby-led weaning guides. Our first high chair of choice was the Summer Infant Pop N' Sit portable booster. This folds up like a camping chair and has a decent size tray. What I found after a couple uses is it is difficult to clean. Because the chair is cloth and baby-led weaning is a messy process, we had to scrub the chair and sit it out to let it dry before storing it. We were given the Fisher Price Healthy Booster Seat at one of our baby showers and it has worked perfectly while camping. It does not fold up like the Summer Infant Pop N' Sit, however the fact that the entire thing can be sprayed down and easily wiped clean makes a huge difference.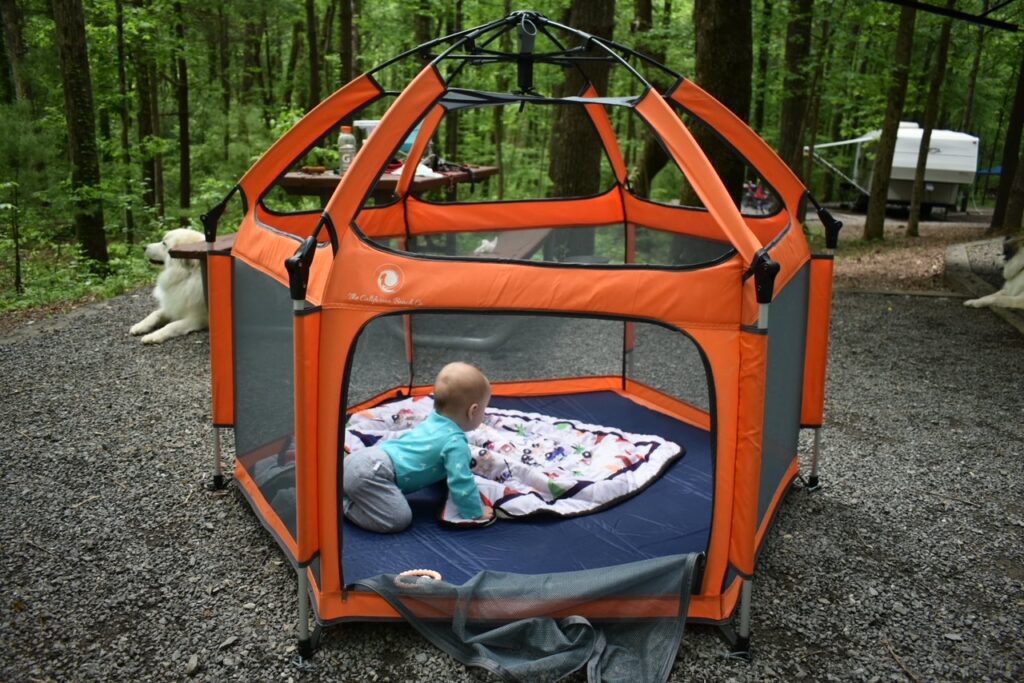 Play:
Can't recommend this product enough and I'm so excited to share our 10% off code that can be added on top of their discounts. The California Beach Company playpen is amazing! It is light and easy to setup and put away. There are commercials of parents setting it up with one hand while holding their baby. I've tried it and it's doable. The mattress pad is necessary, as many campsites are hard gravel. They also recently came out with mattress covers that I love. California Beach Company also has playpens specifically for dogs. It is worth every penny and would make a great baby shower gift. Use the code Imaginecamper for an additional 10% off.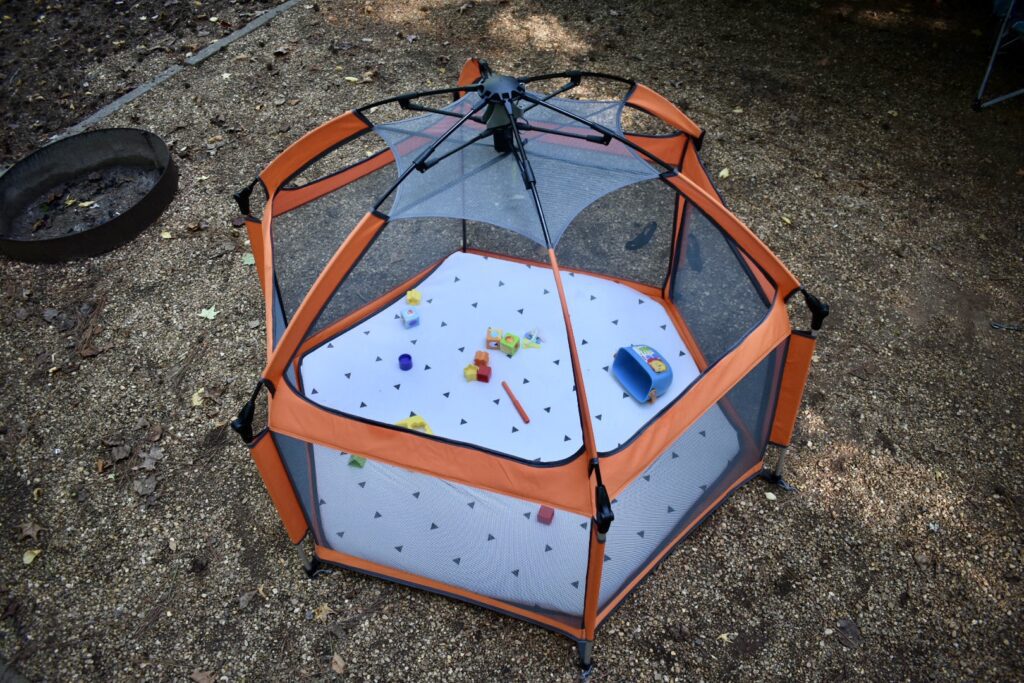 As soon as our baby girl could hold her head up we had her in the skip hop baby activity center. She wasn't tall enough at first, but we would put a photo album under her feet. This was easy to take camping with us and we used it often on the trips. While we were packing the camper she would play in it and usually it was the last thing packed. It is light and fits in the back seat of the truck/car when we are in for the night or not using it. When en route to the campground, it would be stored in the living room of the camper.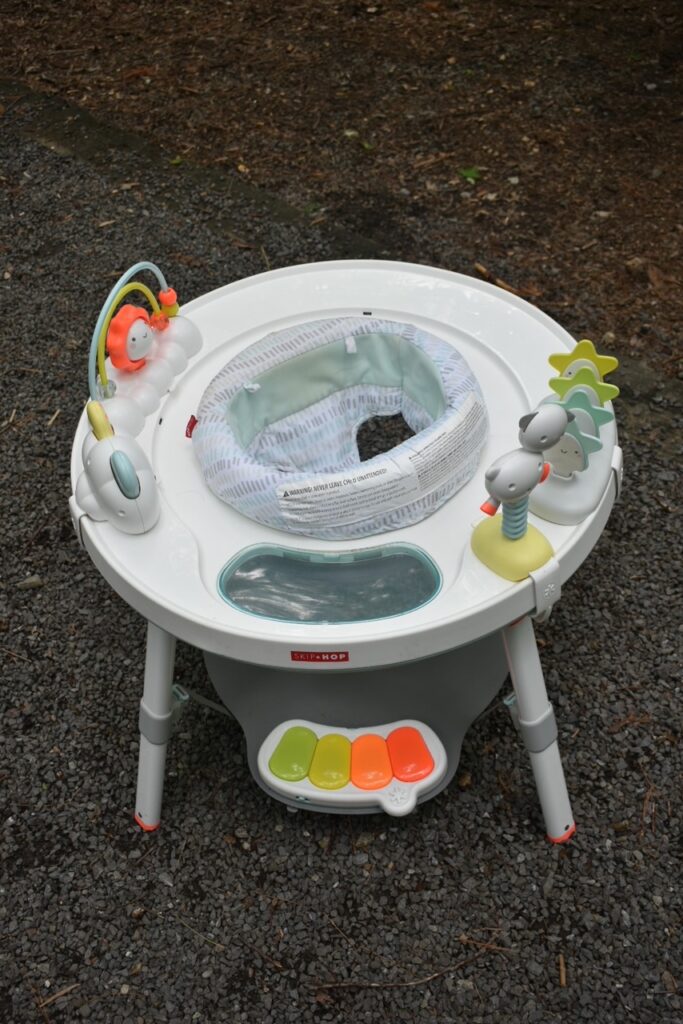 I had never heard of the Baby Delight Go with Me camping chair until we received it as a gift at one of our baby showers. What a wonderful present! The chair grows with the child, from three months old to a 75-pound kid. One awesome feature is the option to stand in the chair. It has a five-point harness to keep babies upright, but lift up the velcro in the seat to reveal two holes in a mesh pocket for little legs. The chair is as easy to fold up and store in its bag as any fold up camping chair. This one also comes with a snack tray (we don't use) and a sun shade that we do use. We are not to the point where we are using the cup holder for her yet, but eventually it will get used plenty. 15% off total purchase with code imaginecamper15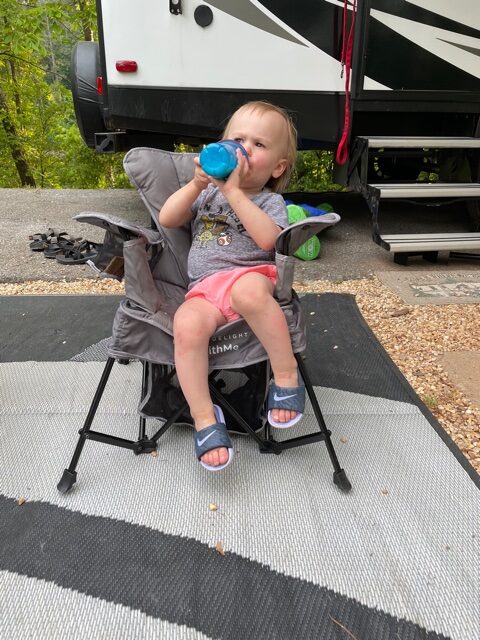 This summer we camped a couple times on the lake and our baby girl even did a little bit of kayaking in our laps. For this we bought the Stearns Infant Life Jacket on Amazon. It has worked great for us on all of the trips. In the off season, before she was even born I purchased a float from Target that she can sit up in. The float is a turtle and we have gotten some really good use out of that five-dollar float. We store the floats in the shower when driving to and from the campground.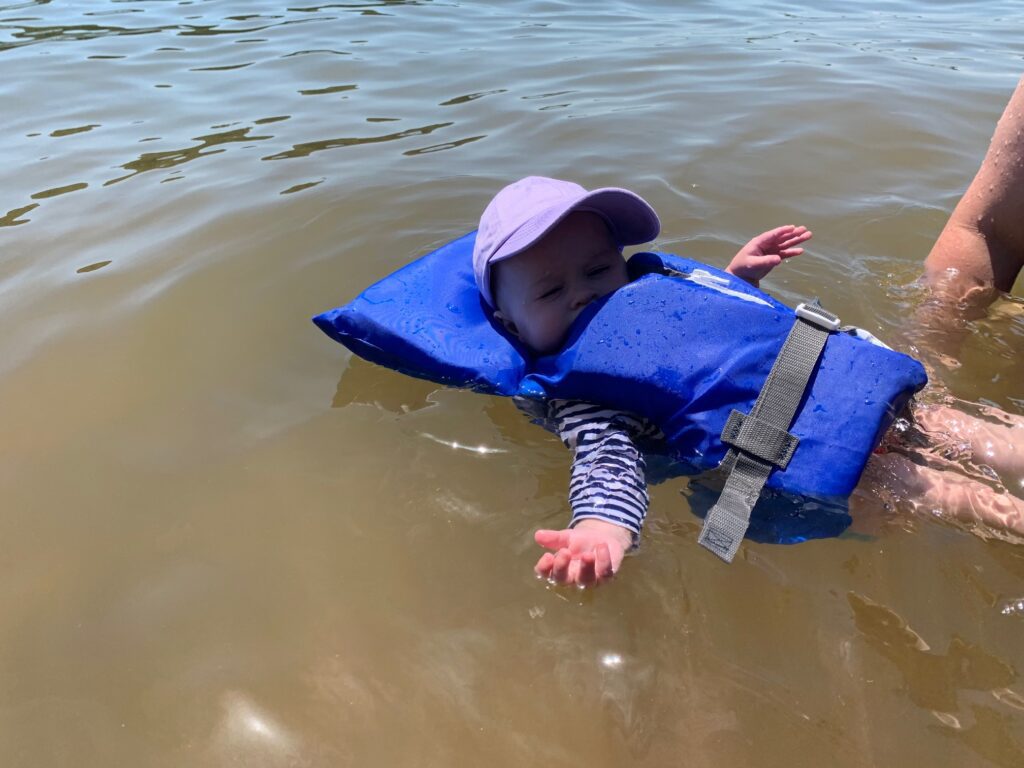 We have a set of toys that we keep in the camper and do not bring back inside the house. One less thing that I would have to pack for her.
Diaper Changes:
One tip that I love is to keep dog poop bags on hand for dirty diapers. The bags are large enough for the diaper and plenty of room to tie it up. You aren't always by the campground trash cans and dirty diapers can stink up the trash can in your camper. The dog bags help to prevent this odor. We keep our diapers and wipes in an easy to get at area of the camper, the cubbies next to the shower.
Baths: We loved using a large storage bin for her baths after dinner. Filled it up with a little bit of warm water and let her play for a couple minutes. The storage bin doubled as a container for the packing and unpacking process.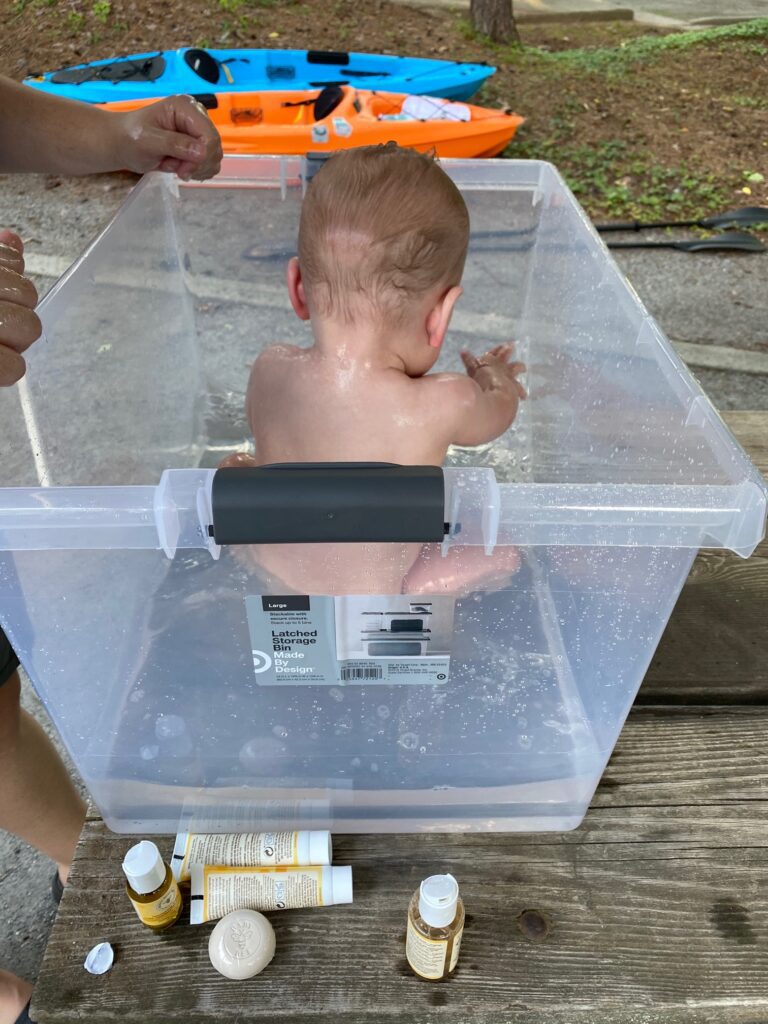 Hiking:
We were given a cloth carrier from my sister that worked when our daughter was little. I purchased a graco backpack carrier from a friend that she loves and is very comfortable to use as she gets heavier.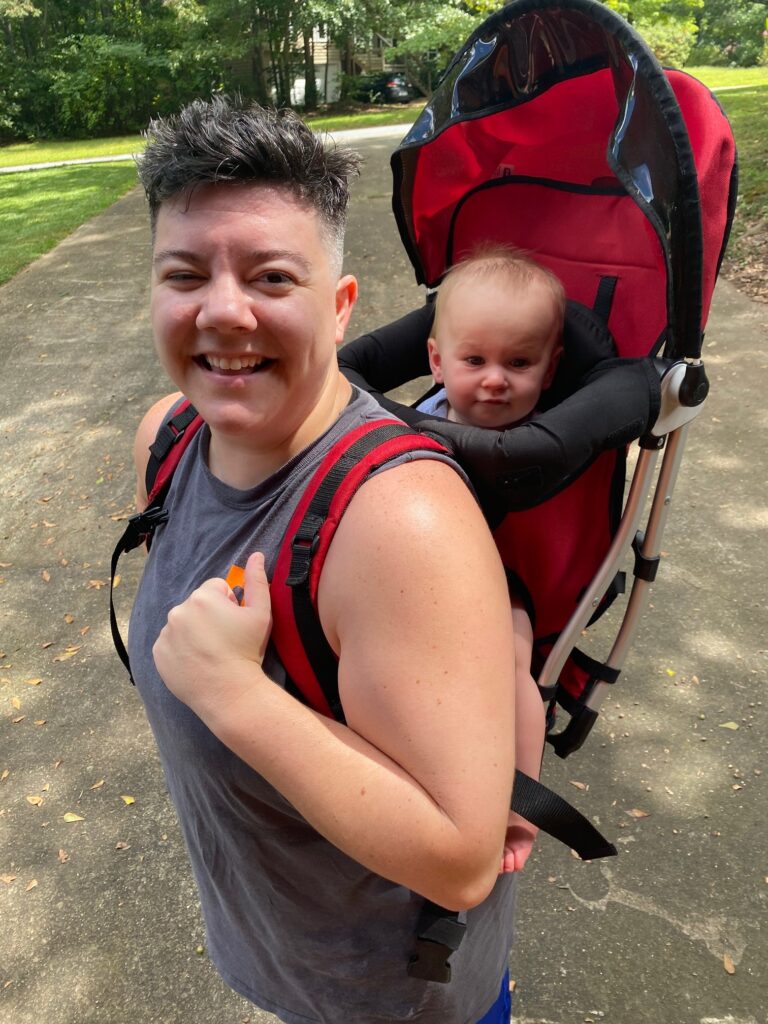 So far our baby girl has been on seven camping trips and she fits right into the camping life. We are by no means experts (first-time moms), but we have learned a lot along the way. If you have any other suggestions, please comment below!
Imagine Camper site contains affiliate links, which means if you click on a product link and purchase the product, I might receive a small compensation. This does not impact the price of the product to the consumer. I only feature products we use and own. I would recommend the products posted on my site even if there was not a possibility of a compensation. Hopefully you find the product links helpful and useful. If you do make a purchase, thank you for following!