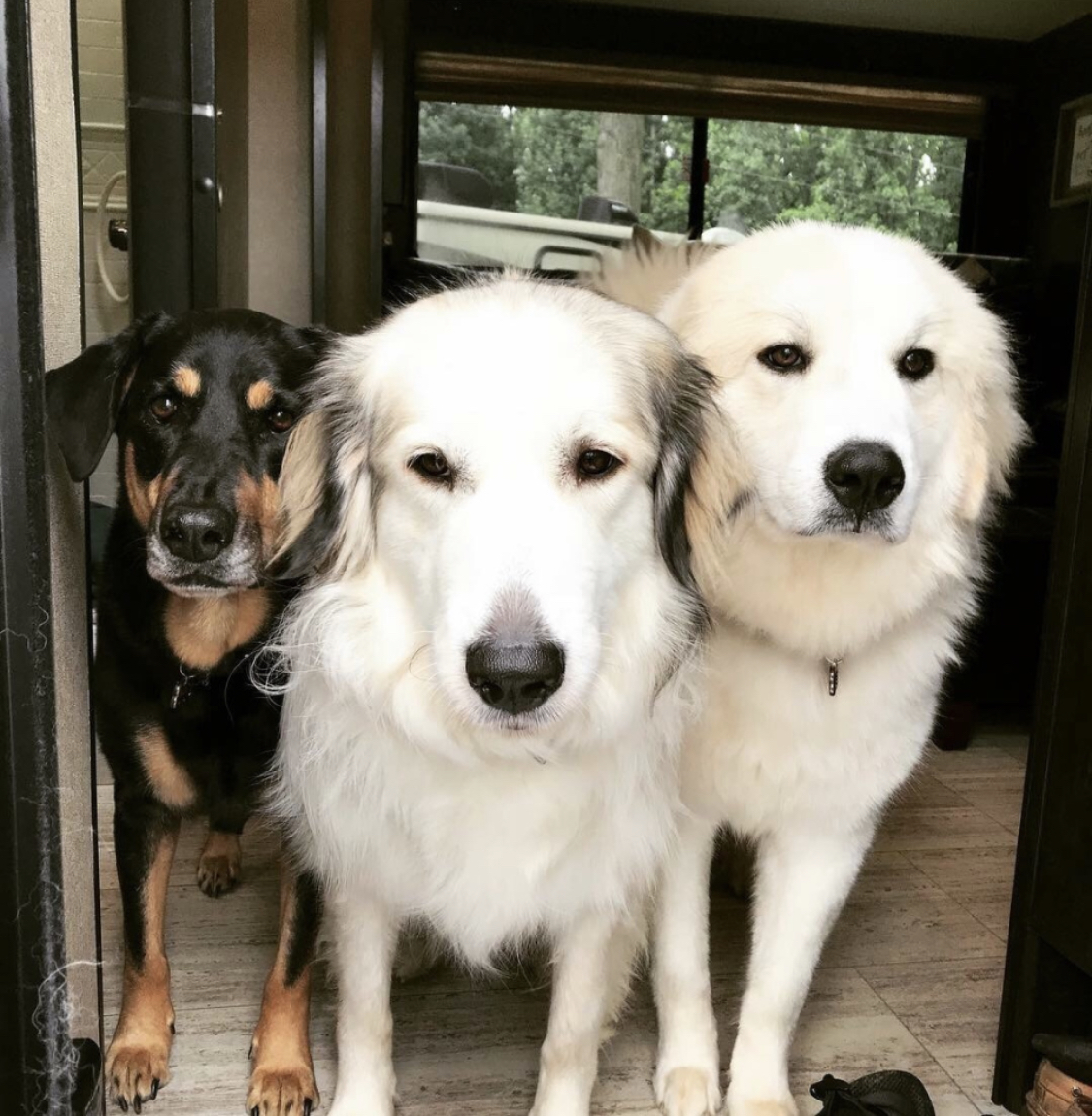 If your family is anything like ours, we treat our dogs as family members. The reason we bought our Grand Design Imagine 2150RB is to take the dogs camping with us. If you are going to take your dogs with you on a camping trip, here are a couple of products we love.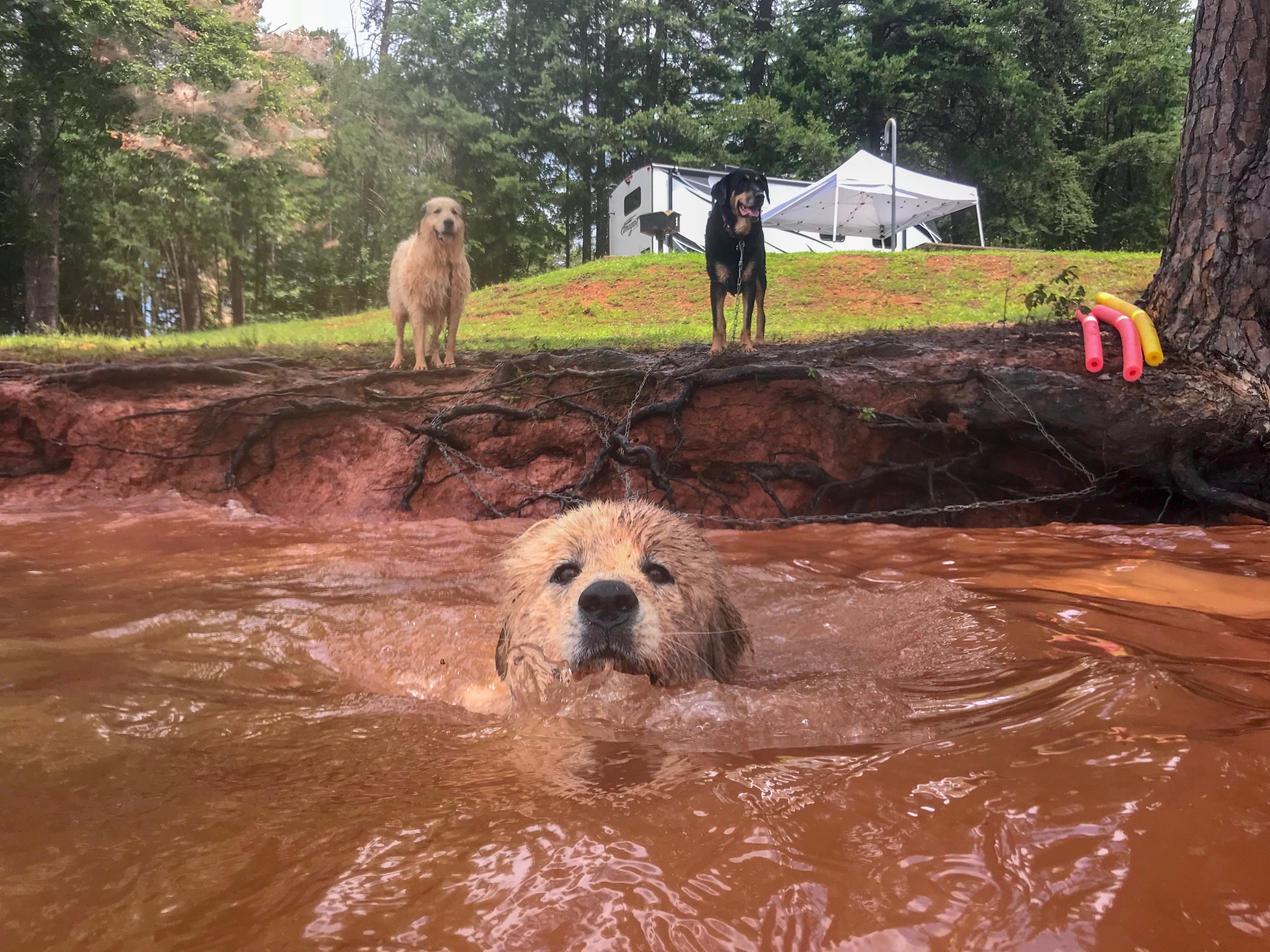 MarCELL Temperature Monitor
Safety comes first with our children and dogs. There have been multiple times where we leave the dogs in the camper to go out to eat, on a busy site seeing venture, or even to go to a wedding. What is dangerous about this is that the camper could easily lose power due to a bad hookup, a storm, or any other number of issues. The camper would heat up alarmingly quick and kill the pets inside. We highly recommend MarCELL's temperature monitor to ensure the safety of your family. What makes MarCELL better than the competition is that it does not require wifi to work. Most campgrounds we visit (State Parks and Corp of Engineer Campgrounds) do not offer wifi. MarCELL runs off of Verizon cell towers. The monitor will send you a text message if you camper goes out of the range you have set for it. For the safety of your animals, please invest in a monitoring system.
If you are interested in MarCELL, be sure to use the code Imagine20 to save $20.
Some of the links in this post are affiliate links. This means if you click on the link and purchase the item, I will receive an affiliate commission at no extra cost to you. All opinions remain my own.
California Beach Co. Playpen
If you are looking for a pack n' play for dogs– California Beach Co. recently came out with a Pop N. Go playpen for dogs. We LOVE our playpen for our baby girl from California Beach Co. and know how easy it is to assemble and take down. With all the other things that must be set up at the beginning of a trip it's nice to have something so easy. Also the playpen is super light-weight, not adding much to your overall towing limit. They are currently offering our followers 10% that can be used in addition to their current sales! Use the code Imaginecamper.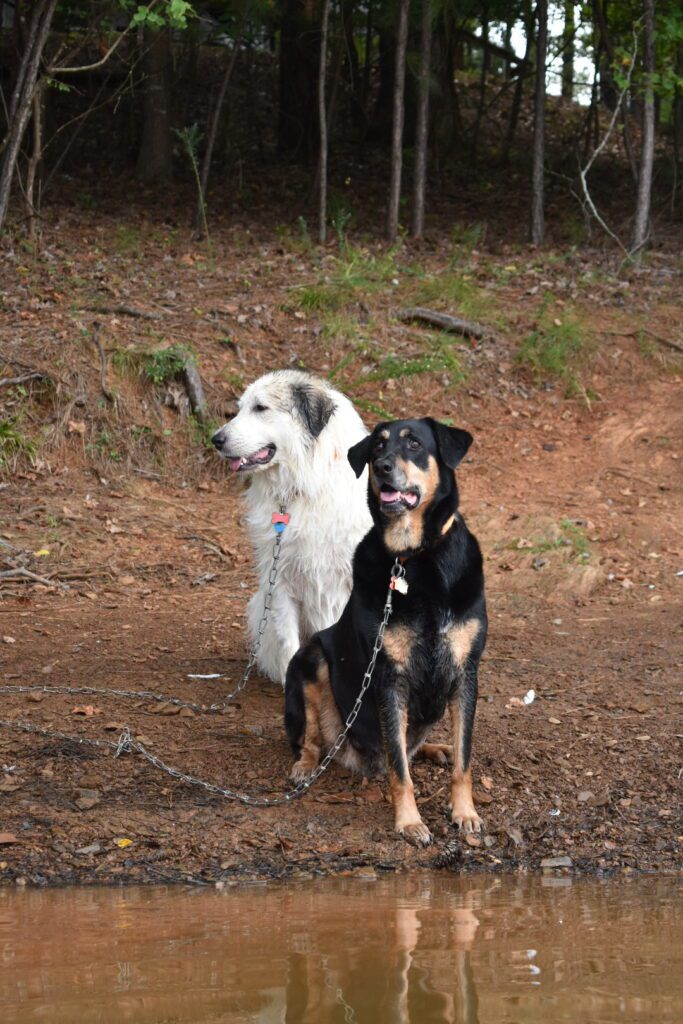 Travel
We swear by the dog hammocks for the back seat of our vehicles. It has saved the leather and fabric from dog nails, dirt, and all that dog hair we have. Vacuuming the truck after a trip is not as big of a chore with dog hammock. Our pups seem to be more comfortable on the trip with something to lean against.
We recently purchased new dog tags from a company we have loved for quite some time. You may have heard of Qalo wedding rings, but they also make dog tags! Not only do they have beautiful design options, but they are functional as well. Cedar is our special girl, a scaredy-cat. She is even weird about the sound of her metal dog tag hitting the water bowl. This doesn't happen with the Qalo dog tags.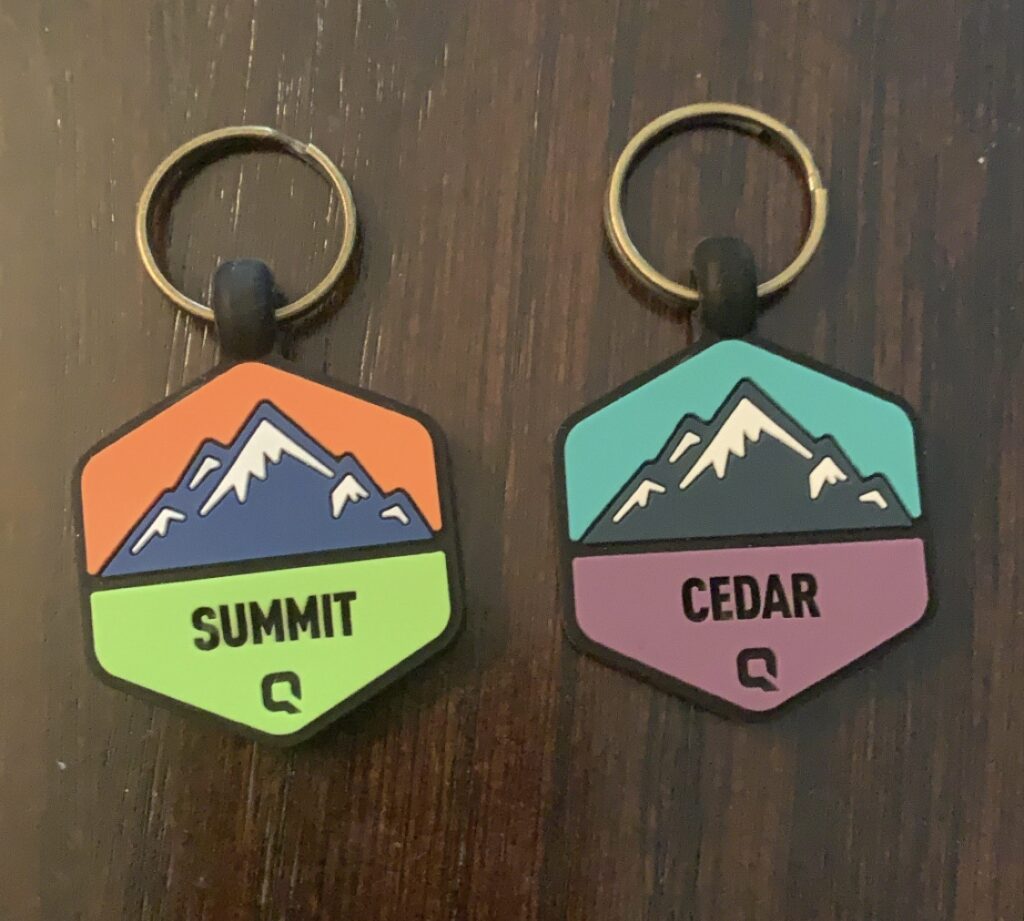 Best Campgrounds for dogs: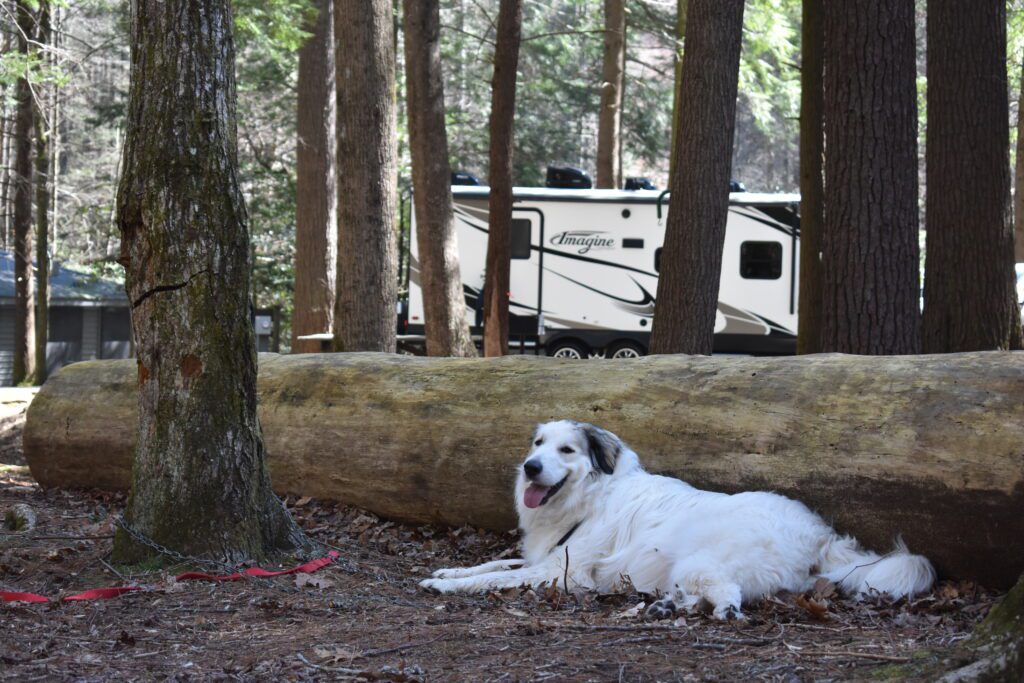 Tips:
Keep a set of dog food bowls and water in the camper. We did this for all of our kitchen utensils as well. We use a large metal bucket as a water bowl for them outside.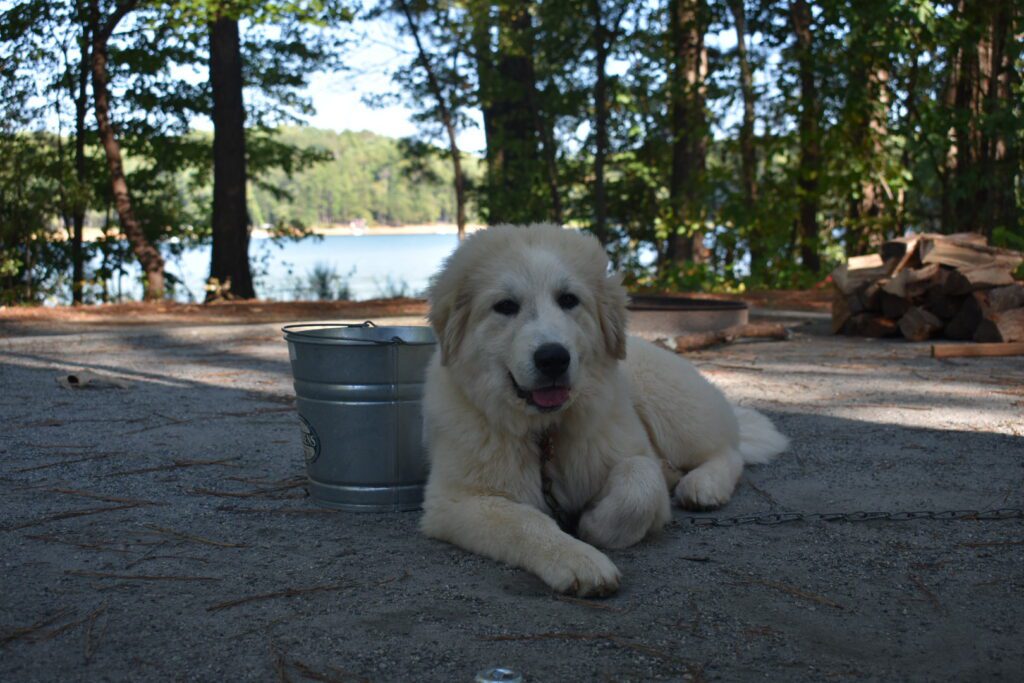 Reminders:
Do not let your dogs bark constantly. Most people go camping to enjoy the outdoors and relax. Our two Great Pyrenees do more barking than we would like, but we actively work to train them and keep them quiet. One product that was recommended to us in a Great Pyrenees group is the Frienda LED ultrasonic training device. It works to break their attention from whatever they are barking at.
Keep your dogs on leash at all times. Even if your dog is friendly, you do not know how the other dog will react.
Pick up that dog poop! We keep rolls of dog poop bags in our camper and vehicles. It could really ruin someone's day to step in dog poop. The dog poop bags do double duty for us when it comes to dirty diapers!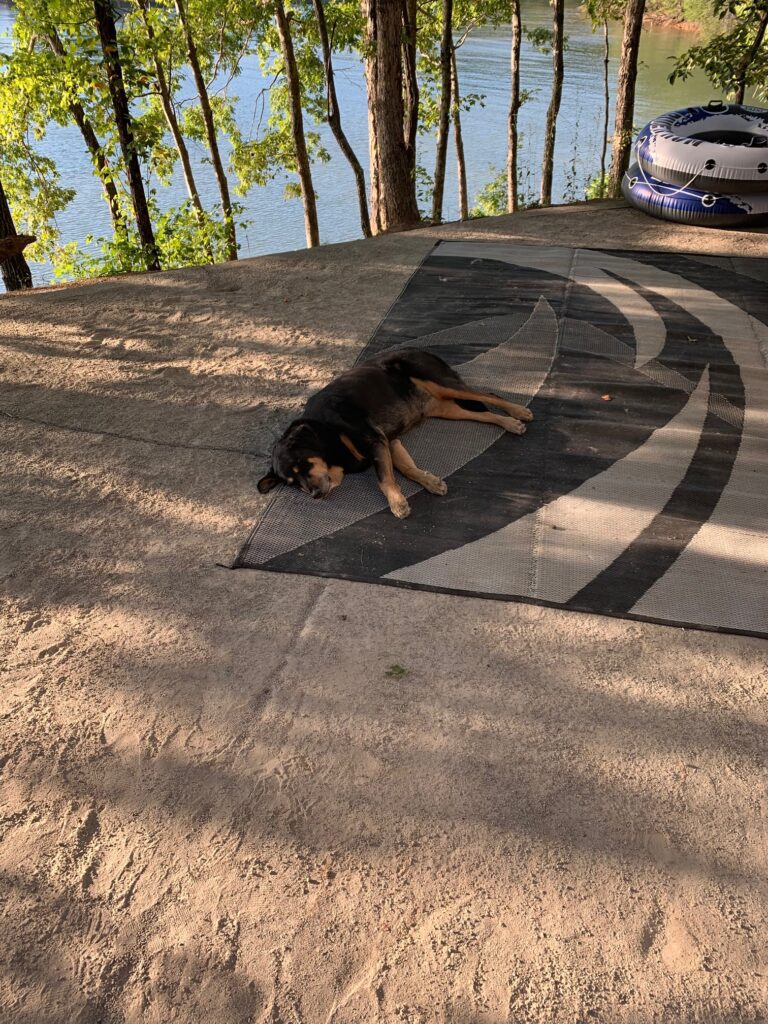 Imagine Camper site contains affiliate links, which means if you click on a product link and purchase the product, I might receive a small compensation. This does not impact the price of the product to the consumer. I only feature products we use and own. I would recommend the products posted on my site even if there was not a possibility of a compensation. Hopefully you find the product links helpful and useful. If you do make a purchase, thank you for following!