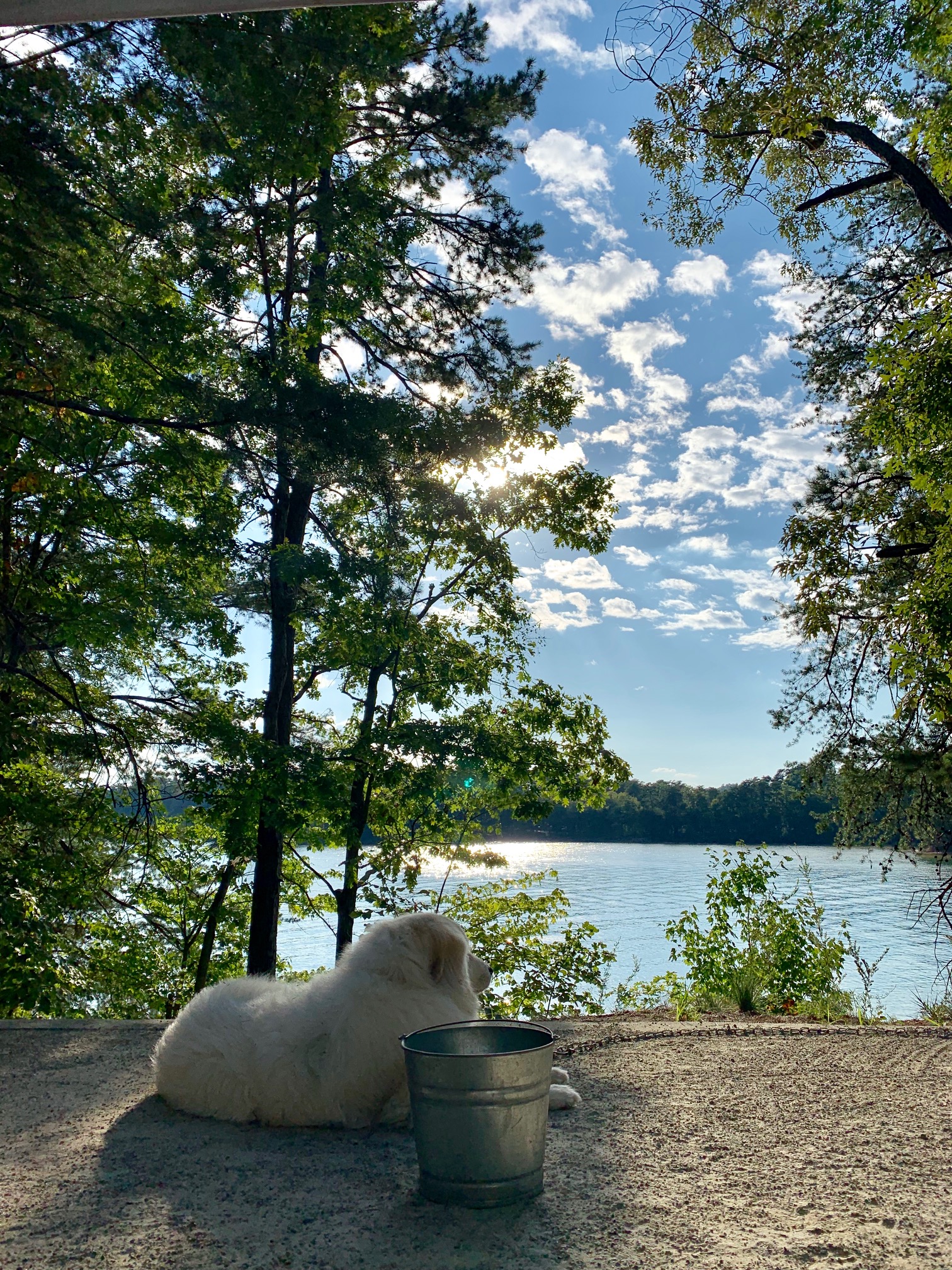 Duckett Mill Campground – 73
08.30.19-09.02.19
Duckett Mill Campground is located in Gainesville, GA on Lake Lanier. It offers 97 sites with electric/water and 14 tent-only sites. The boat ramp is located right outside the campground gate, which makes me wonder if it gets more traffic than just campers. The beach is located on the right when you drive into the campground. It never seemed to be crowded, probably because most sites are located right on the water.
When researching Duckett Mill, I did not find facebook posts about people's favorite sites or anything beyond a google search that pulled up a blog similar to this one. The Crafty Camping Mom posted about their visit to site 73 in April of 2017. From the photos and details it seemed like we would enjoy this site. About half the campground was already booked when I got online about five months before the Labor Day weekend.
Site 73 at Duckett Mill is located on a small peninsula in the campground. It is at the end of the loop, a decent walk from the closest bathhouse. We pulled in around 8 p.m. as it was starting to get dark. What I did not realize when booking this site is that site 72 is RIGHT behind it. We had great neighbors all weekend, but when I was sitting on the couch in the camper it seemed as though if I lifted the window shade I was sitting right next to their fire pit.
The brush around site 73 at Duckett Mill Campground was much higher than it was in the pictures from Crafty Camping Mom. There is still a great view of the water, but would have been better with some extra landscaping. The access to the water was okay. There is a fairly steep hill down to the edge of the water and a large step down over the roots. The water was great though. Site 73 is located in a large cove, great for swimming, floating, and kayaking. The campers in site 71 and 72 both shored their boat in front of their sites.
Another downfall to site 73 was the direct sunlight in the evenings. Yes, the sunsets were pretty, but from 4 p.m. to sunset it was blaring into our site and no awning or tent could protect you from it. Sunday we decided to get back in the water after dinner to avoid it. Saturday night after watching football outside for a couple hours we were so drained from the sun and heat that we couldn't enjoy a fire in the evening.
We tried a new camping meal Saturday evening with the football games. Philly cheese steaks on the griddle. We also made hash browns on the griddle in the mornings. Delicious! We have not jumped on the Blackstone grill band-wagon and Heather feels as though her griddle works just fine.
Monday morning some campers headed out early (probably to avoid a line at the dump) and I was able to get some good shots of their sites. Site 76 had great views of the water, however there was no access to the water from the site. The drop-off was huge and would have been dangerous to climb down. The camper in site 76 turned their front cap lights on Saturday evening and the blue light shined right into our site disrupting my ambiance from the fire pit. I hope they just didn't realize they'd turned it on; it was pretty annoying.
Site 74 also had great views of the water and better access than ours. The campers there were fishing right off the edge, under the shade of a tree and spent a lot of the weekend in their kayaks. The loop in general seemed to be difficult for longer rigs to navigate. There were multiple wood posts that you have to be aware of and the camper in site 74 hit one on the way out Monday.
Checkout is at 1 p.m. and we knew from previous dog walks that the dump was poorly set up. For campers on our side of the campground the dump isn't even on the way out, you must turn left at the beach and go towards sites in the 20s. On top of that there are two dump systems set up right next to each other, so either people from our side are pulling in from one direction and the others from a different direction or campers on our side of the campground have to turn around to get in line. From our site we could see when the line was backed up to site 61.
Around noon we pulled out from our site and were going to check out what the dumping situation looked like, however when we got to the beach and were about to turn left we noticed a long line of campers waiting in line. We made the decision to keep on driving home and stopped at Cabelas once again to dump. We poured Pine Sol into the grey tanks to swish around and all the movement from the ride home prevented clogs from happening in the black tank.
Things we learned:
Tennessee football will probably have another disappointing year. It's hard to be a Tennessee fan, but man, are we loyal.
Our apple tv works great for camping. We invested in an inexpensive antenna two years ago, but it was spotty and didn't end up pulling the channel we needed. With the apple tv, Heather is able to stream from her phone and doesn't have to leave it hooked up.
Heather has about had it with all the random campgrounds I want to try. However, you can't truly say one is your favorite unless you have been to others. Old Federal is still on my list to visit, but on Lake Lanier- Bald Ridge Campground is still our favorite.
Please follow and like us: