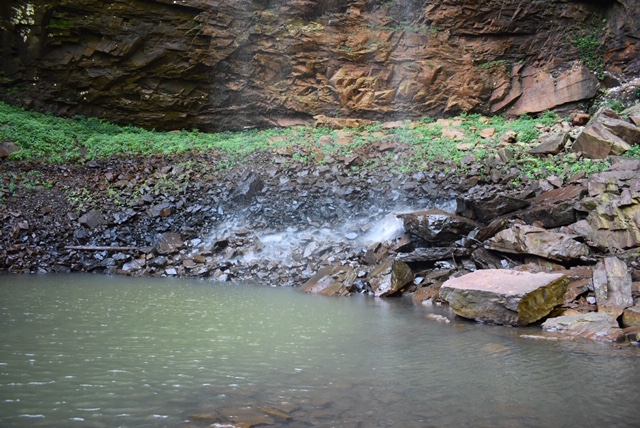 Fall Creek Falls State Park – TN
06.14.19-06.16.19
Fall Creek Falls State Park is located in Spencer, Tennessee towards the eastern side of Cumberland Plateau. Known for its 256-ft tall waterfall and swimming holes, this is one of the most popular state parks in Tennessee. The campground has a lot to offer beyond is 222 campsites and 30 cabins. Other amenities include an 18-hole golf course, nature center, canopy challenge course, pool, snack shack, and general store. The entire state park is made up of 26,000 acres and there is not much beyond that. Keep in mind that it is about a 30 minute drive to the closest gas station.
The campground is frequently booked up, one of the most popular times of year being their big Halloween celebration. By doing a bit of research I knew I wanted to reserve a site in section B. These sites seem to offer more privacy and are more wooded than the other sections. We drove around the entire campground and did not like any other section.
In section D the sites were too close together, along with section E and A where sites seemed to be right on top of each other. This is great if you are camping with a group, however when it is just us and the dogs we like our space. Section A would draw you to book there if you preferred to be close to the playground. There is also a large field and pavilion in section A. Section C seemed to be great for tent camping and while we did see a few trailers in there, it was not appealing to us.
Section B offers some full hookup sites. The row of sites B92-100 and sites B125-120 that back up to those sites seem to be set up for the larger rigs (with full hook-up.) The top of our list was site 110. It was in one of the smaller loops, offered a lot of shade, and ability to use your vehicle to provide a lot of privacy.
We were in site B62. I google-earthed the campground when booking and tried to find as much information on different sites as I could. I knew this loop would be private, but what I did not know was how tight the space would be. When turning into the loop Heather was concerned she got close to the tree and one-way sign on her left. Also the loop is pretty alarming when you arrive for the first time, not ever having seen it. We had to back into a tight space between two trees AND our site was not level. I've heard that most of the sites in this park aren't level, just something you have to deal with. I had my concerns about leaving on Sunday, however it went smoothly and we actually had a lot more room to turn around in the loop than I imagined.
I would not suggest this site to anyone with a larger camper than ours. Would we stay in this site again? Yes, even though the living space opened up to the road, rarely did anyone not staying in that loop walk down the hill. Some might not like that it has a little bit of road traffic behind the site, however we would take that over being next to rowdy people. Loop B was great for walking the dogs. Not including the tiny loops, the section is about 3/4 of a mile.
Saturday after our hiking we visited the snack shack that overlooked the pool. This concession was well stocked with lots of options and reasonable prices. We enjoyed ice cream and a slushie. The pool/concession stand is nicer than anything I have seen at a Georgia State Park. Bring your bathing suit and plan to spend the day here! We also checked out the general store which had more than you could ever need for a camping trip. Remember I said the closest gas station was 30 minutes away, but if you need salt and pepper -they have it. Beer? Got it! Batteries? Got it! Big-foot stuffed animal? Got it, bought it! The Outfitters store had plenty of Fall Creek Falls camping t-shirts, sweatshirt, and even a section of Tevas and Chacos if you forgot your water shoes.
We are not golfers, so I don't have much to say about the course, but it looked beautiful. Fall Creek Falls also has two baseball fields, a boat dock where you can rent paddle boats, lake for fishing, and plenty of playgrounds.
We came to this park for the hiking and waterfalls. Left the two older pups at the camper, which is best when going somewhere with a lot of people. Our dogs are wonderful, but it's a lot more to handle on crowded trails. The trail map was a bit hard to follow and the majority of the weekend we utilized the app "Alltrails." This app features personal reviews and photos of trails while letting you know how much of the trail you have accomplished.
We started with the overlook by the nature center that looks down on Cane Creek Falls. If you look at the picture closely you'll notice a large tree that as fallen into the swimming hole and lots of people holding onto the stump. Behind the nature center is a set of stairs down to the Cane Creek Cascades. There are no signs directing you or telling you what trails are in which direction. I figured out what was what AFTER seeing it all.
Heather and Summit hung out at the top of Cane Creek Cascades while I ventured down the stairs/rocks to see the swimming hole. Bring your bathing suit and spend the day here because even though the water level was considered lower on this day, it was still an awesome place to swim. It is a bit of work getting back up the rocks and stairs, but nothing too bad.
I had my heart set on hiking the 2.4 mile Fall Creek Falls and Cane Creek Falls loop, however as you can see in the photo Heather and Summit only made it about 1/3 of the way across the suspended bridge that starts this trail. Our concern was mostly Summit, however Heather isn't a fan of heights so she said she was hating it as well. We did see dogs go across and felt terrible for them. One couple walked with a poodle between the legs of the owner as they constantly fed it treats. Another dog owner picked up his dog and carried it across the bridge. This was not an option for us and 90 lb. Summit.
We headed across the parking lot to Paw Paw trail a 3.2 mile loop that includes multiple overlooks and a small creek, which Summit played in. It started with a steep, rocky descent–but don't let that deter you. We honestly did not complete the entire loop. We curved to the left and went to all of the overlooks–only one of them really being that impressive. Cable Trail is located off of Paw Paw Trail, however when using the "AllTrails" app we read that this is not for dogs or young children. Reviews included "extreme climbing on all fours" and "gloves needed." This trail does take you to the bottom of Cane Creek Falls for those who dare.
We dropped Summit off at the camper to rest in the air conditioning and ventured around the park and finally found a gas station. While driving around we took the scenic loop to go see Fall Creek Falls outlook which was a short walk from the parking lot. The loop also included multiple spots to pull off for smaller outlooks. I really enjoyed Milikan's overlook with the mountain view. The road to Piney Falls is also on the scenic loop and we ventured down the rocky path see the overlook. We came across another Georgian who told us that the trail to the bottom of Fall Creek Falls was nothing compared to all those stairs at Cloudland Canyon State Park.
We saved some hiking for Sunday morning, which turned out to be perfect because we were the first ones to arrive at Fall Creek Falls overlook and the trail head to the bottom of the falls. This trail is a steep, rocky .4 mile down to the bottom of the waterfall. It was well worth it. The trail down included steps made from rocks and large rock outcrops great for resting. The waterfall itself is amazing! At your own risk–you can walk down to the water which is freezing! Summit loved the water.
Things we learned:
No one talked about the drive to Fall Creek Falls State Park in any of the camping facebook groups. I've seen warnings about Cloudland, Fort Mountain, and of course Black Rock State Park. We took Highway 111 up and down the mountains to get to the park. There were grades of 8% and 6% for 4-6 miles. The truck did great! Heather said that the trailer brakes never had to engage on the descent, the truck's exhaust brake did all of the work.
2. This state park did not charge to enter the park, nor did we see a parking fee. Our site was a cheap $25 per night, very different from the charges we are used to seeing in Georgia. That being said–one costly feature of the campground was trashcans very often throughout the park. Some parts seem to even have a trashcan per site. As a daily dog walker, this feature was very pleasing. I also saw a trash service come to empty them on Sunday–not a park ranger or camp host. The camp host did a great job of cleaning the fire pits before the next camper arrived.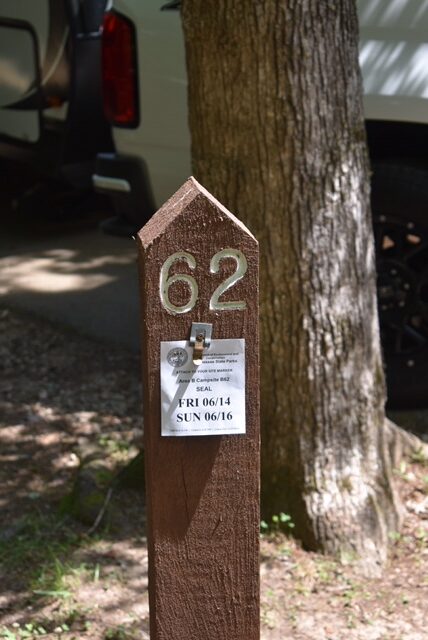 3. Broke the other Anderson level on this trip. We actually broke the first one quite awhile ago, but kept using it. I believe the first one broke because it was not perfectly centered on the tire. We have tossed them and plan to purchase off brand–but very similar levels.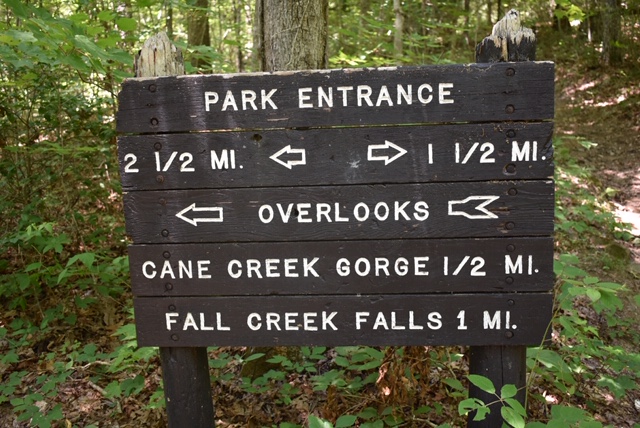 Please follow and like us: