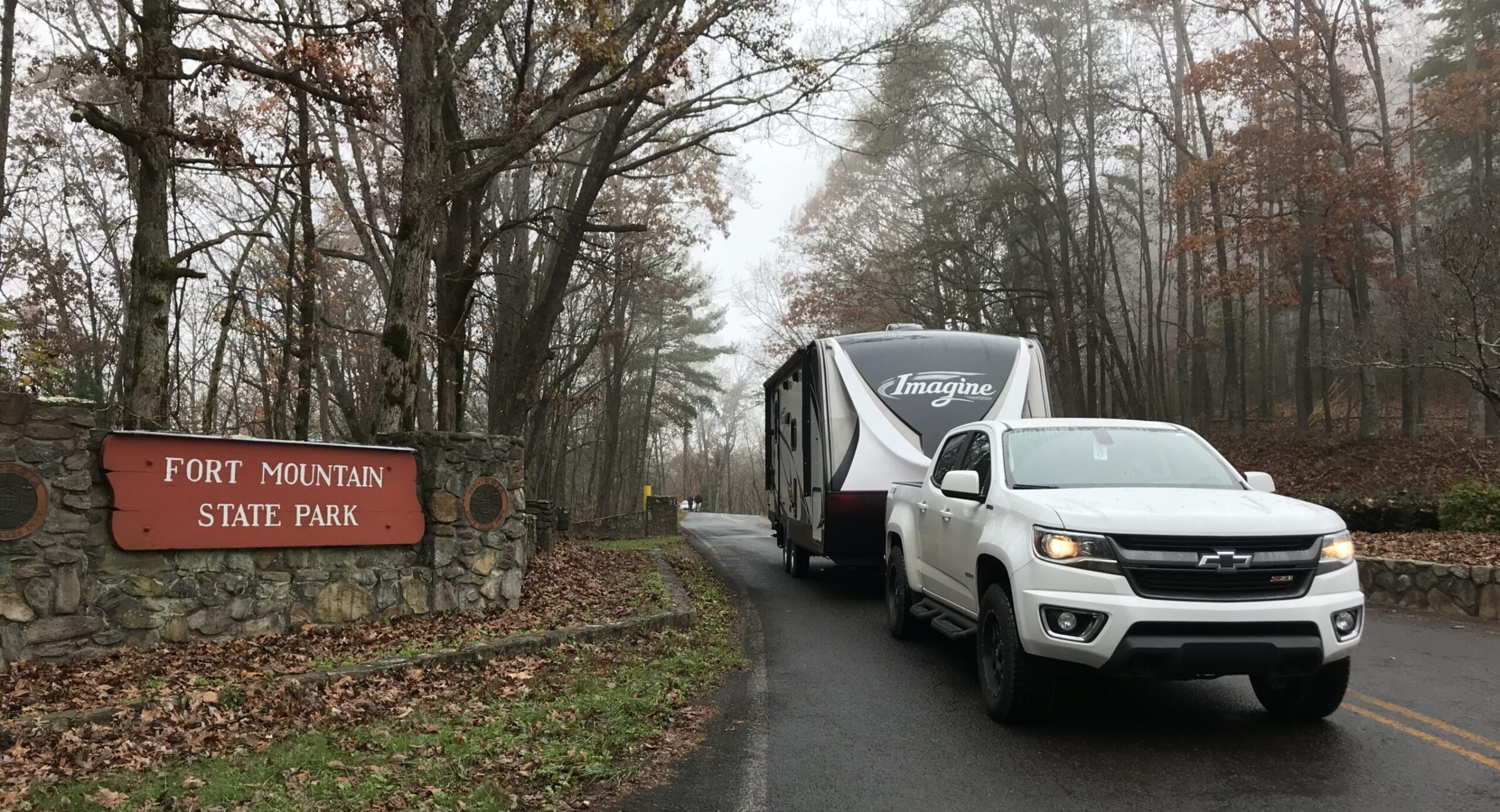 All products have been purchased (unless otherwise noted) by my family and we continue to use them today. Click the title to each product to take you to a link to purchase. We have a separate post for gear recommendations for camping with babies and dogs. Let us know if you have any questions or suggestions below!
Basics
As the official navigator of the family, I am in charge of placing the Anderson levelers/chocks when we arrive at the campsite. In a perfect world you don't need something like this, but not every campsite is perfect. These are easy to use and maneuver on and off. Be careful to place them center on the wheel.
Not sure how people dump their tanks without this. It attaches between the trailer and the hose. As gross as it is, the clear adapter shows us when our trailer is done draining. Always drain the black tank first and then the grey tank(s).
When the camper is in storage (next to our house) we have to make sure that moisture does not get into the camper and cause damage. This can happen pretty easily in the south. We place three DampRids in the camper when it is not used. These last weeks to months, depending on the season and humidity.
Vent covers are a must to prevent any moisture or leaks that could possibly happen. It will also provide shade over the vented area. Watched the install video and took about an hour total to install.
We still use the regular chocks (came with our camper) behind the wheels, however these will give you more peace of mind. No one likes a rocky camper either, this product will provide for a more stable camper. They take some practice getting use to installing them, however like everything with using a camper- it gets easier with time.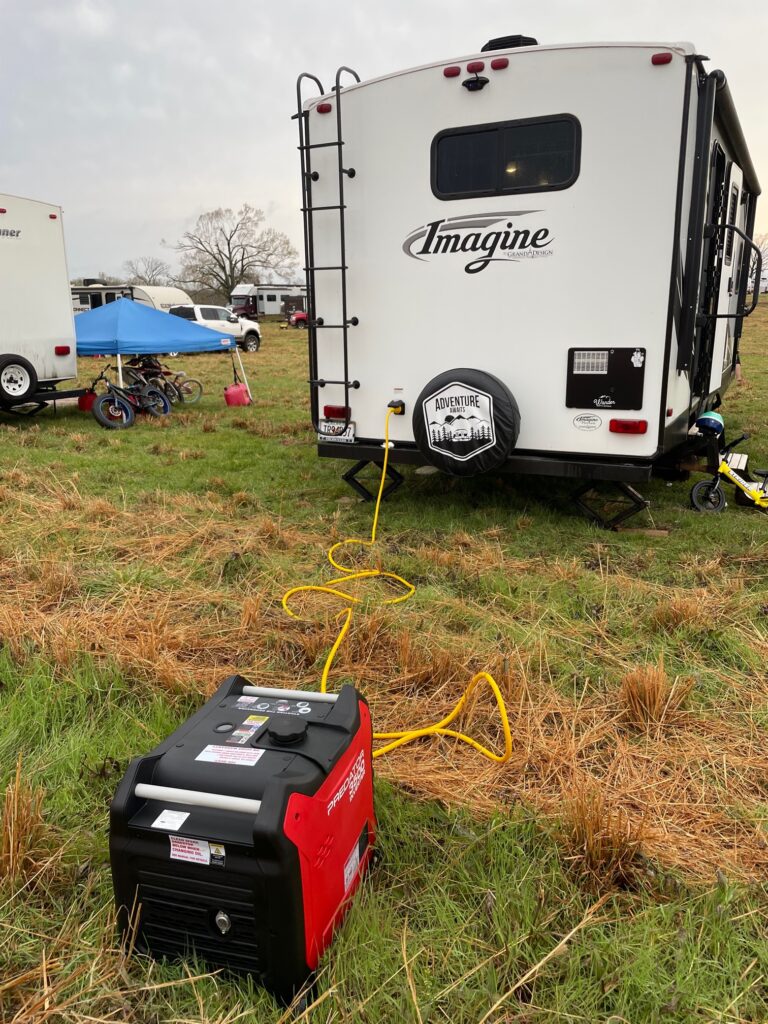 If you are interested in boondocking and using a generator for this, we would highly recommend the Harbor Freight 3500 Predator. We picked it up for our first boondocking trip in March of 2022. You'll find in your research that it's a great option for the price. At the race track we saw many others had made the same purchase for their camping. The generator was more quiet than I thought it was going to be.
Organization
The towing organizer kit keeps our gear off the ground and easy to reach. There's a place for everything–the harness, chain, and break away cable. My favorite part is the plug cover for the seven pin. This was something we bought right after purchasing the camper. While it's not a necessity, we can't imagine not having it.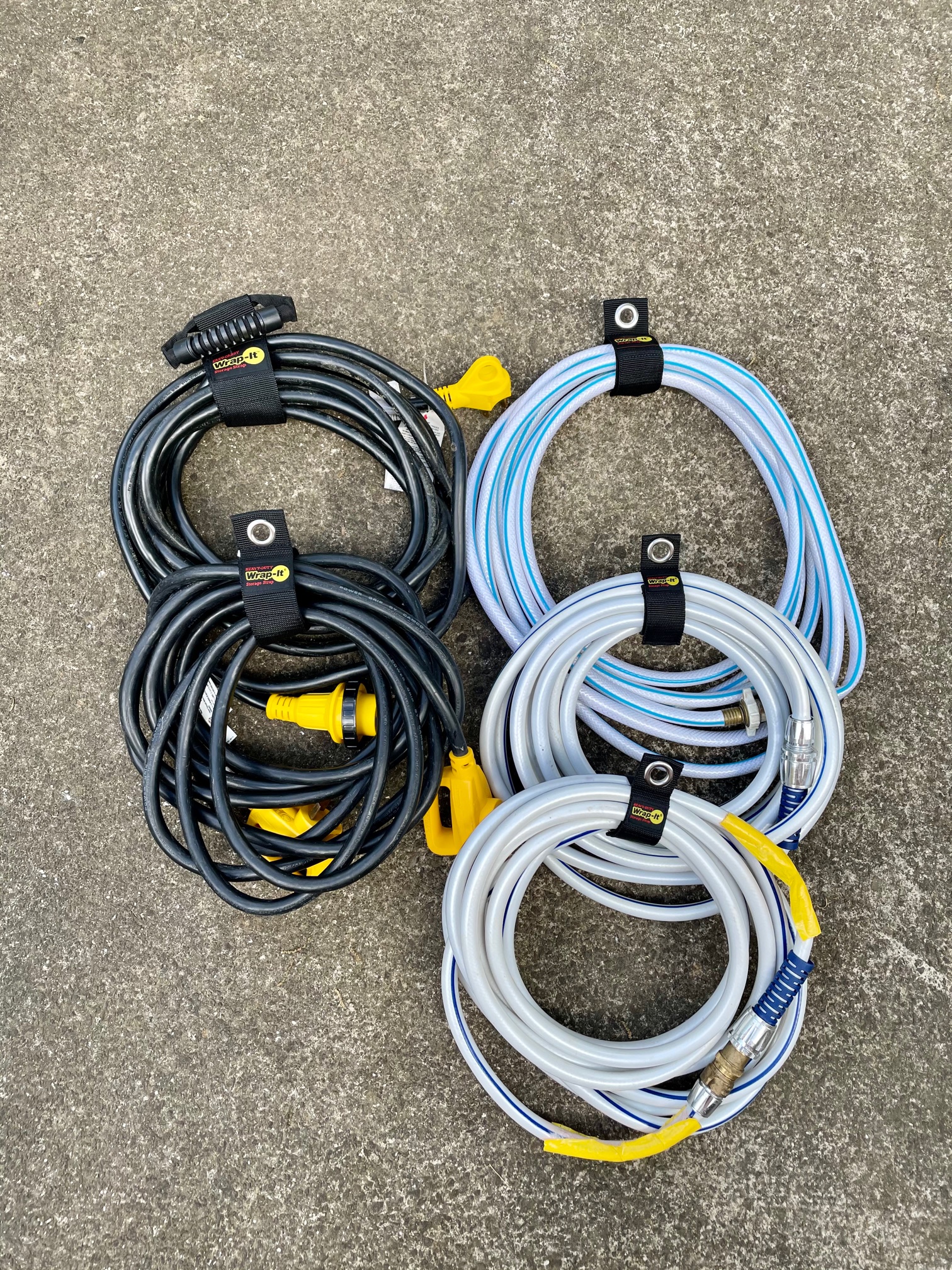 Wrap It Storage straps help us to organize the three water hoses and two electric cords while being stored. I have included the link to the bundle pack, but we only needed five straps in total. I really like the one with the handle, but only have one of those and then the other four we own are the regular straps.
This is probably my favorite recommendation to anyone looking to add to their camper. It's not something you need to fill the kitchen or make storage easier, however I always look forward to recording our adventures in the journal. It has a log in the front to list each campground and then pages to keep track of campground details and memories. Etsy has lots of options! This is the particular one we use to organize our memories and notes on the campground.
Comfort
Zinus Memory Foam 10 inch Mattress
We bought this mattress after making it a year and a half on the terrible mattress that came with the camper. We did use a foam topper with the stock mattress, but eventually we found ourselves hitting the plywood. Spent nine nights on this mattress the first trip out and we love it! Not to mention it comes in a box, so it's easy to get into the camper when setting up.
How in the world we found an outdoor mat that perfectly matched our camper? Not sure, but many Grand Design owners have bought it for that reason. It does come in other color options. Great for most campsites and dries quickly.
This particular ottoman works perfectly with our Grand Design chaise couch. It provides a place for feet, a seat for someone, or storage. We keep our camper dog toys in this ottoman. Update: Amazon does not currently have the square, but I was able to link the rectangular option.
We use these chairs every trip. They are light weight and fit in our under storage. The zero gravity chairs recline back to a great napping position and you can lock them into place. Best of all, they come with trays that include cup holders. I've heard the headrest can even be moved down for those that need lumbar support.
Kitchen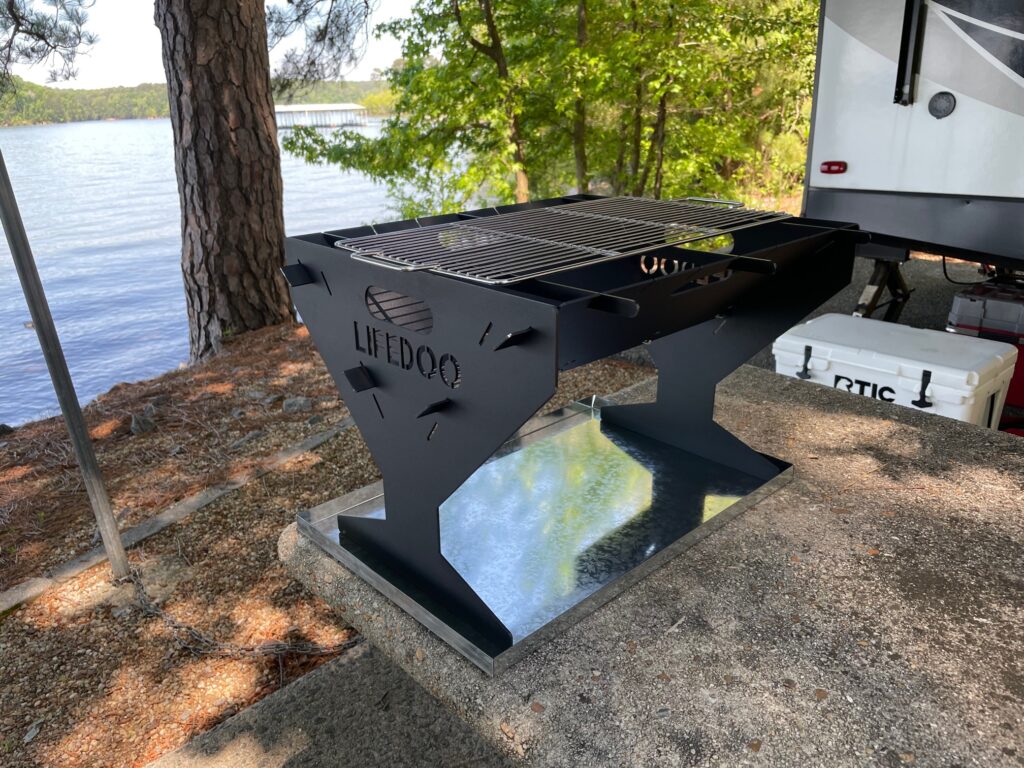 Lifedoo, an Australian company, sent us their new grill/fire pit recently and this was our first chance to try it out. The produce has the following features:
1- EASY TO ASSEMBLE
2 -AIRFLOW – The ventilation holes on both sides are designed to provide enough oxygen for combustion, and the gaps left at the junction of A and B sides can allow the ash layer to fall out smoothly, so as not to hinder combustion.
3 – VERSATILE FOR BBQ
4 – TWO ADJUSTMENT GEARS – Lifedoo provides a total of two adjustment gears, which can be adjusted freely according to needs.
5 – Grill Grate – Cook outdoor-style meals using the removable grill grate. Fuel rack adjusts to accommodate two types of fuel wood or charcoal.
6 – ASH PAN – Ground Protector Catches loose ash and prevents it from clogging vital airflow. The ash pan also can allow leaving without a trace after you use the fire pit, very friendly to the environment.
Lifedoo sent us a discount code to share with our followers! To get 10% off use code ICRV10.
Recreation
We have received many compliments on our setup with the kayak rack. Like everything else we have learned a system for getting it set up and have gotten better at it with time. This rack is great because there is still plenty of room to fit the coolers, firewood, or anything else in the truck bed. We have the clamp on rack, but it is also offered as a bolt on. We tow with a Chevy Colorado that has a short bed, little over 5 ft. Our kayaks are 10ft long and fit perfectly. The J-Bars were purchased separately from amazon. J Bars
Having kayaks delivered to the house sure was nice! We knew we wanted sit-on-top kayaks and after quite a bit of research we chose the sun dolphins and purchased from Amazon. They come with paddles and a back rest. We have been contemplating about buying seat cushions. In the back of the kayak is an option for dry storage. Update: Amazon only seems to be selling these through a third party seller for a price way higher than we paid. I am still including the link for your research.
We have used this wagon every beach trip (camping and not) and will most likely use it even more now that we have a baby. Huntington Beach State Park had a short walk to beach and we had a site in the back of the campground. This wagon did so well toting everything we needed and many people complimented it. It is different from many other wagons because it has four oversize wheels instead of three. You may notice the wheels at the front are close together. It collapses to take up less room in the back of the truck and has a fold out table with cup holders!
Safety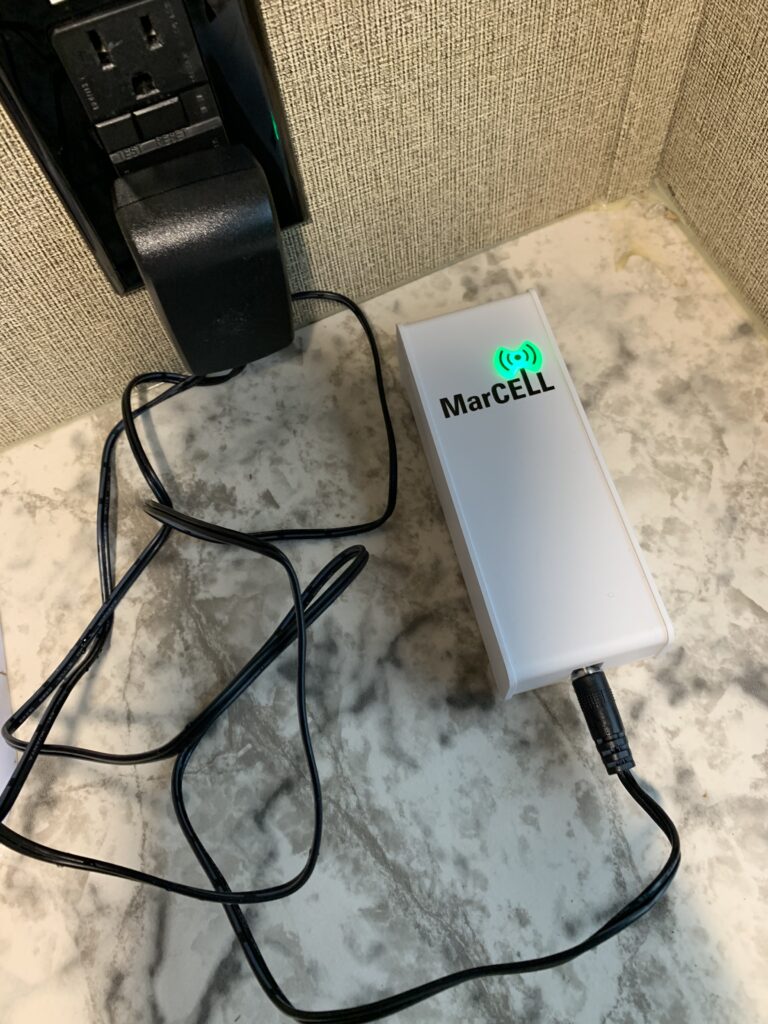 If you have pets and plan to leave them in your camper this is a MUST. It will send you a text message if your camper overheats. You can set the temperature for this and it is very sensitive – when it comes to our pups though we wouldn't want it any other way. It does require a yearly membership fee, but does not require wifi to run. Lets be real – most campgrounds are not going to have wifi at your site. MarCell gave us a code to share with our followers! For $20 off the temperature monitoring system, use code Imagine20.
Fun
If you have ever been to Fort Wilderness RV Resort and Campground at Walt Disney World in Orlando you know that people take their campsite decorations very serious. We invested in the Mickey lamp before our first trip to the Fort in 2021. The company Sawin Pixie Dust will take custom orders and we choose to have our last name on the lamp. It comes with a remote and lights up with multiple colors. One of the best features of the lamp is the dimmer. We tend to like it on one of the lowest settings while enjoying a campfire at night. The lamp was easy to assemble and we chose not to take the post apart, but have it ride in the camper upright in the corner of the bedroom. Each trip we take the top and put it in a crate under the bed.
Sawin Pixie Dust gave us a 10% off code to share with our followers. The code IMAGINE will work for the full kit, globe top (by itself), or the table lamp!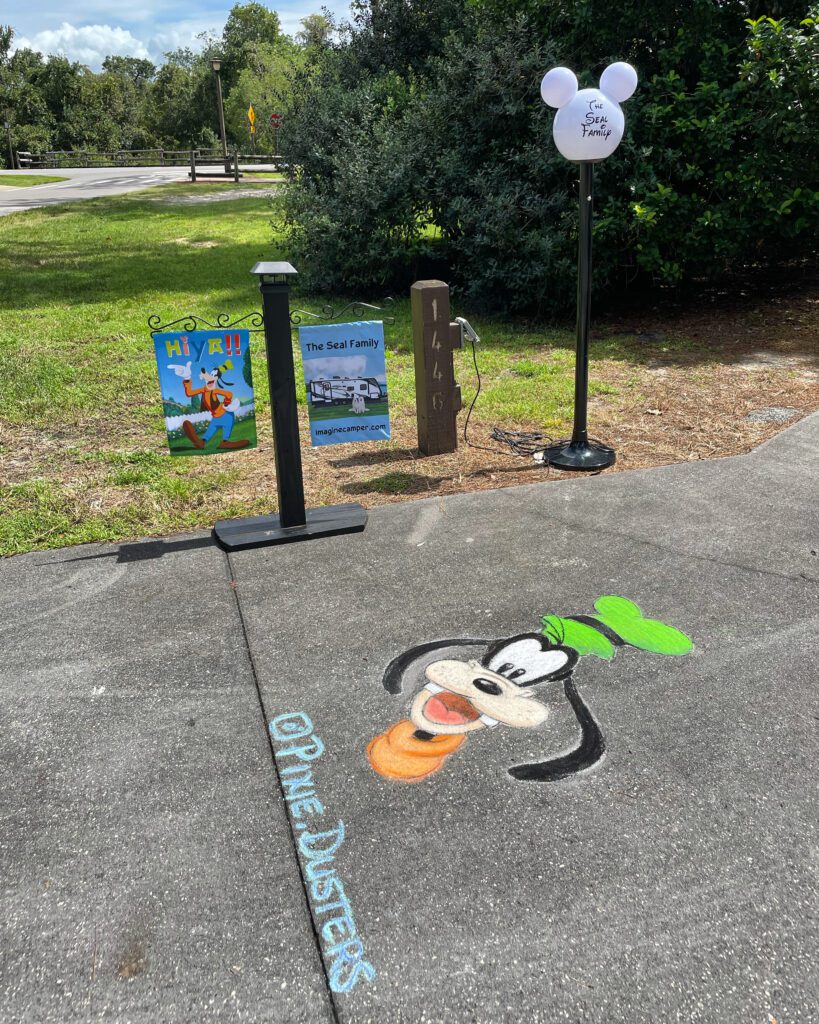 Looking for a way to create a little bit more fun and add color to your campfires? These packets are so much fun for any age. This is for outdoor fires only. The pictures don't do it justice. The colors are beautiful and you can't be positive what will show up until the packet is in.
---
Imagine Camper site contains affiliate links, which means if you click on a product link and purchase the products, I might receive a small compensation. This does not impact the price of the product to the consumer. I only feature products we use and own. I would recommend the products posted on my site even if there was not a possibility of a compensation. Hopefully you find the product links helpful and useful. If you do make a purchase, thank you for following!
Imagine Camper is a participant in the Amazon Services LLC Associates Program, an affiliate advertising program designed to provide a means for sites to earn advertising fees by advertising and linking to Amazon.com.