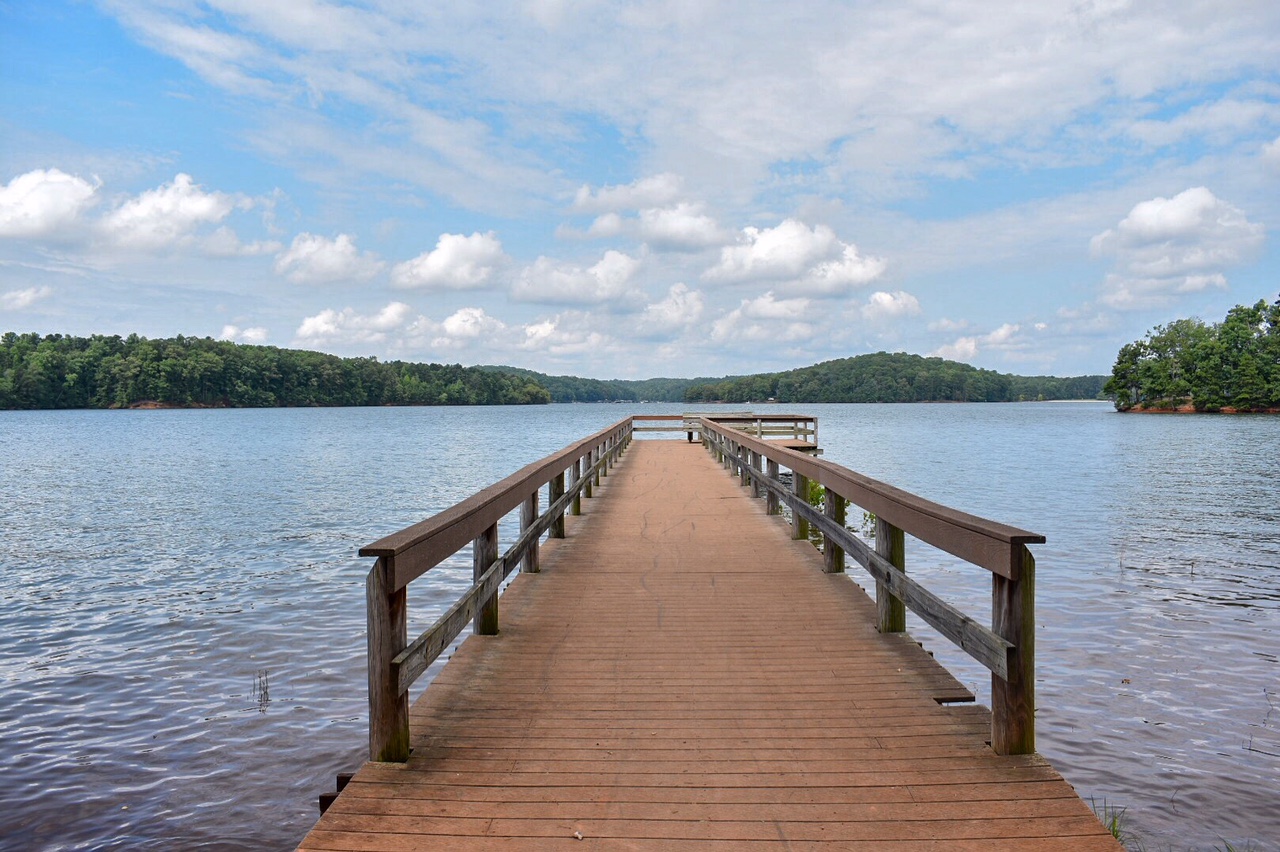 07.19.18-07.23.18
Owning a camper can be compared to taking mini vacations multiple times per year. Yes—it can be a lot of work, however it is worth it. We extended our usual Friday-Sunday trip and enjoyed a long weekend on Lake Lanier.
Bolding Mill Campground is a Corps of Engineers campground on Lake Lanier in Gainesville (NE portion of the lake.) The campground has 88 electric/water sites and nine primitive campsites. Driving into the campground a brand new dump can be found on the right (more on that later.) Followed by the boat ramp with plenty of parking and a large pavilion with more parking. Further into the park the beach and playground are on the right before the campground gate.
I found Bolding Mill Campground on the Facebook page "Georgia RV Camping." I love when people post pictures of their sites and I have a master list of campgrounds/sites to check off as we go. Site 67 has to be the best site in the campground and we were there for 4 nights. That being said—every site has its pros and cons. Site 67 is a back-in site, and like most of the sites at Bolding Mill, the driveways are LONG. This is actual a great feature if you don't want to leave your boat and/or boat trailer in the boat ramp parking lot, there is plenty of room at the site. The obvious perk of this site is that you are surrounded by water on two sides (camper door side and rear.) The views are amazing. If only that dead tree wasn't in the water.
The site has a hill down to the water, but also makes for plenty of yard space to walk the dogs around. There is quite a drop off at the bank. I couldn't imagine getting in and out of the water here with small children. We had to use the roots to help us in and out of the water, but I think all of us slipped at least once. Please keep in mind the amount of mud in the water. I like to refer to Lake Lanier as the Georgia mud hole. It isn't just this site at Bolding Mill and it isn't just the campground. The water at Lake Lanier is much muddier than other Georgia lakes. How many baths will it take to get our dogs white again?
Another negative to this site is how open it is on the lake. Yes—it gives you the best view in the park, however we were not able to put our awning out as often as we wanted for fear the wind would damage it.
Site 69 shared the cove between our site and the fishing pier. This particular site had more of a natural beach access, making it easier to get in and out of the beach. The back window of a camper would have a great view of the lake. The negative to this particular site was that the trail to the fishing pier went right next to the site. For my particular family, site 69 would not work at all because every time someone came down the trail our dogs would most likely bark at them. Not fun for anyone.
The fishing pier was an awesome feature for the campground. It was a short walk to the pier, but the area also included multiple short trails along the water. For those that stay in sites 68 and 70 (not waterfront) there are a couple spots along the trails to the fishing pier that people could set up for a couple hours and play in the water, if they didn't want to drive to the beach. I would be happy in any of the sites on our road. 63-67 are all waterfront and fairly private from the road. I also liked site 73 in the next loop.
We originally booked Friday to Sunday and wanted to add a day onto the beginning and a day onto the end of our reservation. To edit a reservation on recreation.gov it costs 10$. That's if you want to add a day, take off a day, or change your site. To me, adding a day to my reservation should not cost additional money. We were able to add Thursday night in its own reservation, however because Sunday is considered a weekend night (with a 2-night minimum) we were not able to add it. I called recreation.gov and they said they were not able to override this. WHAT? I feel like if a company comes up with a rule like this, they should be able to override it. The customer service rep instructed me that I would have to contact the campground itself to reserve Sunday.
This would not have been that big of a deal if the campground answered their phone. I called, and called, and called. No answer. I went as far as calling Duckett Mill Campground (right down the road) to see if maybe their phone was down. The campground host at Ducket Mill actually said "Oh you won't ever get them to answer, you will have to go there to change your reservation." This became very clear to us as to how the campground was run when we arrived and the gate house was vacant. It was vacant ALL weekend. They sell firewood and ice, but you have to find someone on a golf cart first. It actually says that in the window of the gatehouse.
Our interactions with the Bolding Mill campground hosts were great. They were very nice and helped us in adding Sunday night to our reservation. When I drove up to the gatehouse to buy ice, someone showed up a couple minutes later—it's apparent they keep an eye on things. This check-in system was different to me though.
Anyone can drive into Bolding Mill campground between the hours of 7 a.m.-10:30 p.m. There are no visitor tags given out (our cousins visited twice.) They do not seem to care how many people/cars are on a site. Everything worked out for us this weekend though, even the weather.
Every day of the weekend there was some chance of rain in the forecast. Friday night we were woken up at 4 a.m. with heavy rain and lightning. Saturday was supposed to be filled with severe weather, however the weather channel app couldn't have been more wrong. We enjoyed another day in the water. Saturday night though, we actually watched a lightning storm on the other side of the lake instead of lighting a campfire.
Things we learned:
Never cancel a reservation because of the chance of rain. This isn't something we JUST learned, actually we canceled one back in 2017 and the weather ended up being beautiful. Site 73 remained vacant the entire weekend (probably someone that canceled) and this waterfront site would probably be a top choice for us to stay at.
Trust your dogs, but don't trust your dogs. Our dogs aren't perfect- Indy is an angry old lady. Cedar is scared of everything, but will embarrass us and bark at a stranger. Summit barks at the wind. I could write a whole blog post on how awesome my dogs are though. When walking our dogs around the campground Friday morning, we came across a Great Dane who wanted to meet our pups. He was on a lead so when he ran at us the collar caught his neck and he actually flew onto his back. When he stood up he came free from his collar and continued to run at us. Heather, my wife, said she was

mentally

picking Indy and Summit up under each arm (like they weighed 20 pounds) to rescue them from the charging Great Dane. Funny—my reaction was to worry that our dogs were going to act crazy towards this other dog. Thankfully the situation went very smoothly. The owners were right behind their dog and everyone got their sniffs. Us with our three 100 pound dogs, I couldn't get over how big their dog was! We stood and talked with the dog owners for about ten minutes and went on our way.
Update on our tire issue. The weekend before we pulled our camper up to Discount Tire in Woodstock. They took great care of us and now we don't have to worry about driving around on a patched tire.
Please follow and like us: