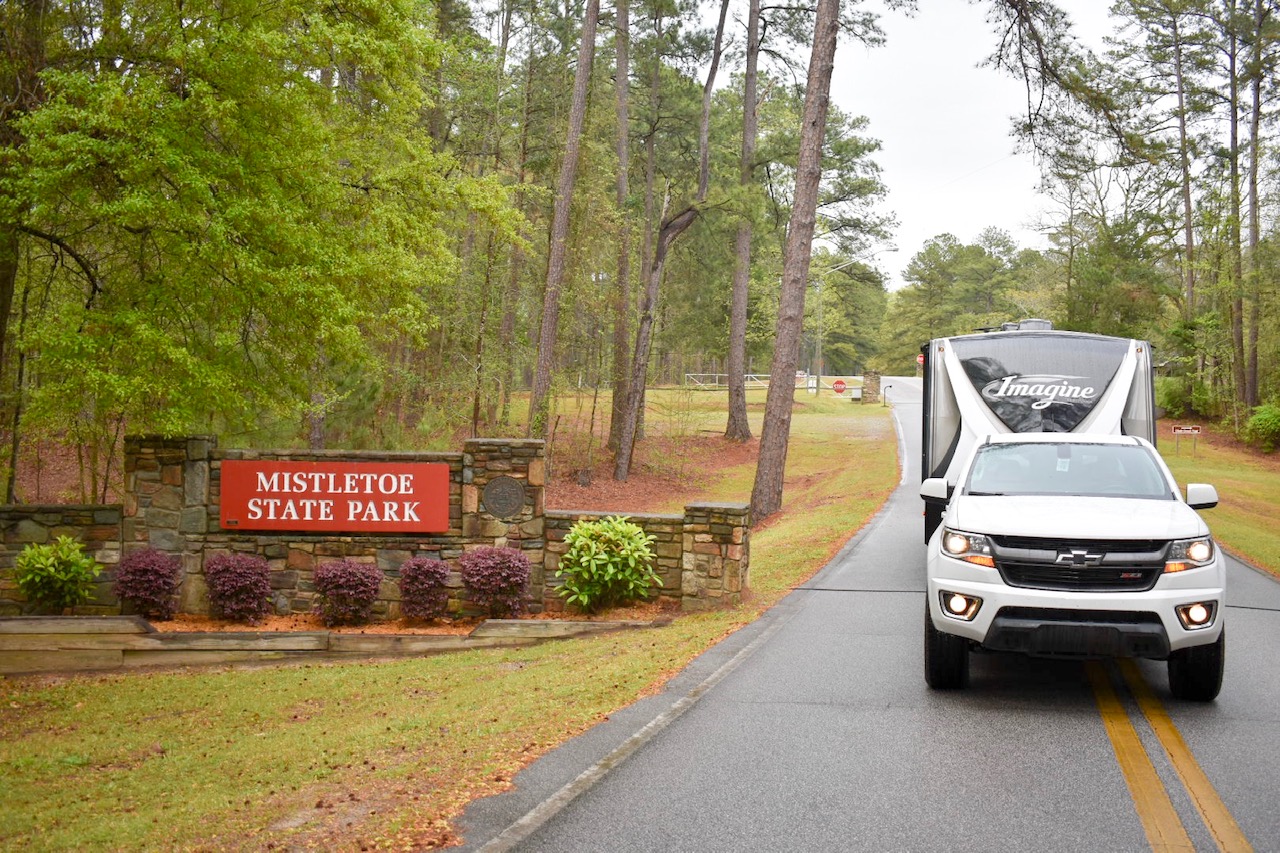 04.03.19-04.05.19
Mistletoe State Park is located outside Augusta, GA on Clarks Hill Lake. While this State Park is well loved, it wasn't necessarily on our list of must visit parks. We have multiple campgrounds much closer to home with lakefront sites.
The original plan was to go home from Santee State Park to do laundry and hit the grocery store again before our visit to High Falls State Park, however when driving right past this park we had to look up availability. Sunday I checked online for sites open Wednesday through Friday at Mistletoe State Park. We couldn't have been luckier. Site 49, a premium pull-thru site with water views on three sides was open!
Site 49 (of 93) sits in a quiet and more spread out cul de sac than the lower loop sites. If we visited again the back-in site next to us, 50, is also a great spot. Site 49 was missing a grill, but that did not affect us as we always use our Smokey Joe. There was also no access to the water from our site. It had a huge drop-off along all sides. The only option would have been to walk down in front of either of the campsites next to us. When pulling out of the site there are trees on either side and a concrete picnic table that you have to be careful of. Our camper is 27 feet, but we wouldn't want to have to try that with anything longer.
Across the cove is a group of 50 amp sites, 73-78 are all large pull-thru sites that have great water access. In general, the park offers plenty of big rig sites. We were really surprised by this.
Thursday morning we spent multiple hours at the urgent care closer to Augusta. If you need an urgent care, Mednow was very nice. Everything is about a 30 minute drive or more. Publix was one of the grocery options closest to the park, but still a long drive.
Even with battling a sinus infection we managed to hike one of the trails in the park. Mistletoe offers over more than 15 miles of trails, but they all seemed to be far from the campground. The only trail head near the campground was the Campground loop. It was almost two miles of well marked trail. This hike was unlike any we have done before because the park recently did a prescribed burn. Seemed to help keep the bugs away, but a lot less green to enjoy.
The lake is known for having some of the best bass fishing and plenty of people were doing that. The main boat ramp (of three) includes a fish cleaning station. The park rents out canoes and kayaks which are stored by the boat ramp in the campground, but the paddles are at the visitors center. We quickly drove by the beach, beach house, and playgrounds.
Things we learned:
1. When changing the dogs' food brand because you have run out, you should probably give them extra time to walk outside. I woke up to Cedar having an accident in the camper. Thankfully none of the mess was on the carpet.
2. It's nice to not be rushing to the campground. We started to pack up as soon as we woke up on Friday. Check out is at noon and check in for GA State Parks is at 1 p.m. Interstate 20 was pretty busy and we seemed to be pushed around a little more than normal. We took the low roads to High Falls SP and arrived only about 30 minutes later.
Please follow and like us: