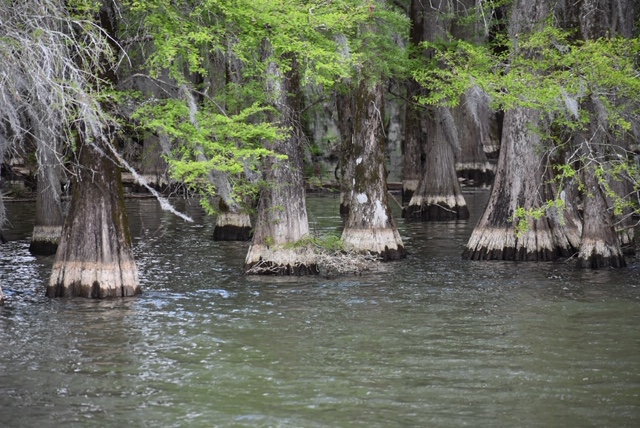 03.29.19-04.03.19
Santee State Park is located on Lake Marion about an hour inland from Charleston, SC. That puts it at about a 5-hour drive for us pulling the camper, but does not include the terrible Atlanta traffic. What personally drew us to this state park? A close friend recently took a job there as a ranger! What might draw others to Santee? It is great for fishing, kayaking, and everyone seems to have a boat.
This state park is huge (2500 acres), so with that everything is spread out. We had to drive to any trails we wanted to hike. It was a ten-minute drive to the camp store and pier. Just a short walk to the lake, there were multiple spots for campers to fish or put in a kayak. We never got around to taking on the 7.5-mile hike that is also a bike trail.
This trip was not planned months in advance. We figured out we would be able to go about a month ahead. From the sites that were available, Emily chose 106 for us. It is a pull-thru site in the Lakeshore Campground. The state park website did not have photos, so we just trusted Emily's judgement. I didn't even think to look at the website campsitephotos.com.
There are two campgrounds in this park, pretty far away from each other. Lakeshore campground is not paved and the road is full of pot holes. Some sites are covered in tree roots making it difficult to level a camper. What Lakeshore does have is a much more wooded feel. It is closer to Emily's house, which was more convenient for us. The Cypress View Campground has paved roads and gravel sites. These sites are more of what we are used to.
Site 106 is a pull-thru that opens up into other sites. This is very different from the private sites we usually go for. That being said we could park the truck anywhere we wanted (remember there's no designated pad) and used it to provide some privacy. The campground emptied out on Sunday and we enjoyed having all of that space to ourselves.
If we go back, we would really enjoy sites 90 (with tree roots), site 101, and site 100. In the Cypress View Campground we would want to reserve site 41, 43, or 45.
Saturday at 1 p.m. we took the Fisheagle boat tour of Lake Marion. It lasted about 2.5 hours, but we never saw a gator. It was great to view the swamp area. The tour included a lot of history of the town. How the lake was built in the 30s under the New Deal and never finished because of WWII. The Cypress and Tupelo trees survived and made for a very pretty landscape.
On Sunday we all went to Lonestar BBQ just down the road from the park. The buffet style restaurant is only open on the weekends and built in the original general store and post office. While the history was awesome and getting out of the park was nice, I felt it was overpriced for what they served.
We had to go into town on two different occasions. One trip to the Food Lion and one to CVS. These two stores were not a bad drive from the park.
On Monday, Summit and I hiked the Sinkhole Trail and Limestone Trail. Both trails were far from the campground, so I drove to each. Sinkhole Trail takes you on a loop that goes next to a swamp where I saw a huge gator, pictured below.
Tuesday called for thunderstorms and we woke up to multiple sites flooded (105 & 122). Thankfully we were in the clear, but a Grand Design Reflection behind us had to relocate. We spent the day in the camper and then headed to Emily's house to do laundry. The campground does not have a washer and dryer. Also Verizon cell service is spotty.
Things we learned:
1. Always pack extra hitch pins. When leaving Wednesday morning we realized we misplaced one of our pins to the hitch. Knowing we were going to be driving on the interstate we were concerned. The camp store did not sell these and we were prepared to drive into town to the local hardware store. I approached another camper in line behind us at the dump and was prepared to give him $10 for a pin, but the couple from Canada gave us one! So thankful for them.
2. Stock up on allergy meds and prepare for the yearly sinus infection. We spent about $125 at CVS, but now we have a full set of medication to leave in the camper.
3. We probably would have arrived at the campground at the same time no matter if we left at 4:30 p.m. or if 6:30 p.m. You just can't win with Atlanta traffic.