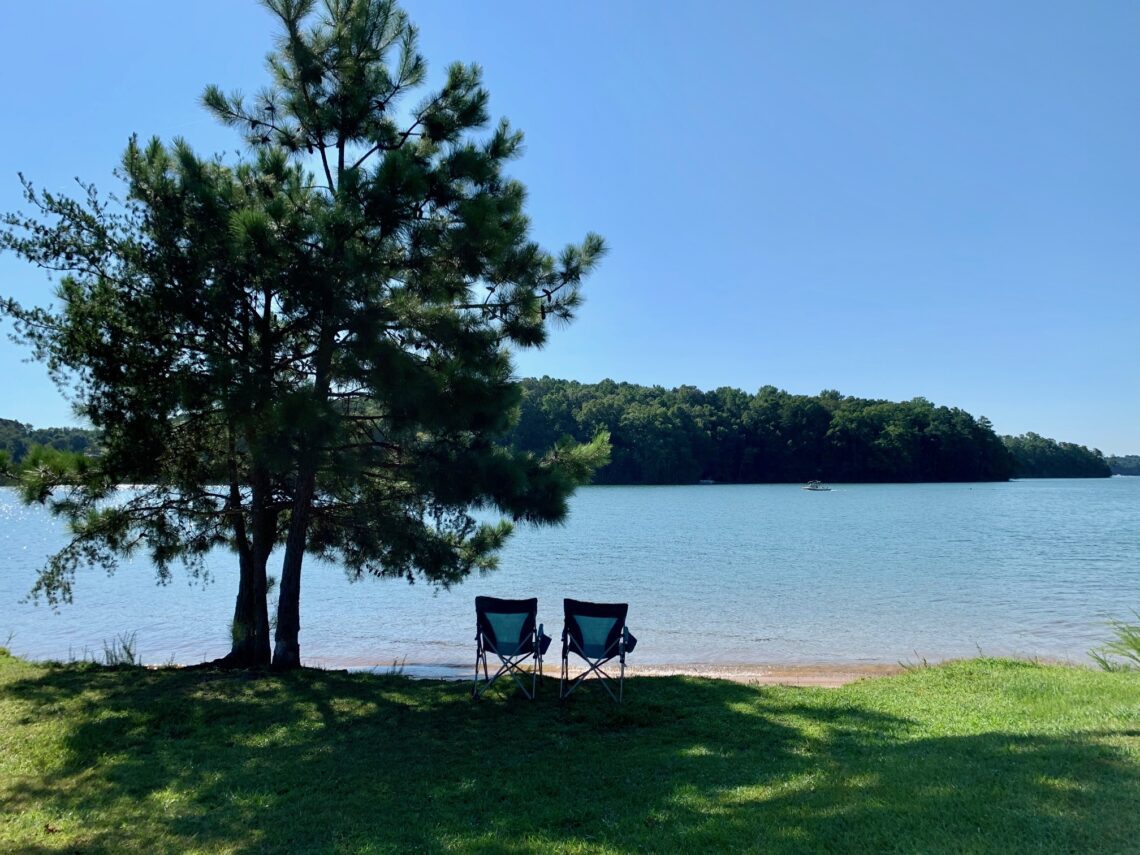 Bald Ridge Campground – 44
08.14.20-08.16.20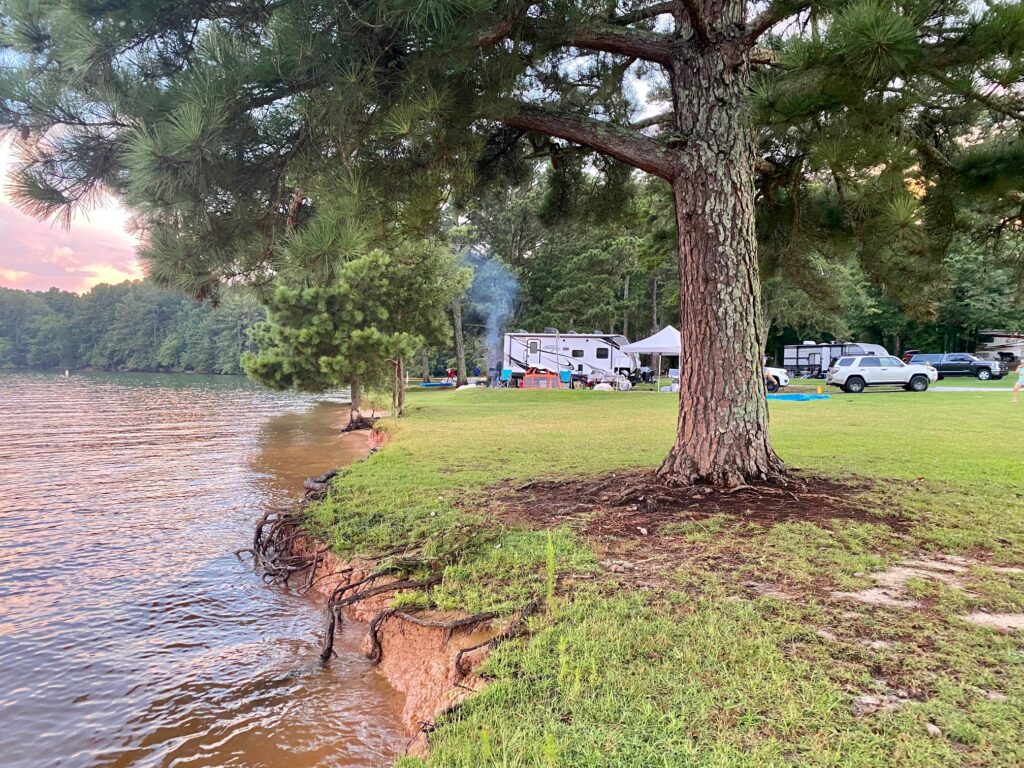 Epic site for a great weekend with friends!
This was our fifth time at Bald Ridge Campground this season. If you have been following along you know it is a favorite campground on Lake Lanier. If this is your first time to our blog, be sure to check out the other posts on Bald Ridge Campground for other details.
We were able to pick up this reservation when a friend had to cancel their weekend. This is the type of site that is constantly booked months in advance. Best site at Bald Ridge Campground? Possibly! It's for sure top 5.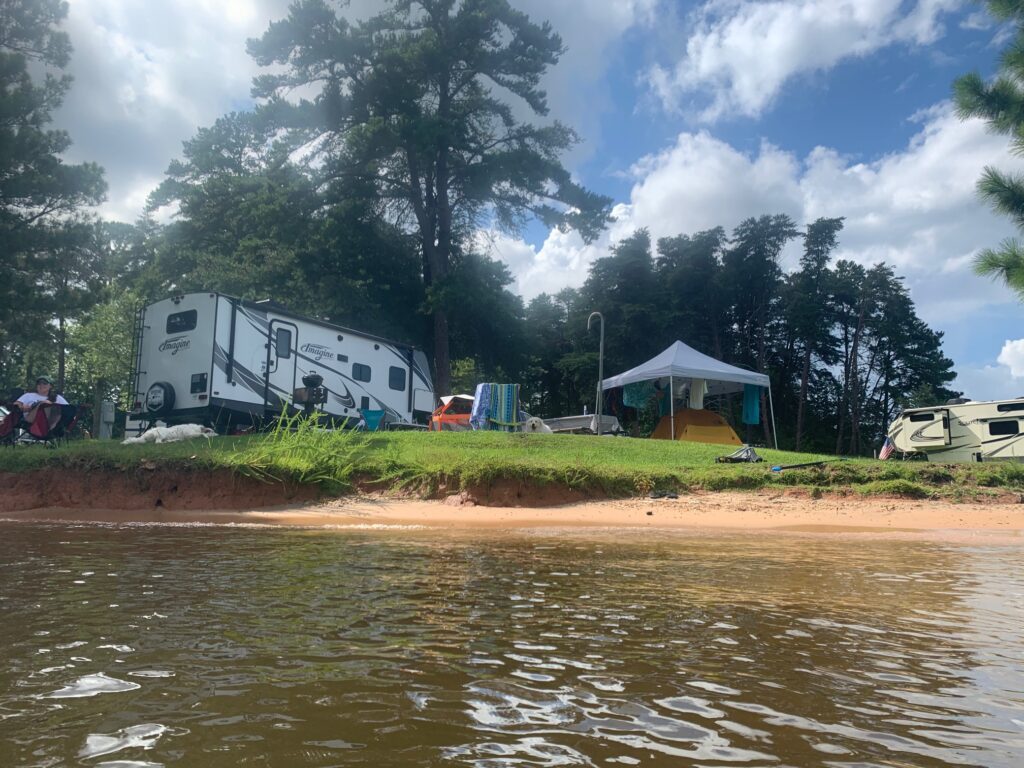 Site 44 is a back-in site located just past the beach. What makes this site epic is the access to the lake, the lake view on two sides, and the large grass area next to the outdoor living space.
The weekend weather showed rain everyday and we were constantly throwing stuff in the storage compartment and waiting out the storms in the camper. We did get some hours in the sun for swimming. The water access at site 44 is perfect. It has its own sandy beach area and is easy to get in and out of. It's the perfect site for kayaks, but because of the weather we left them at home.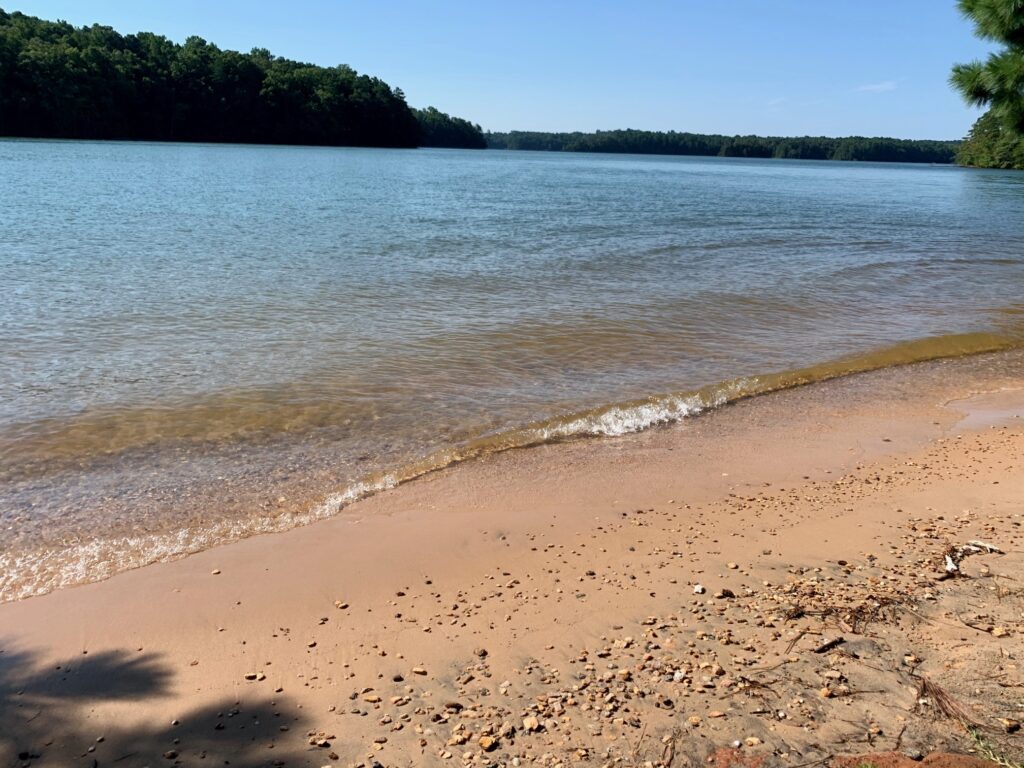 Between sites 44 and 45 there is a peninsula with two large trees. This is a great place for fishing. We set up bottle bash on the lawn one evening. I've seen people set up volleyball nets here too. Bottle bash is a frisbee game where you knock off a bottle from the other teams post. They must catch the frisbee and the bottle before it hits the ground. It was so much fun!
The only negative to site 44 is the amount of direct sunlight. We had some shade with the two small trees closer to the water, but on the camping pad it was all sun. We set up our shade tent, but did not put out the awning—not wanting to risk the wind taking it off.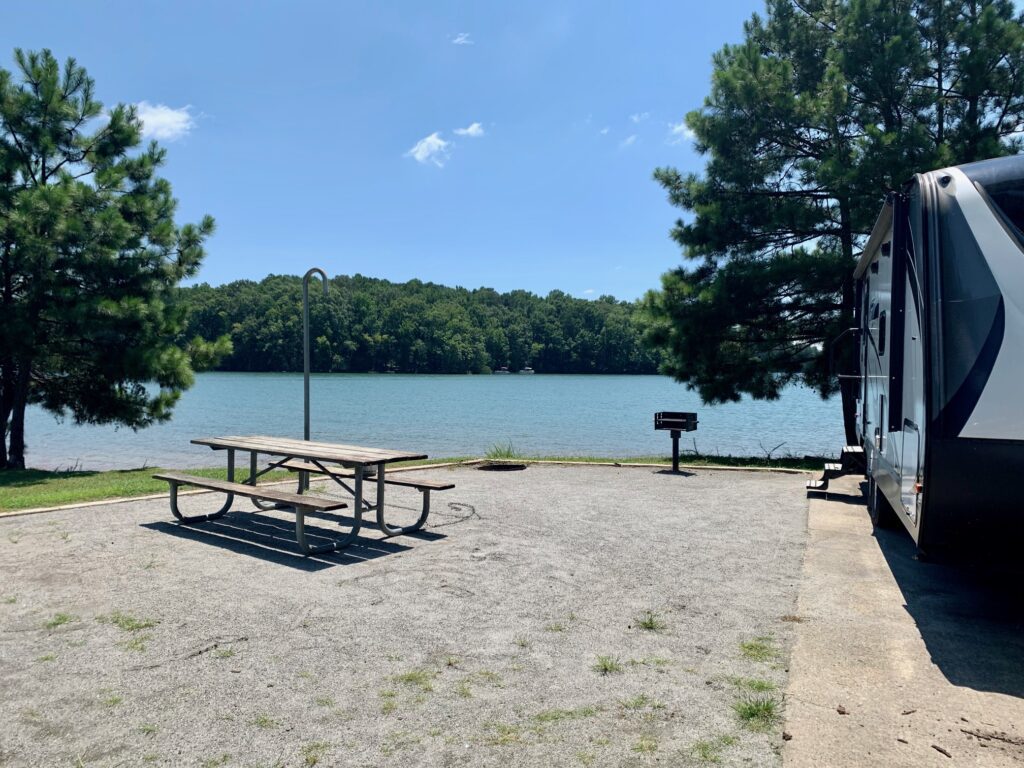 I mentioned details of this site in my blog post for site 48. Our friends stayed on site 43 that weekend. While both sites are awesome, we would pick 43 over 44 because of all the shade on site 43.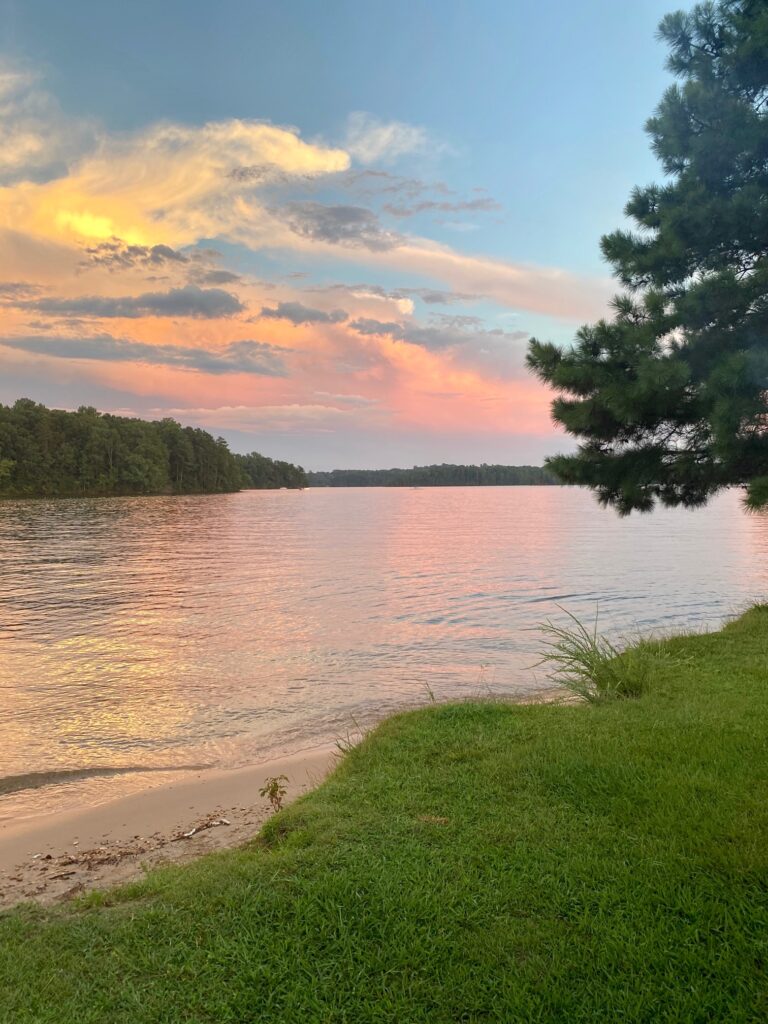 Things we learned:
It is possible to move a pack n play with a sleeping baby in it. We had to move inside when the storms came through on Friday, so we moved the baby to the bedroom. When it was time to go to bed we moved her back. All without waking her. Our friends slept on our pullout couch Saturday night with the pack n play at their feet. Everyone fit fine!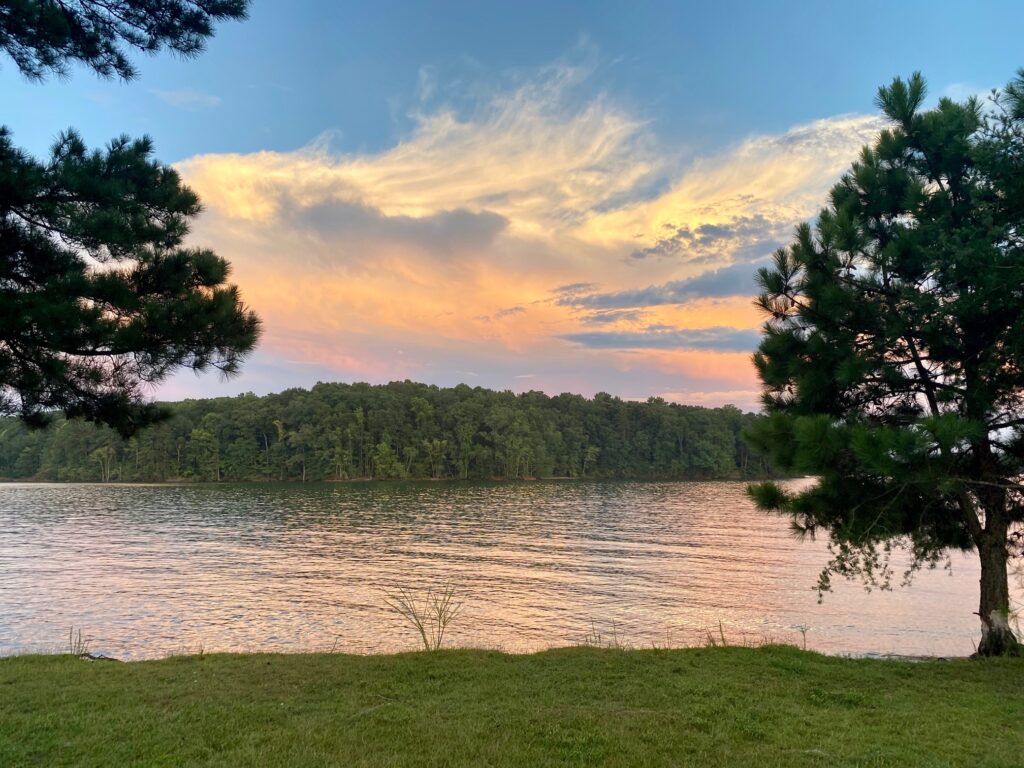 2. Lots of new campers these days which means they may not have a routine down for the dump station. We waited in line for an hour. It was pretty terrible and reminded us of why we don't usually wait until checkout time to leave. A man in the camper behind us emptied his tank into his portable tote and got in line to wait. We still don't understand why he would want to do it at the busiest time. He then took forever loading the empty tote into his truck bed.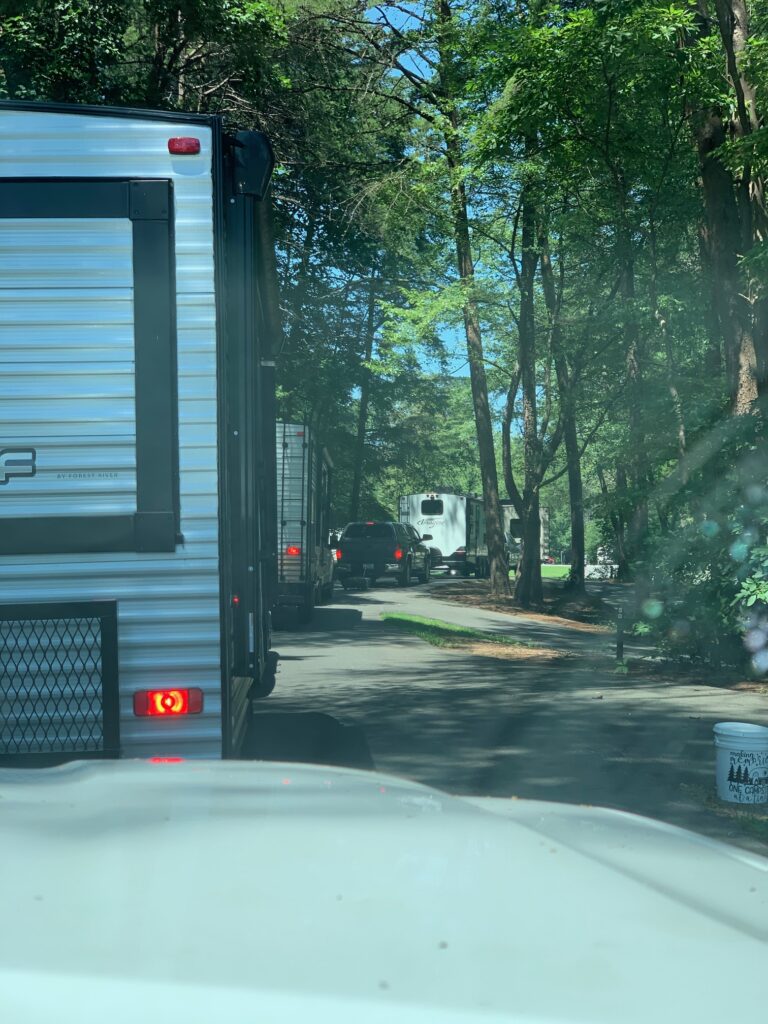 3. We successfully got the two dogs in the back seat with the car seat. The dogs eventually laid down and everyone had their space. Great trial run for our six-hour beach trip.