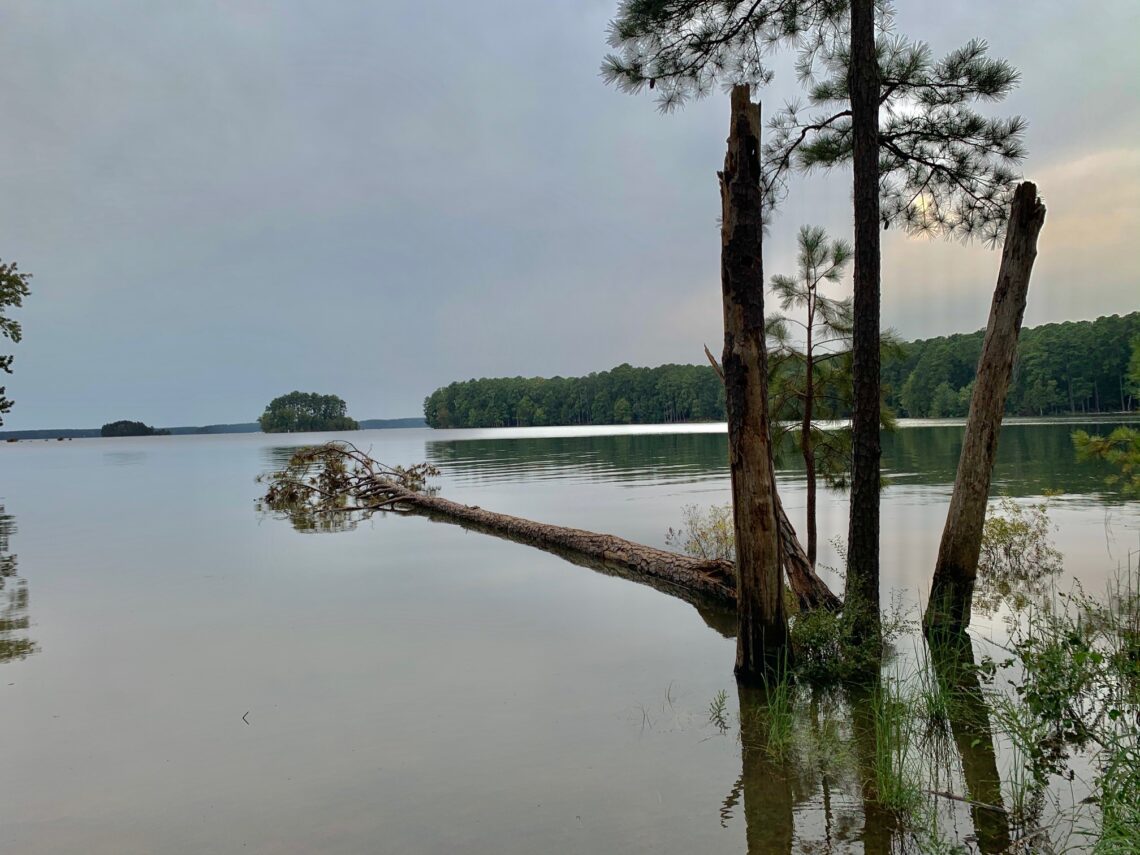 Hamilton Branch State Park
09.18.20-08.20.20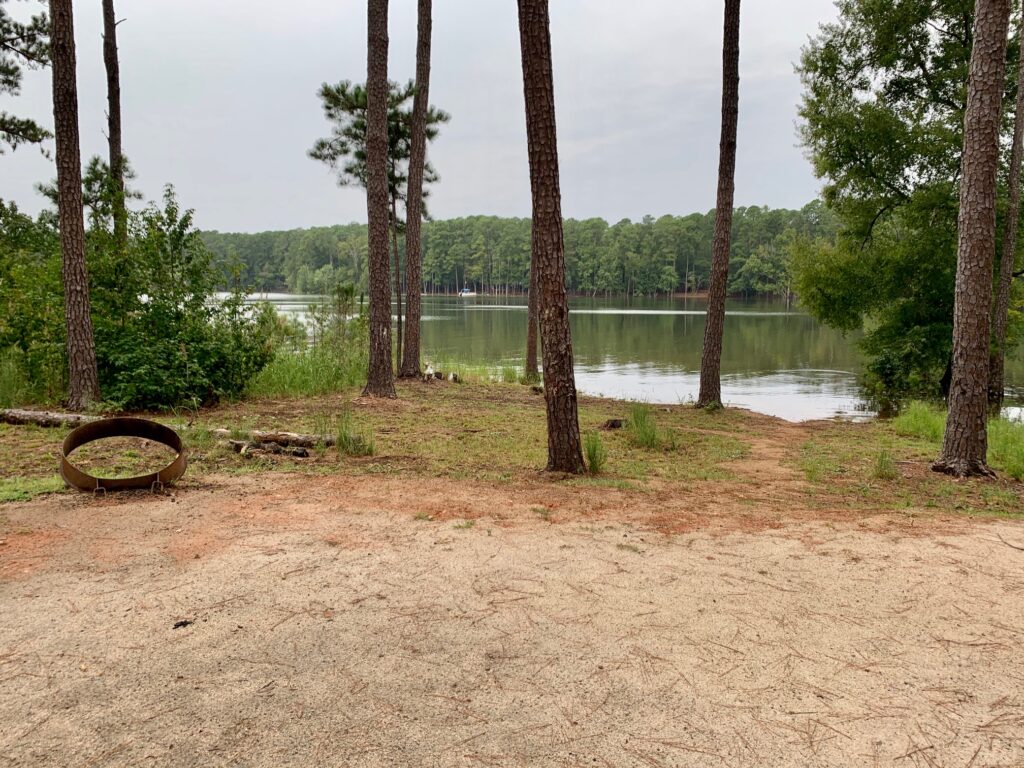 Hamilton Branch State Park is located in Plum Branch, South Carolina on the Georgia line, just north of Augusta. It has beautiful waterfront sites on Thurmond Lake, off the Savannah River. We crossed over Thurmond Lake Dam on the way into the park. I'm not scared of heights, but I had a little bit of anxiety going over the Dam with the camper in tow. It was a long way down. Hamilton Branch State Park has 173 sites with water and electricity, but you must do your research when booking these sites. Half of the sites are not laid out for travel trailers and 5th wheels.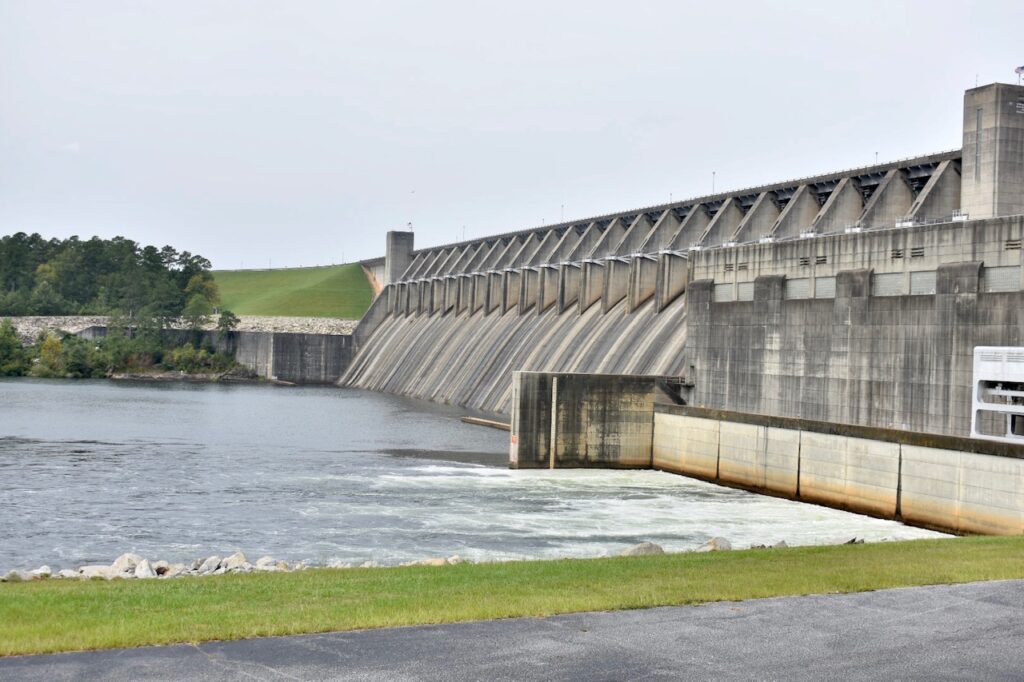 We specifically booked Hamilton Branch State Park because of its proximity to Hwy 20 and because it was halfway between home and Huntington Beach State Park. I had seen multiple posts on facebook of gorgeous lakefront sites, but there is a downfall to this park. Hamilton Branch State Park was built in 1972 and I'm not sure what the builder was thinking with the placement of the sites. About half of the sites are backwards, living areas not facing the lake. I was aware of this when booking, but I'm sure many people are disappointed when they arrive at their site.
Our camp neighbor, Mike, made their site a pull-thru in order to have their camper facing the correct direction. He had to leave his truck in front the camper the entire weekend and would have to back out of the site when they left. It appears the backwards sites are the odd numbers, but do not hold me to that. These sites are great for tent campers, not so great for people with RVs.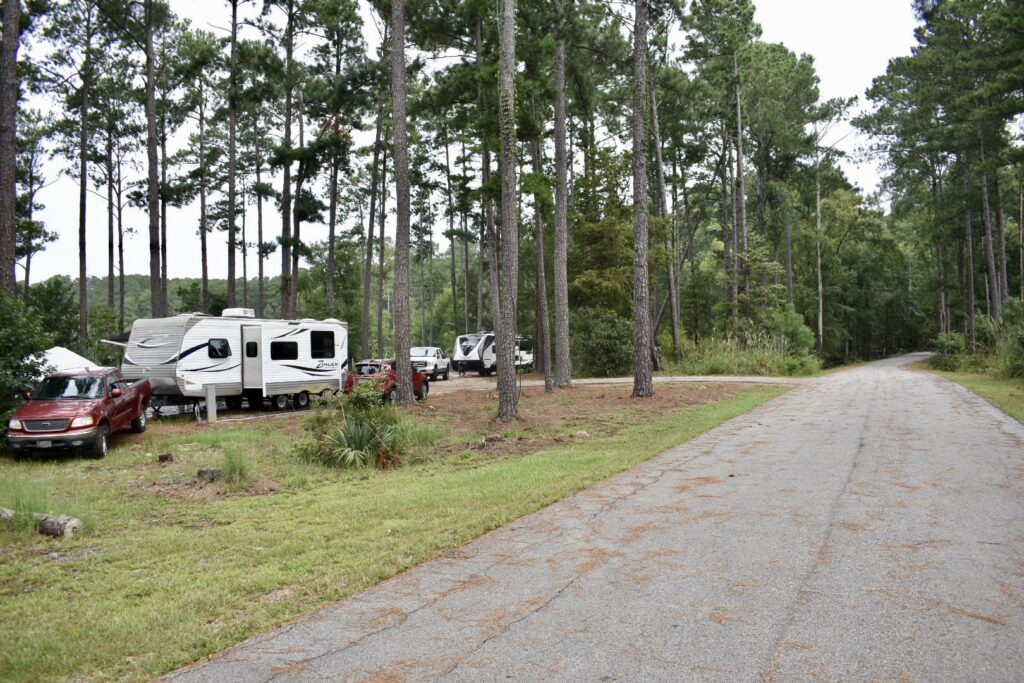 We arrived around 9 p.m. in the dark to a closed visitors center. On the door was a list of sites that were available in case anyone wanted to come in during the night. Site 192 is located on the website in section C-D. They do not use these letters on signs within the park, only site numbers. When we arrived to the site we realized that many of them were set up with a 'T' driveway. We shared the driveway with site 193, but had plenty of room and this set up offered a lot of privacy. There was no one to our right and we were far enough away from the road that people couldn't see into our site.
The tricky part was getting the camper situated. We had to back up the camper with an S curve all the while avoiding the trees and staying on the driveway. Our neighbor came outside to be a second spotter, which was a great help. Mike and Renee complimented my work as the navigator for getting the camper backed in.
Once in the site we were level side to side, but the water hose just barely reached the hook-up at the back of the camper. We had a great view of Thurmond Lake with a little path to the water. Our neighbors had an even better view of the island across the lake. Both site 192 and 193 seemed great for bring in kayaks, boats, fishing, and swimming. We did not swim while we were there since it was overcast and a little chilly. Our neighbors had family come in on Saturday on site 194. It is a pull-thru site, but did not have access to the water. In this peninsula I would prefer to have our site (192) or site 198. Site 198 did have a bit of a slope down to the water though.
Thurmond Lake was high and areas of Hamilton Branch State Park were flooded. In a drive around the park we saw a couple areas of picnic tables that were underwater. To the right of our site was a swampy area, but the bugs were not bad. We used our Thermacell unit to keep mosquitoes away.
We realized we forgot our dog leads, dog water bucket, and grill at home. Two of the three items we can live without, but we knew we needed dog leads for the weekend and trip to the beach. It's a long drive into town to visit Walmart, more than 30 minutes. At Walmart we found a different type of lead than we already had at home, but could not find any firewood. Thankfully there was a Lowes down the street that had some. We got lunch in town and drove over to Thurmond Lake Dam to check out the view we missed the night before in the dark.
The visitors center was closed, but would have been a great spot for a picnic. We saw some scuba divers unpacking after a dive. Across the street is the access to Thurmond Dam. There is public parking, a boat ramp, and a couple trails below the dam. On our way into to the campground we did our official check-in. They did not seem to care that we had not done it yet and I'm not sure it would have mattered if we didn't. I saw the ranger drive by on the main road, but they never came down the smaller road our site was on.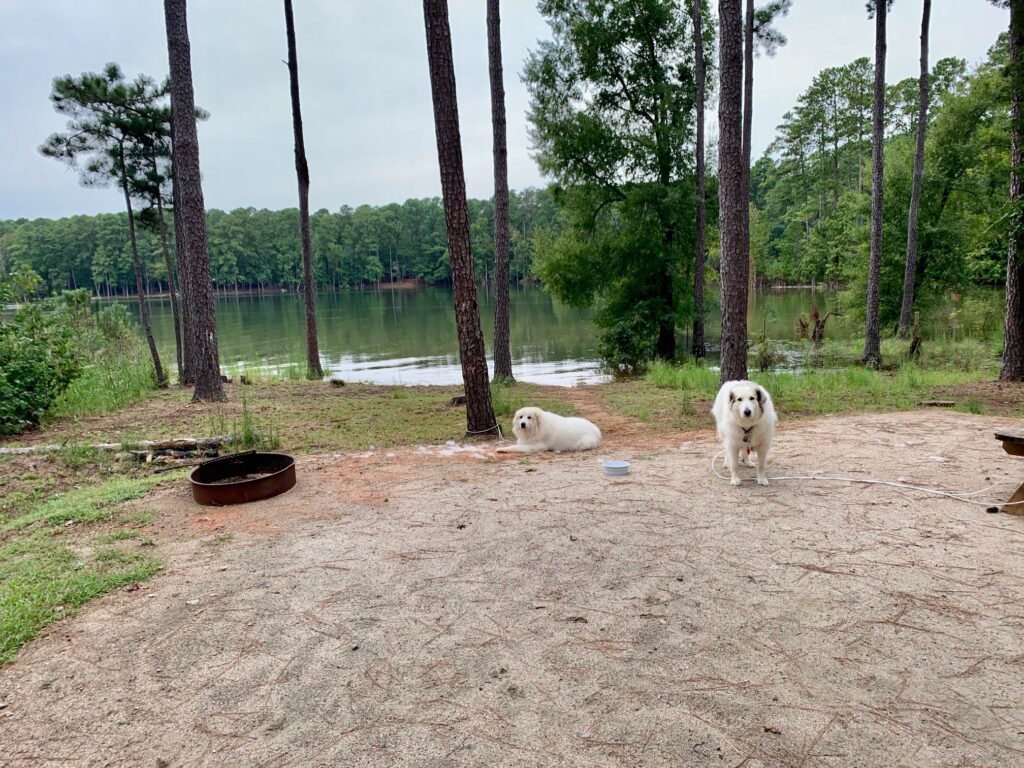 We had offered to get anything from Walmart for our neighbors that they might need and they asked for firewood. When we came back to the site they invited us over for drinks. That progressed to us spending the entire day and evening at their site. Even in the time of Covid, we established a new friendship and stayed safe by social distancing across the campfire. We were invited to enjoy Renee's shepherd's pie and pasta salad for dinner. Hope to cross paths with Renee and Mike in the future—camping people are the best.
We don't worry about the dogs being left in the camper while we are gone because we have the MarCell temperature monitoring system. This will send us text messages if the power goes out in the camper or if the temperature or humidity goes out of the range that we set it on. We have used MarCell for five years and have been pleased with the service. They gave us a discount code to share with our follower. Use the code Imagine20 for $20 off your purchase of the temperature monitoring system.
Things we learned:
You may have noticed a different truck in these photos. My father-in-law graciously let us borrow his old truck since our Colorado's check engine light is on. The F250 was a lot of truck for our Imagine 2150 and it was awesome for the long trip. Had to tell Heather, no we are not going to the dealership when we get home.
Double check for obvious things like dog leads. We keep these in the dog water bucket in the garage between trips, but since our Colorado was in the garage it blocked our view of the bucket.