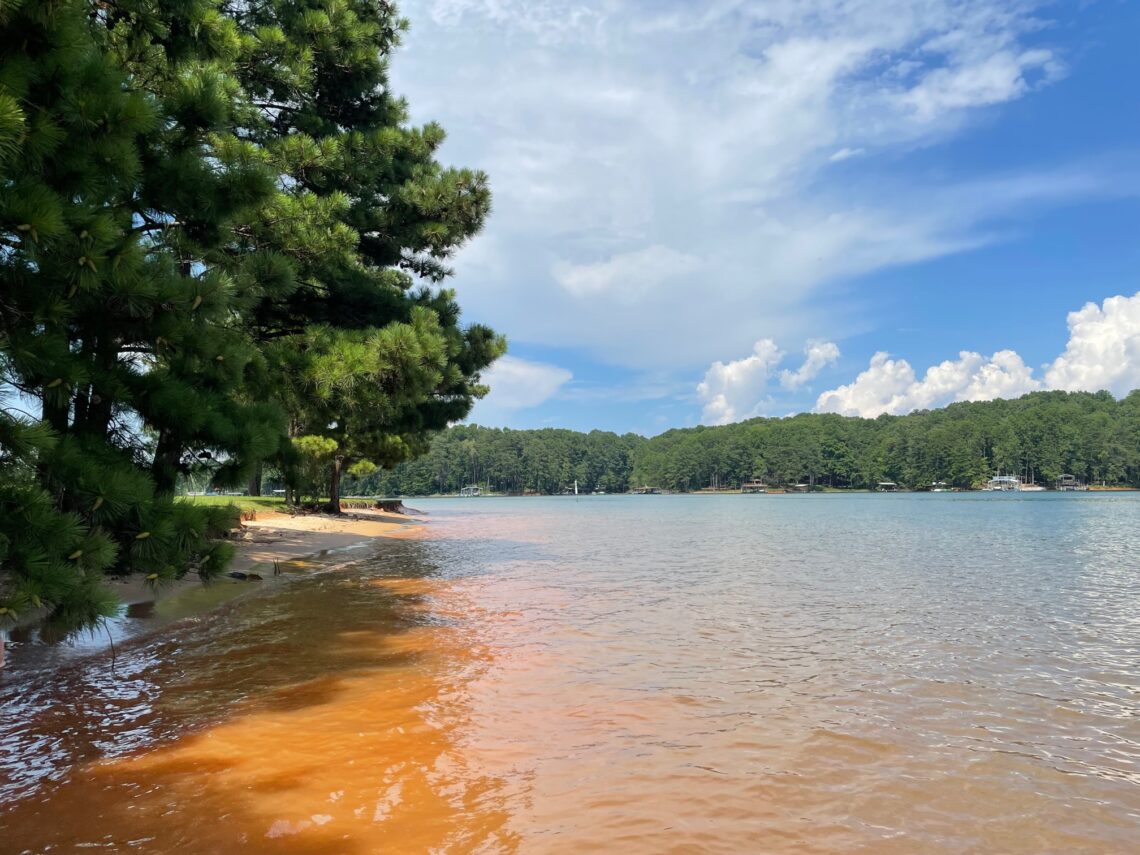 Bald Ridge Campground – 43
07.14.22-07.17.22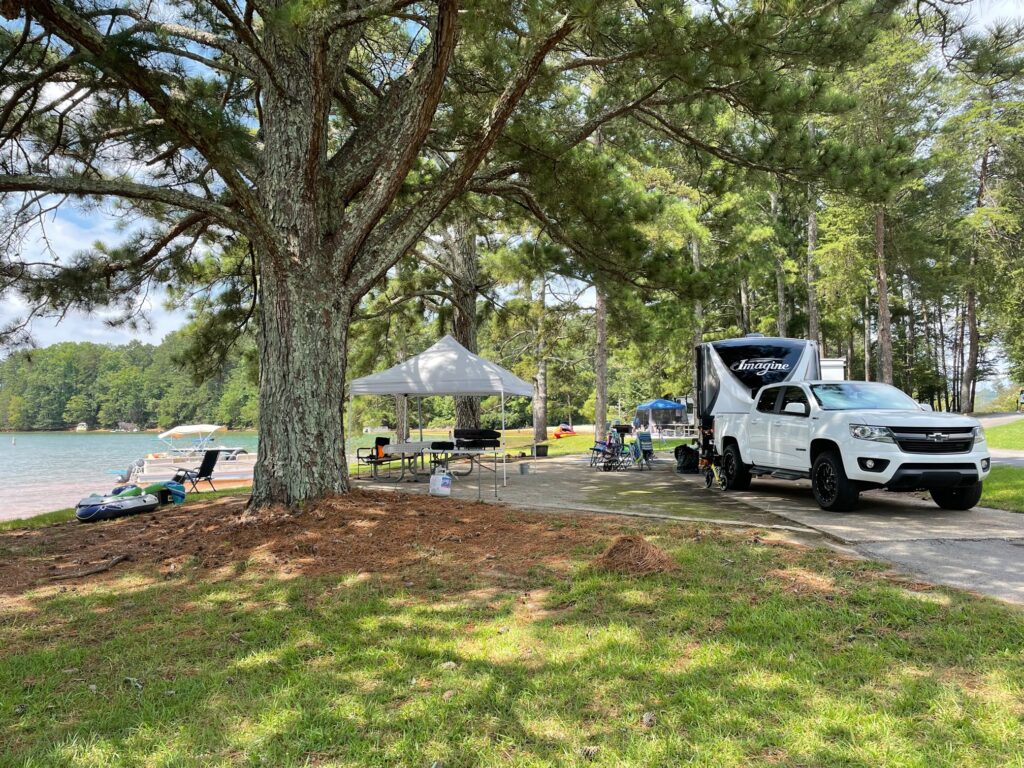 We were so lucky to pick up one of the best sites in the campground when another camper had to cancel. Our friends are camp hosts at Bald Ridge Creek Campground and had this specific weekend off. We watched the website for cancellations and a couple choices opened up.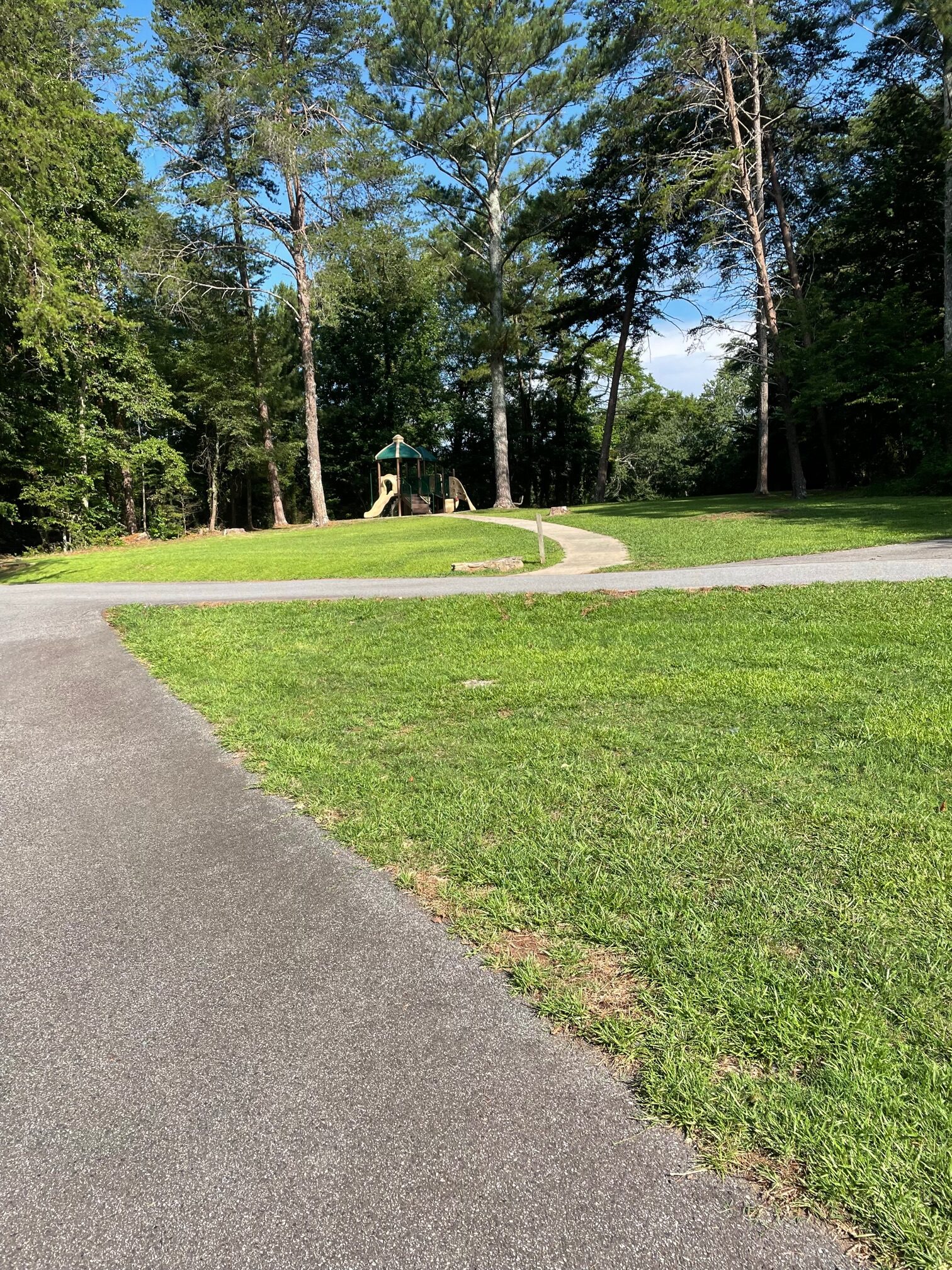 Bald Ridge Campground is located in Cumming, Georgia on Lake Lanier. A Corps of Engineers park, it has 82 campsites, a beach, playground, and boat ramp. We have camped at Bald Ridge Campground seven other times, it's our go-to campground on Lake Lanier. To help you choose your next reservation, details and photos from all of our previous visits can be found in the Bald Ridge Campground Category.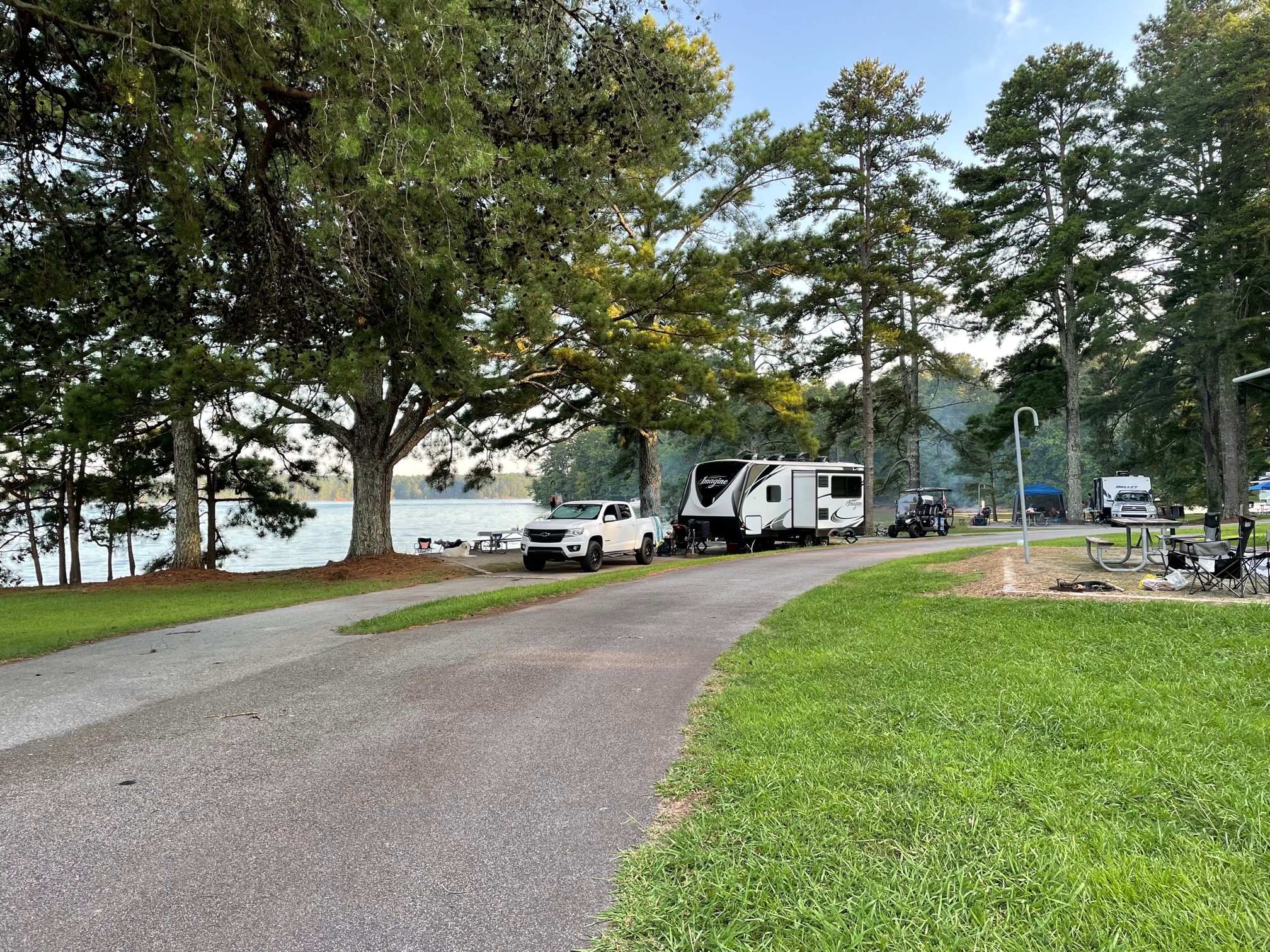 Campsite 43 is a favorite of many because it is located just a couple feet from the water with its own small beach. This is perfect for toddlers and kids of all ages. The entry to the water is a mixture of sand and mud. Lake Lanier has way more mud than Lake Allatoona. We don't let the dogs swim in the lake because they turn orange.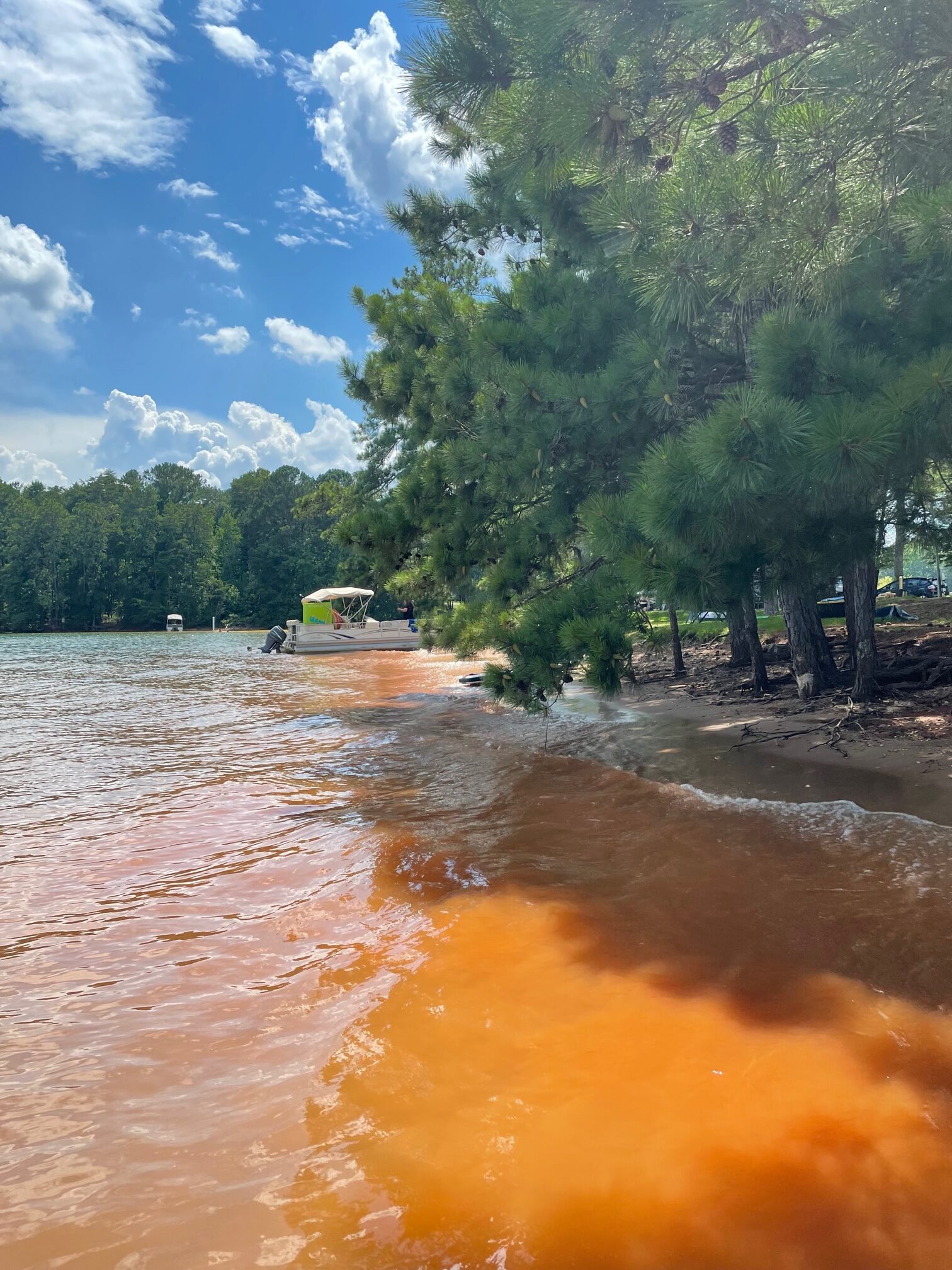 The site is 60-ft. pull-thru under two large trees that provide ample shade for the camping pad. Because it is a pull-thru you are somewhat open to site 42, but on the other side, the camper in 44 blocks the view to and from site 43.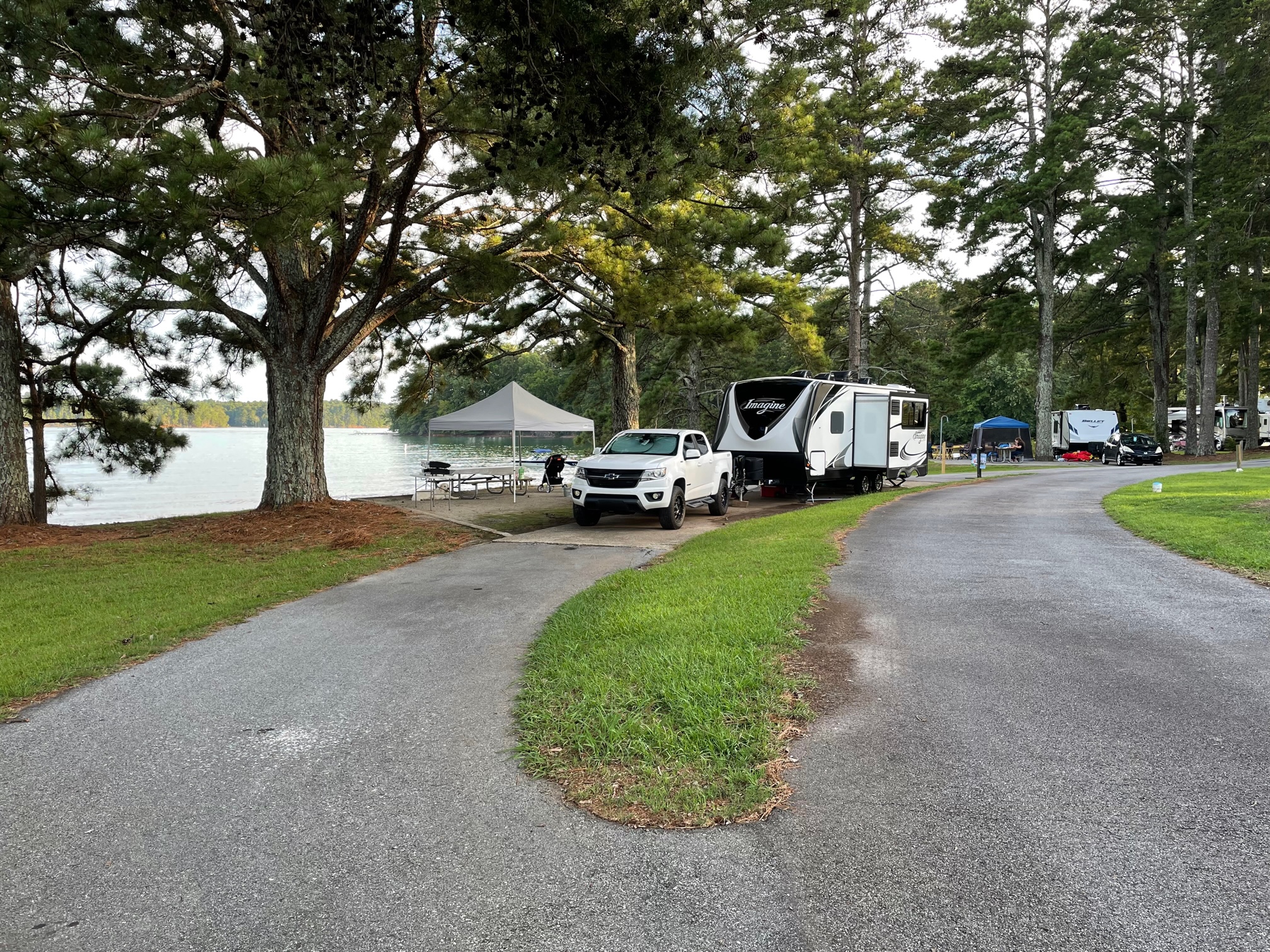 Something important to note with the hookups is their location at the front corner of the campsite. We stopped the camper close to the back of the pull-thru to be closer to the hook-ups, but still needed to use two water hoses to reach. When walking around that side of the camper you then have to step over the water hose and power cord. The camp-host also mentioned when it rains that side of the camping pad floods. Campsite 43 is so epic otherwise that you'll be fine with these two negatives.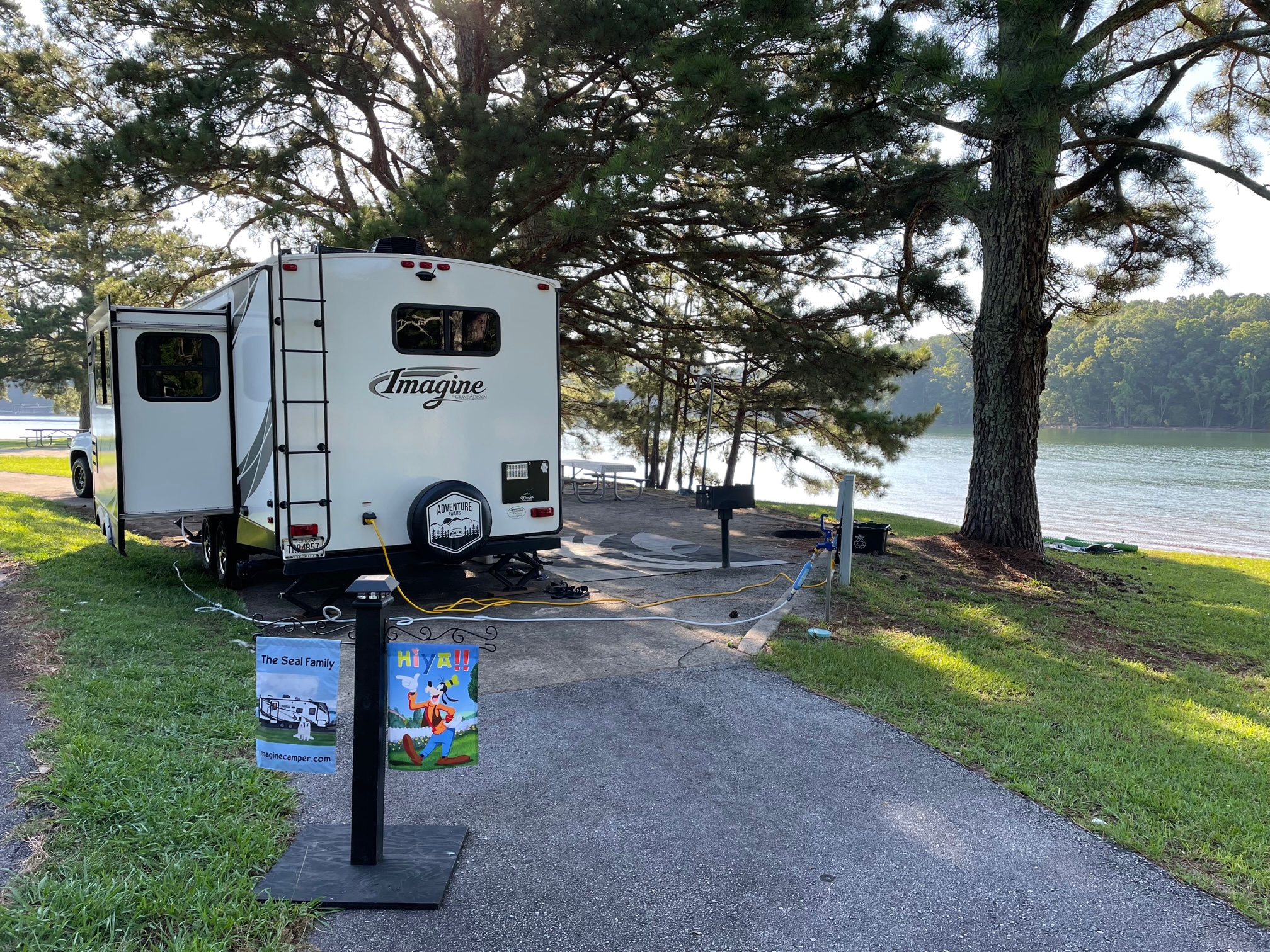 We have camped on site 44 before with friends and it is just as epic, however it's missing the shade we enjoyed on 43. Some friends happened to be on campsite 45 the same weekend we were at Bald Ridge. This campsite sits directly in the sun and while it is waterfront, there's about a two foot drop to get into the water. The depth of the lake stays shallow for quite some time making it hard for adults to swim in front of the campsite.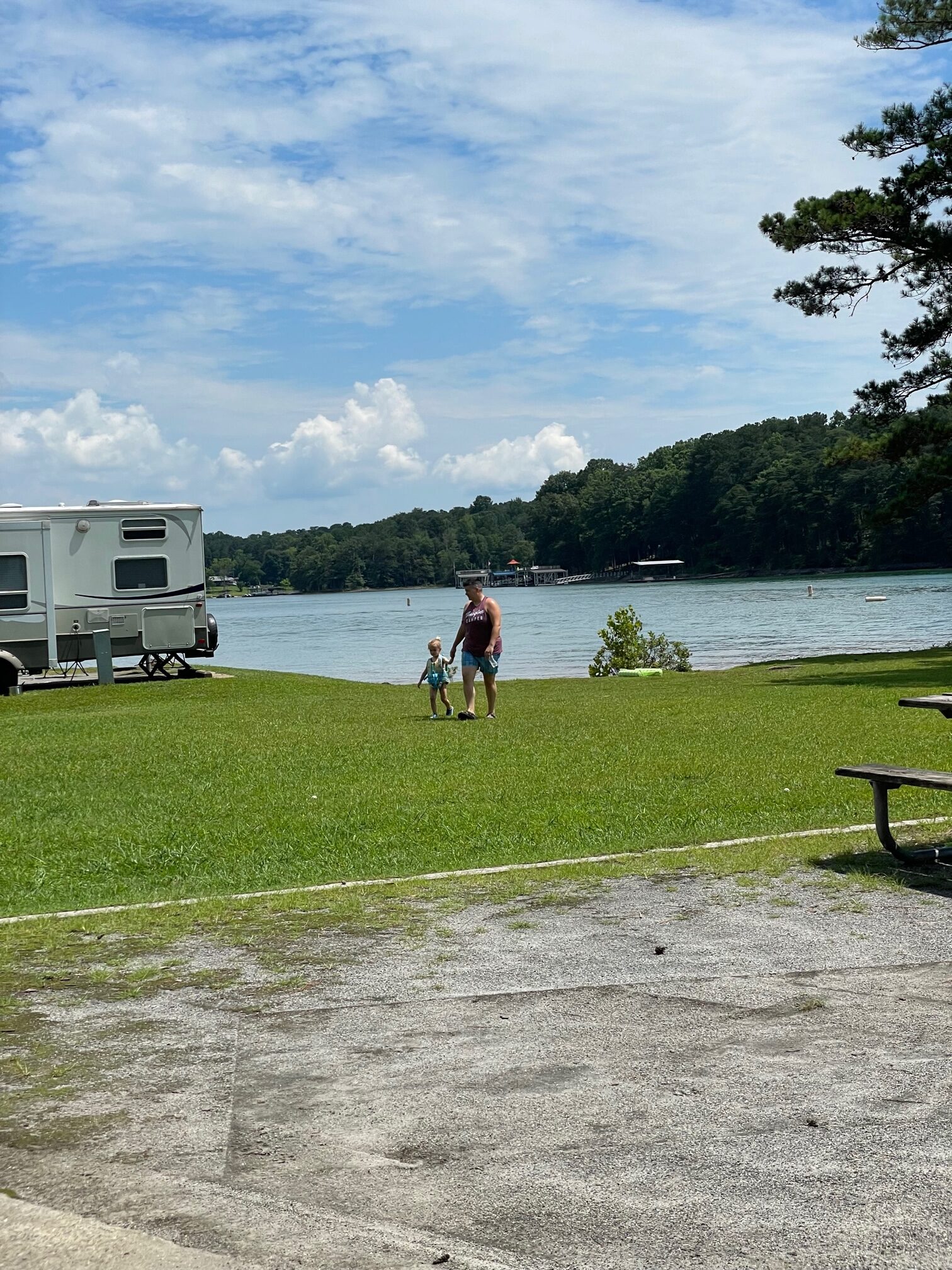 We walked the campground every day with the dogs and took a stroller for our 2-year-old. The campground is only about a mile and a half. Compared to our last trip at McKinney where we tracked our walks, Bald Ridge is much more flat. Our camp hosts friends have a golf cart and we enjoyed a couple rides around the campground. Golf carts are not allowed for campers, but they use it for their job.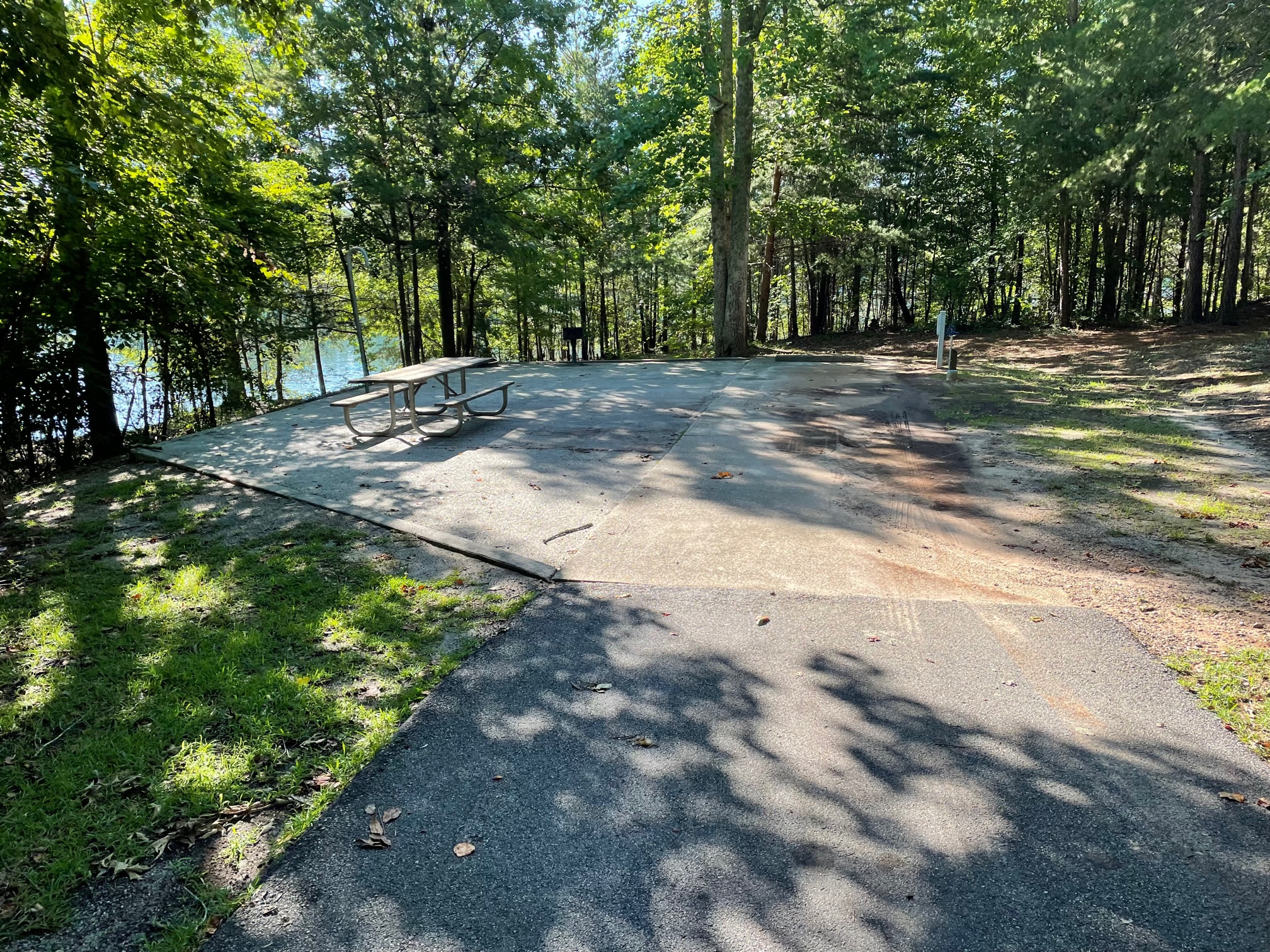 Ever since last year we have wanted to eat at Lake Burrito. It is only four miles from Bald Ridge Campground. It lived up to every expectation we had. The restaurant sits in a shopping center around the corner from Kroger. There is outdoor seating under a pergola and a couple of tables inside. We went for lunch on Friday and they had a line the entire time we were there. The employees were super friendly and the food was delicious. We discussed what we want to try next time we visit—highly recommend Lake Burrito.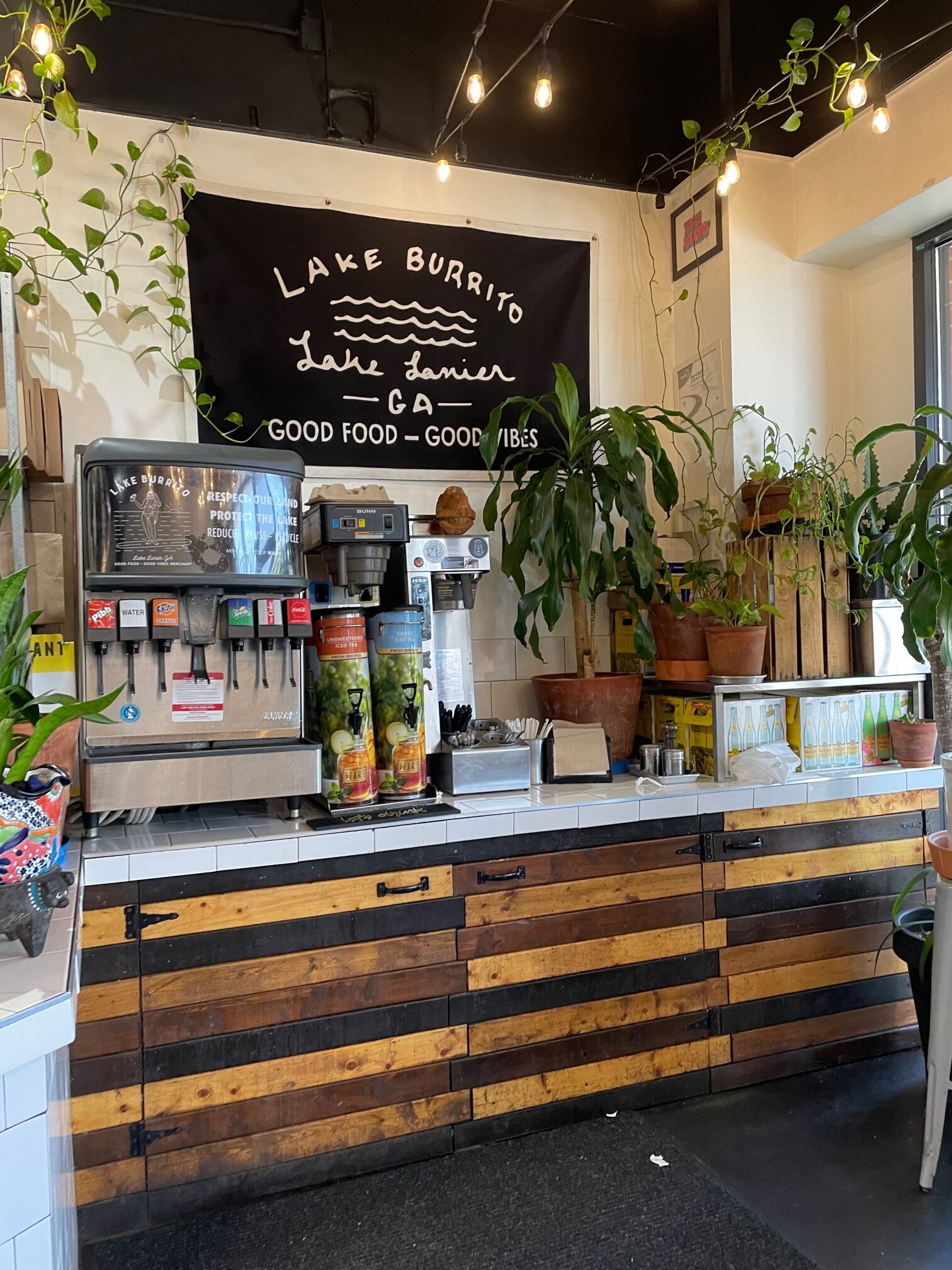 When we leave the dogs in the camper for any reason we rely on Marcell's temperature monitoring system as a safety measure. It will notify us if the camper loses power or goes above the range we have set it for. More details on our temperature monitoring system here.

Use code Imagine20 for $20 off the unit.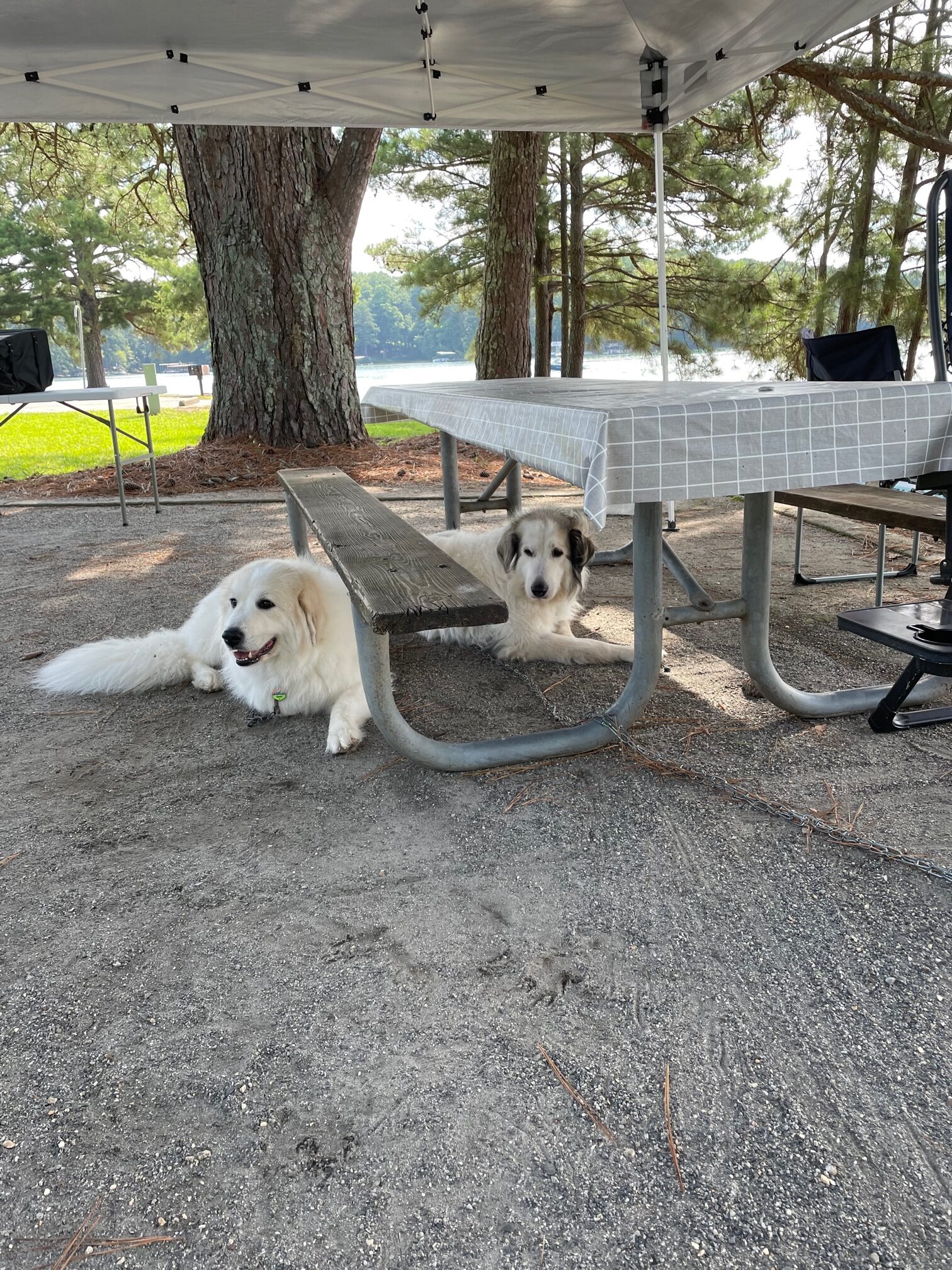 Did I mention Bald Ridge Campground has some of the best camp-hosts right now? Michelle and James (@missions_with_luna_) have spent the 2022 summer camping season at Bald Ridge and agree that it's the best campground on Lake Lanier. Other campers seem to agree with me that they are great hosts because Michelle and James keep getting gifts from campers. Give them a follow on instagram to see where their next hosting job takes them.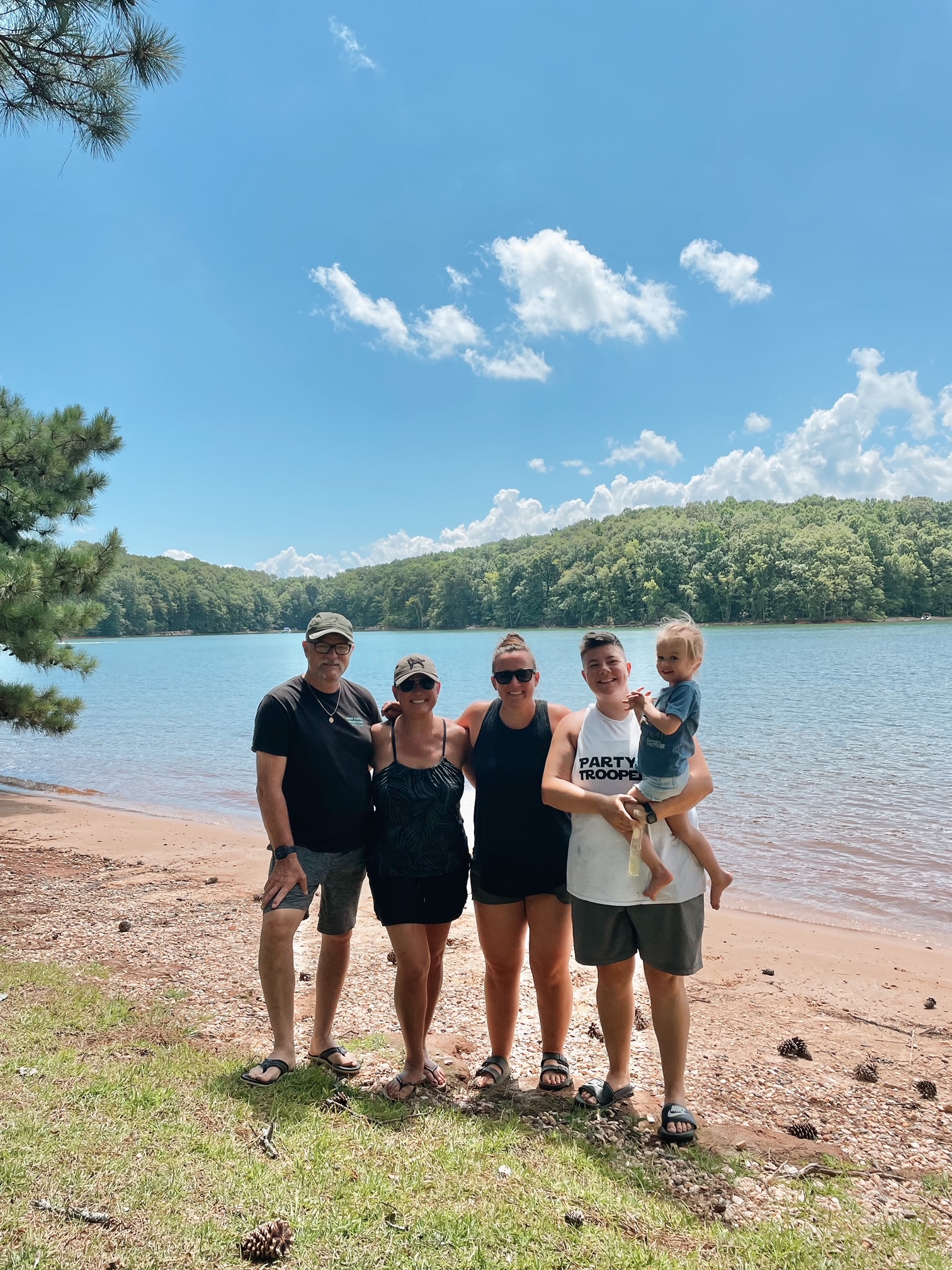 Bald Ridge Campground only has one dump station and it is located in front of the main bathhouse. The road through our side of the campground is a one-way road and the line to the dump can back up, blocking traffic in. At check-out time and a couple hours before, you can bet there will be a small line in this part of the campground. We do like that Bald Ridge Campground provides a hose with a connector to flush the black tank out.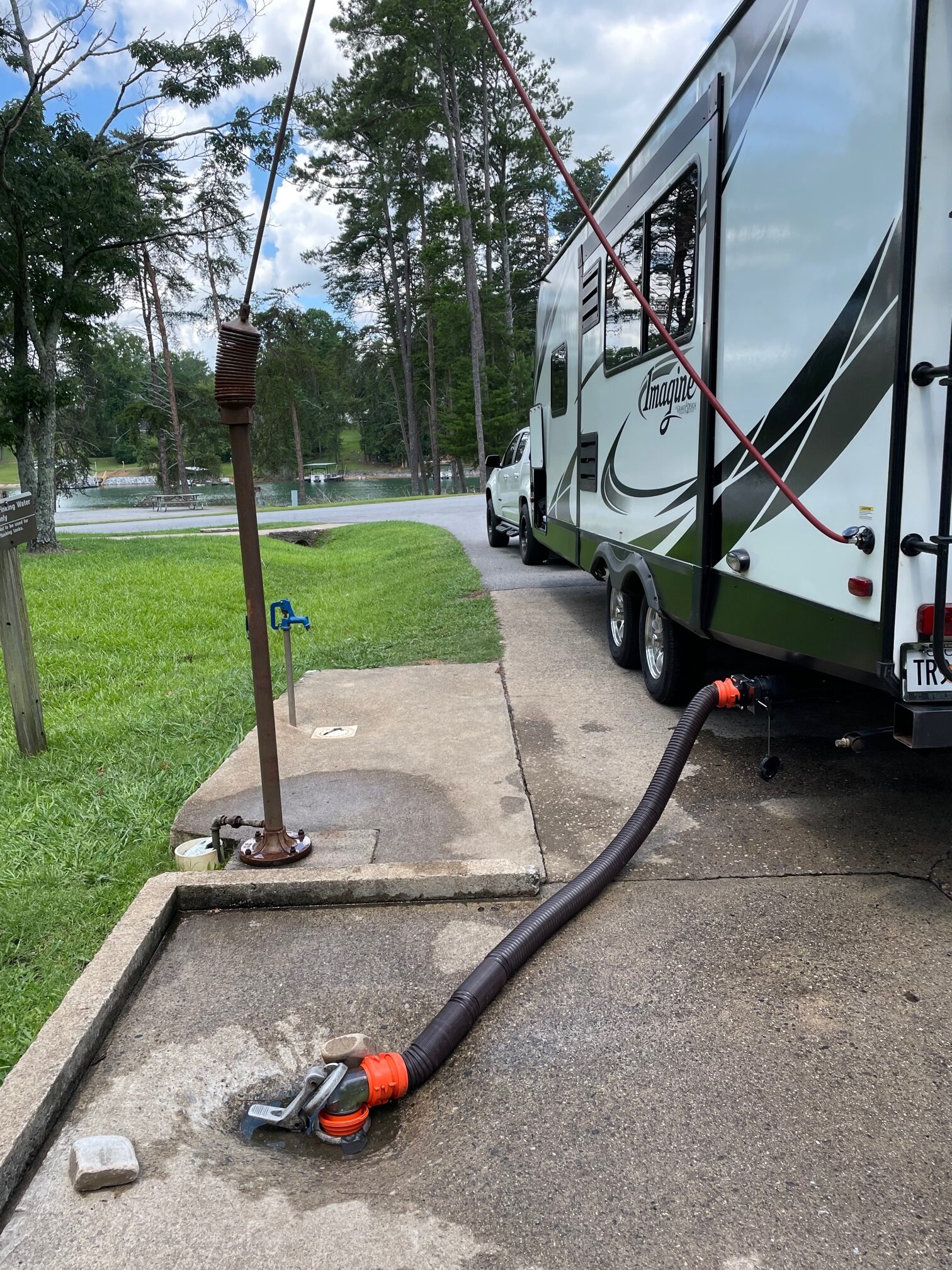 Things we learned at Bald Ridge Campground:
1. It finally happened, our toddler broke something on the camper. We have all taken our turns messing something up on the camper, but really I thought our toddler would have broken something by now. The day we packed up to leave the campground she was hanging on the screen door from the inside and snapped the handle off. She immediately turned to me and said "I'm sorry Mama." How could you ever be mad at that sweet kid?! Heather had to get out a screw driver and take the rest of the handle off the door to let us out. Campers Inn down the road from our house had a similar handle for $15 to replace it. It should be an easy fix.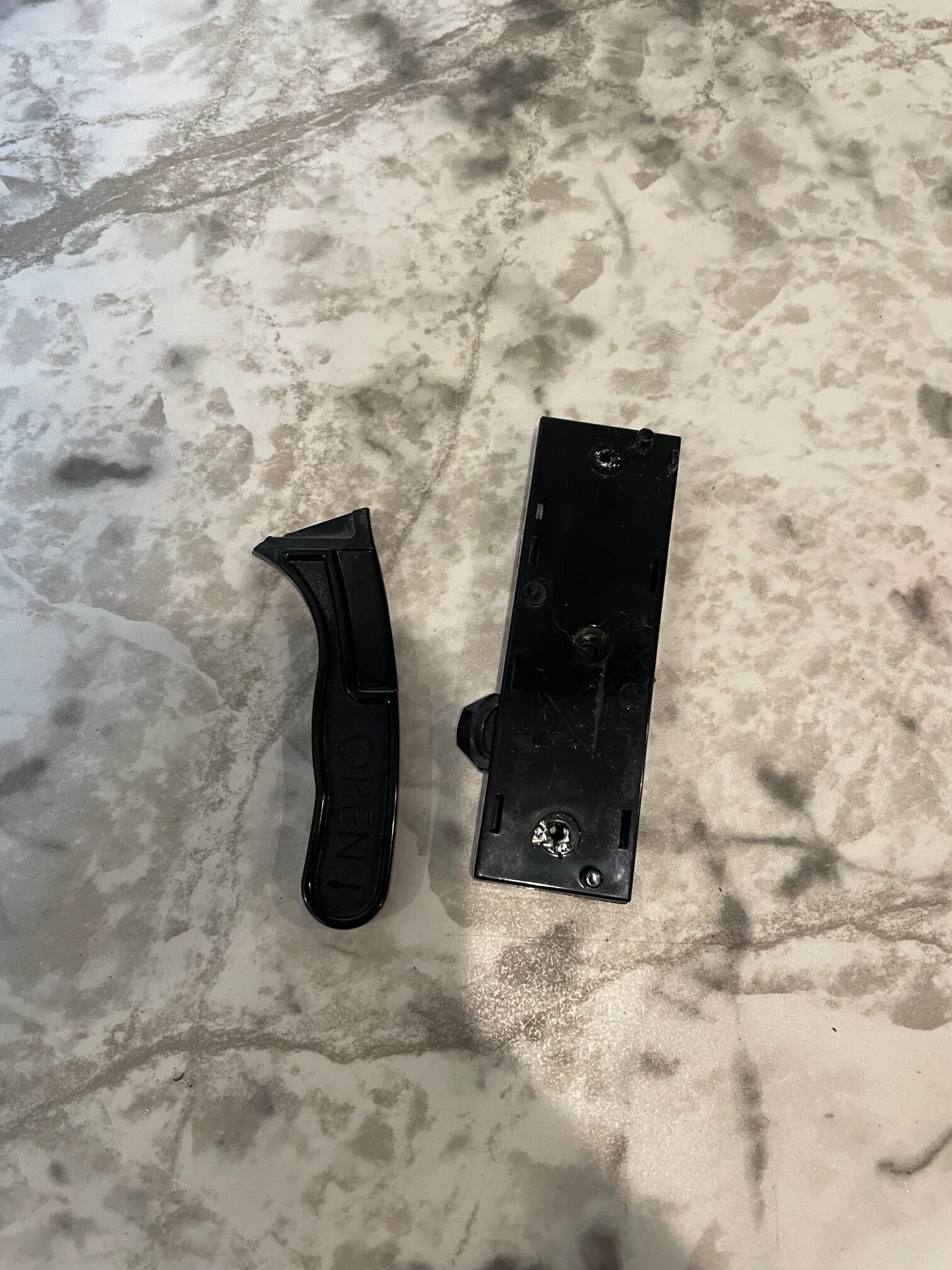 Please follow and like us: