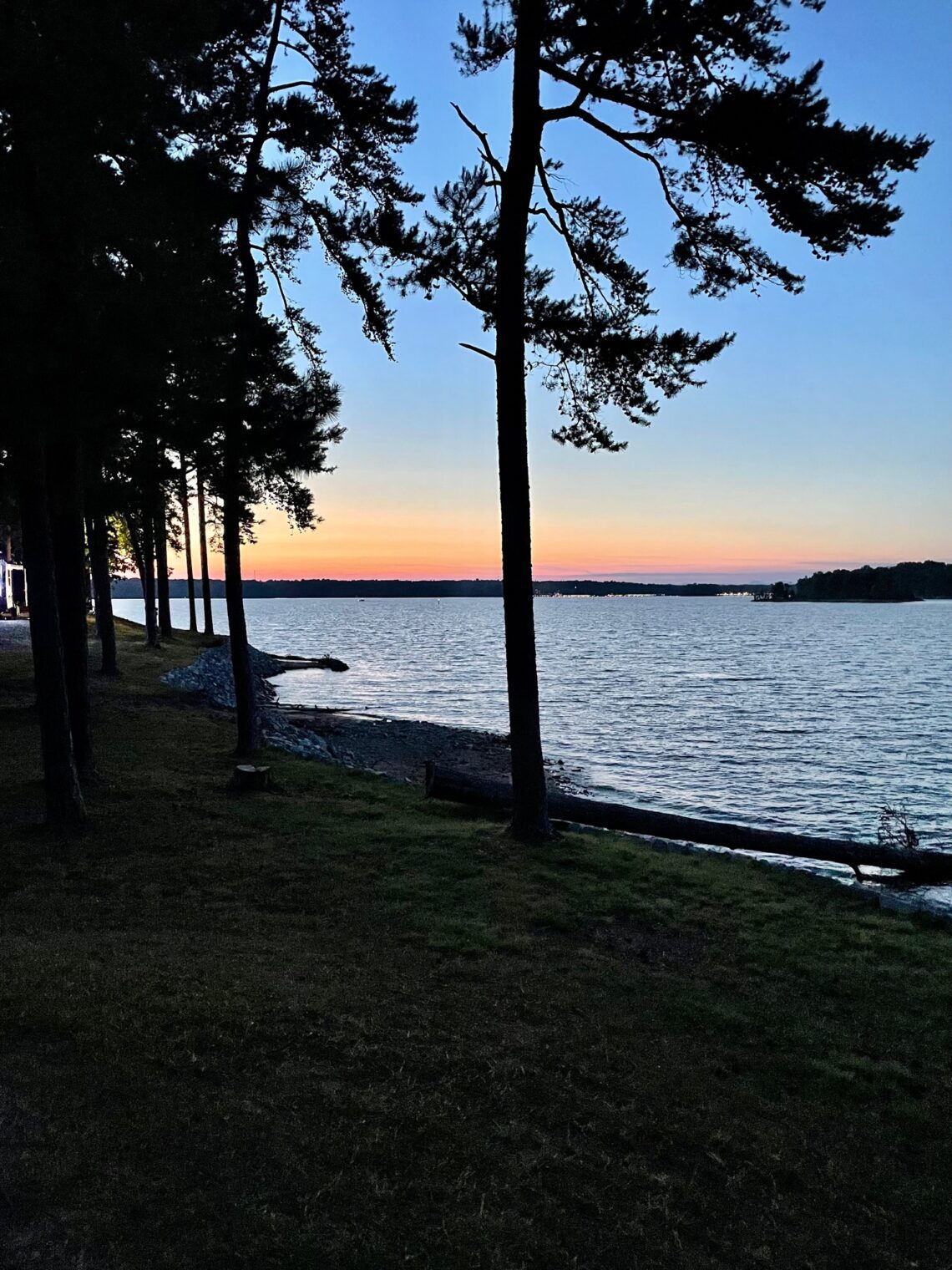 Old Federal Campground – 29
07.01.21-07.05.21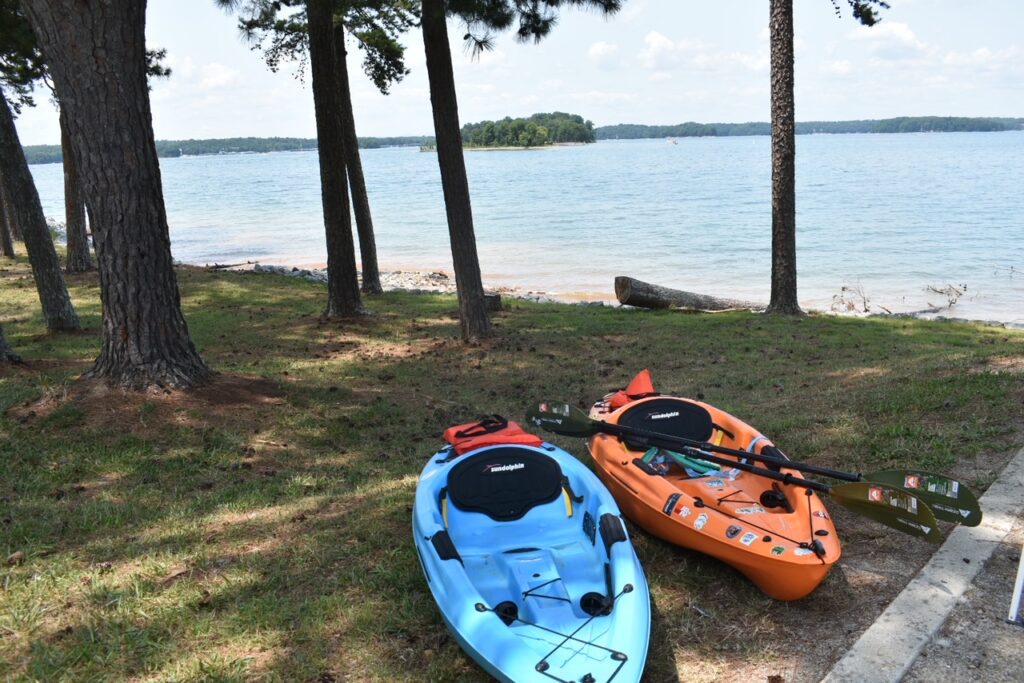 Lakefront site with great hammock trees and a view of the fireworks—we had a great weekend at Old Federal Campground. Old Federal Campground is located in Flowery Branch, GA on Lake Lanier. There are 83 sites, almost all of them waterfront.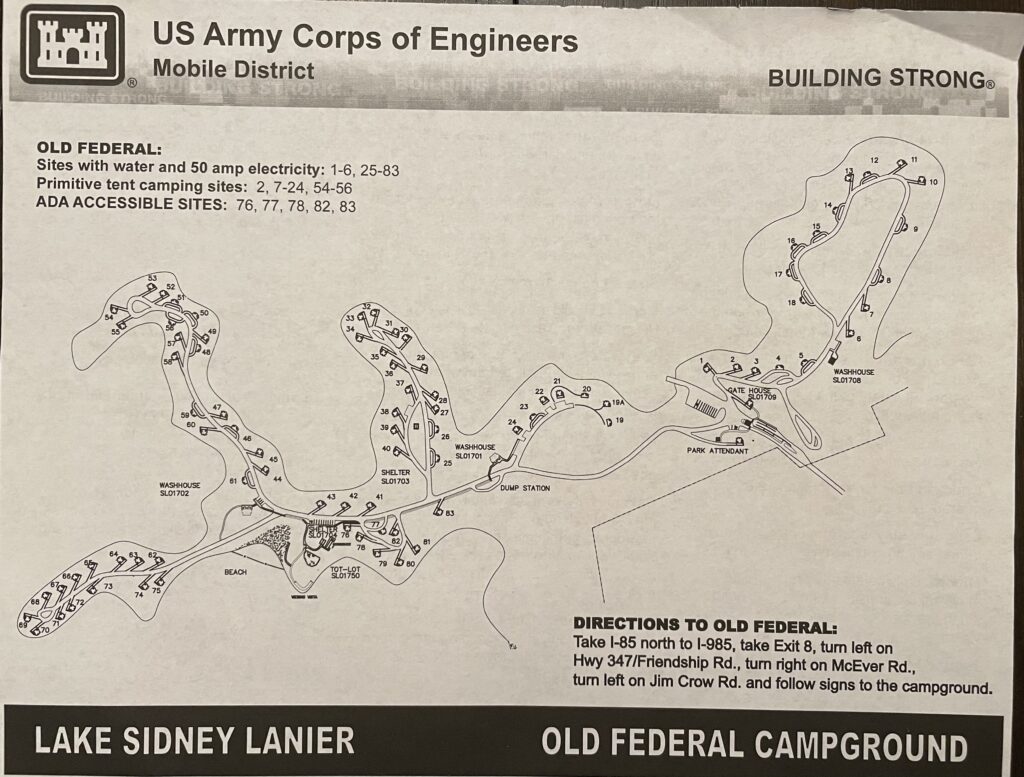 A couple weekends ago we stayed on site 80 which had great water access and view of the lake. The Lake Lanier Sailing club is on the next peninsula south of Old Federal. Details and photos of that site and many others can be found here.
For the holiday weekend we reserved site 29, a 63 ft back-in site. The site has a 50-amp electric hook up and rents for $26 dollars a night. The water view is amazing and there are three great hammock trees at the front of the site.
Campsite 30 sits far from site 29 with a ton of trees between them. We were concerned about the rock wall and not being able to swim at the site, but there is a path between sites 29 and 30. It sits so far away from both that when other people use it, you don't feel like they are walking through your site to get to it.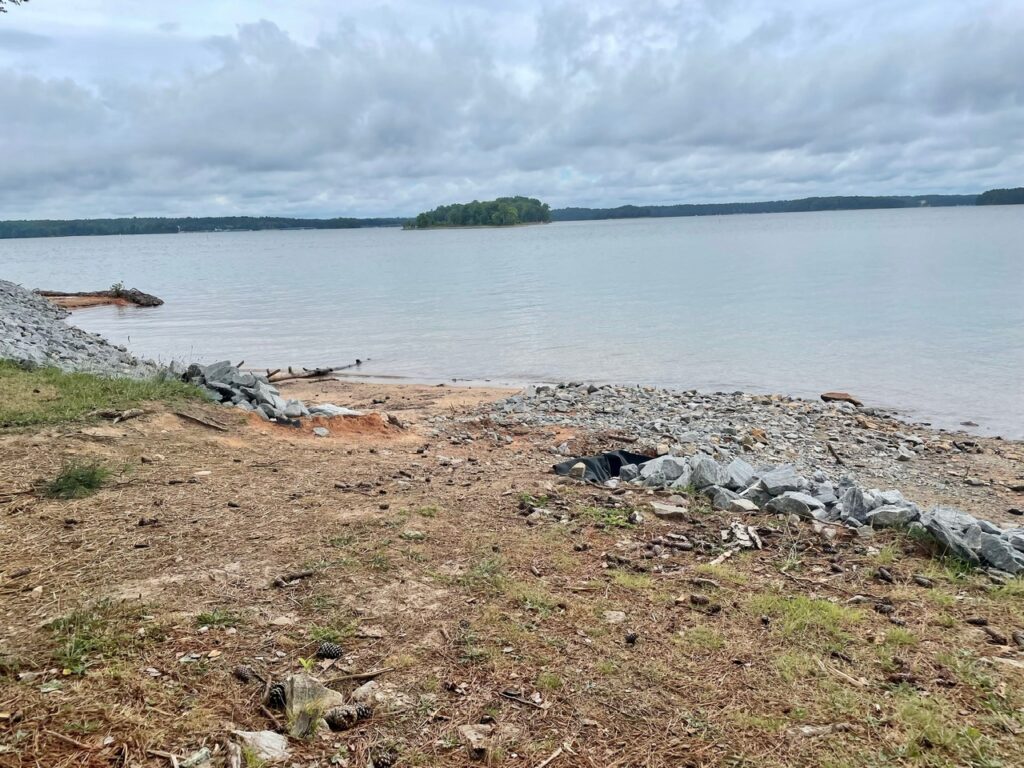 We did swim here a couple times over the weekend, but the bottom of the lake was especially murky at this area. The sand/mud was like quicksand and your feet would sink a couple inches. It was a great place to put in our kayaks though.
Across the lake, past the boat launch, is a private beach that we kayaked to twice. It had a sandy entry and more shallow water for our toddler to swim. Many boats stopped here throughout the weekend. I did not see a path from the campground to this beach, there was too much of a drop off to get to it from sites 1-18.
Other sites:
Site 29 was probably our favorite of all the sites in that loop of Old Federal Campground. During our stay I was able to get some photos of other sites when they are unoccupied. Campsite 30 was awkward because the back of the camper faced the lake and you opened your door into the road. The outdoor living space sat next to the camper, between site 30 and 31. 32 had zero water access because of the steep rock wall, but it did have a good view of the sunset even with trees in the way. Campsite 34 and 35 had outdoor living areas that were somewhat close together. Down a small hill those sites had water access over a couple of rocks.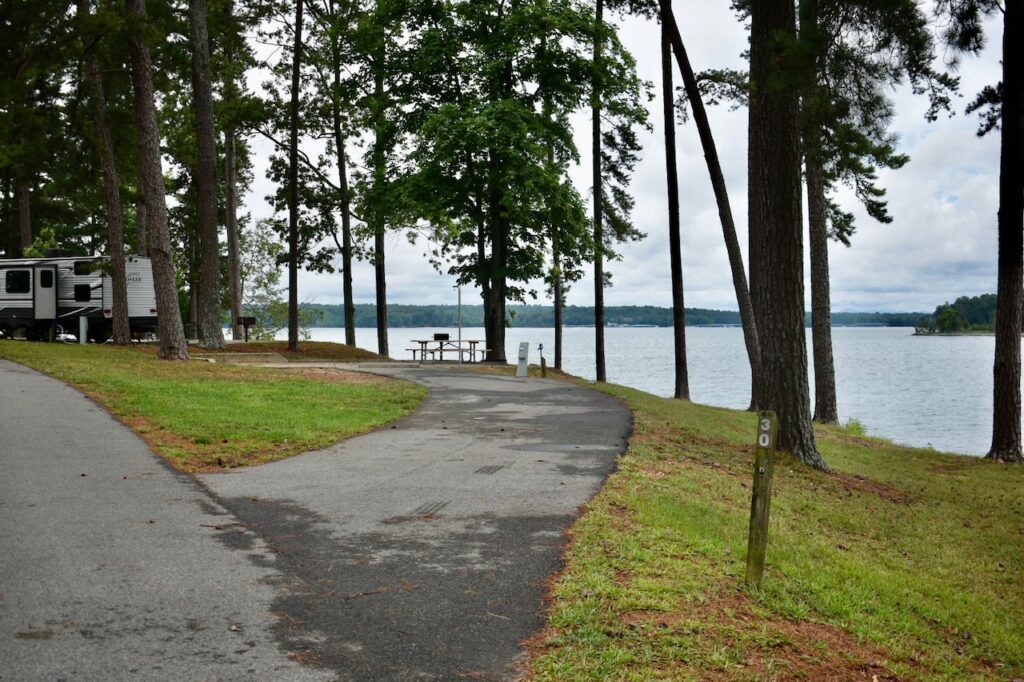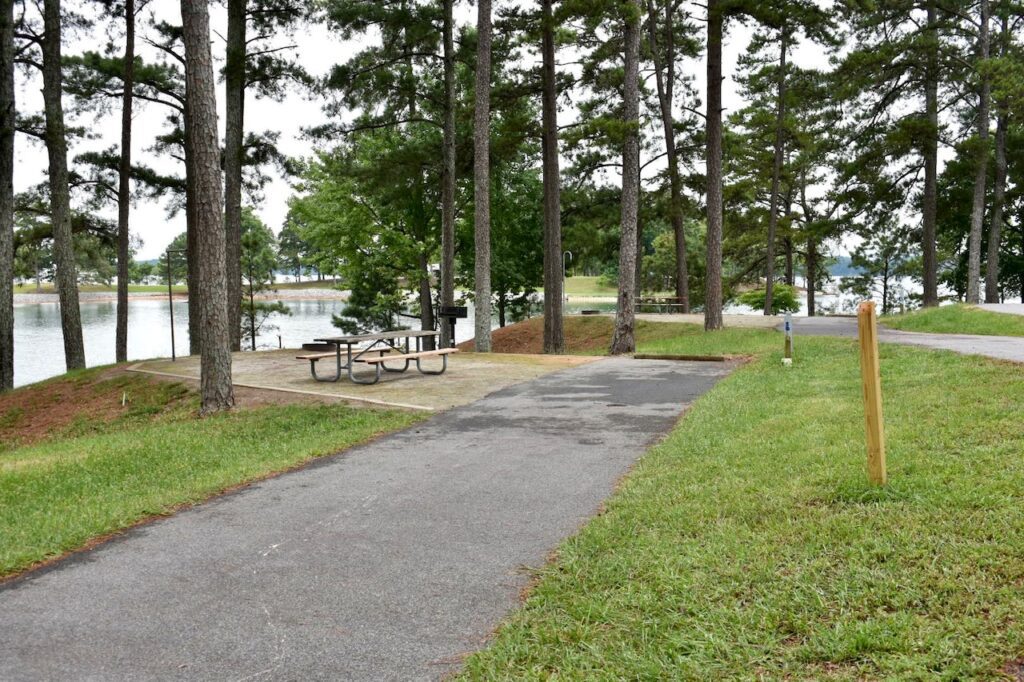 We had a view of fireworks across the lake over the weekend. I wouldn't call any of them big fireworks shows.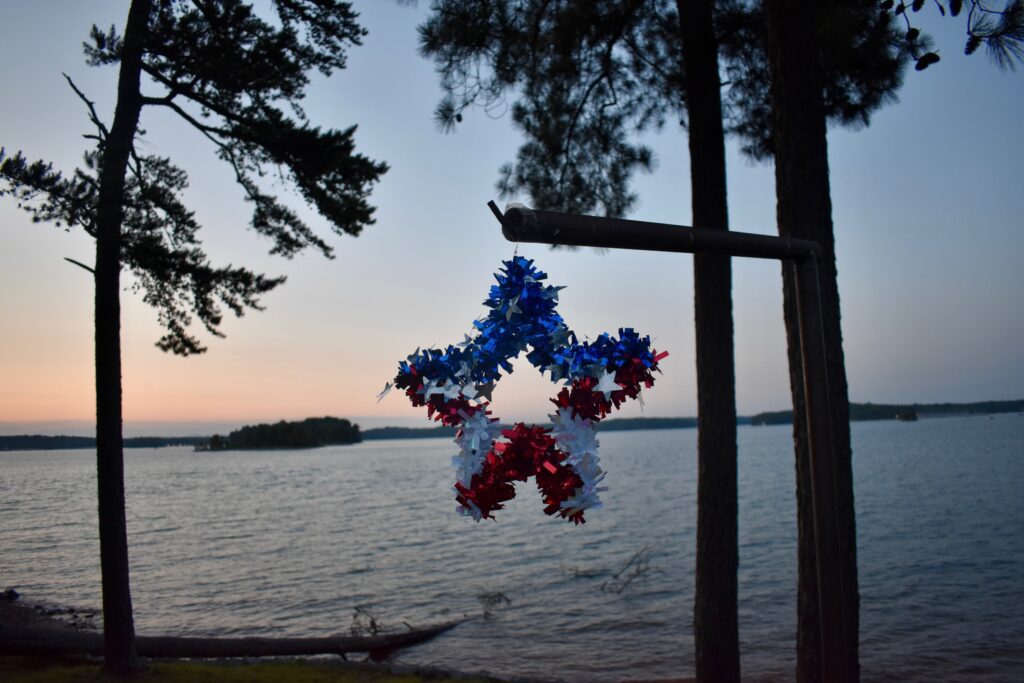 On our first stay we never walked down the last peninsula, sites 62-75. This trip we made sure to check those out. Before you get to the peninsula, the campground beach is on the left and a bathhouse is on the right. Sites 62-75 have zero swimming access from their sites due to the rock wall. What these sites do have are amazing views of the lake. Campsite 69 might be the best site in the campground for that.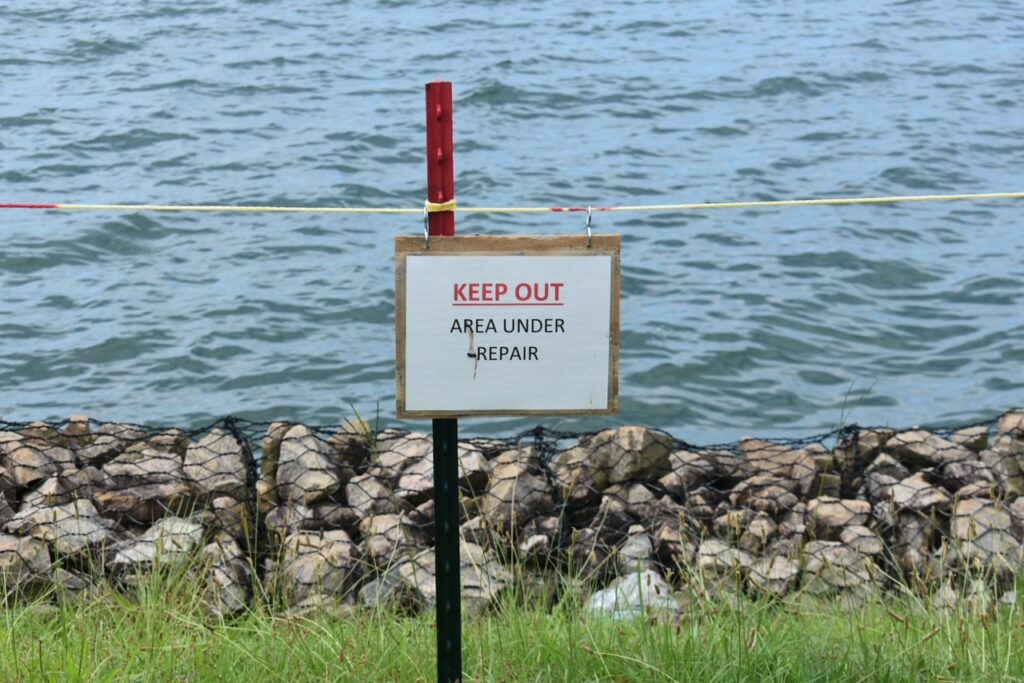 The YouTubers "Wandering Weekends" were staying in site 37 in our loop. They also have a Grand Design Imagine and post many helpful videos on YouTube. As Lippert and Grand Design Ambassadors, they have gifts to give out to friends they make at the campground. The Blackmons spoiled us with a Lippert slim shade, friction hinges, and screen shot. They also stocked us up on some Grand Design gear and koozies. It was great to finally meet them after following each other on social media for so long.
Old Federal Campground is about an hour and half away from our house if there is zero traffic. As far as Lake Lanier goes, we have many other campgrounds on the west side of the lake that are just as good, if not better, in our opinion. Our favorite on the lake still stands at Bald Ridge Campground. Bolding Mill Campground comes in as number two, Duckett Mill Campground and Old Federal Campground tie for third place.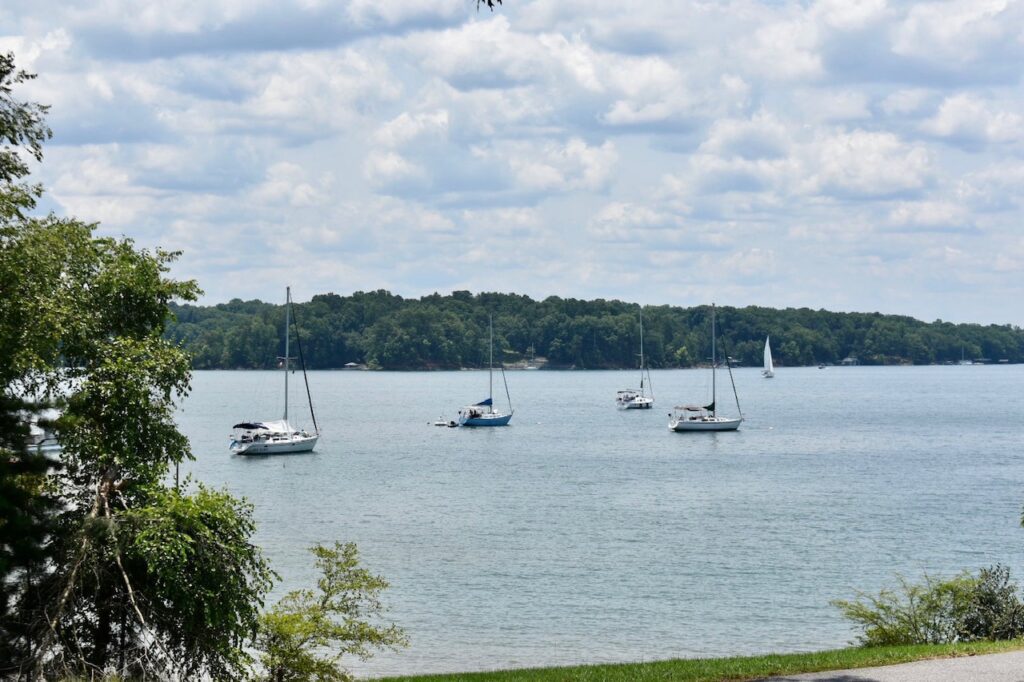 Things we learned at Old Federal Campground:
We brought the ladder in case we needed it to get into the water, but it came in handy when Heather wanted to put the Lippert slim shade up right away. The slim shade was easy to install after watching one video and is a serious game changer. We LOVE being able to see out the tinted glass versus the frosted glass we originally had. Also the shade in the morning gives us a break, letting our babe sleep another hour or so.
Have patience at the dump on the holiday weekend. It took us about 45 minutes to get through the line and dump our tank. Not sure why the guy in front of us wanted to choose that time of day to dump his portable tank, but he waited just as long in line to do it.