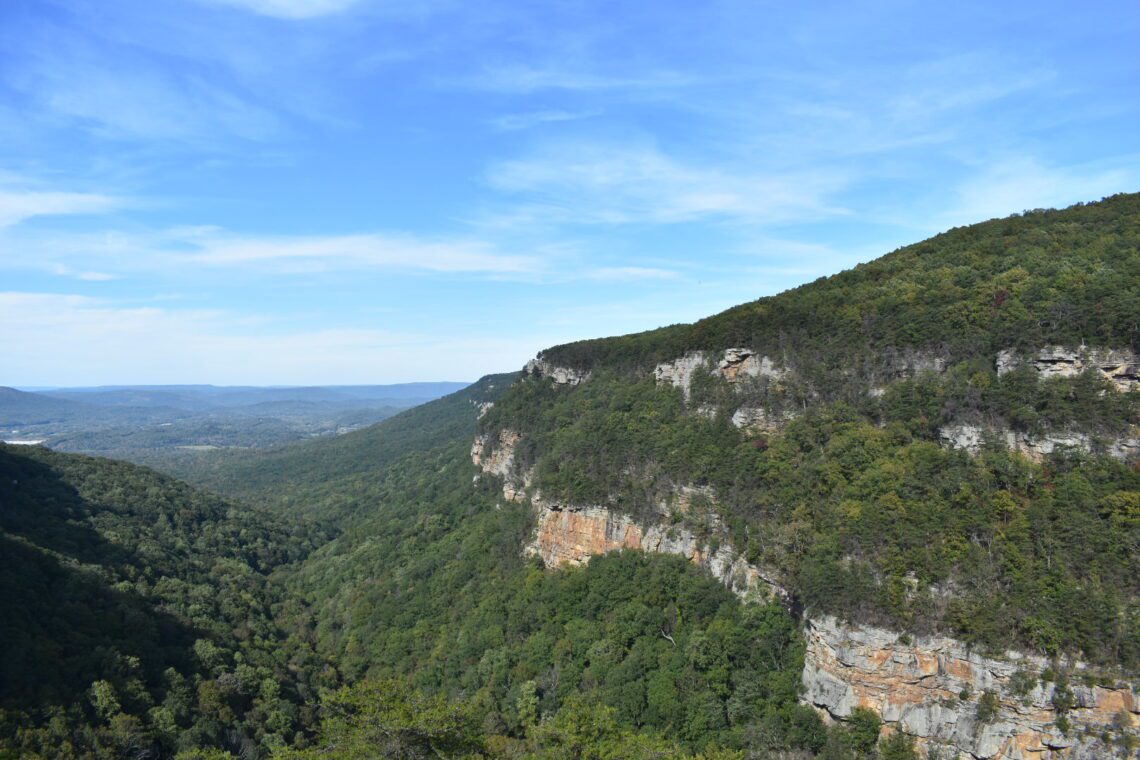 Cloudland Canyon State Park
10.20.17-10.22.17
Cloudland Canyon State Park is a hidden treasure in Northwest Georgia. Known for both its waterfalls and large outlook, the park attracts huge crowds during the fall when the leaves change colors. The park includes all levels of hiking, easy to strenuous. The Overlook is an easy walk down a paved path from the parking lot. The waterfalls can only be accessed by a strenuous hike down about 2000 steps. Cloudland also offers an 18-hole disc golf course, fishing pond, trails for horseback riding, and a small nature museum. Multiple caves can be found throughout the park and you can even sign up for tours from the rangers.
Cloudland Canyon offers all types of overnight experiences with 16 cottages, 10 yurts, 72 camper/tent sites, and 30 walk-in sites. The cottages sit right between the main outlook (with a great view of their own) and the trail down to the waterfalls. The yurts are all located together in what they call the yurt village. All of the yurts have large back decks and look inviting.
The park has two loops of camping sites, the East and the West Rim. The East Rim is located off the main road of the park, near the cottages. The sites in this particular loop (in my opinion) are too close together. The sites lack trees to separate them and the entire loop seems too small. When driving through this loop it seemed that many of the campers were there with other sites, so maybe it works well for several families camping together. The West Rim is much more our style of camping. The sites offer more privacy with plenty of trees throughout.
We arrived late Friday night (like usual) and drove through both loops twice before picking a site. Even though there was not much left to pick from, I wanted to make sure we had the best of what was left. We settled on a pull-thru, site 40 in the West Rim. I assumed people did not pick this site because it was backwards. The outdoor living area was on the opposite side of the camper, meaning if you were sitting at the picnic table, you can't see the door to your camper. That probably wasn't the only reason people did not pick this site. It was extremely unlevel. You would think pull-thrus are easy, but boy this wasn't. Until this trip we had not had to level our camper very much. It was fun to finally accomplish it. Go to the recommendations page for links to the x-chocks and anderson levels.
Site 40 turned out to not be so bad. Even though the outdoor living area was backwards, it was HUGE. We had friends with us who stayed in a tent and they had more than enough room. We probably could have fit ten tents in that little cove in the woods. It was great for setting up our cornhole boards.
Cloudland was having their fall festival activities that particular weekend. We enjoyed a hayride through the park. They also offered face painting, carnival games, and a cookout.
Heather and I tried to hike down to the waterfalls on Saturday, however we did not get very far. The trails were crowded and too narrow for three large dogs. We turned around and headed back through the yurt village, essentially doing a walking tour of the park. The dogs did get to play in a creek located off a trail. As soon as we got down in the creek it seemed like everyone else with dogs wanted to as well. Just what we wanted – our dogs pulling us on slippery rocks to go play with other dogs. I am lucky I didn't bust my butt.
Things we learned:
Leveling the camper takes patience, and sometimes a good couple of rocks for stability.
On a beautiful Saturday afternoon, we might have to pick the more unpopular hiking trails in order to take our pups.
Heather was going to LOVE decorating our camper for Halloween, just as much as she loves decorating our house for holidays.
Please follow and like us: