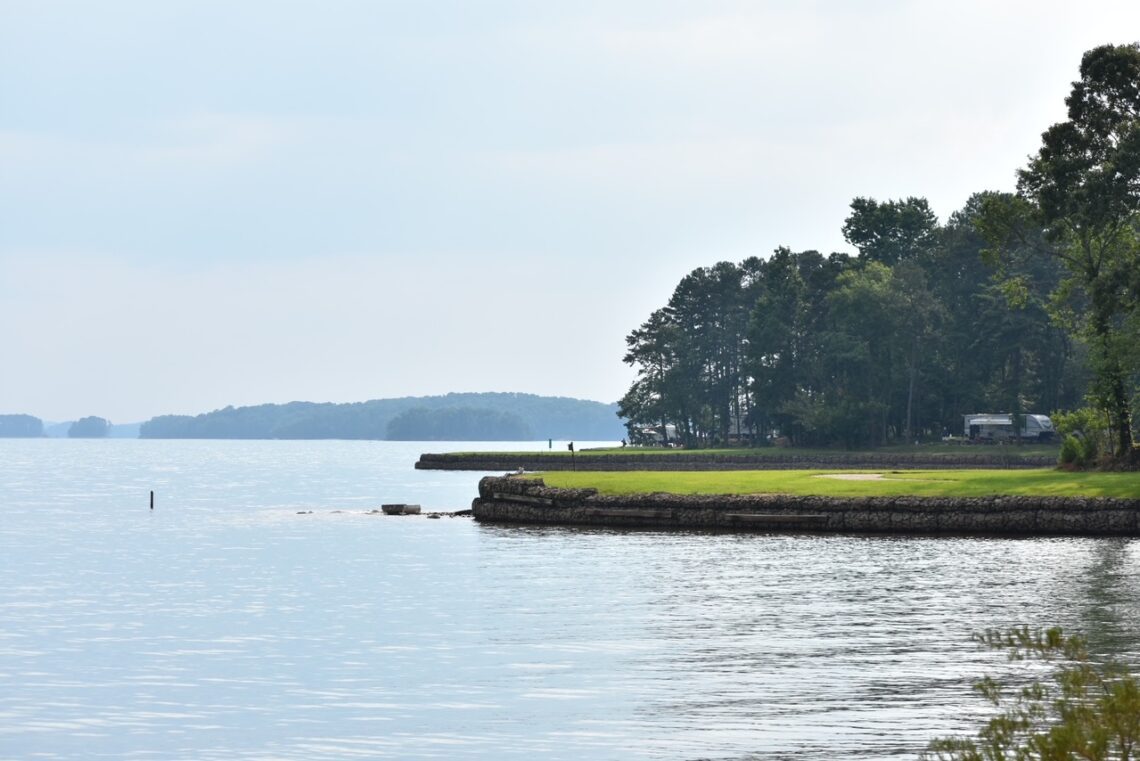 06.18.21-.06.19-21
Shortest camping trip to date! Tropical storm Claudette was headed our way. We didn't want to cancel in case the forecast was wrong. We continued to see heavy rain and high winds coming Saturday evening so we packed up before it started. Many other campers left on Saturday as well.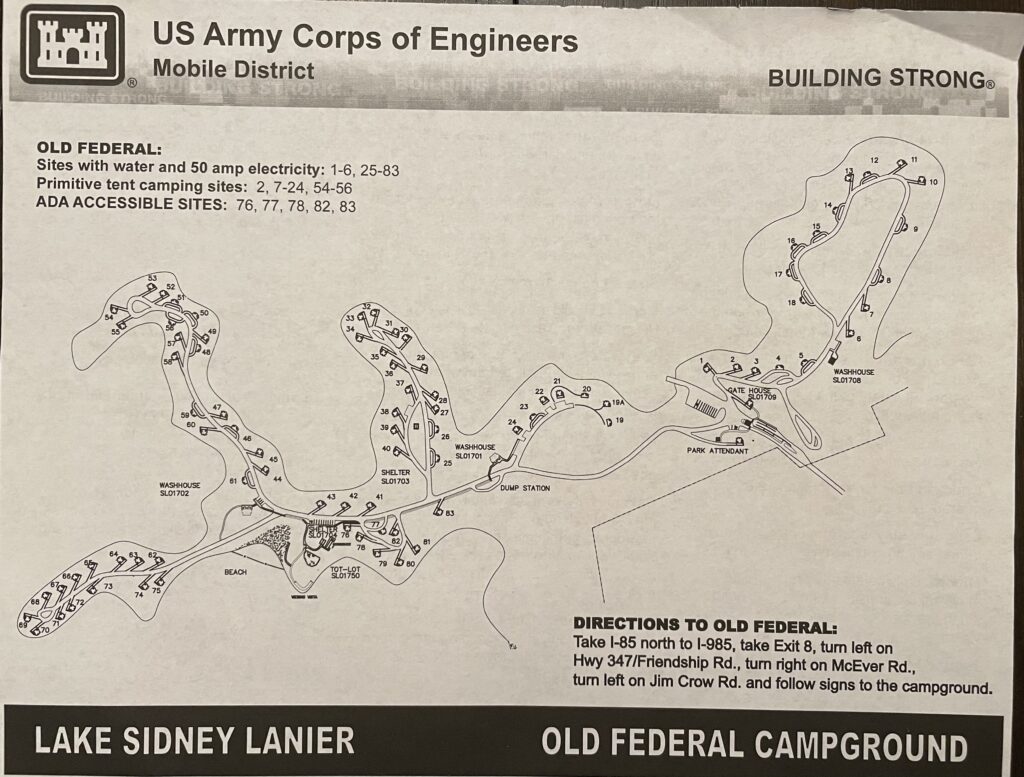 This was our first trip to Old Federal Campground COE on Lake Lanier in Flowery Branch, GA. The campground is known for its epic water and sailboat views. The entire campground sits on a large peninsula and is constantly dealing with erosion problems. We have had multiple trips reserved to Old Federal and canceled because of storm damage. It has been closed for two seasons. Even for the one night stay, we were excited to check out the campground.
Old Federal Campground has 83 sites in total, 65 of them being RV sites. The campground has a playground, beach, and many different common areas to fish from.
We reserved site 80, a 52-ft. paved, back-in site on the water. Campground info claims that there is shade at this site, but the only shade that you will find is from your awning. The sun comes up on the outdoor living side of the camper, so a window shade in the door would have been nice. Many of the sites in Old Federal have views of the sunset, but site 80 did not.
Site 80 in Old Federal sits on a small peninsula, across a cove from the sailing marina's beach. It had a spectacular view of the lake. The majority of the site has a huge drop-off to the water. Behind the site there is an area to get down to the water. Once down to the water, site 80 is a great place to set up and swim. There is plenty of shallow water and rocks for toddlers to play with.
Our friends rented site 81 next to us which also seemed like a great option. They had a view of the cove and out into the lake. Site 81 had their own path down to the water on the far side of their setup.
This portion of the campground is one of the last sections that does not have a large rock wall between the site and the water. Old Federal Campground seems to be raved about quite a bit on facebook, however the rock wall is a major negative to me. If I am camping in a waterfront spot on the lake I want to get into the water right off of my site.
Heather joked that we should bring our 4-ft. ladder next time we come to help get down over the rocks. When booking, I used satellite images to see where the rock wall was and tried to avoid it. I thought I was good for our next reservation, but it seems they had to extend the wall even further.
We may be the minority in this opinion, but because of the rock wall I would rank Old Federal Campground lower on my list of Lake Lanier campgrounds than others we have visited. I would recommend site 80 and would love to stay on that site again. We are going back in a couple of weeks to a site that has the rock wall in front of it. That visit will decide if I am going to keep my Labor Day Weekend reservation or not.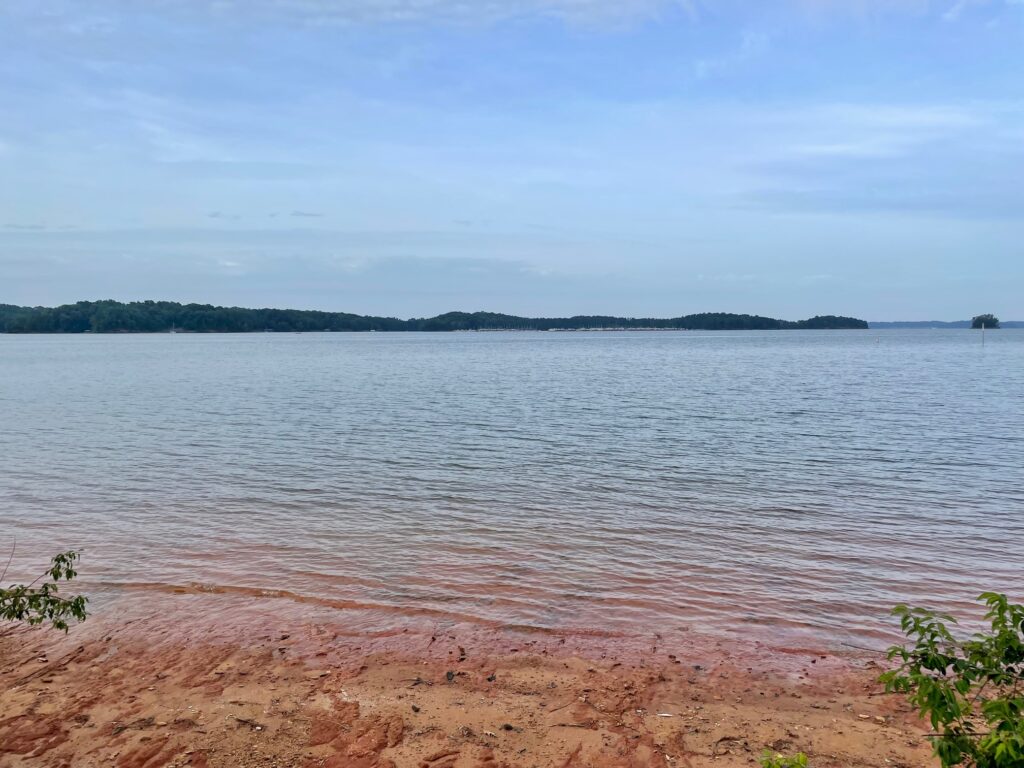 We noticed a couple sites still had great water access in front of their sites. Site 26 had a private beach in the cove that sites 27 and 25 could probably access. Site 41 seemed like a fantastic site to have as it had quite a few trees for hammock space and a sandy area to swim. Between site 78 and 79 there was a sandy path down to the water in front of their sites.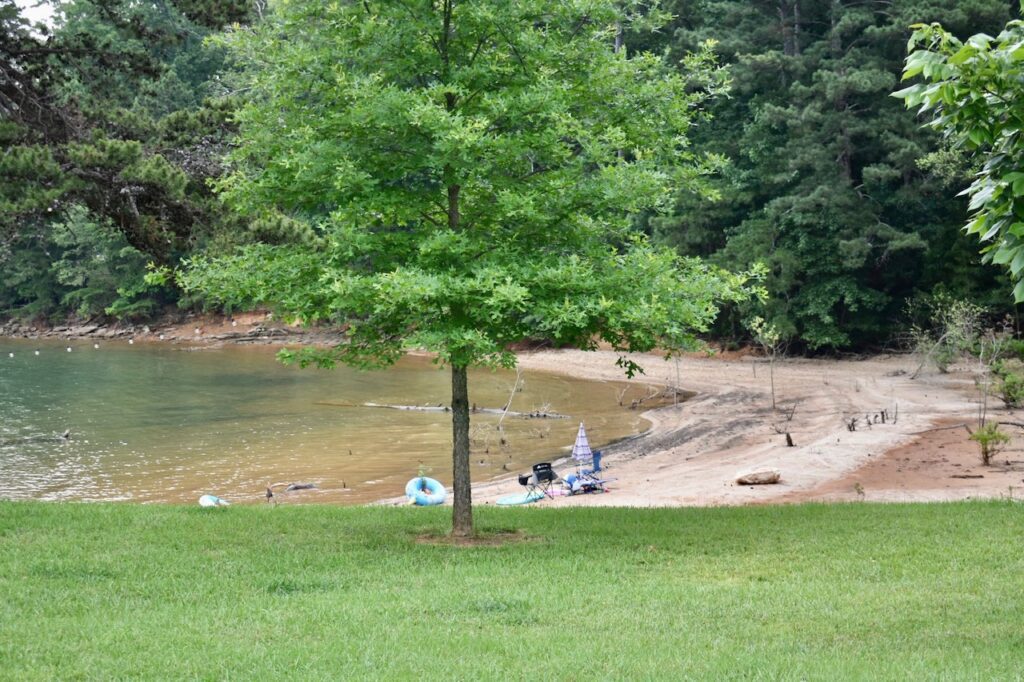 Site 44 sits on top of a hill looking out over the lake, but down the grassy slope the site had a sandy access area to the water. Across the street site 61 is a pull-thru site that also sat on top of a hill, but had a fantastic sandy, cove to swim. This same area of swimming could be used from people in sites 60 and maybe even the sites across the road that cannot get into the water because of the rock wall.
We did not walk to the end of the road, but noticed kids swimming in the cove in front of sites 55 and 56. From the satellite images it seems as those sites at the end of that road have access to a small beach area between those two sites.
Old Federal Campground is a great option to reserve if you are looking to visit Lake Lanier Islands, as it is about 20 minutes away. There are plenty of shopping and restaurants close by.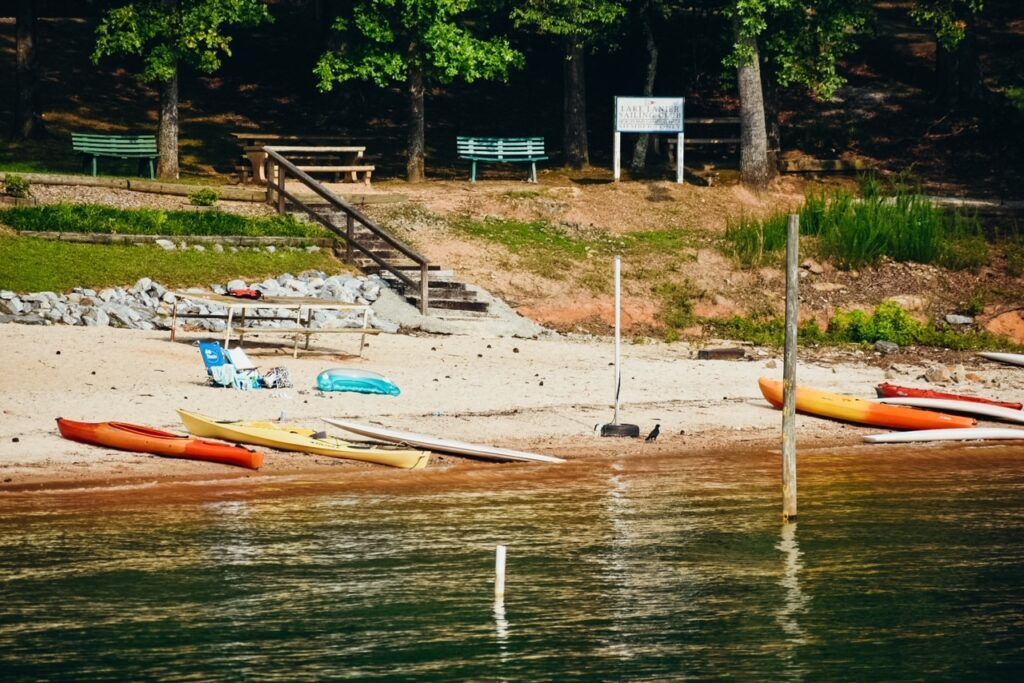 Things we learned:
Even though the trip was short, we had a great time with friends. It was nice to not pack up in the rain and get home before the storm hit.
If you were here for the last campground review, you know that we did not dump at Clark Creek. The we found out the hard way that Cabela's got rid of their dump station. I had concerns about our tanks sitting full for three weeks, but we did not have any issues.