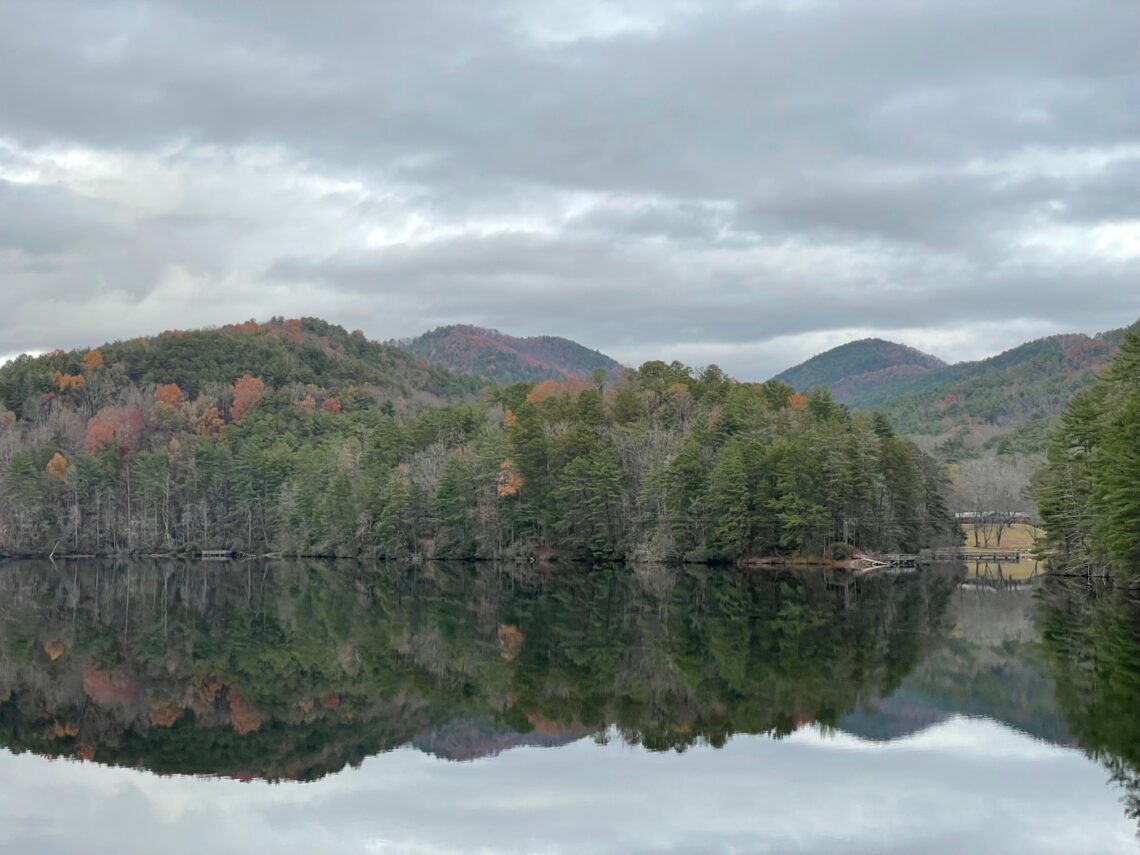 Unicoi State Park & Lodge
11.23.22-11.27.22
Looking for a state park campground that offers a full restaurant? That's just what we had in mind when looking for openings for Thanksgiving 2022.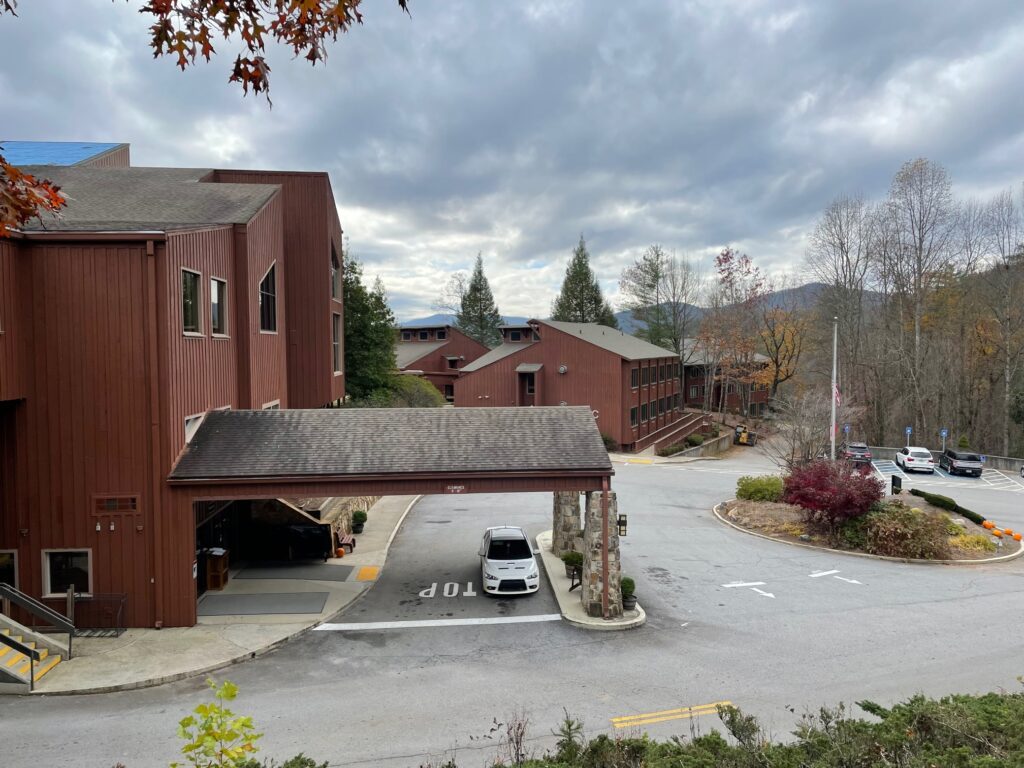 Originally we had booked in Pigeon Forge, but decided to save some money and pick up a cancellation closer to home. Since this was going to be longer than just a weekend trip, we were able to look further into North Georgia.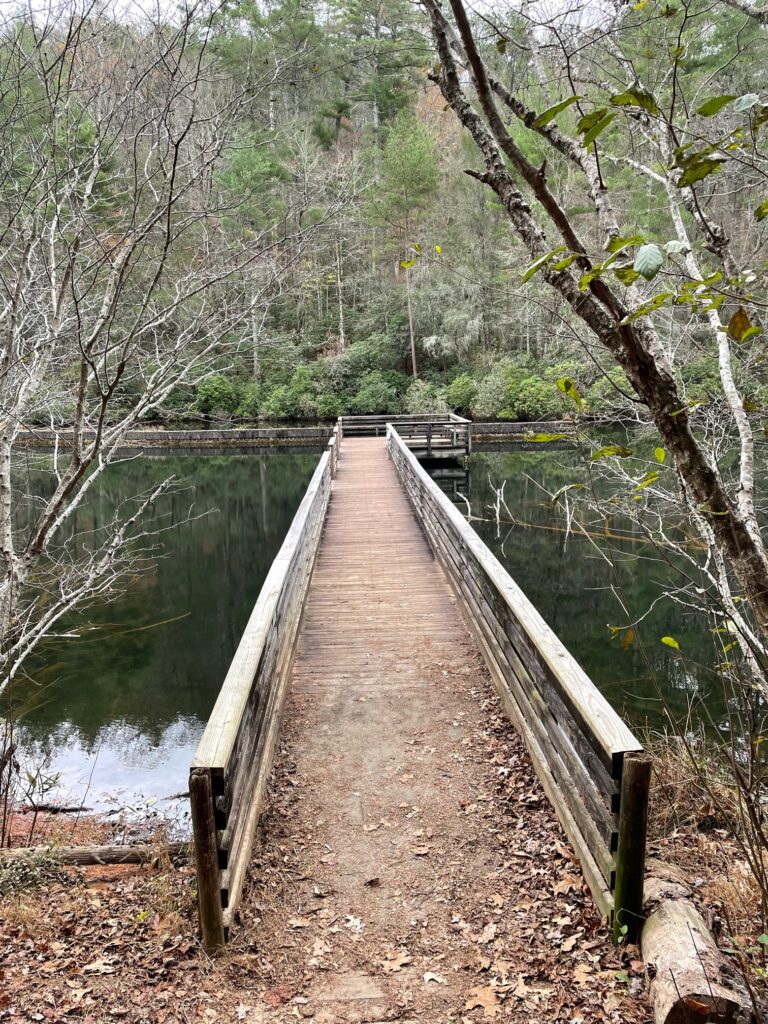 Unicoi State Park and Lodge is located in Helen, GA. North Georgia is known for its beautiful mountain landscape and Unicoi does not disappoint. Lake Unicoi has a beautiful backdrop of the Chattahoochee National Forest. The state park is known for its various accommodations including the 96 lodge rooms, 29 barrel cabins, 48 RV sites (some full hook-up), 33 tent sites, and 15 primitive squirrel's nest platforms.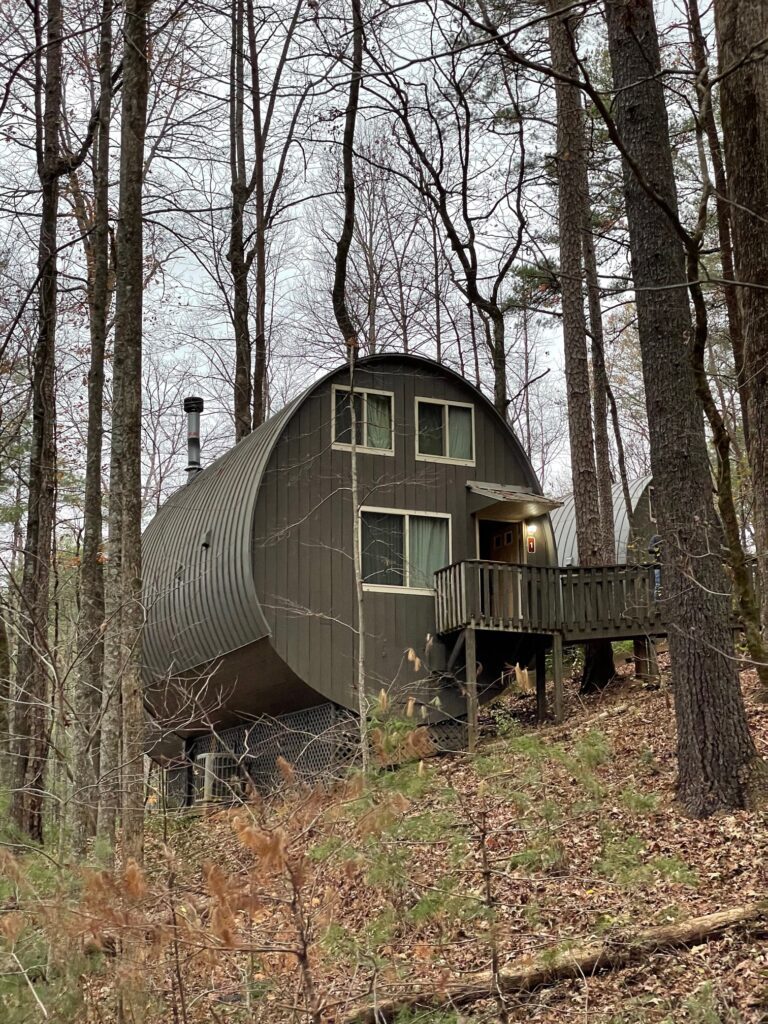 The park includes miles of hiking and biking trails, plus paddle boarding and kayaking rentals on the lake. Located on the other side of the park from the lodge is an archery and air gun range. Throughout the park (including right beside the cabins) is a long zip lining course with 19 zip lines and 9 suspension bridges. Prices range from $49 – $139, depending on which of the three levels you choose. Adventurers must be at least 8 years old to participate. You can also rent a GoPro camera to record your adventure.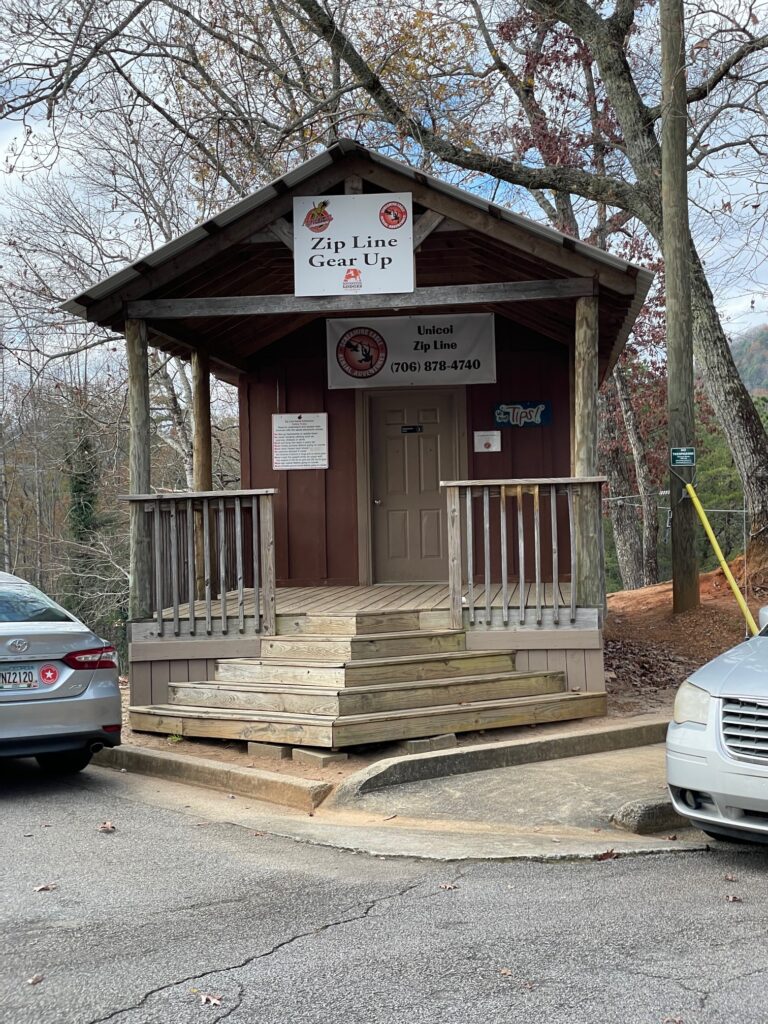 Unicoi State Park and Lodge has a full restaurant (buffet) for breakfast, lunch, and dinner. We reserved and paid ahead for their Thanksgiving lunch on Thursday. For $125 (including gratuity) we were able to have our Thanksgiving meal with no cooking or cleaning. The food wasn't as good as our family's home cooking though.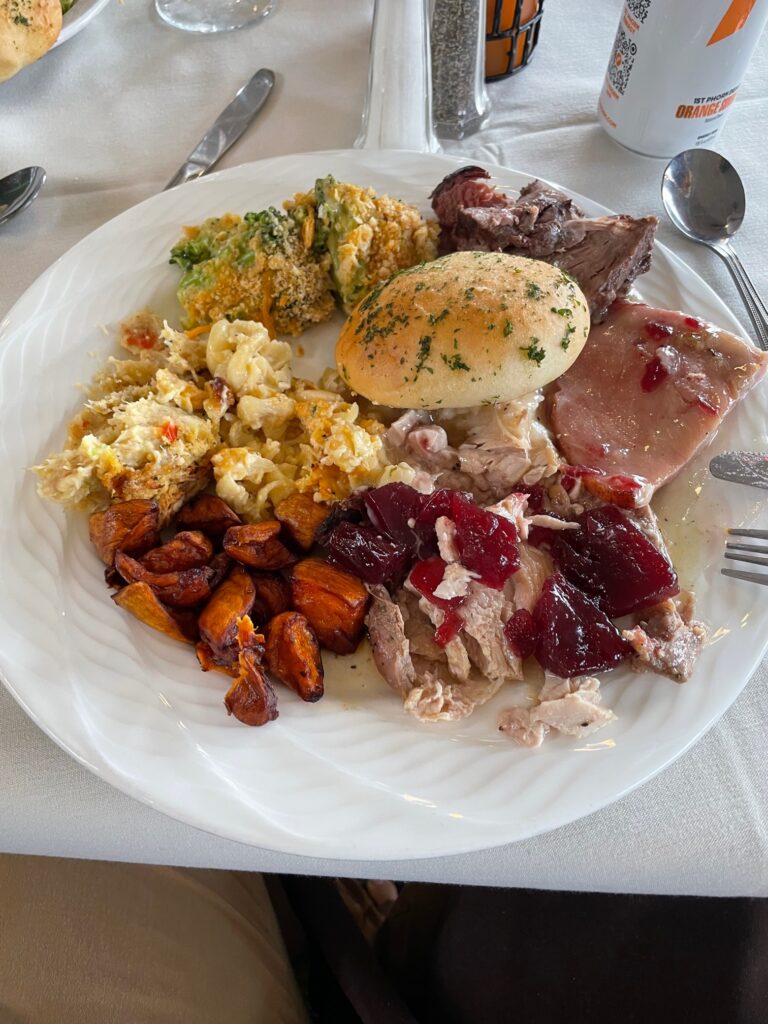 Later in the week we stopped by the Tavern in the lodge for dinner. There were only two people working the Tavern and it was eerily quiet. No one greeted us as we stood awkwardly at the front door. Looking over at some of the tables where customers were eating, it seemed like one woman had a piece of frozen pizza. We left and went back to our campsite to make dinner.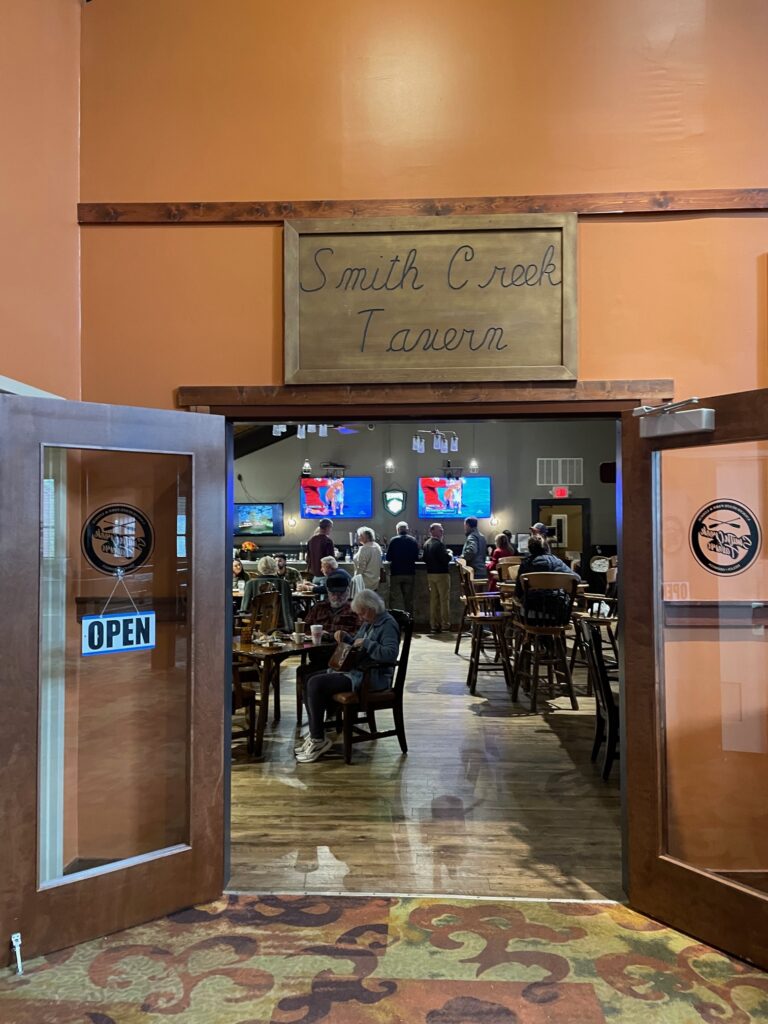 We reserved campsite 49, a 30-ft. back-in site with electric and water. You have to go uphill to get in, so it was a little difficult to back into. If we were ever in this site again we would probably check-in at the visitor's center and then drive up the one-way road (the wrong way) and back down the hill into the site. Thankfully no one was across the road from us at our check-in time. We used site 50 to pull forward into and correct ourselves. Campsite 49 has the outdoor living space located on the back of the site. It is private from all other campsites except 48. There are a couple trees behind the site that are great for hammocks.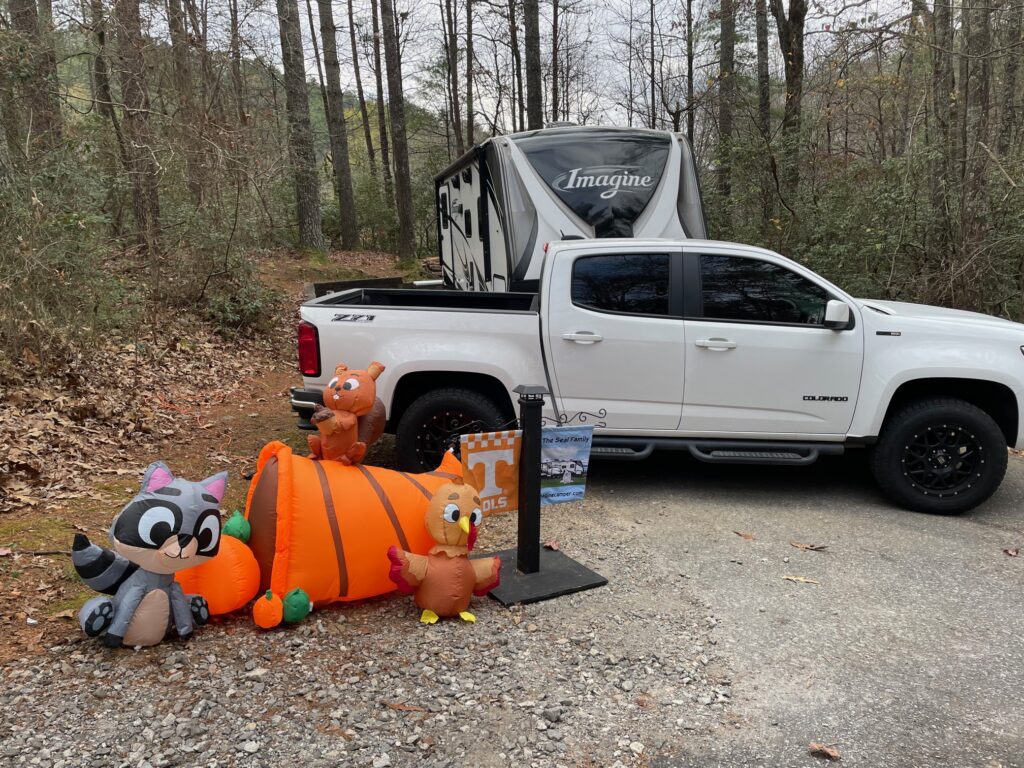 You will see many reviews that say the sites at Unicoi State Park and Lodge are tight and right on top of each other. That can be true and at times they squeezed the "buddy sites" into a slightly larger driveway. If we had the choice of any campsite we would choose 29 (full hook-up and no one to the right. It is located closest to the playground, but far enough away that playground noise shouldn't bother you. Campsite 51 was also a decent site, easier to back into than ours.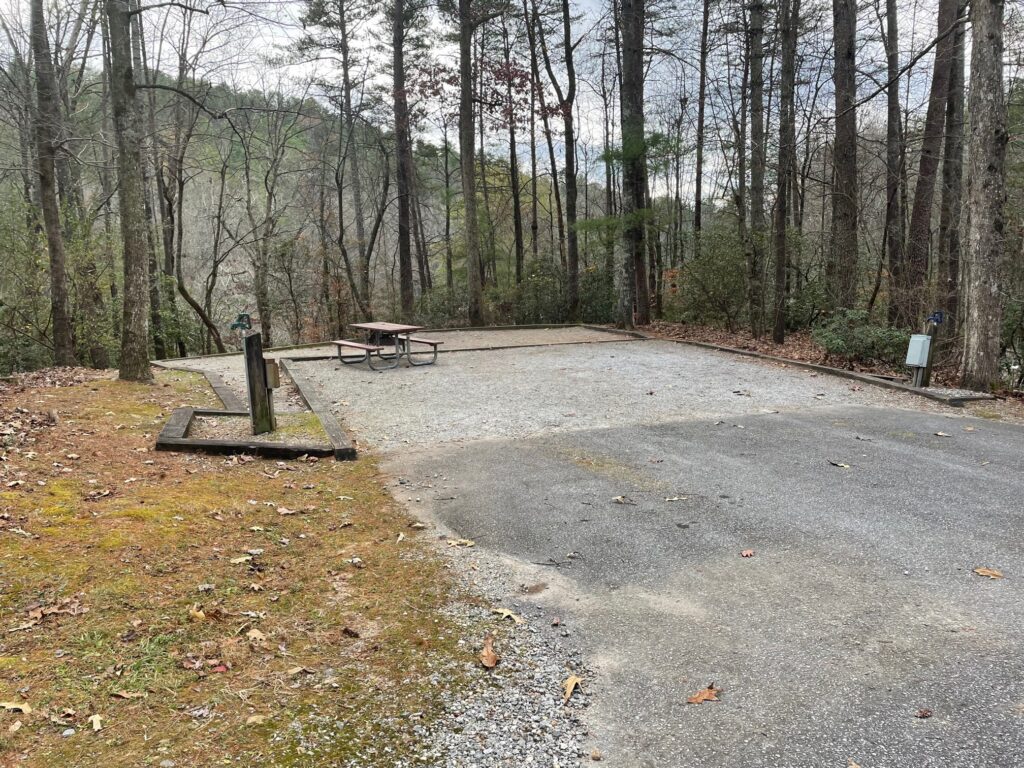 On the way to Unicoi State Park and Lodge, the park ranger called us about 4 p.m. to ask our ETA. The campground visitor's center was closing at 5 p.m. that day and if we arrived after we would need to check-in at the lodge and then drive over to our campsite. The campground visitor's center is located in the back of the campground so it took quite a bit of time to get there, but thankfully we made it before 5 p.m.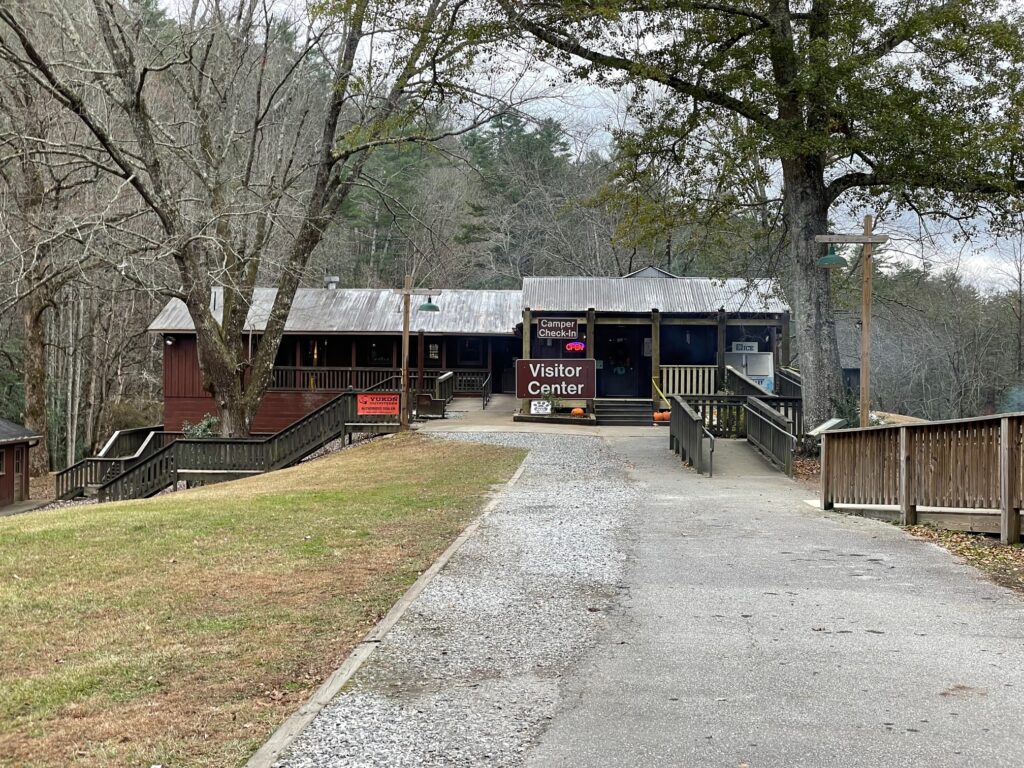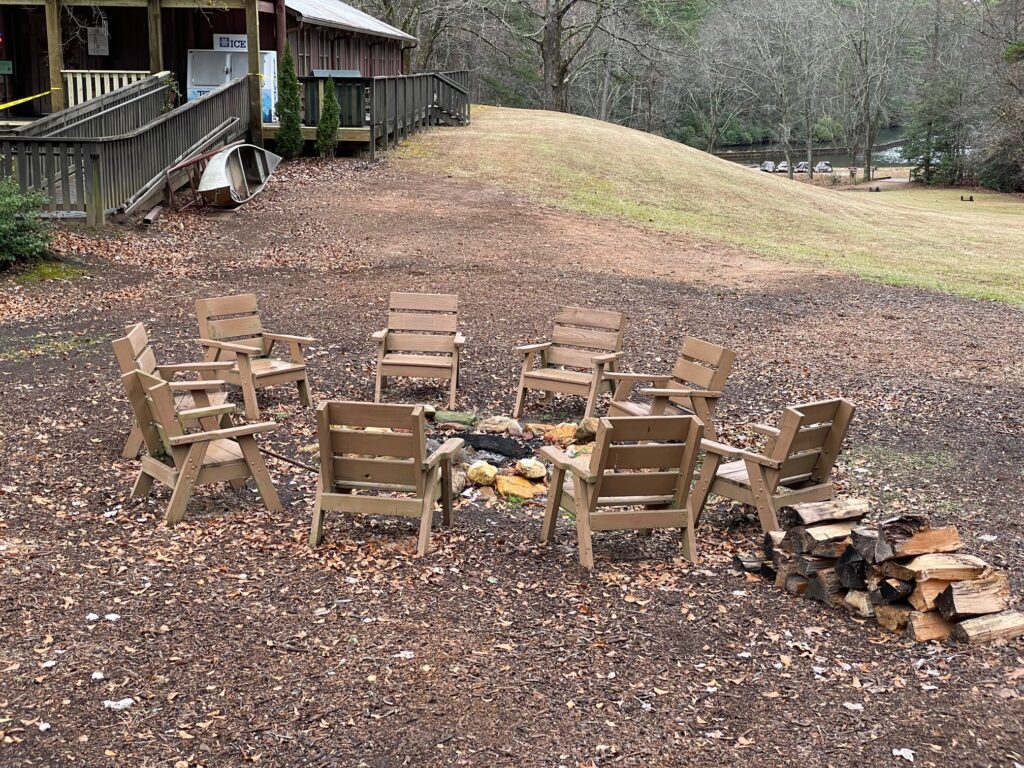 The visitor's center is well stocked with everything you could possibly need for RV or tent camping (we had to buy toilet paper.) There are t-shirts, toys, candy, and even alcohol. Because Unicoi State Park and Lodge is a privately owned park (not run by the state) they are able to sell alcohol. There is a game room, laundry, and museum/classroom in the campground visitor's center. We were able to use our two free nights with "Friends of Georgia State Parks" at Unicoi State Park and our 10% discount, but we could not use or add to our points. 
If you are interested in a Friends of Georgia State Parks membership, check out the different options here. We are excited to partner with them and offer our followers 15% off a membership with the code ImagineCamper.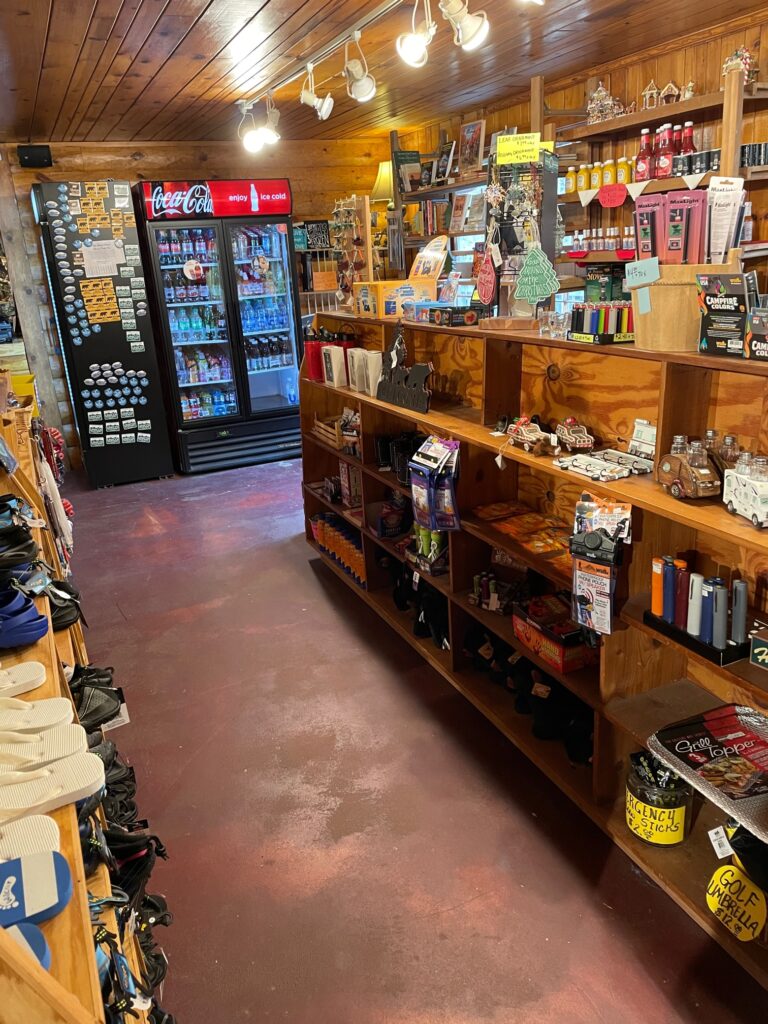 Our first hike was the easy two-mile loop around Lake Unicoi. We started right behind the campground visitor's center, a short walk from campsite 49. The clearly marked and worn down trail had great mountain views from multiple locations.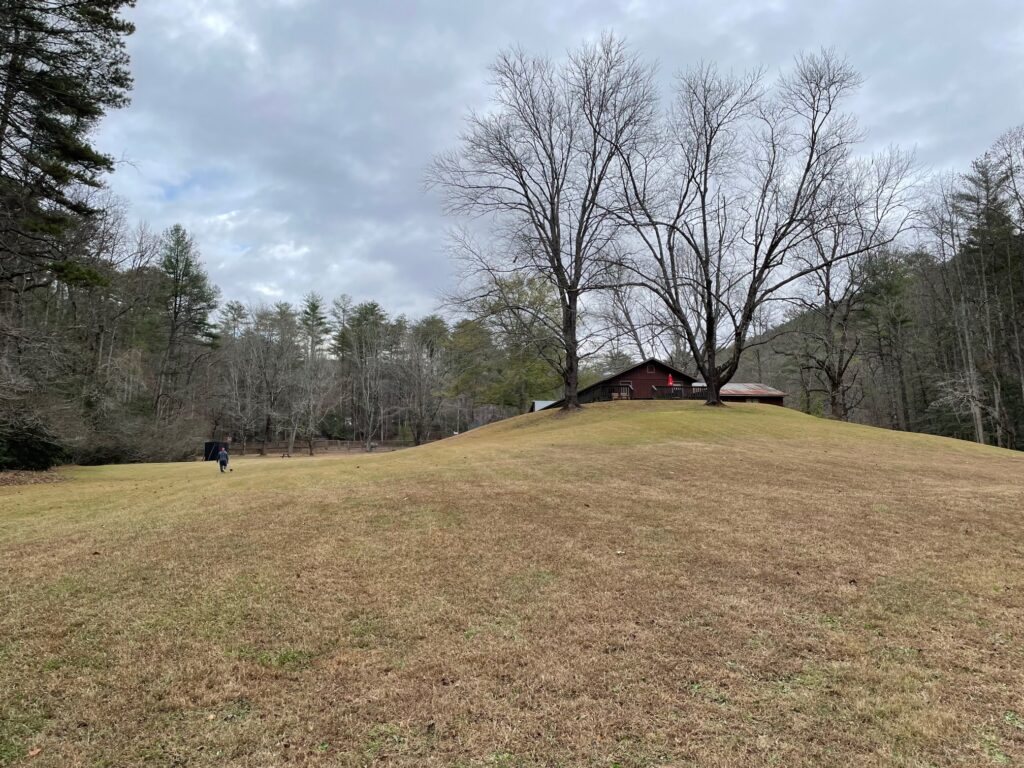 On Saturday we drove over to Anna Ruby Falls, a national park located within Unicoi State Park. There is a separate $5 fee at Anna Ruby Falls not associated with the state park pass. Children 15 and under are free. At the parking lot is a visitor's center with a great assortment of souvenirs and gifts. The hike to the falls is completely paved, but an uphill climb (steep at times.) At the end of the mile hike are two falls that stand more than 150-ft. tall. There are two observation decks at the bottom of the falls to get the epic photos. Keep in mind that the park closes at 5 p.m. and no one will be admitted after 4 p.m., something we learned the hard way the day before.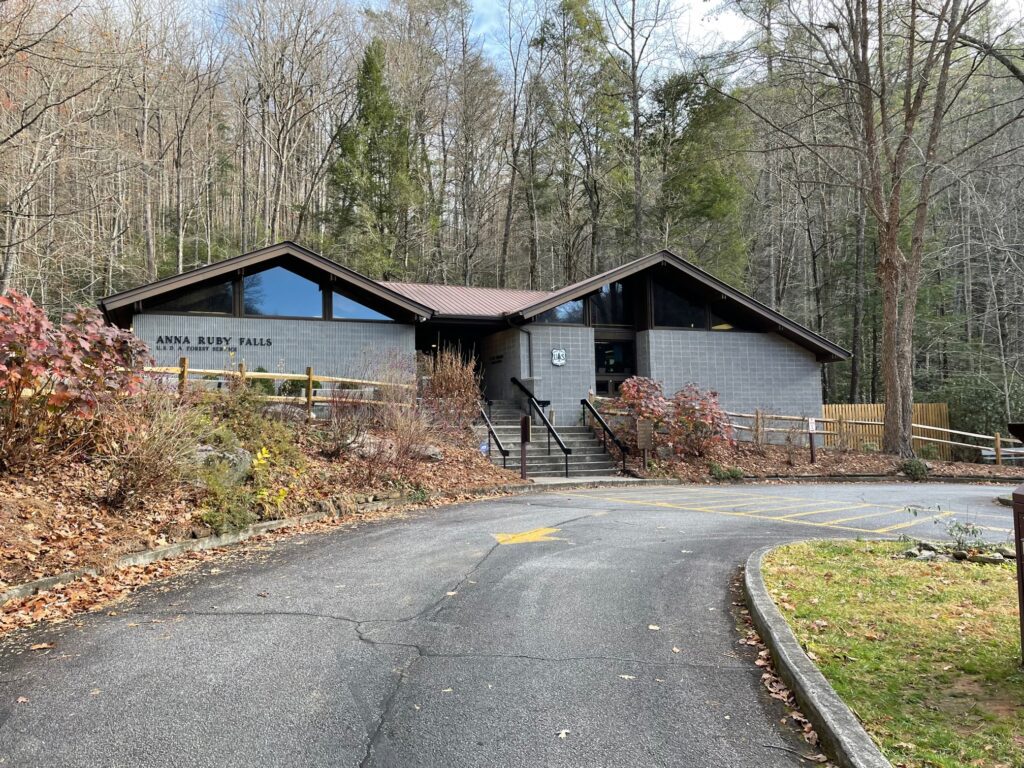 We traveled into downtown Helen on Friday after nap time, but let me tell you–we made a mistake. Once we turned left onto the main road into downtown Helen we sat in about an hour of traffic. Luckily, we did find a parking spot ($10) and were able to walk around downtown Helen. I should say walk around lightly because it was SO crowded. I had seen the facebook event for Santa and the tree lighting. Apparently people drove from hours away to participate in this. By the time we got to Santa the line was a mile long, we turned around and walked back the way we came. The Wendy's closed their doors to patrons when we were walking by because they were so overwhelmed.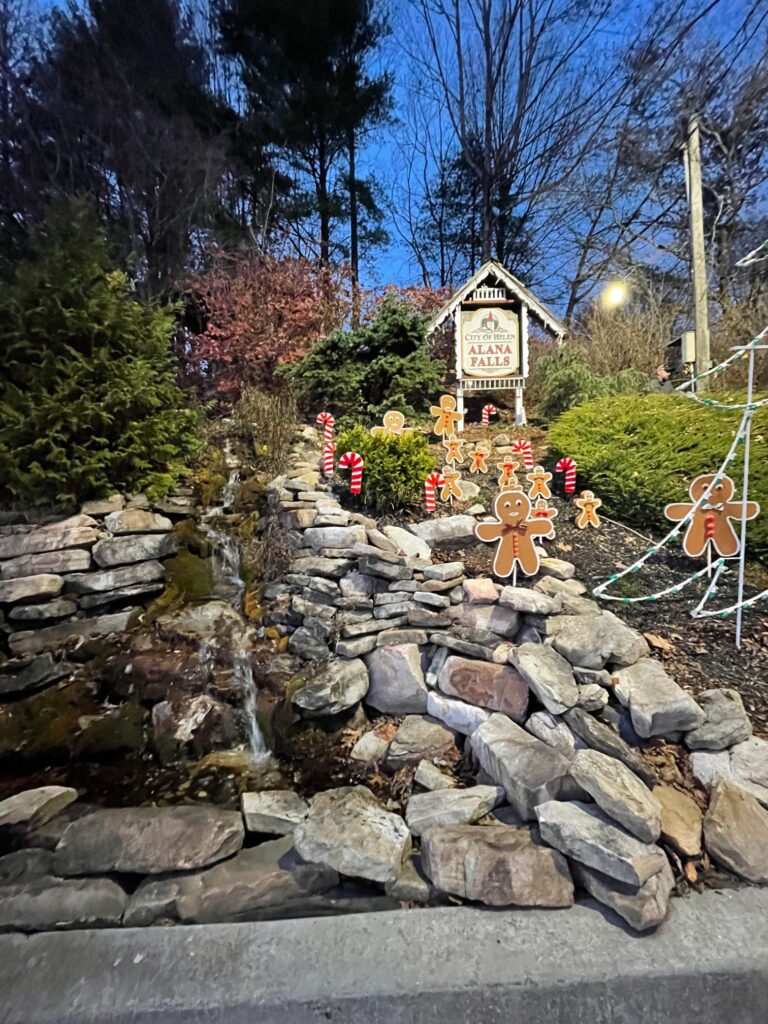 The one store we went into and purchased something from was the sweet shop. We had to buy fudge, pralines, and chocolate-covered marshmallows. The line was out the door, but moved quickly. The store also wasn't organized because there were multiple lines in different locations of the store. We didn't even stick around for the tree lighting because we were so hungry and wanted to avoid the crowd all exiting at the same time.
Friday morning I signed Heather up for a session at the air gun range. She is experienced in shooting guns and enjoyed this, but said that it was annoying to have to load the air gun between each shot. The fee is $20 for about an hour and includes instruction from an employee before beginning. The park offers archery for $25 and axe throwing for $20.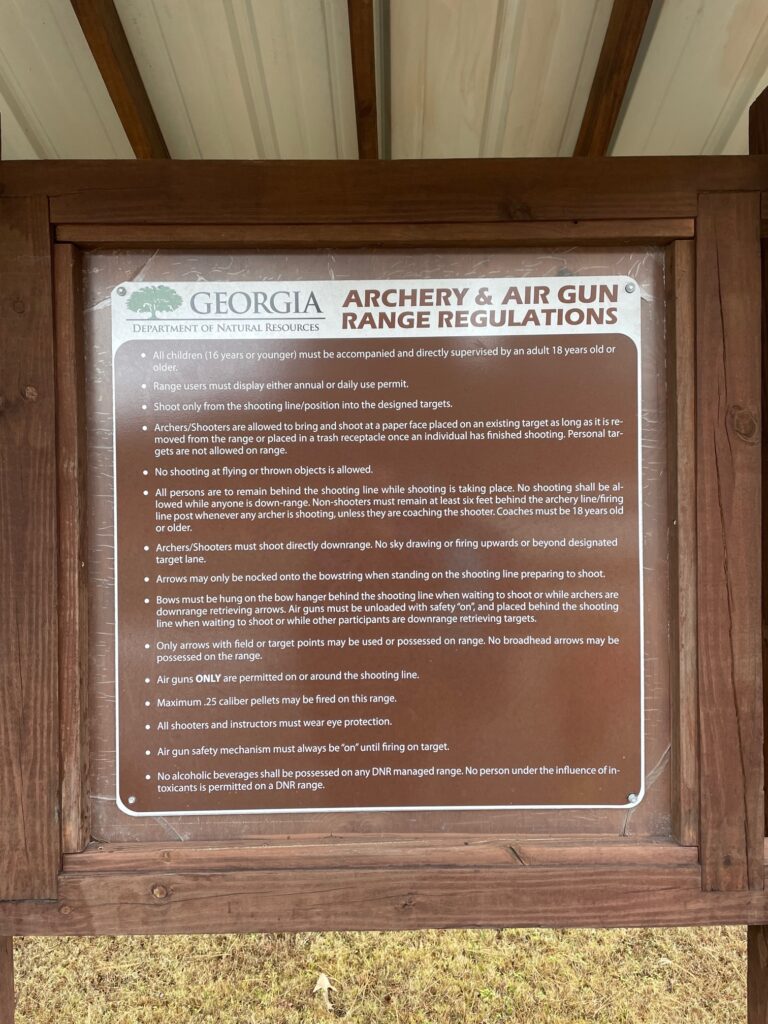 Smithgall Woods State Park is just a short drive from Unicoi State Park. It offers hiking trails and plenty of different locations to fish in the streams. They do not have a campground, but do have six cottages for rent. We hiked the Laurel Ridge trail which was marked easy on the AllTrails app. This was not easy in our opinion or maybe it was Heather having a 30-lb. toddler on her shoulders hiking up the mountain. The attraction at the Laurel Ridge loop is the view of Yonah mountain. Keep in mind that this trail is super steep at some points. It also does not have trail blazes, but random number signs that are not spaced evenly.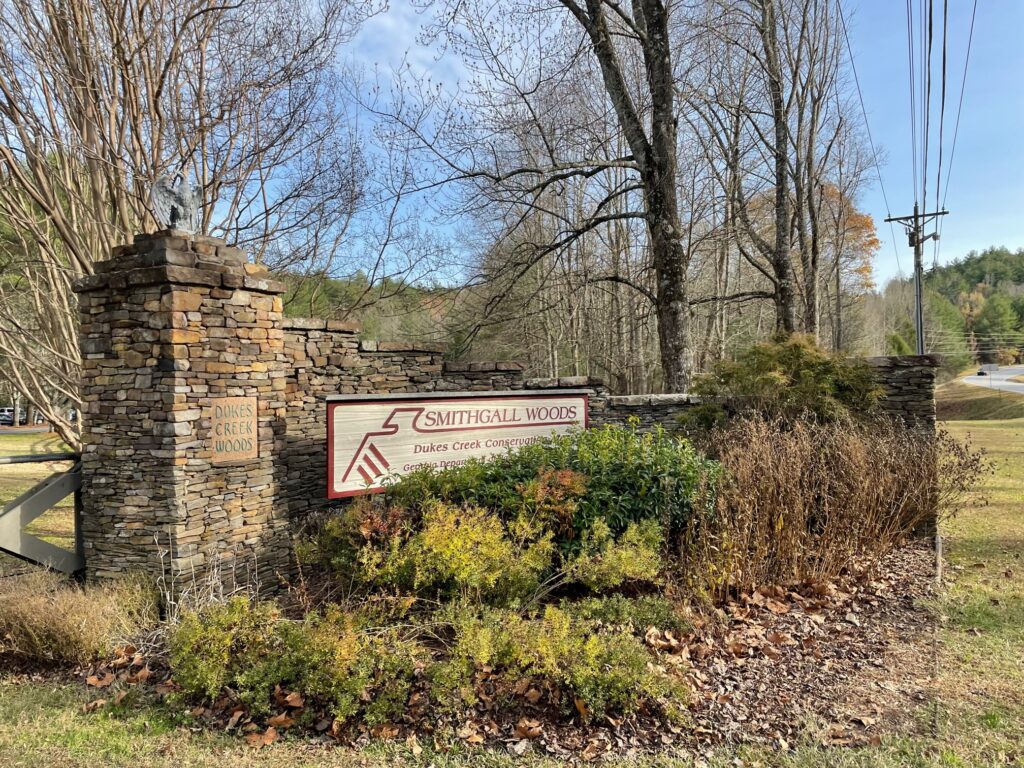 Places to visit while staying at Unicoi State Park and Lodge:
Fred's Famous Peanuts – Between Unicoi State Park and downtown Helen you will find Fred's Famous Peanuts. This is the corner store you have to stop by. The peanuts are delicious, but there are so many other goodies for sale. They also have some of the best customer service we have experienced in a long time.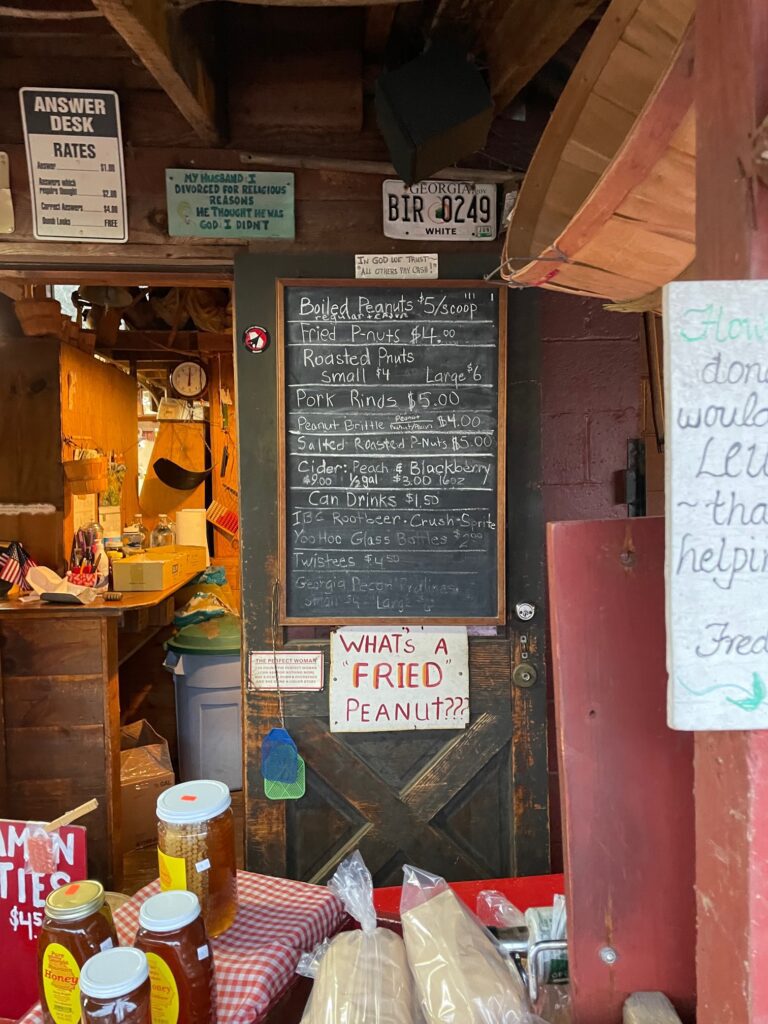 Big Daddy's – in downtown Helen. We have eaten here before and enjoyed our burgers Wednesday night after checking in.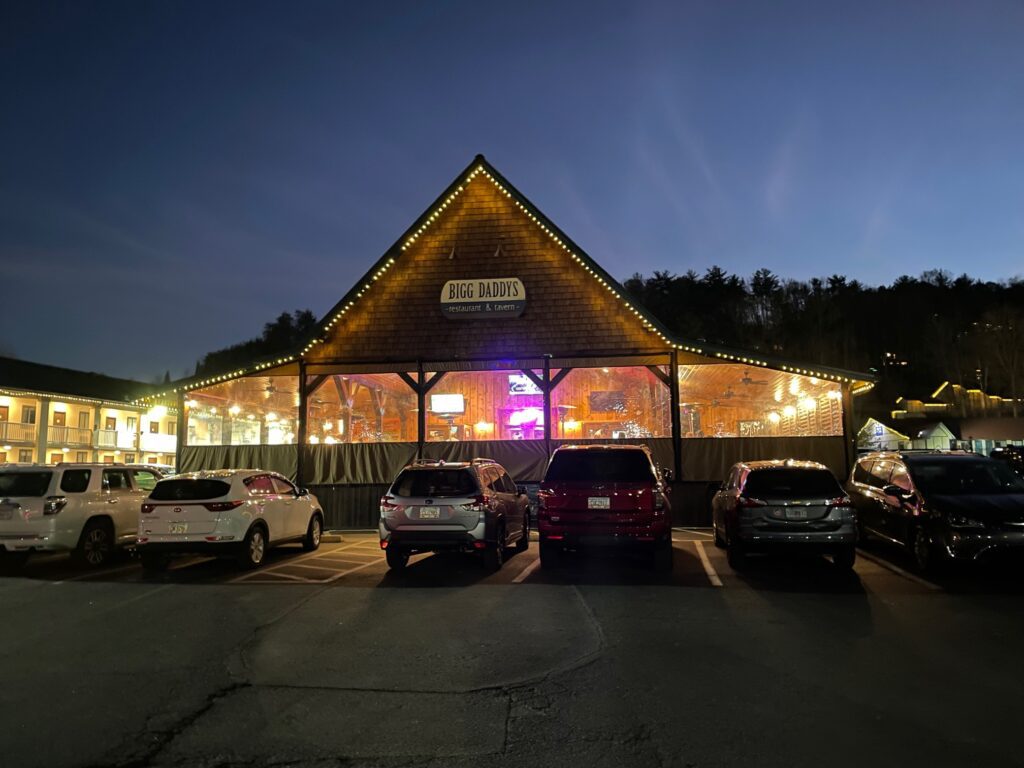 Tubing – The tubing companies are not running in November, but this is a fun activity we have done a couple times in the past.
Please follow and like us: