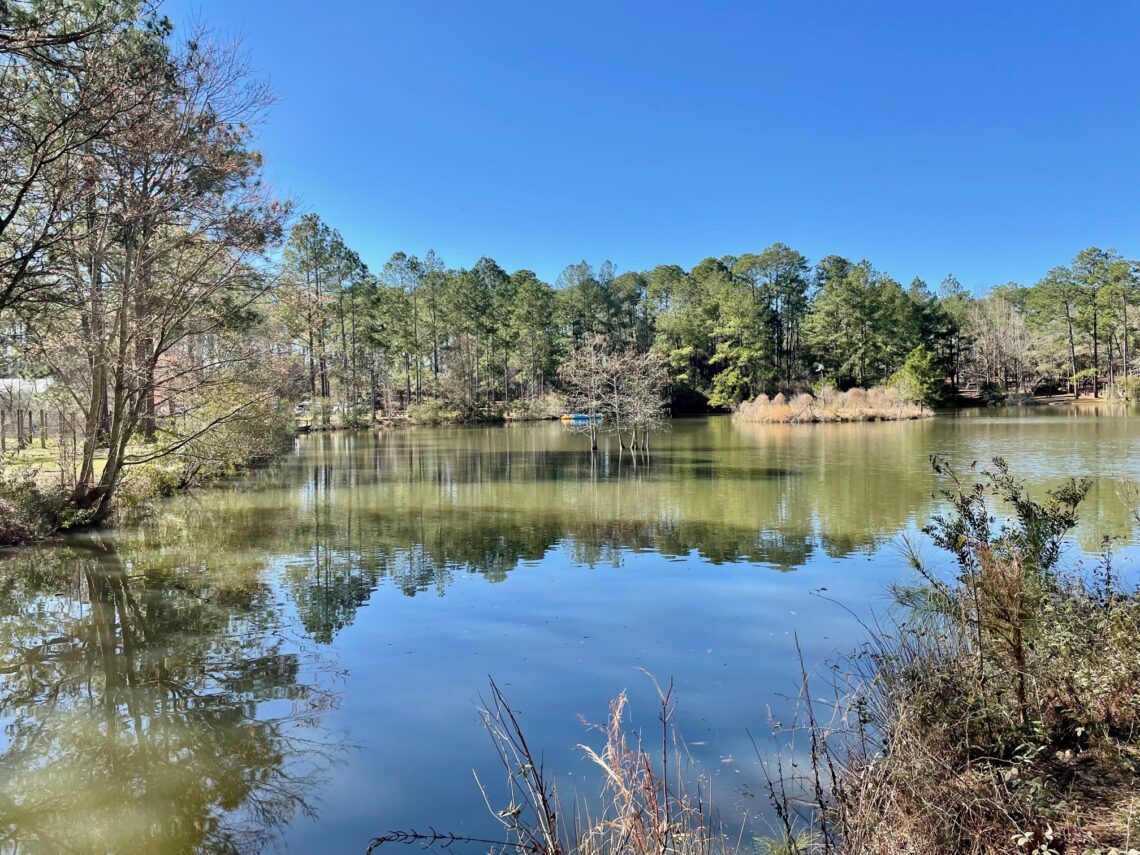 General Coffee State Park
02.17.23-02.19-23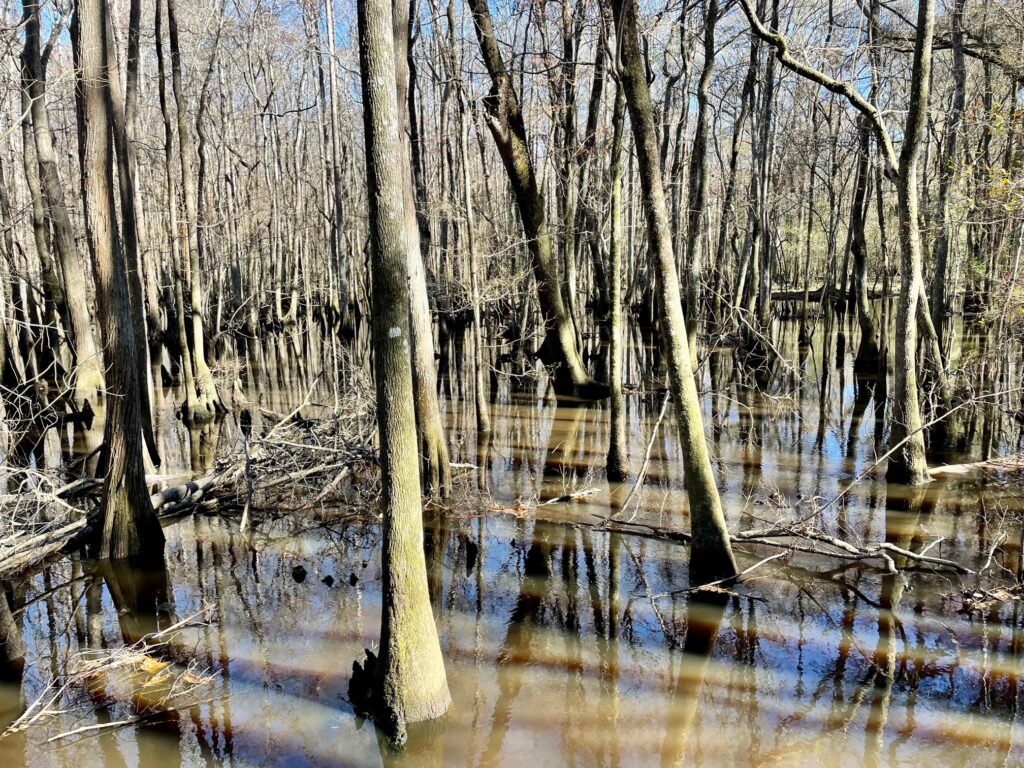 Checked off another state park on our way down to Florida.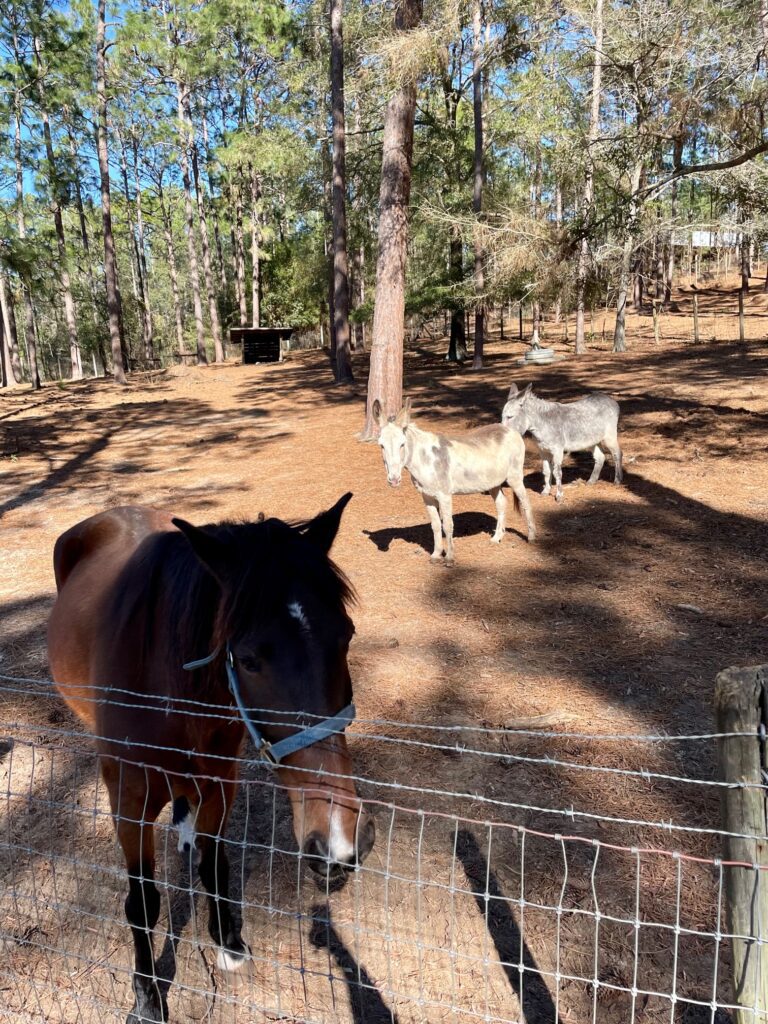 General Coffee State Park is located in Nichols, Georgia and while it seems to be the middle of nowhere, the park has a lot to offer. The main attraction is the farm where we saw donkeys, goats, sheep, pigs, chickens, ducks, and a horse. The park is about 1500 acres in total with a four-acre lake in the middle. Sleeping accommodations include four cottages, 50 campsites, four equestrian campsites, and ten dry camping sites. There are multiple playgrounds throughout the state park and about 13 miles of equestrian trails.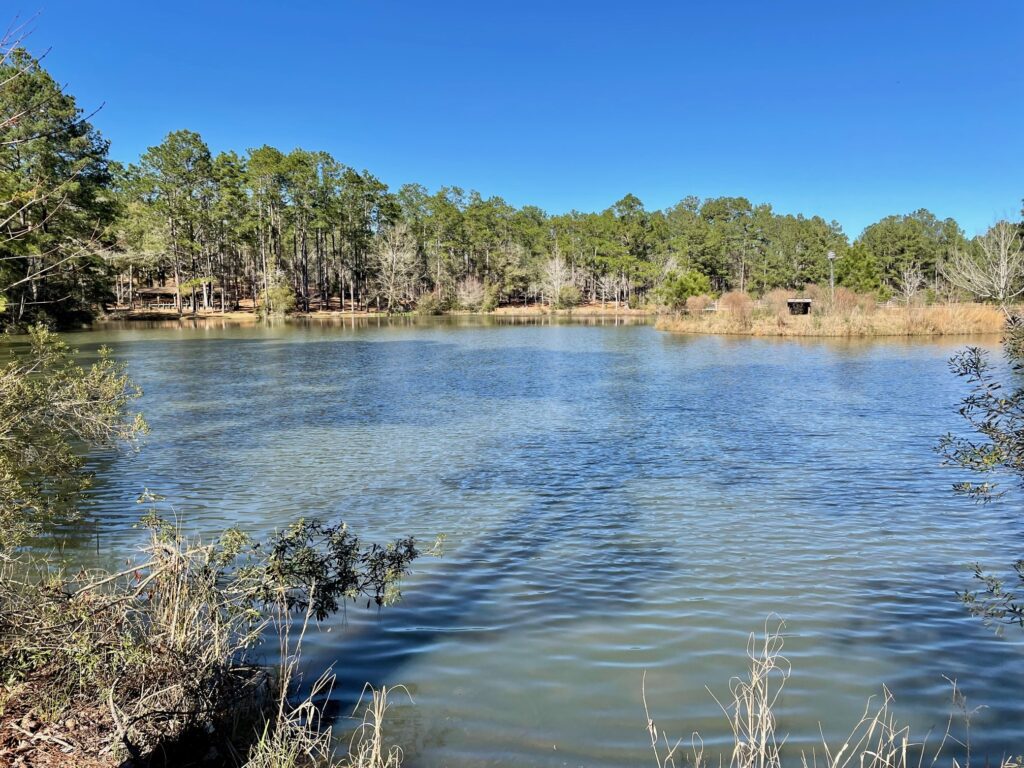 There are two campground loops; in our opinion one is better than the other. We lucked out with a campsite in loop two which we feel is better because the road is paved and there were more campsites that we liked. Something we noticed about the campsites at General Coffee State Park is that while they offer many pull-thru sites, the C-shape of the driveway tended to be a tight curve. Many of the sites we figured you would have to back into or out of. They couldn't be used as a true pull-thru depending on the size of your camper. Both campground loops had a bathhouse in the middle of the loop and they shared a playground.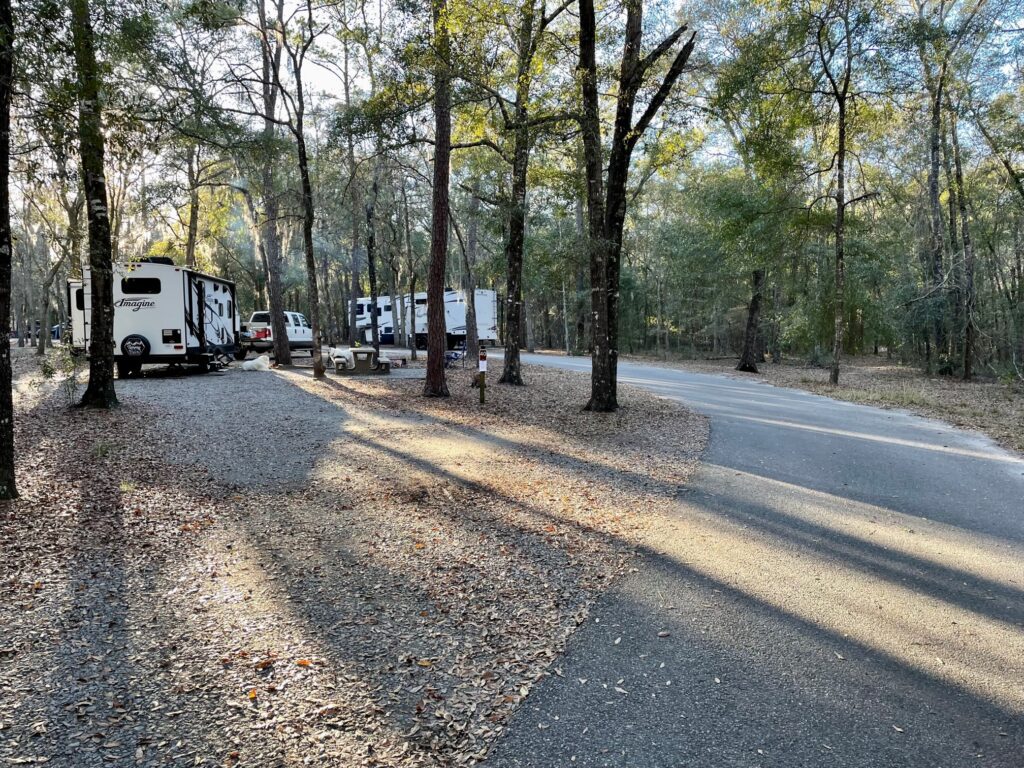 We picked up campsite 40 from a cancellation using the website wanderinglabs.com. Campsite 40 is a 50-ft pull-thru campsite. We did manage to pull through the site during our stay, but Heather said that it might have been a better move to pass the site and back into it. The outdoor living area is open to the road, which we do not find ideal—however we were in the back of the loop and did not see much traffic. The road right in front of the campsite was great for our daughter to ride her scooter back and forth. Campsite 40 has a concrete picnic table and a fire pit off the pad. There were plenty of trees to set up our hammock.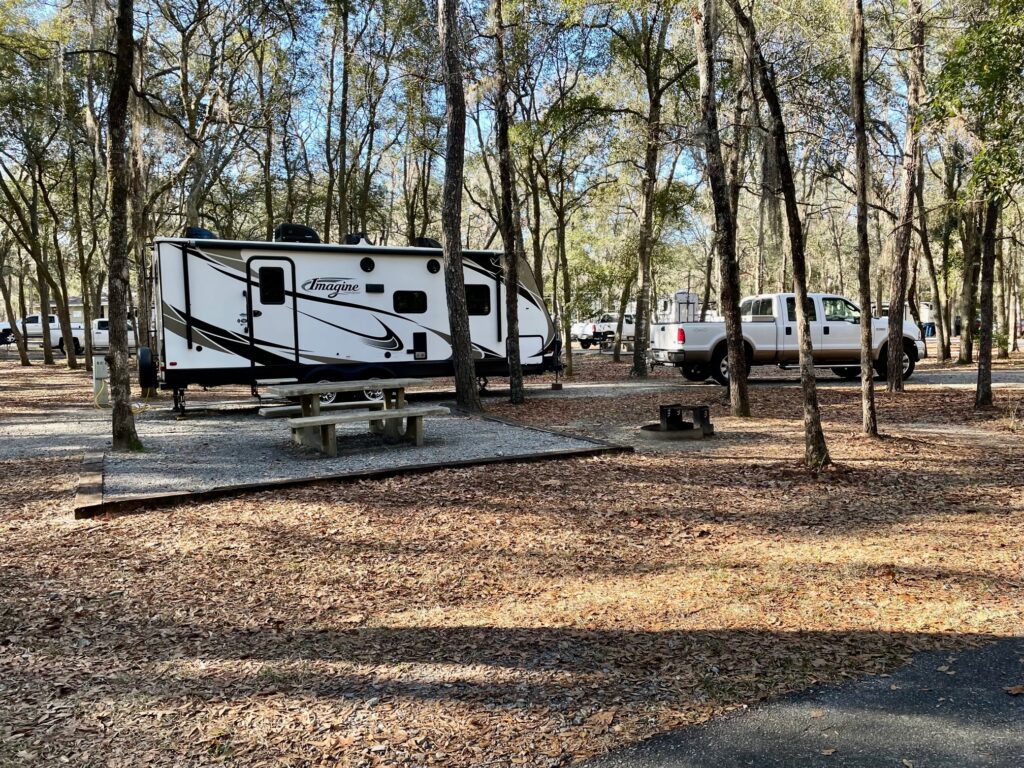 Campsite 40 is a short walk to the playground. If you want to be right next to the playground, campsites 29 and 36 are great. Campground loop two has a trail connecting to Gopher Loop Trail. The entrance from the campground loop is right in front of campsite 40. We wandered part way down the bridge of East River Swamp Trail on Saturday.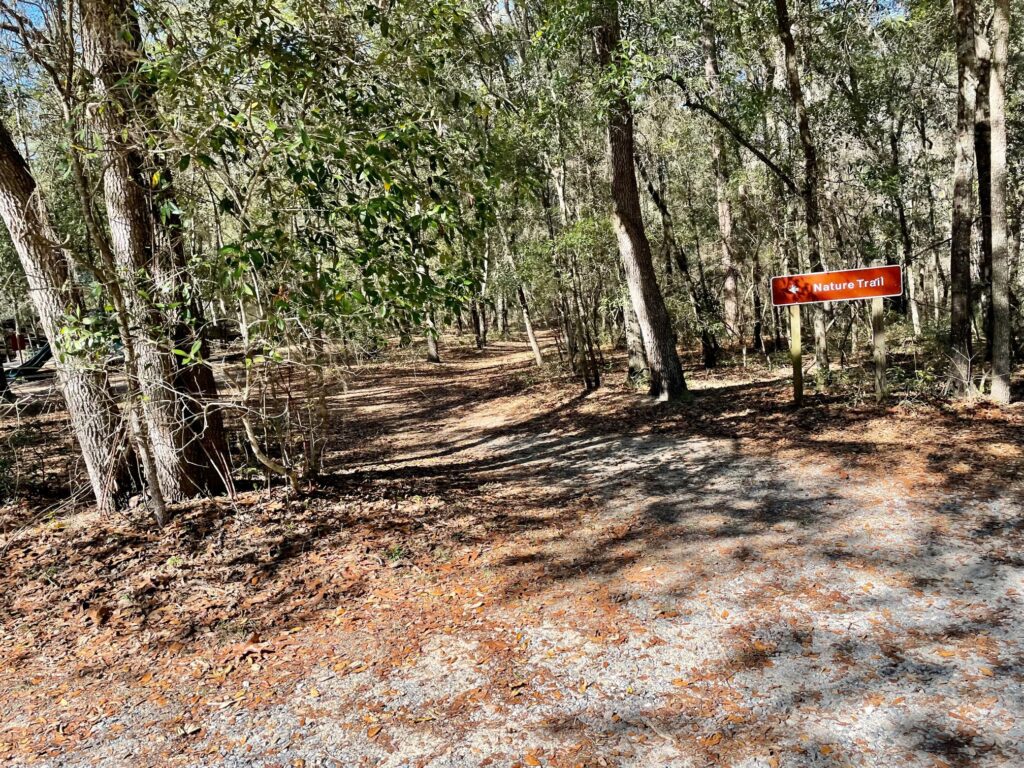 Saturday morning we had to run into town to fill our propane tanks that were completely empty. There are plenty of restaurants, stores, and a tractor supply about 10 minutes from the park. We also visited the farm at the front of the park in the morning. As we parked in front of the lake we noticed there was a wedding going on at the amphitheater.

At Heritage Farm we explored the log cabins, corn crib, tobacco barn, and cane mill. The first log cabin is set up as a museum in one room and the second is filled with reptiles in tanks. We loved seeing the turtles, fish, and snakes. Since it was Arbor Day the state park employee was giving out Dogwood trees. We really enjoyed visiting the donkeys, horse, sheep, and goats at the farm. There are containers to purchase food to feed them, however they were empty that day.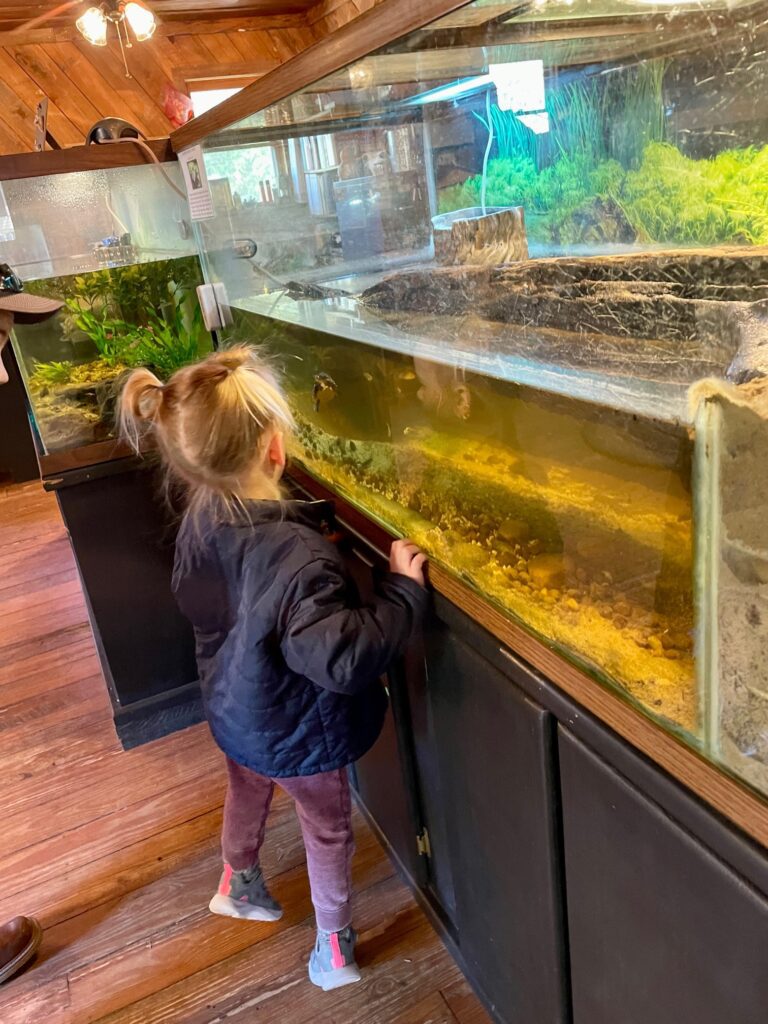 The camp store is well stocked, however we were disappointed that they only had one sticker option—a large bumper sticker that wouldn't fit in our camping log book. We avoided the dump station since we were headed to Fort Wilderness Campground at Disney where we would have a full hook-up campsite. The unpaved dump station with many trees seemed a bit tricky.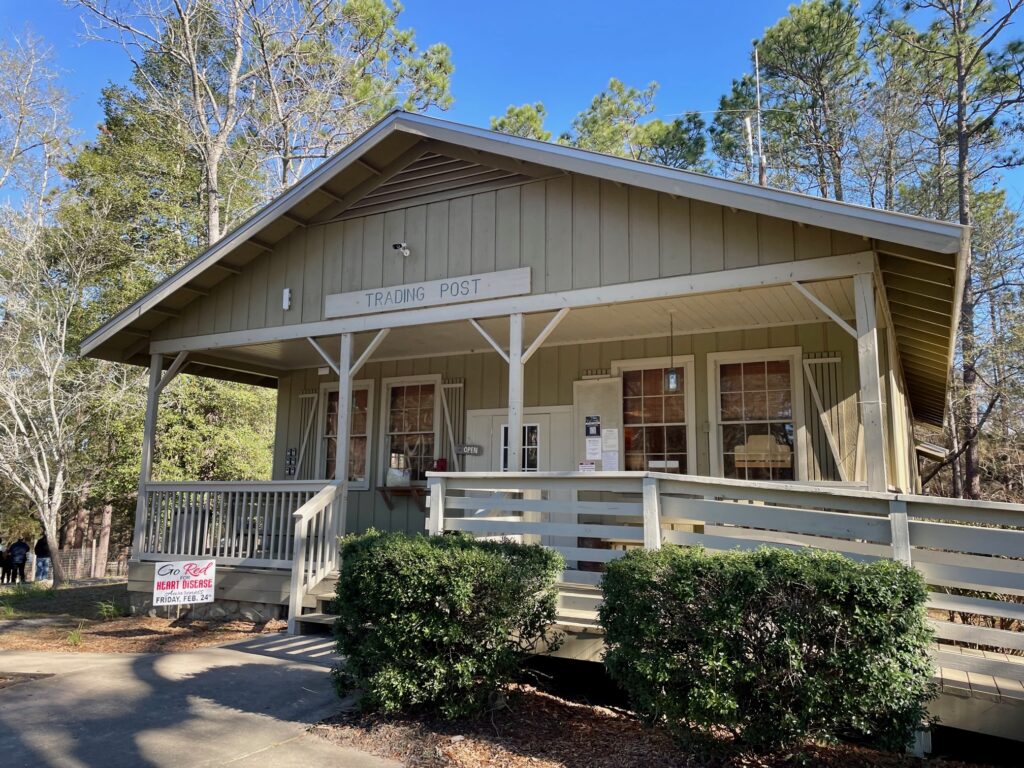 I mentioned that the park was in the middle of nowhere because that is how arrival Friday night in the dark felt. When we pulled off interstate 75 we still had an hour drive on back roads to get to the park. About halfway to camp we hit a deer. Neither Heather nor I saw this deer until we were hitting it and I think it's because there was a car stopped in the opposite lane. Their headlights somewhat blinded us from what was in the middle of our lane. A buck who had previously been hit was laying in the center of our lane and as we ran over it, the buck was trying to get up. We felt the truck hit the deer and I would assume the camper went right over it as well.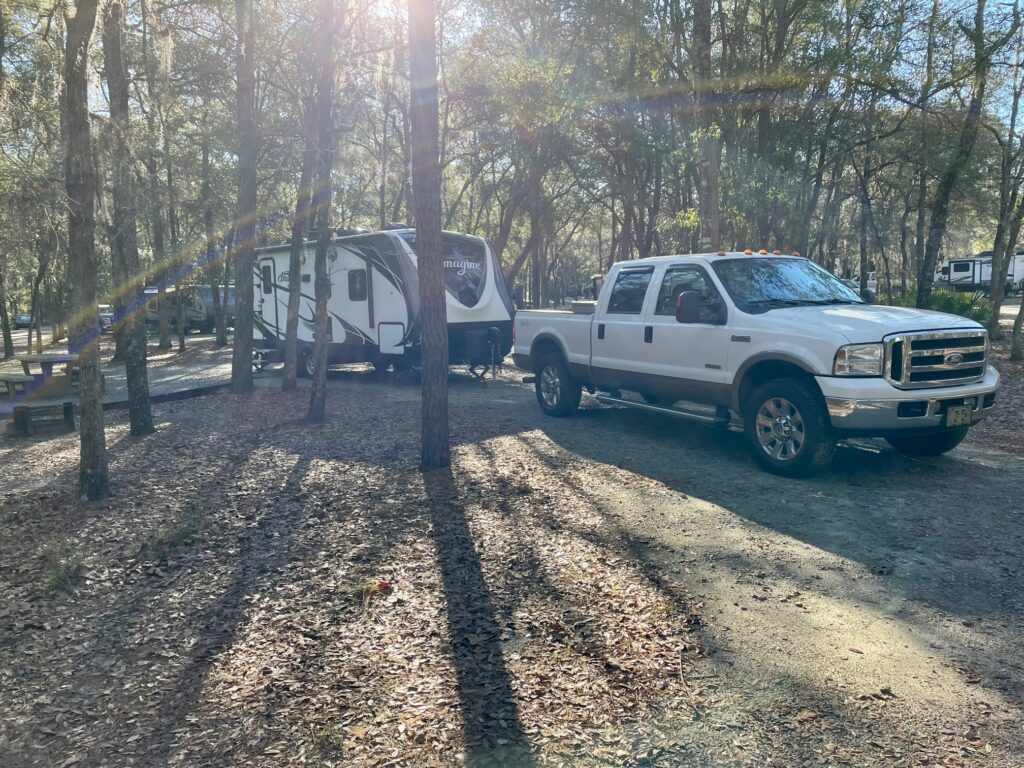 Thankfully we were in Heather's dad's F250 and not the Colorado. We could not find a place to pull off the road safely for about another half mile. We looked over the truck and camper and saw zero damage. After arriving at the campground, we inspected the truck and camper thoroughly and there wasn't a scratch. Had we been in the Colorado we would probably not have made the rest of the trip. We're sorry we didn't see the deer, but someone must have been looking out for us that evening because we got so lucky.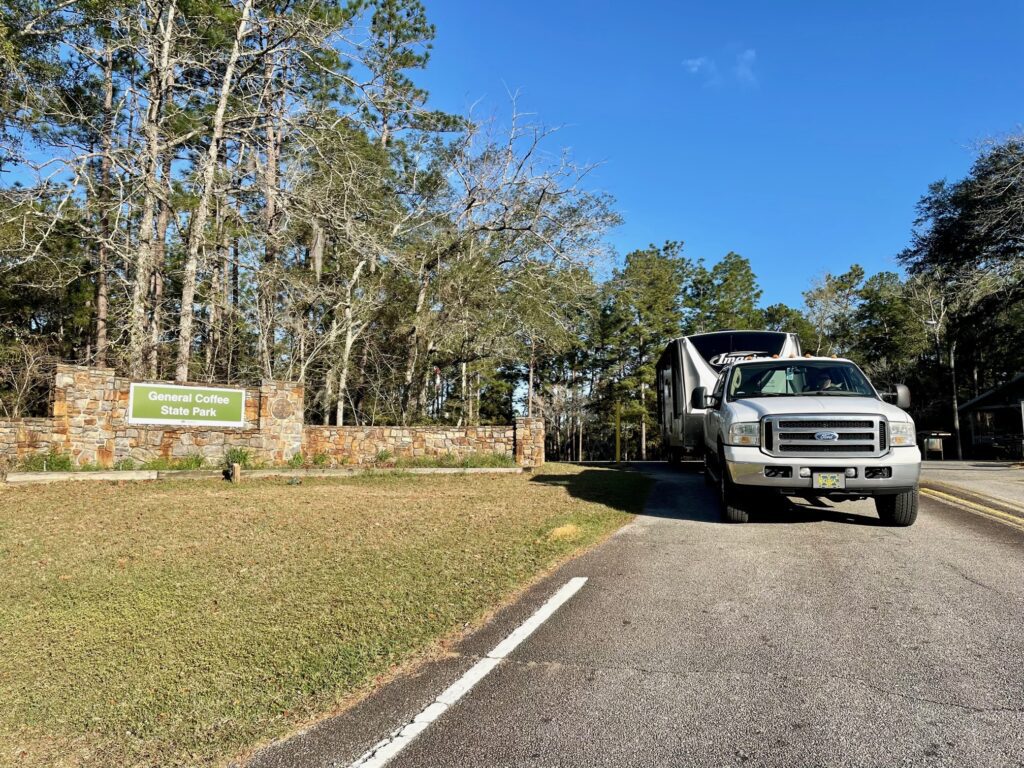 General Coffee State Park was a great state park to explore for a short week. Next time we go back to Fort Wilderness Campground Heather wants to stay overnight at a campground closer to the interstate. Reed Bingham State Park is a fantastic option for this, but I wanted to visit somewhere we wouldn't normally go.