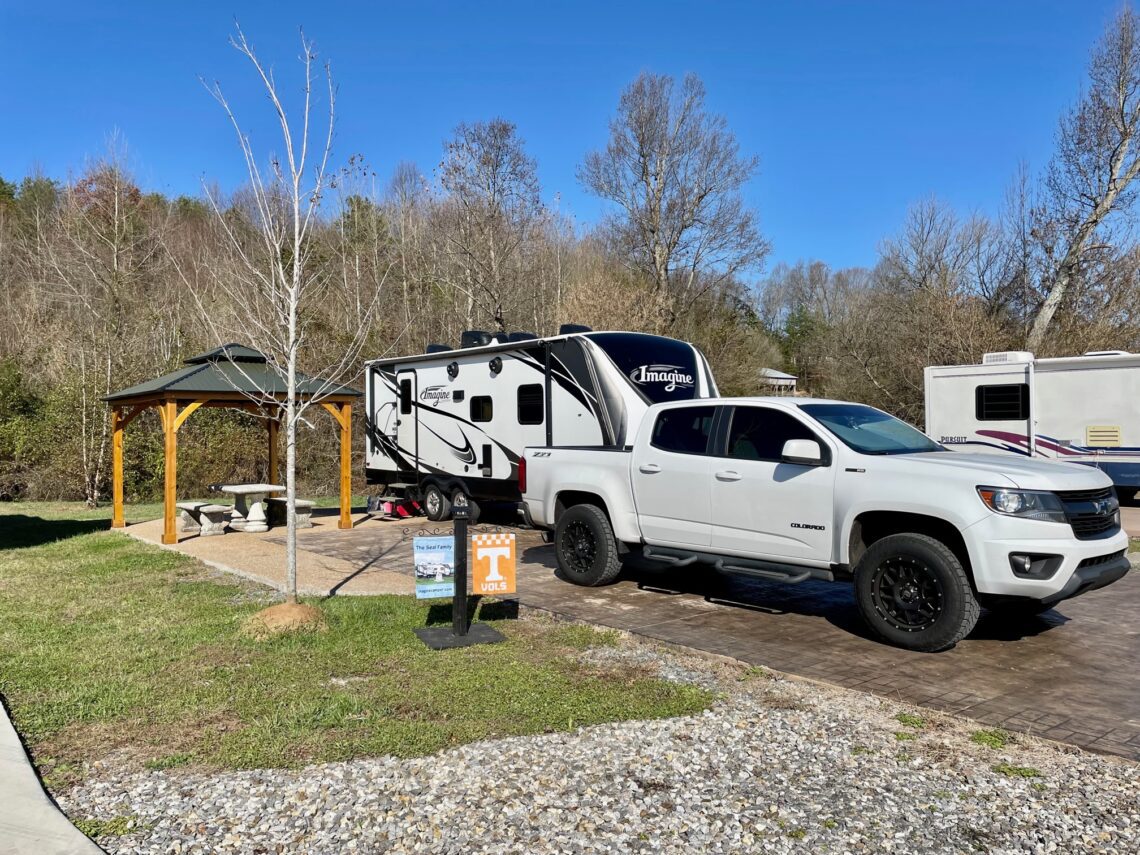 Waterside At Blue Ridge RV Resort- 108
11.18.22 – 11.20.22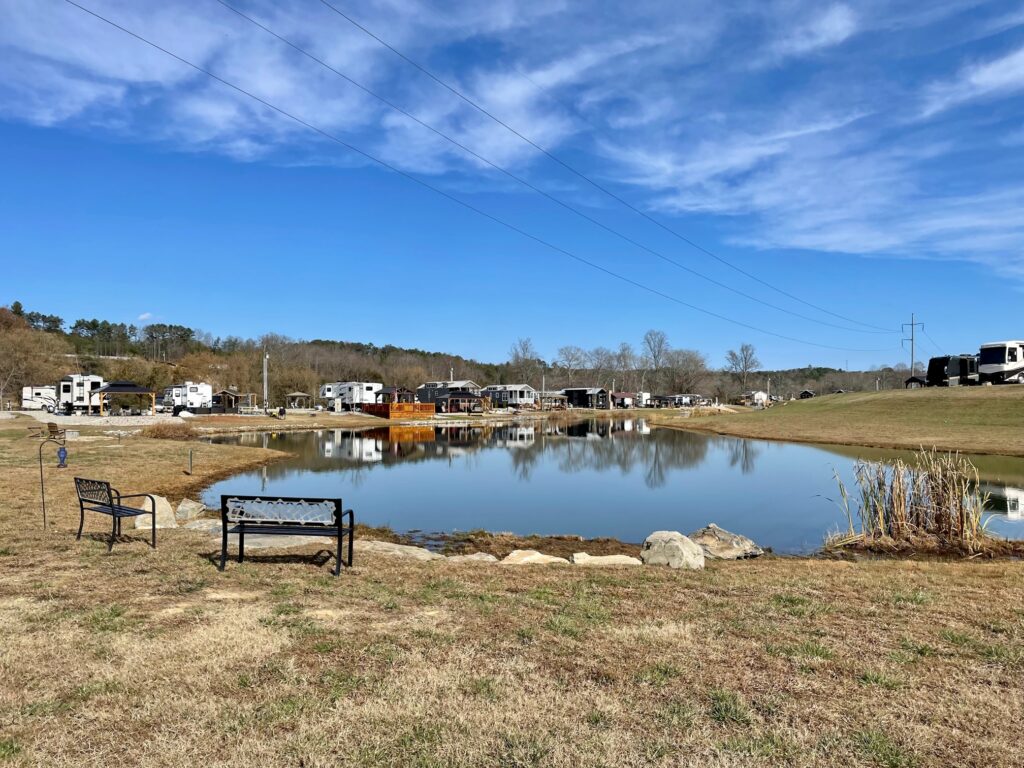 Looking for a campground place that has accommodations for someone that doesn't own a camper? Waterside at Blue Ridge is a great option with many tiny homes.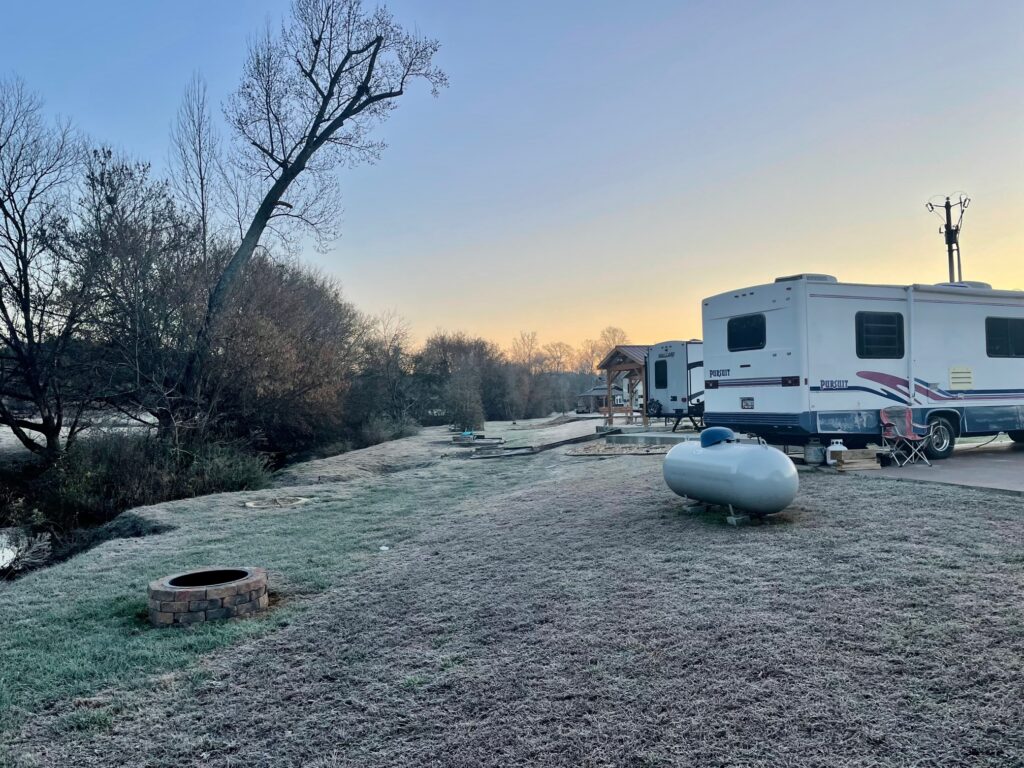 Waterside at Blue Ridge is a gated RV and tiny home resort located just seven miles north of downtown Blue Ridge. The campground offers 192 sites with the options of renting a tiny home, gravel site, paved sites, or premium site with a hot tub and outdoor fireplace. All of the sites at Waterside are full hook-up, offering sewer. What makes this RV resort and tiny home different from others is that each lot is privately owned.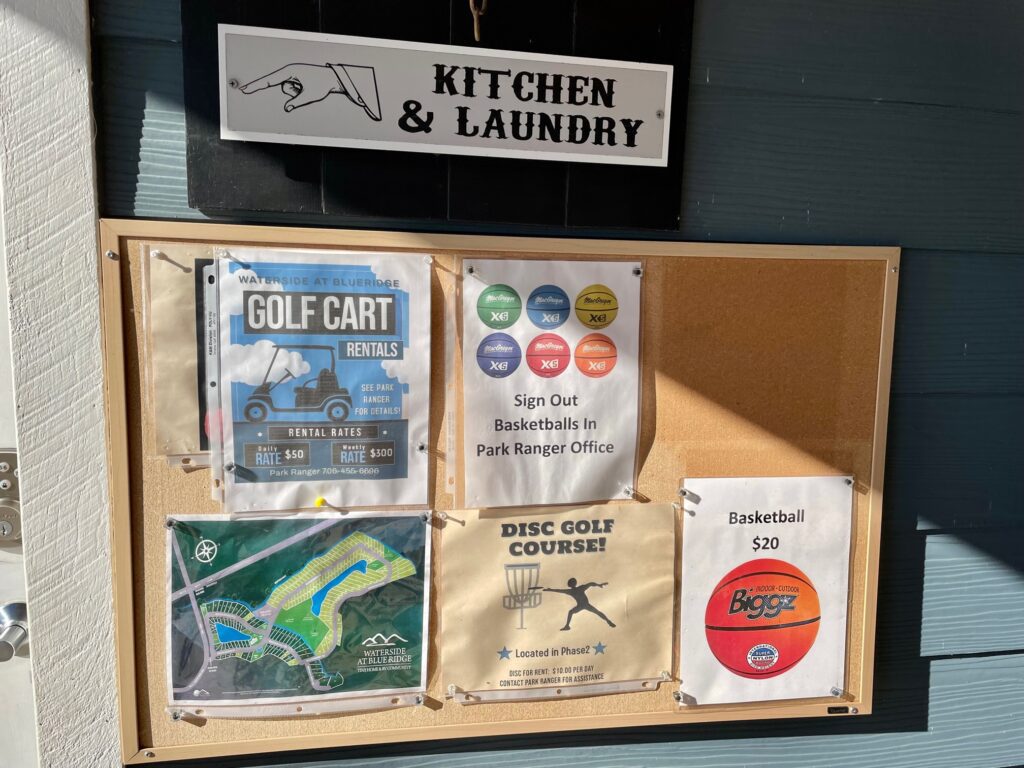 The campground has a pool and large community hot tub. The Waterside Community Clubhouse is located across the road from the pool and offers rocking chairs, tables, a TV, bathrooms (with showers), laundry, and a deck overlooking the pond at the front of the campground. Both ponds were stocked with fish for catch-and-release fishing. The campground had multiple community fire pits available for use (not all of the sites had their own fire pit). There is a second pavilion in the back of the campground called the gathering place.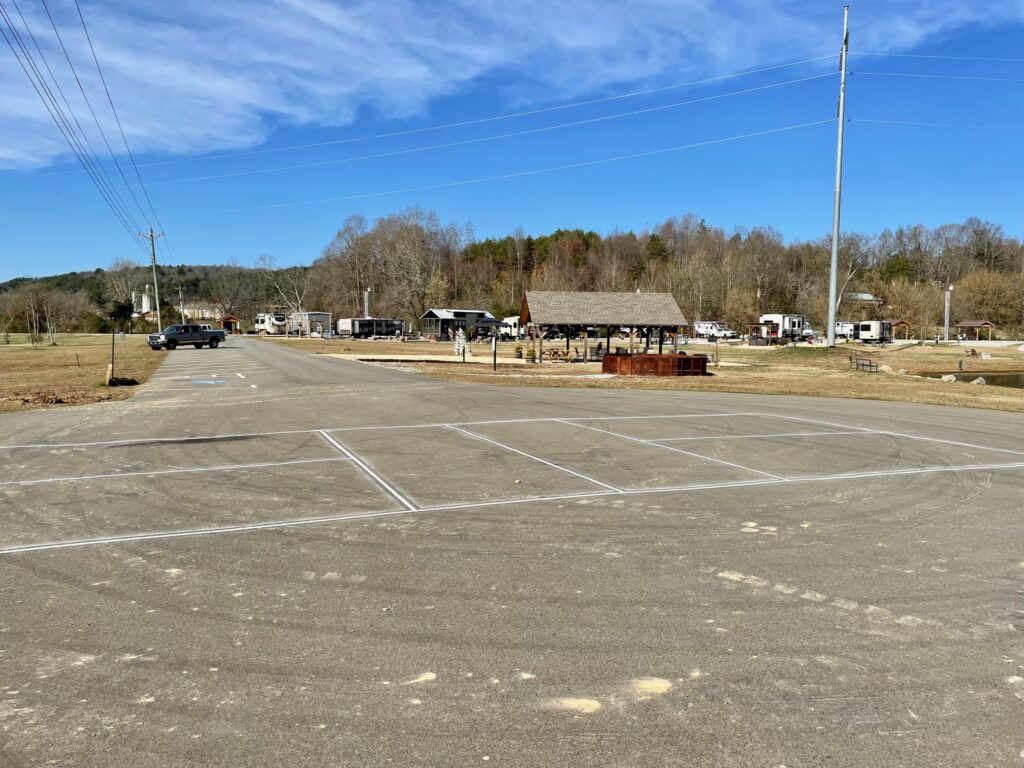 Last time we stayed at Waterside was April of 2021, check out those details here.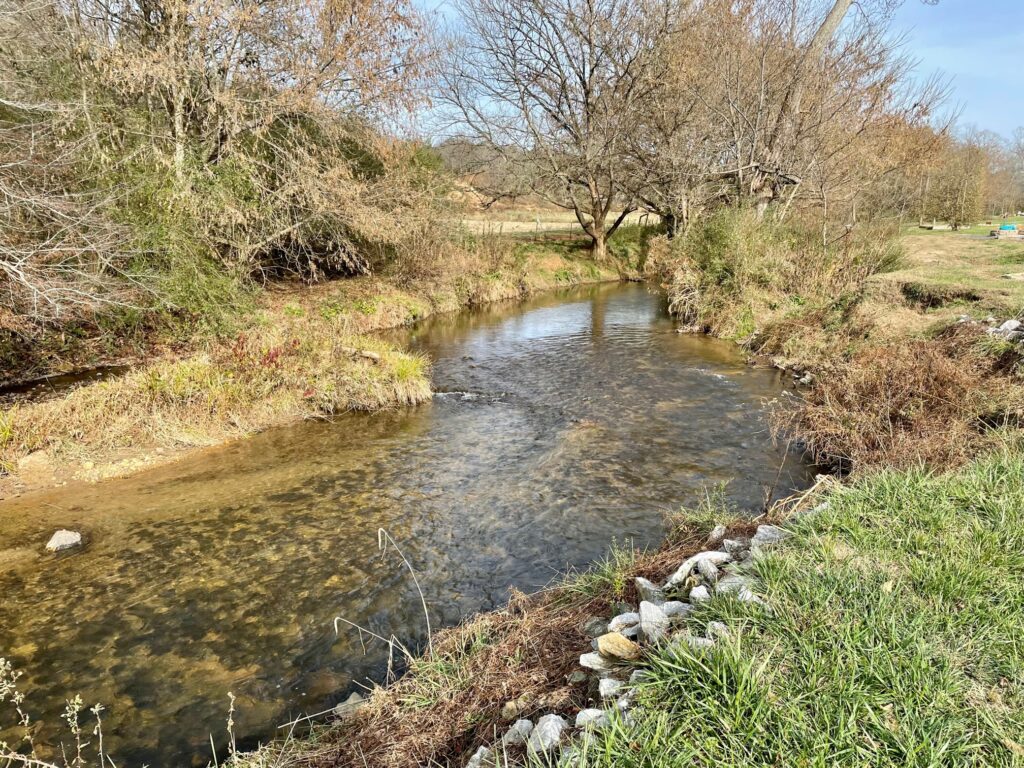 New this year was the availability of golf cart rentals. That's great for those who may need one to safely get around. They're located by the pool where about 8 golf carts had a "rent me" sign. Our friend who owns lot 145 in Waterside said that the price was $50 a day. Personally, I do not think the campground is big enough to need a golf cart, yet.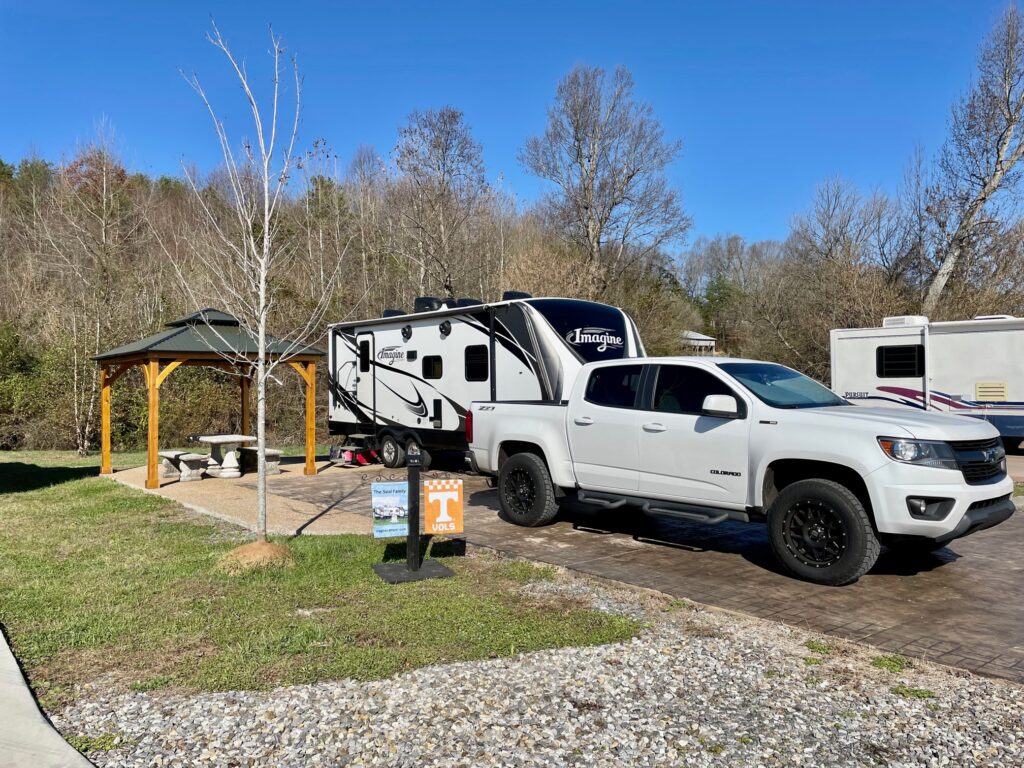 This time we rented lot 108 for the weekend before Thanksgiving while my parents rented the tiny home on lot 145 (details here). We were pleasantly surprised that the owner of lot 108 had put quite a bit of work into the lot since we originally booked it. We thought we were just getting full-hook up that backed up to the creek with a concrete picnic table. The site was paved and nicer than other paved sites in that there were details in the concrete. Lot 108 had a pergola over the picnic table and a firepit in the grass behind the site.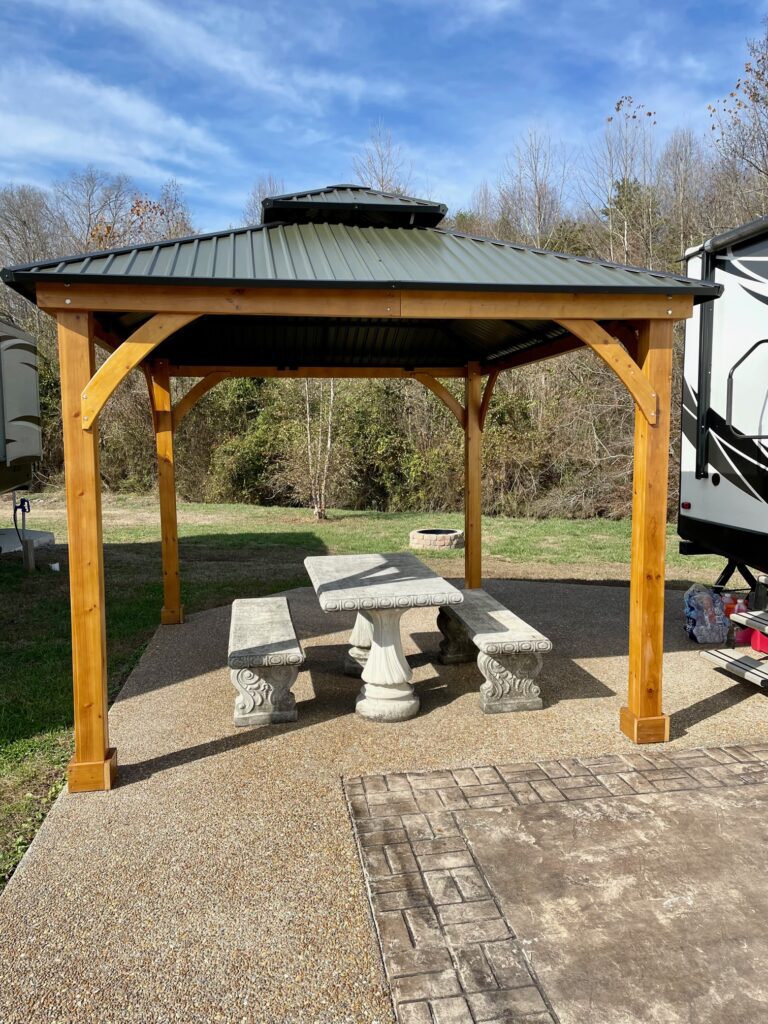 Since our last visit to Waterside at Blue Ridge RV Resort the campground has improved in multiple ways. Each site is privately owned, so most of the improvements happen on the time of the owners. There were only a few lots left that had gravel driveways. Many more tiny homes have been added and owners are putting up seasonal decorations.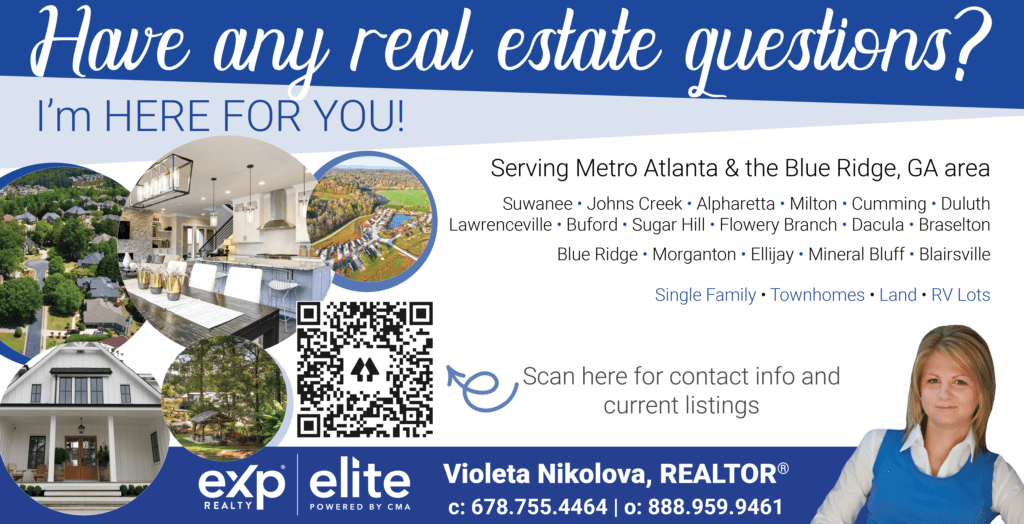 Saturday morning we made a point to drive over to the Valero gas station where they have a kitchen making homemade biscuits. There was a warming station with biscuits already ready and two women making them on order as well. This breakfast is a must if you stay at Waterside!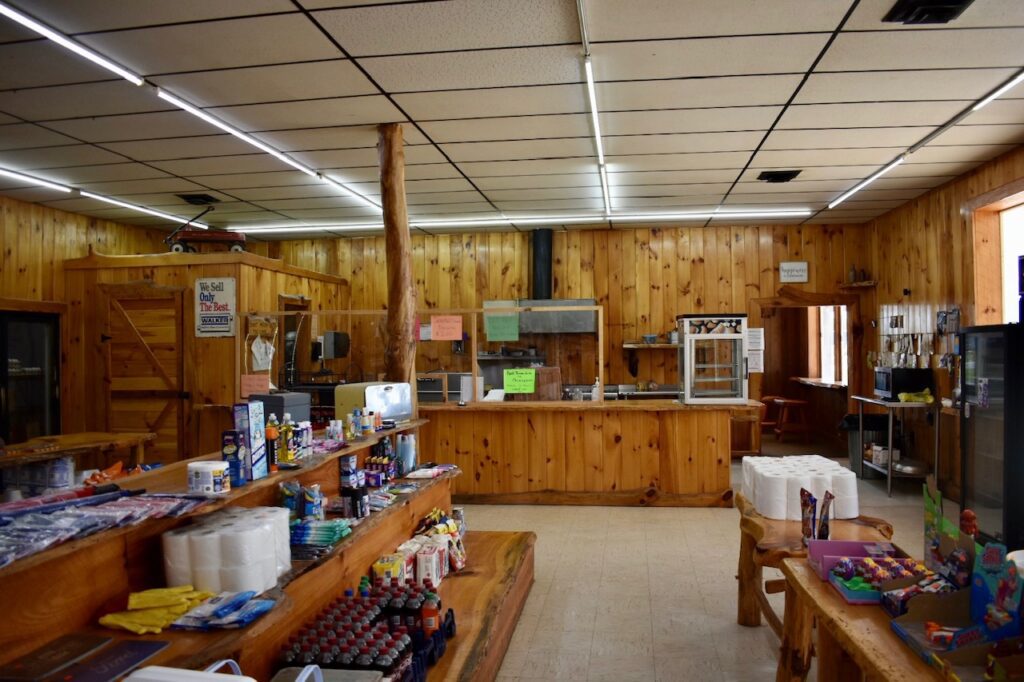 We took my parents to Lake Blue Ridge to do a one-mile hike by the lake, taking the dogs along as well. This hike can be found on the AllTrails app and parking is free. The trail is not heavily populated, but it was easy to find the path. There are a couple spots from the trail where you can get down to the lake.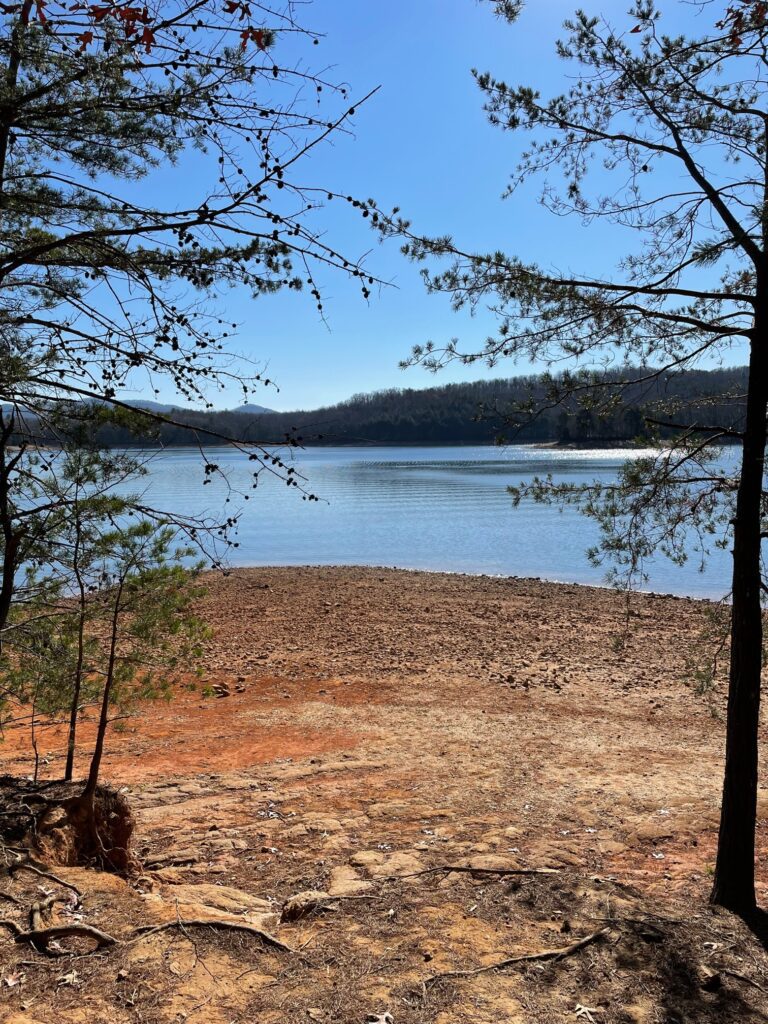 Saturday afternoon we drove over to downtown Blue Ridge to walk around the shops and have dinner at Chesters. I was able to electronically put my name in for a table at Chesters from their website and checked in when we got into town. We still had about a 30-minute wait after checking in. The shops were crowded, but that was to be expected the Saturday before Thanksgiving.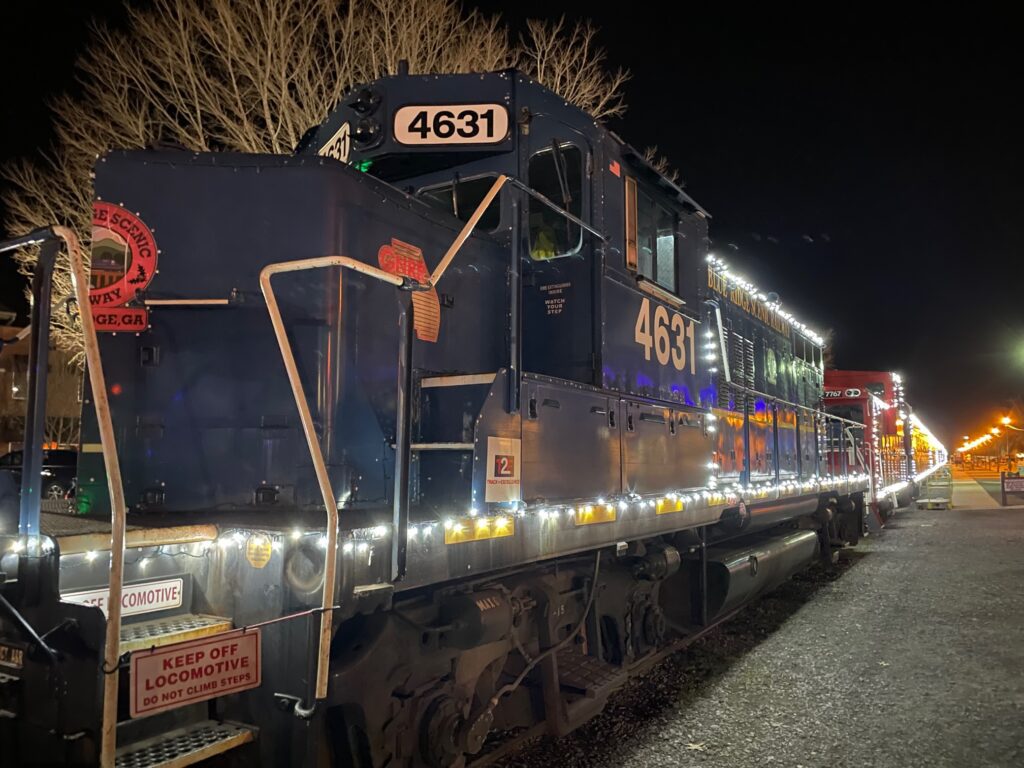 We don't worry about the dogs being left in the camper while we are gone because we have the MarCell temperature monitoring system. This will send us text messages if the power goes out in the camper or if the temperature or humidity goes out of the range we indicated in the settings. We have used MarCell for five years and have been pleased with the service. They gave us a discount code to share with our followers. Use the code Imagine20 for $20 off your purchase of the temperature monitoring system.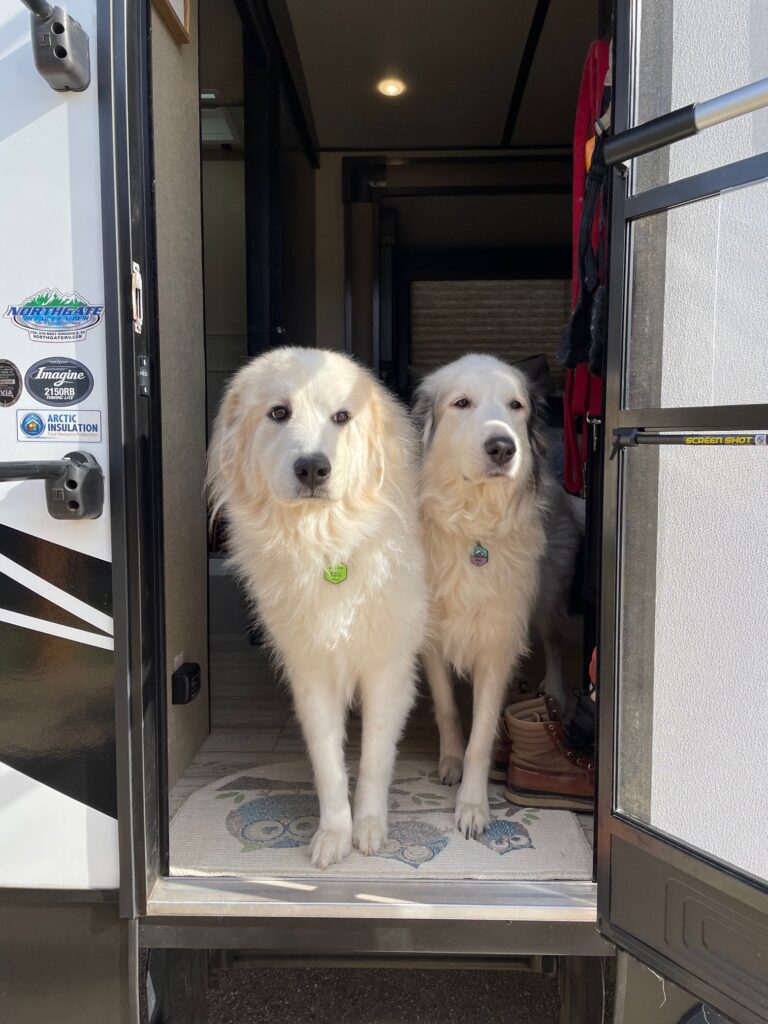 This weekend was too cold to even sit around a firepit outside. We enjoyed our parents' tiny home Saturday evening and Sunday morning. Checkout on Sunday at 11am was easy since there's no dump station to wait in line for. We went ahead and winterized the camper before we pulled off the lot instead of waiting until we got home. There is one more camping trip on our schedule this year, but we do not take any chances with freezing weather.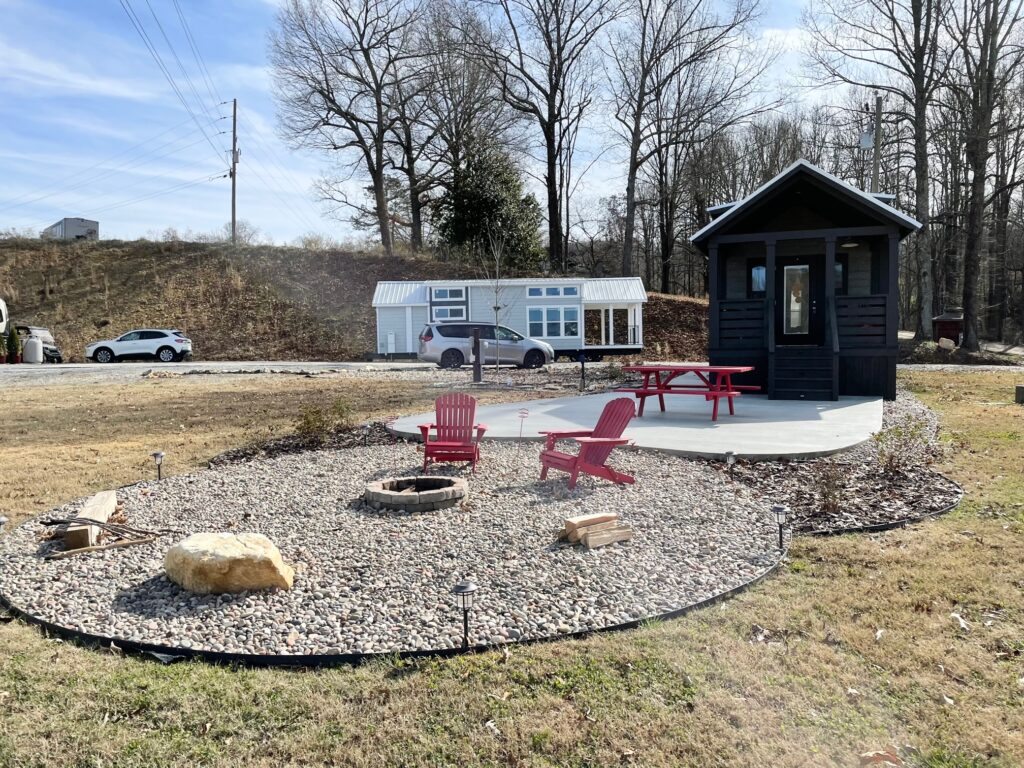 Blue Ridge places we still want to visit:
Harvest on Main
Black Sheep
Bear Claw Vineyards
Toccoa River Swinging Bridge: This is located an hour and a half south of the campground
Mercier Orchards
Blue Ridge Scenic Railway: Not sure our daughter is old enough to enjoy a train for 2-4 hours.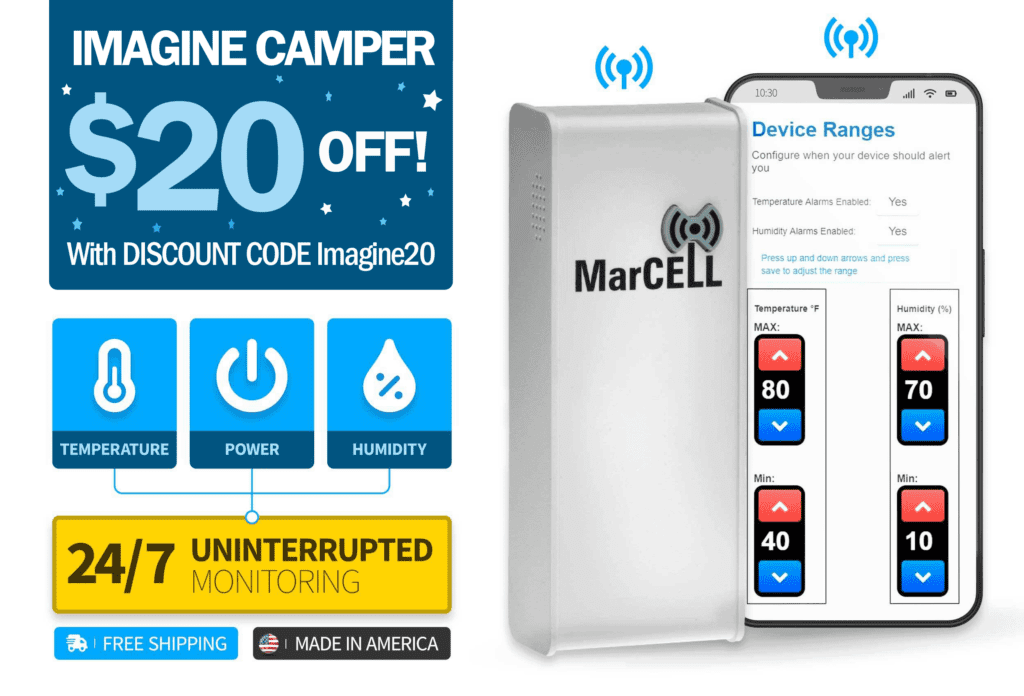 Waterside at Blue Ridge RV Resort is building an additional section to their campground, pictured below. We weren't able to get answers as to what the extension will have, but its obvious there will be a second pool.