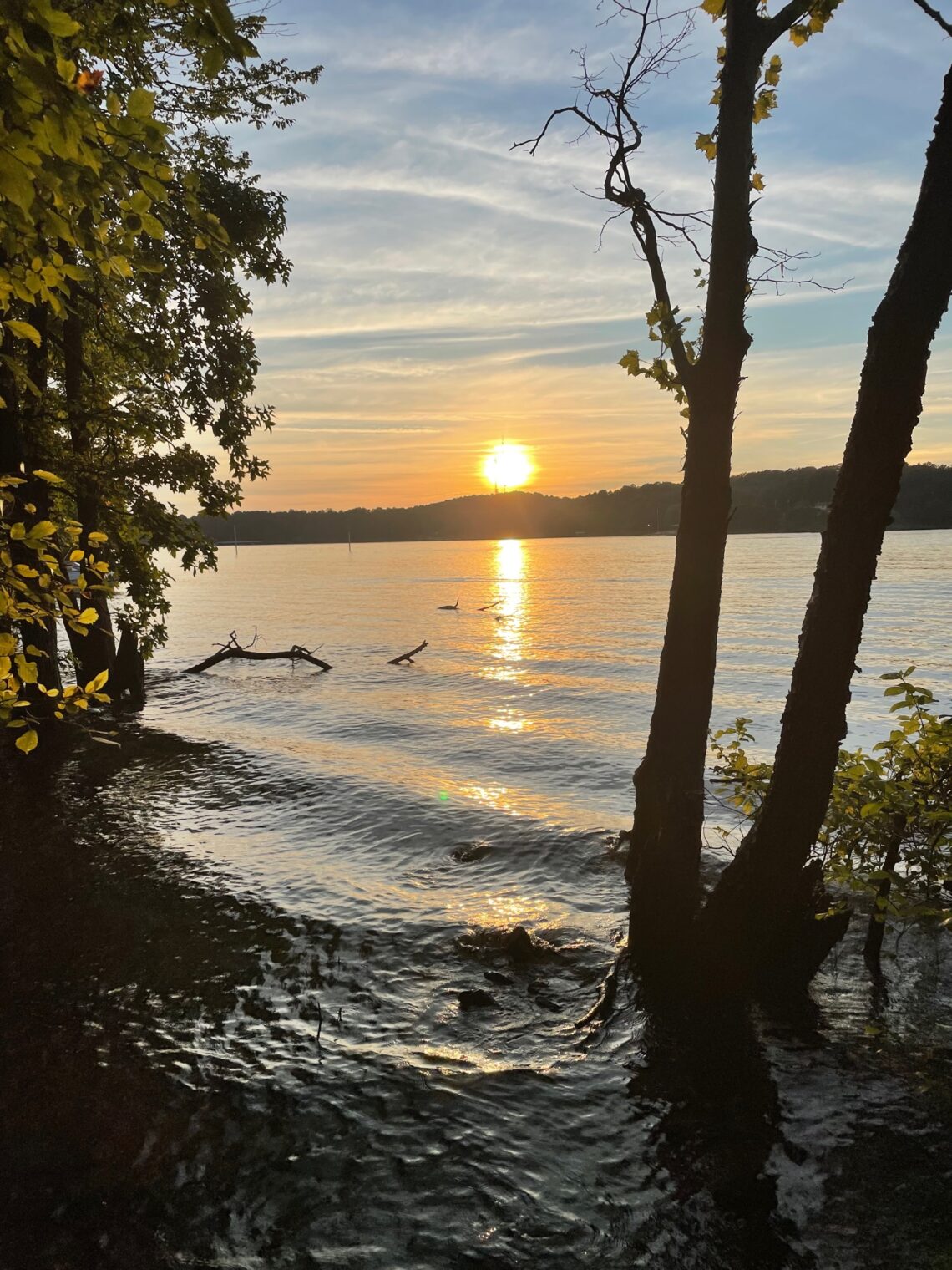 Old Highway 41 No. 3 Campground
09.03.21-09.06.21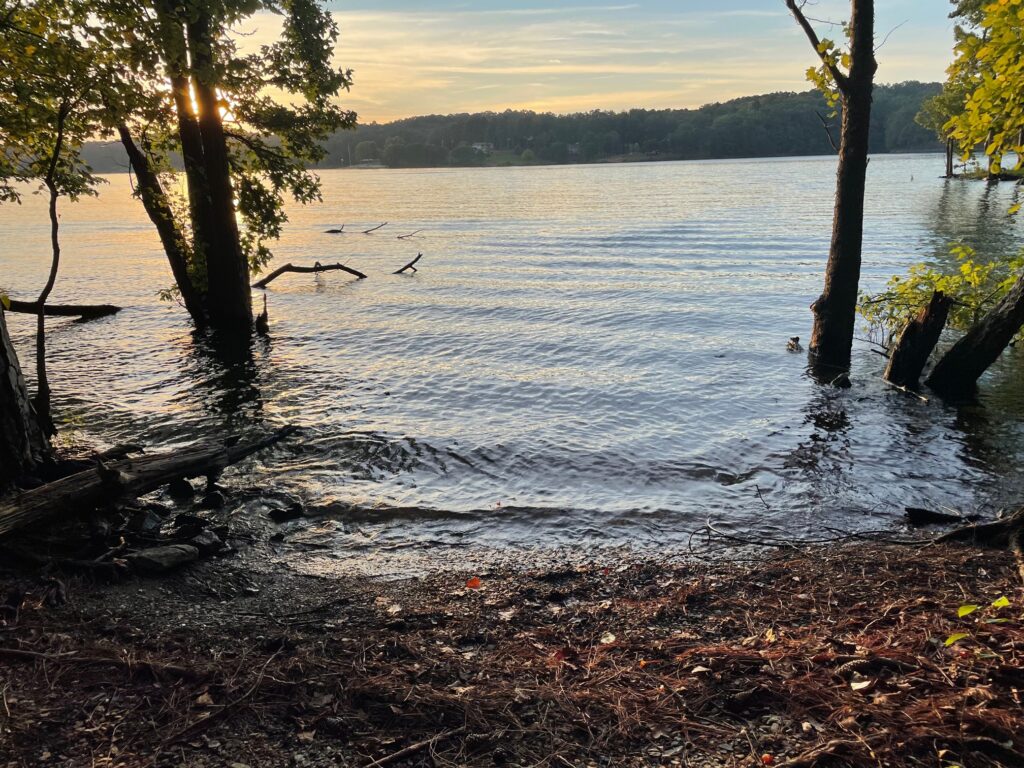 We finally gave Old Highway 41 No. 3 campground in Cartersville, GA a chance and we are so glad we did!
Old Highway 41 No. 3 Campground is a Corps of Engineers campground on Lake Allatoona. Unfortunately it is only open May 13 – September 5 (Labor Day). The campground has 50 sites, many of them waterfront. There is a playground, boat ramp (no dock), and dump station.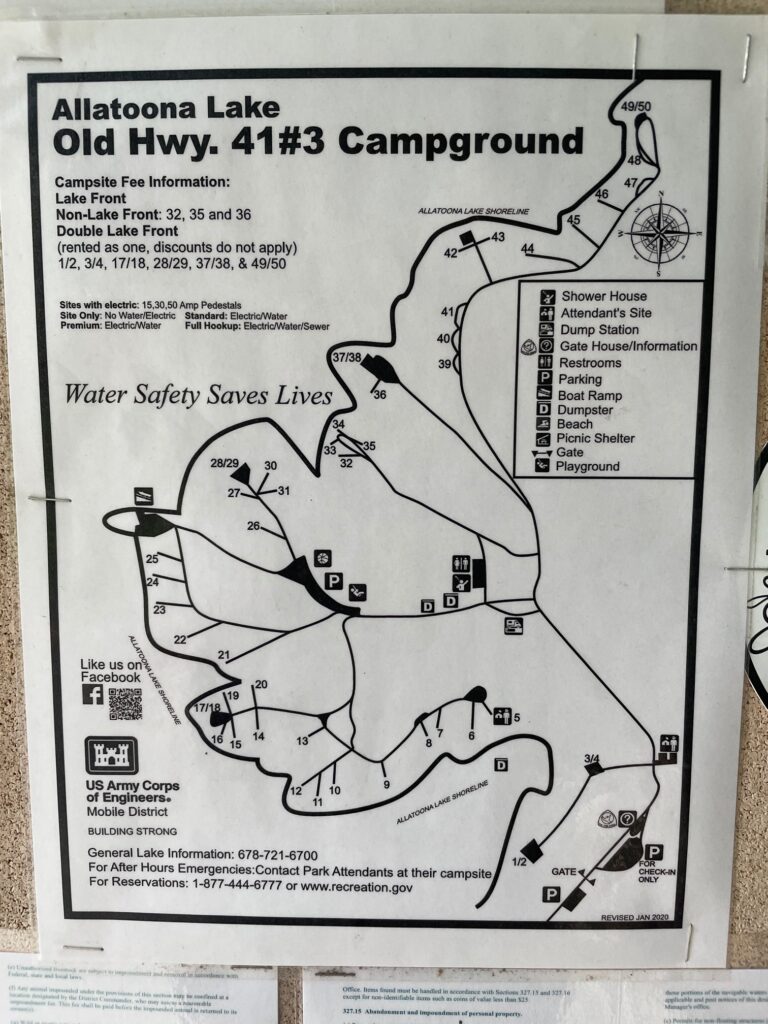 The location of the campground is the big negative. The campground can be seen from interstate 75 and the traffic from the interstate can be heard through most of the campground. Fortunately, we were on the far side and did not hear the interstate traffic. Being close to the interstate can be a good thing if you're looking for a quick place to spend the night without driving far from your route, but many dislike this campground for its location.
We were able to pick up a cancellation for site 47, on Labor Day Weekend. The site is a 34-ft. pull-thru with access to the lake down a short trail. The site was not level side to side, but with the levelers it was a quick fix. A large tree sits on the back side of the site that could be difficult for some campers with slides. We parked the camper towards the end of the site for this reason.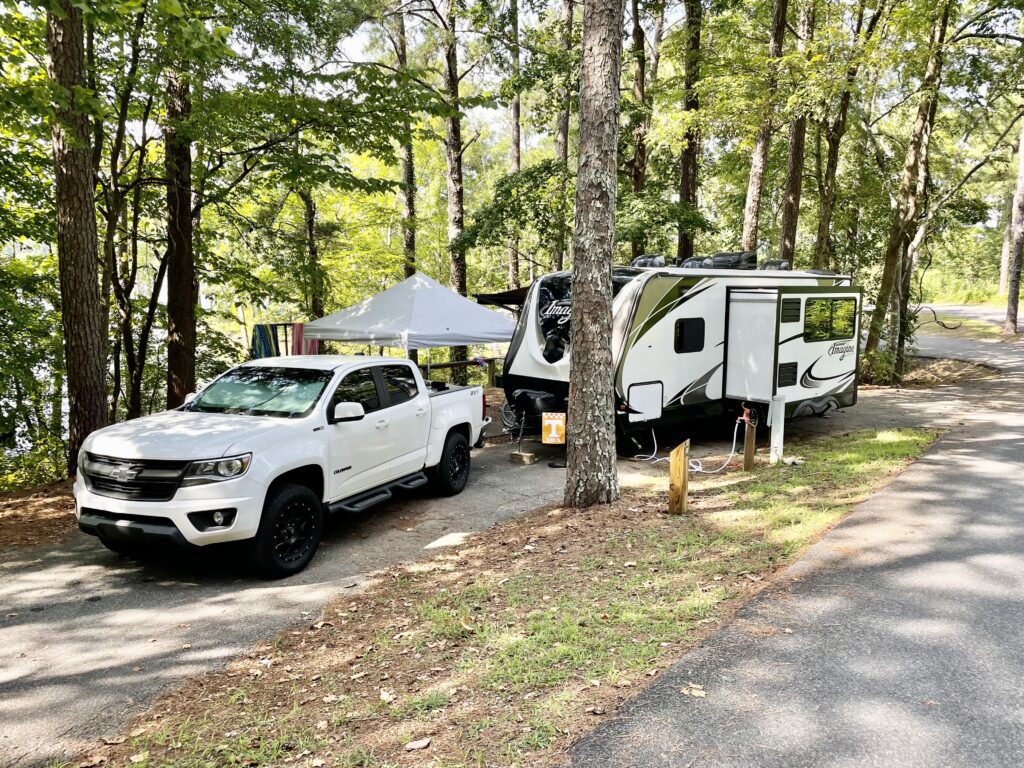 We aren't big fans of concrete picnic tables and I've seen someone say this was the smallest camping pad they have had. To us it did seem cozy, but it wasn't too small.
Down a short path is access to the water between a couple trees. It was a great place to swim and had a rock beach that our toddler really enjoyed. We found some beautiful rocks at the edge of the water.
Another thing we liked about this campsite was the privacy. There weren't many people walking to the very back of the campground or driving by and the only people that could see into our site were the campers in site 48. Our site had plenty of shade throughout the day.
Site 48 is a pull-thru site with its own beach-like access to the water. We noticed they were hit with the sun all day, every day. Beautiful view of the sunset from that site, but man, they looked hot.
Other sites I would like to book would be 45 & 46, though I think we had the best of all of them in site 47. Both of these sites were long back-ins with water access.
Many of the sites at Old Highway 41 No. 3 seem to be great for buddy camping. Campsites 49 & 50 share a pad, but aren't big enough for campers our size. This particular weekend a family booked sites 41-43 and cars were everywhere in this cul-de-sac. There's at least five other buddy site options in the campground— two drives that share a camping pad.
Places to Eat, Drink, Have Fun.
We normally don't go out to eat at campgrounds on Lake Allatoona because it is so close to home. However, I have put together a list of our favorite restaurants, breweries, vineyards, and activities for those that are interested.
Our Labor Day Weekend trip was full of projects on the camper—getting it ready for the big trip in two weeks. Going to share all the details on the modifications here.
1. Pantry drawers
2. Closet shelves
3. Turbo Charge A/C
4. Friction Door Hinges
5. Screen Shot
6. Extra shoe storage
Things we learned at Old Highway 41:
1. Give a campground a shot. I avoided this one for years because of the highway noise, but we shouldn't have. Heather said this was her favorite campsite so far this summer.
2. Need a solution to keep the ants away. They invaded our camper after this weekend. Any tips for this? I don't love the idea of spraying chemicals all over the jacks when our little one touches everything.
Please follow and like us: