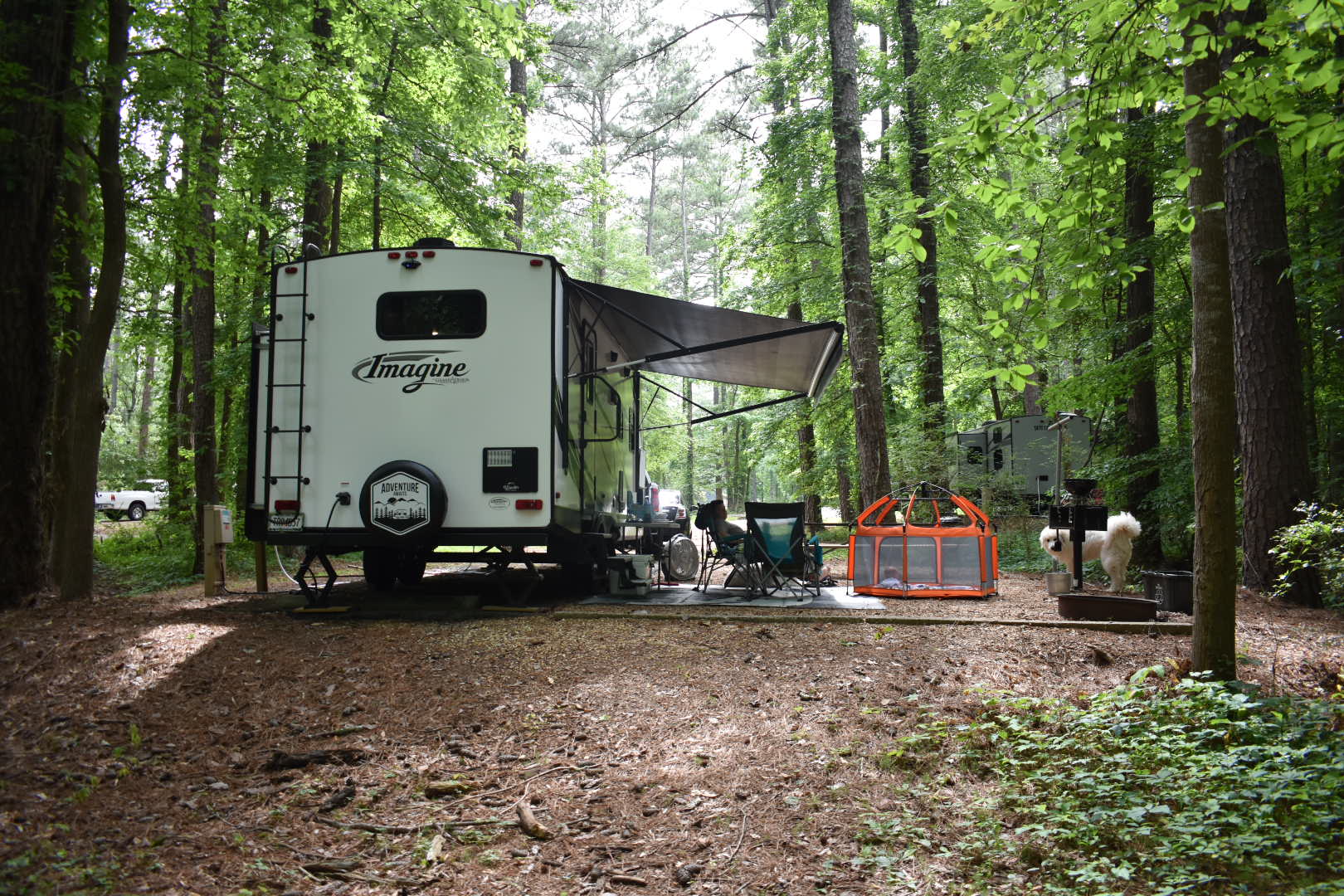 06.05.20-06.07.20
Corps of Engineers campgrounds on Lake Allatoona delayed opening 10 weeks due to Covid 19. June 1st they officially opened everything, but the playgrounds and beaches.
Sweetwater Campground is located in Canton, Georgia on the northeast banks of Lake Allatoona. We came north up highway 575 to highway 20.
The campground includes 149 sites and a large group camping section with 9 sites and a pavilion. I included a color coded map for RV sites vs. tent sites because this campground has many more waterfront tent sites than most campgrounds we visit. Also I'm a visual person and when we drove around I couldn't keep up with the list at the bottom. Any of the sites 1-25 that are starred on the map showing they are premium waterfront sites, keep in mind these have a steep climb down to the water and a view of the lake through many trees. In my opinion site 34 is not a true waterfront, premium site and I would not want to access the water from site 92.
When we first drove through this campground we did not like many of the sites in the beginning because of the tight turns in the different loops. Now that we have towed for three years we are more comfortable and would be okay in those loops, however I suggest if you have little to no experience towing that you drive through loops 1-13 and 16-21 before booking one of those sites. It's not just the tight turn, but there is also a steep incline when coming back up the loop.
Sweetwater Campground is great if you have a boat. There is plenty of trailer parking and lots of sites to pull up a boat to, but remember the map–many of those sites are tent only.
We booked site 132 and upon arrival Friday evening there was a large Montana 5th-wheel in our site with no tow vehicle or people to be seen. We notified the camp hosts who were very friendly and helpful. They got the campers on the phone and let them know they parked in the wrong site. They were supposed to be in site 135, just two sites down.
I took a poll on instagram [@imaginecamper] and almost everyone said that they would make the campers move to the correct spot. Now I didn't include all the details in the poll, but site 135 was very similar to site 132. Site 135 included a trail to the day-use beach. More on that later. We took spot 135 and they were not back for another two hours, but when they came they brought a bottle of wine and apologized over and over. He had dropped the camper off by himself the day before and had gotten things mixed up.
One negative thing about site 135 and other areas of the campground was the large amount of poison ivy. It seemed to be everywhere. If you book 135 for the trail to the beach keep in mind that it is lined with poison ivy. I was also a little concerned that random people would be using the trail, but with the beach closed there was no reason to use it. Site 134 is close to the trail as well, although when those campers tried to take it our dogs freaked out because it seemed like they were in our site.
Saturday morning we walked the entire campground, about 4 miles. It was a great time to see all of the other sites that Sweetwater Campground has to offer. Site 43 seems to be a fan favorite site for RVs, but I think sites 88 and 89 are just as good. We also liked site 36, it is lakefront, but still maintained some privacy from people on the road. Some of these sites have better access to the water than others. Just because they were lakefront didn't mean I would want to get into the water right there.
The campground has a day-use beach and a campground beach. Both beaches and the playground were closed as part of the re-opening process of Covid-19. When checking in the camp host alluded to the fact that the beaches were closed, but really weren't. Guess she just meant the one inside the campground. We did use the trail from our site to go to the day-use beach which we would have had to ourselves (talk about social distancing.) Our wagon came in great for this trip. We put our daughter in the wagon with her float and towels. We were in the water about ten minutes before a different set of camp hosts drove down and nicely kicked us off the beach. We didn't mention all the campers on the other beach, just made friendly conversation and went on our way. The host said there is a chance the beaches could be open by this Friday.
If you have been following along you know we are huge fans of McKinney Campground, also on Lake Allatoona. It has been closed since January 1st for renovations. Would we have camped at Sweetwater Campground if McKinney had been open? Probably not. If McKinney Campground is a 10, Sweetwater is a 7. I give it this score for lack of RV waterfront sites, tent campers may have a different opinion. Also there seemed to be a bit more grassy areas of water that did not look inviting to swim in.
Places to Eat, Drink, Have Fun.
We do not usually go out to eat while camping on Lake Allatoona because we are so close to home. However, I did want to put together a list of our favorite restaurants, breweries, vineyards, and fun things to do in close proximity.
What we learned:
Usually campgrounds will give you a park map when you check-in however, we never received one. I later found out from the camp host they do not have maps because of budget cuts.
If you read my McKinney post for site 109 almost a year ago, you know we pinched our 7-pin cord when backing into that site. Finally called Daniel Lightcap from Man of Steele mobile RV repair and he came to the house to switch it out. It was worth it to pay a little more than a dealership would charge to not have to tow it and leave the keys in someone else's hands.
Georgia National Cemetery is right down the road from the campground on hwy 20. It's an overwhelming site to view the graves of thousands of men and women who gave their lives for our country. The grounds are well kept and it's a beautiful, peaceful place.
Please follow and like us: