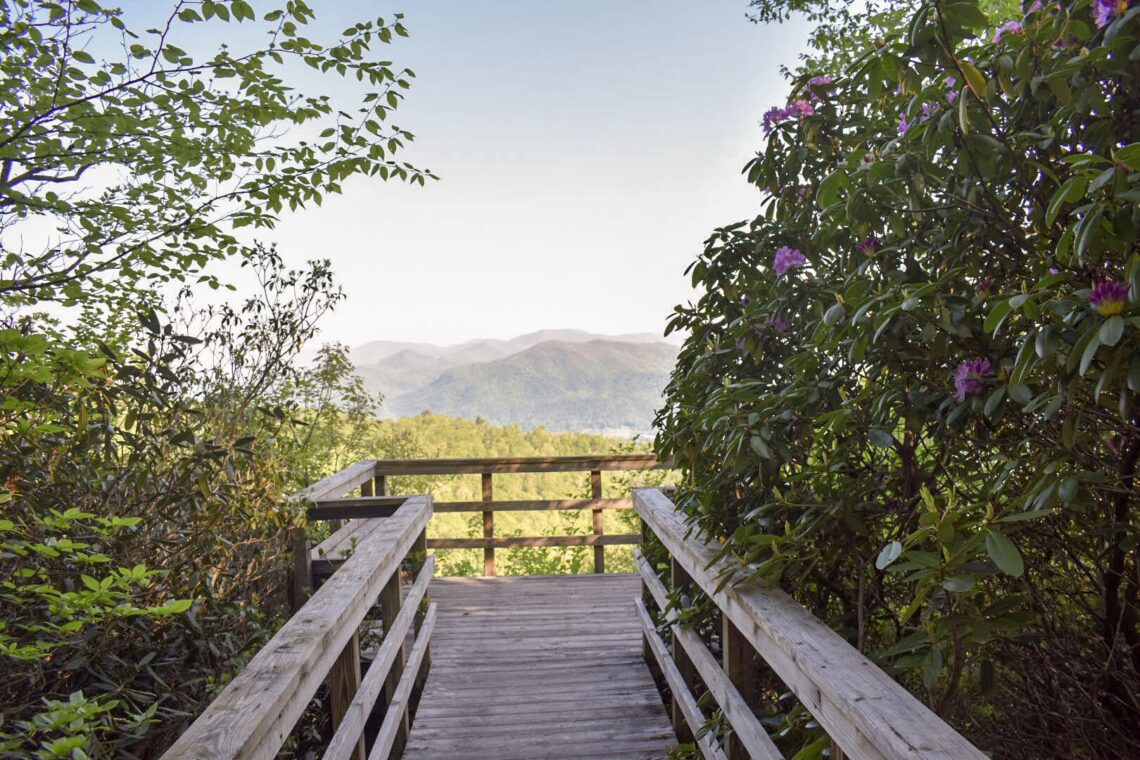 Black Rock Mountain State Park
05.11.18-05.13.18
We won't ever being coming back. The park is great, the campground was nice, but it's a one and done for us. At least while we are in this camper.
Black Rock Mountain is about two and a half hours away from our house and being the weekend warriors that we are, we got up there in the dark about 9:15 p.m. The gate closes at 10 p.m. and they will give you a gate code if you need it.
Here is a picture of the little diesel that could. We pull our 2150RB with a diesel Colorado and despite my worry/anxiety it did great. Coming up Black Rock Mountain it is about a 9% grade at times with multiple switchbacks. Add in the darkness and it's impossible to know exactly how much gas to give it. At least we didn't have to worry about passing other people on the road, because there's not much room at all.
Here I am, sick to my stomach worried we weren't going to be able to get up the mountain and then we arrive at the campground. To say it's tight is an understatement. It was too late to check in with anyone and the park is still first come–so here's to hoping we find a good spot (that we will fit in.) I had read that loop one was the better of the two, however in our anxiety we missed the small turn into that loop. The park is full of one-lane roads, lined with guard rails. "The pucker factor on the way in is unreal, like a fart couldn't have fit between the guard rail and our camper." Heather later told me that we are really lucky she didn't run the camper side down the rail.
Upon entering loop two the road takes a steep turn down to the right. At 9:30 p.m. there were actually lots of people walking around headed to the bathroom and we still needed to find a site. I hopped out of the truck at the camp host's spot to inquire about where he thought we should go. He was a very nice man who helped us get into site 36 right across from the bathroom. The site was really long and you would think that it would be easy to back into, but of course there's a huge tree right across from the drive. Add in the fact that we were backing uphill, in the dark.
These sites are reserved for larger rigs, which the host did say–they don't get many bigger campers at this park. Probably because they don't fit! Thankfully no one had taken 36 because the other options would not have worked for us.
Friday night we were feeling like we made the biggest mistake. We were over confident in our towing capabilities and started to research towing companies that could get us off this mountain. I didn't even think we would get out of loop two in the campground. Not sure I can fully explain how much anxiety was happening in our campsite Friday night. We were both sick to our stomachs.
Upon waking up Saturday we knew we wanted to take the dogs on a hike and head into downtown Clayton to visit the Wander Store. Driving through the campground and down the mountain in the daylight gave us all our confidence back. In the daytime it actually didn't seem all that bad. Don't forget my original statement though–we won't be back unless we are camping in a tent.
Black Rock Mountain is gorgeous and I recommend it to anyone in a small camper or tent. We headed up to the visitors center to check in and stopped at all the outlooks. Including our hike, there were five outlooks we stopped at. The visitors center has a huge outlook its self with multiple picnic areas. The staff and rangers were all very nice and the visitors center was filled with anything you could need or want.
Hiking options include Tennessee Rock Trail at a 2.2 mile loop, James E. Edmonds Trail loop at 7.2 miles, or a couple .25 mile trails. I hate to say it, but Heather and I aren't in the best shape right now. We knew we couldn't do the 7.2 and Heather had read the Ada-hi falls were underwhelming. Tennessee Rock loop seemed like the perfect distance and included an overlook. Counter clockwise or clockwise it was difficult! Some people use walking sticks, we have 100 lb. dogs to help pull us up the mountain. At the outlook two couples in their 70s stopped to check out the view and man did I feel bad about myself when I saw them conquering the hike.

The dogs were tired after the hike and slept in the camper while we headed into town. We first heard about Wander North Georgia from a partnering they did with one of our favorite local breweries, Reformation. I told Heather she could spend more money at the store now that we had our confidence back in towing the camper and wouldn't have to pay for a company to come get us out. We walked out with two T-shirts, a hat, and a gift for mom. It's a great outdoorsy store, follow them on Instagram! We hadn't planned to eat lunch out, but suddenly realized how hungry we were. Clayton, GA has multiple good restaurants and it was great patio weather. Universal Joint seemed to be a popular location based on the number of people on their patio. The firecracker sliders and pork nachos were delicious!
The rest of Saturday was spent relaxing at our site and enjoying steaks on the grill. Site 36 would have been great to set up ladder ball or corn hole up, but we were just too tired. Unfortunately our site didn't offer any trees to set up the hammocks. I did manage to get to the overlook in the campground for the sunset.
Sunday there wasn't any desire in us to sit around and enjoy the morning or take the dogs on a walk. We just wanted to get the camper out of the campground and down the mountain. I waited at the top of the hill to block any potential traffic so Heather could gun it out of loop two. She had zero problems getting up the hill–such a stress reliever. The dump station is at the beginning of the campground and right across from multiple sites. However, most in the campground aren't using the dump station so the location isn't too big of a problem. One positive was that we were able to flush the Black tank.
Sunday at 11 a.m. we headed down the mountain at 10 mph. Passed two cars and thankfully no campers going the opposite direction. We safely made it down 3,640 feet!
If we ever want to camp in the area again we plan to try River Falls at the Gorge or Tallulah Gorge State Park. Black Rock Mountain State Park was beautiful. It had a fully stocked visitors center and trading post. 44 campsites to choose from (most being 25ft.) The two bathrooms had showers and washer/dryers. The campground also has 10 cottages for rent with multiple bedrooms. We never saw these in our trip. Apparently there is also a lake that we missed on our trip where people can take small boats.
Things we learned:
1. Probably shouldn't go up mountains in the dark. We did watch a YouTube video before making the trip, but that didn't fully prepare us. If you're able to, I would suggest driving around the campground before you bring a camper in.
2. We read reviews on Facebook of the state park, but it wasn't 'till after we were already there that I read a review saying "found another campground after I almost killed my family driving through this one." Heather did refer to it as a death trap.
3. All of our confidence in the little diesel that could has been restored. It did great the whole trip, but we won't be taking it up the Rocky Mountains.