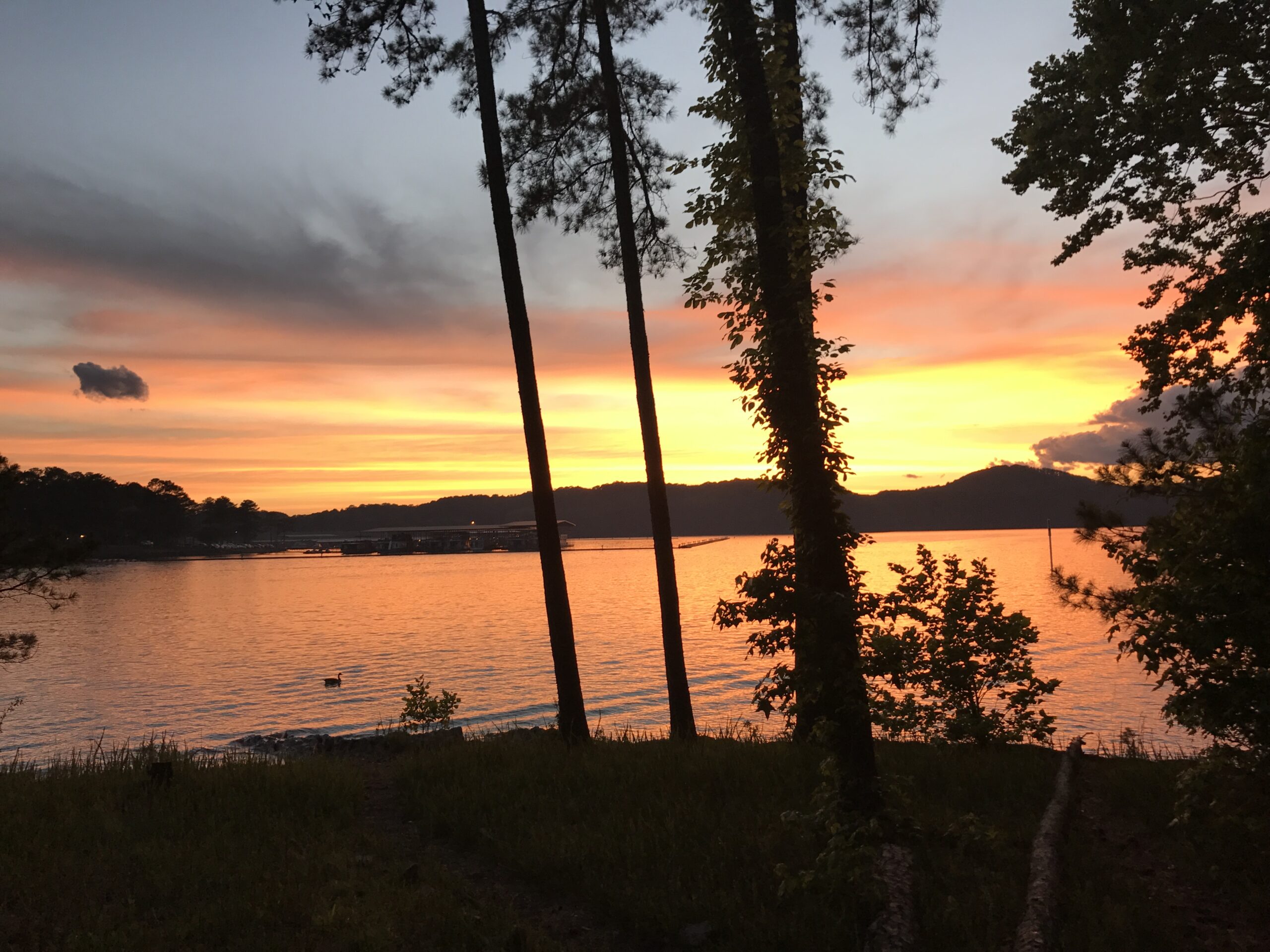 5.22.17-5.30.17
SOLD! We purchased/ordered our camper from Northgate RV in Ringgold in April and picked it up the end of May. The long awaited day came to pick up the camper and Heather got the quick walk-thru with the dealership while I was still at work. To make sure that everything worked correctly and because we were SO excited, we took it straight to McKinney Campground in Acworth, GA.
McKinney Campground is a Core of Engineers Campground on Lake Allatoona about ten minutes from our house. It is highly recommended by all and can even be found on some top ten lists for campgrounds in the SE. With 150 sites and many of them waterfront it is pretty difficult to get the prime sites on holiday weekends. We lucked out getting site #37 (waterfront, walk-up) for over a week, including Memorial Day weekend. Reservable sites for that weekend were booked months in advance. The campground is very wooded with plenty of private sites (what we prefer). Many of the water sites are good for pulling up and tying a boat. The campground is great for families with a large playground and a sandy beach, but score a waterfront site and you have a private beach! The bathrooms are clean and conveniently located, but with the bathroom we have – we didn't use them.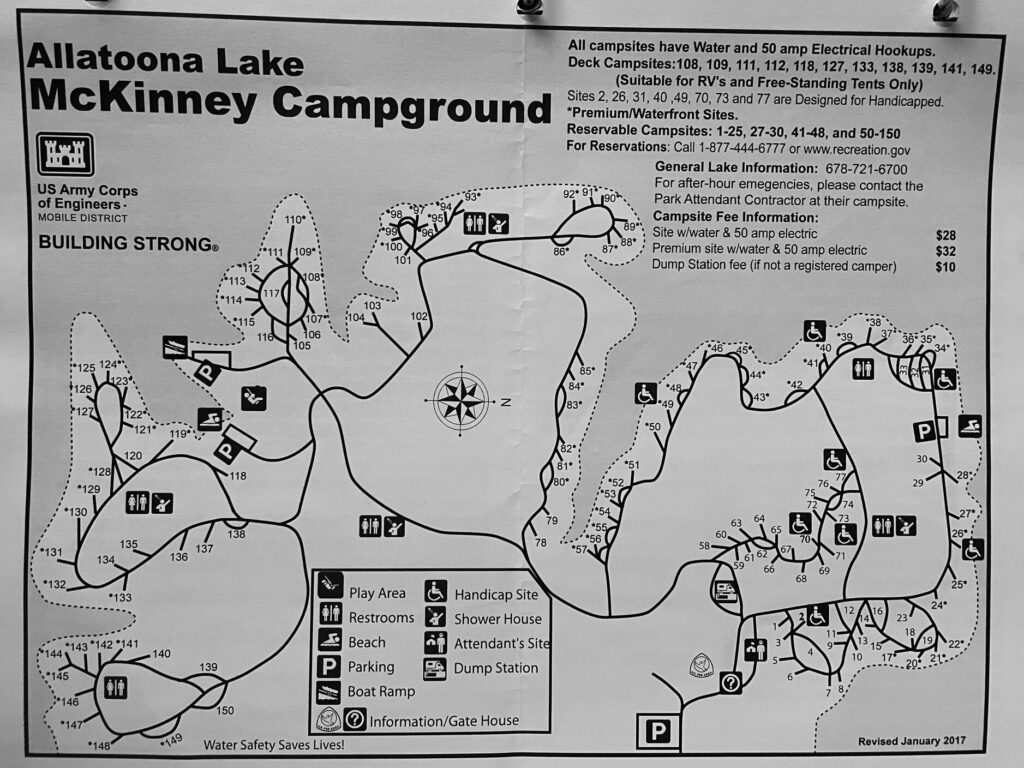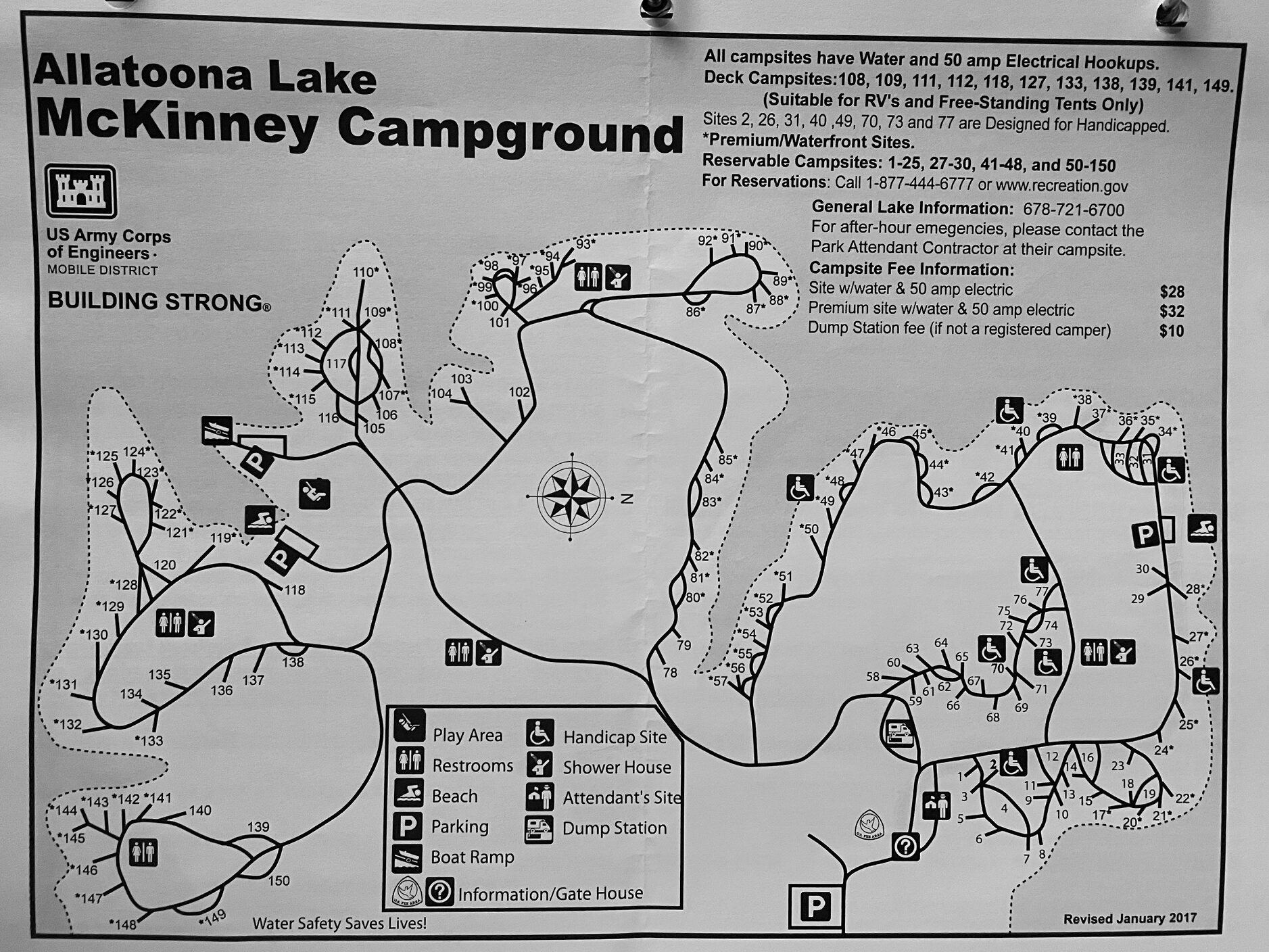 I loved the set up for site 37 because the camper separated our outdoor living space from the road, making it more private. It also had a trail down to the water and lots of yard to walk the dogs around. Other sites I liked:
School was still in session (last week till summer) so we were both commuting from work to the campground. We wanted to sleep in the camper, but weren't comfortable yet leaving the three dogs in there alone the entire day. The campground gates close at 10:30pm and do not open again until 7am, therefore we always left our cars in the parking lot outside the gate (overflow parking). Each morning we loaded up the dogs for a walk through the campground to our cars, drove the dogs home, and got ready for work. In the evening I would stop by the house to pick up the dogs, but we spent every other moment at the camper.
Lake Allatoona is great for swimming, boating, and fishing. We left our kayaks at home because it was our first trip and wouldn't be at the site during the day. Also holiday weekends make for a busy lake. The marina across from the campground had dealt with some damage from a recent storm and their floating wall broke apart. One of those blocks floated across the lake to our campsite and made for an awesome floating seat that even the dogs would jump on!
Did I mention that we only had Summit for a couple days before hauling off in the camper? She was only 8 weeks old! She fit right into our pack and loves the camping life.
We haven't stayed at McKinney since this amazing week. The only reason for that being they only allow two dogs per site. We did not get in trouble this particular time, but I did not want to be constantly worrying about getting in trouble for breaking this rule as Summit got bigger and more noticeable. Update: They have changed their limit to 3 dogs. Was it just for us? I'd like to think so.
Places to Eat, Drink, Have Fun
We do not usually go out to eat while camping on Lake Allatoona because we are so close to home. However, I did want to put together a list of our favorite restaurants, breweries, vineyards, and fun things to do in close proximity.
Things we learned:
1. Things will only get easier. Thank goodness for FaceTime because we needed to call Dad to have him walk us through how to get the truck hooked up. It was raining, boy were we stressed. There's a moment when we questioned our life choices.
2. The fire alarm is really sensitive, to anything. We remove the battery when we cook inside.
3. Filling up the portable grey tank is great when you're in one place for a long time, however it's SO heavy. Dry shampoo will be your friend.
Please follow and like us: