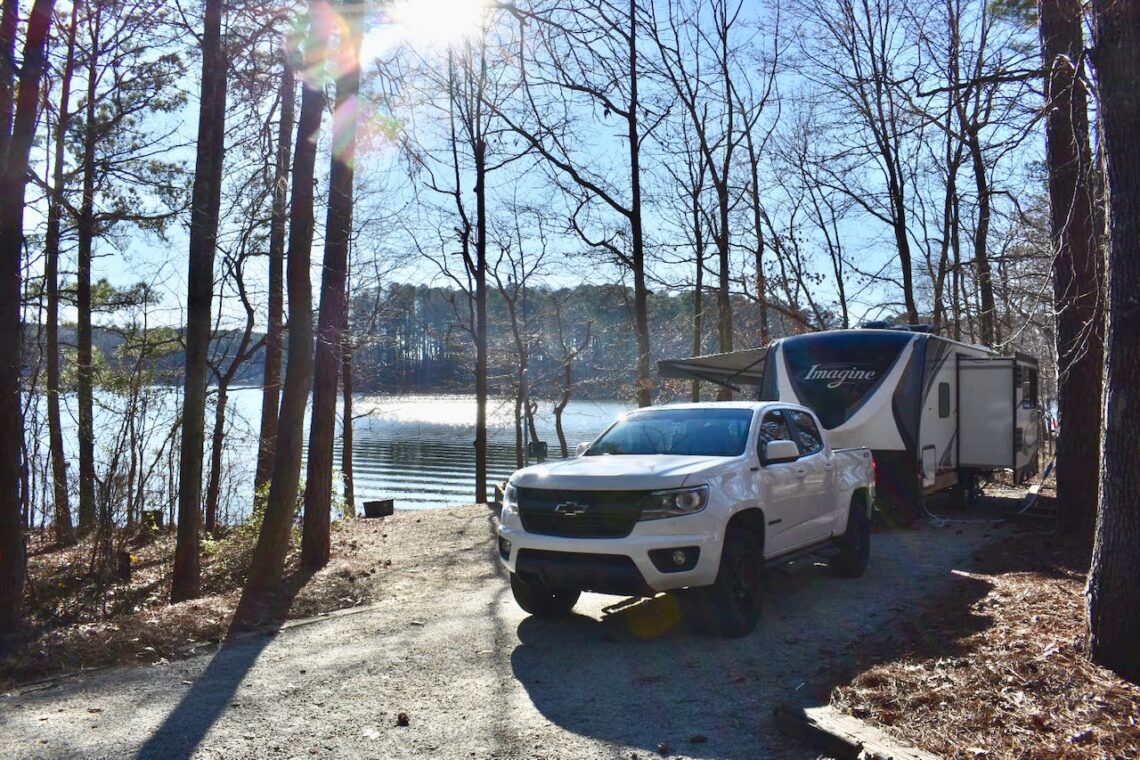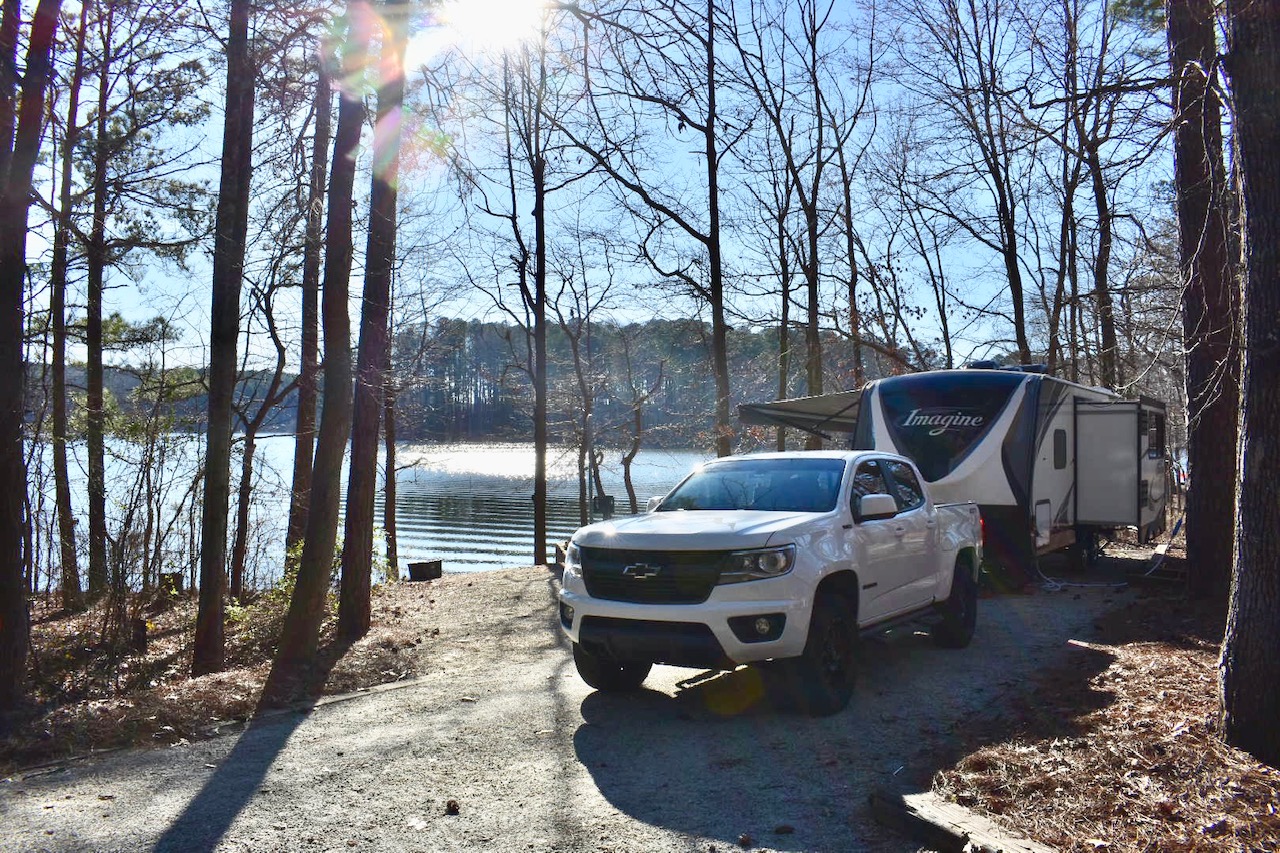 02.18.22-02.21.22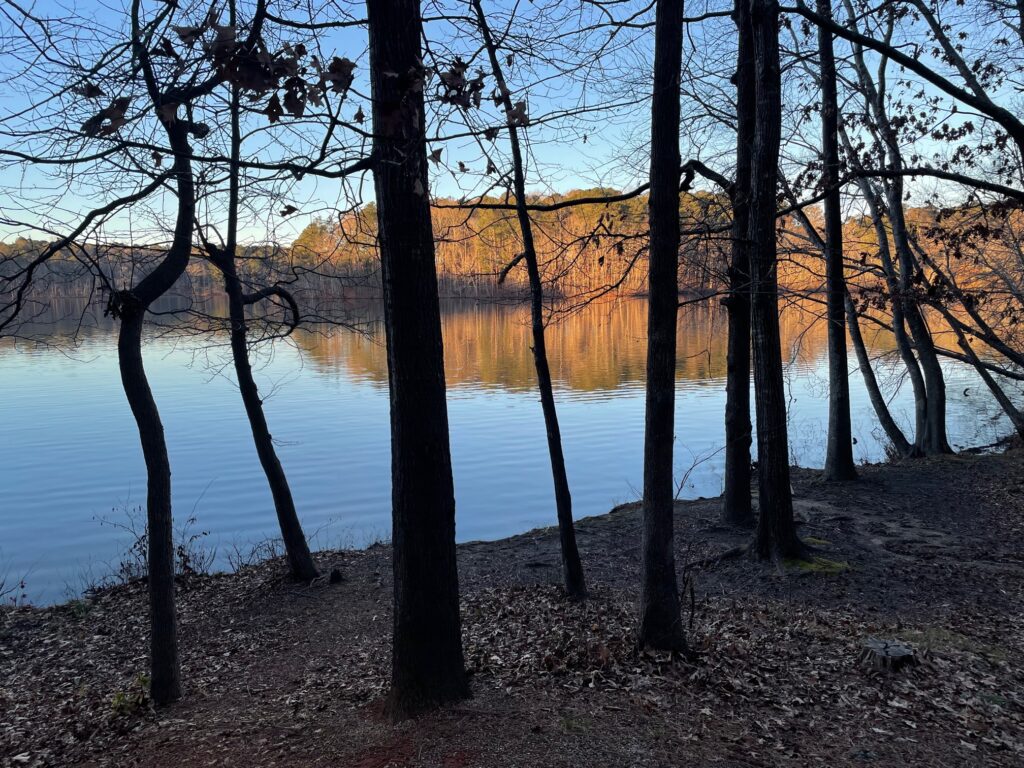 Our family opened the 2022 camping season by checking off another state park, Fort Yargo.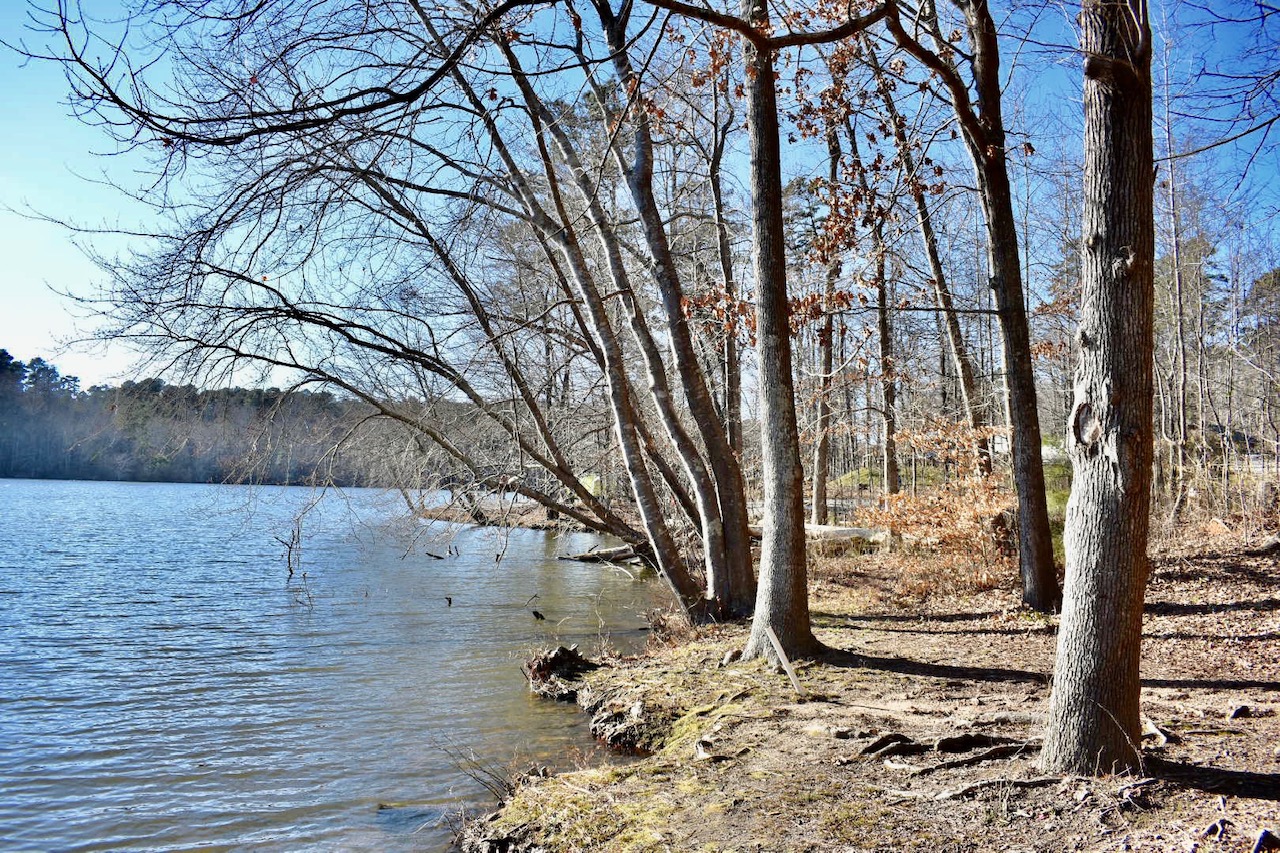 Three-day weekends mean we can drive a little farther and this trip took us about 2 hours east to Winder, GA. Fort Yargo State Park opened in 1954, but the log fort used to provide protection to the settlers was built in 1792. The state park is situated around a 260-acre lake that is great for jon boats, kayaks, paddle boards, and canoes. The other main attraction to the park is the 20 miles of trails for mountain biking.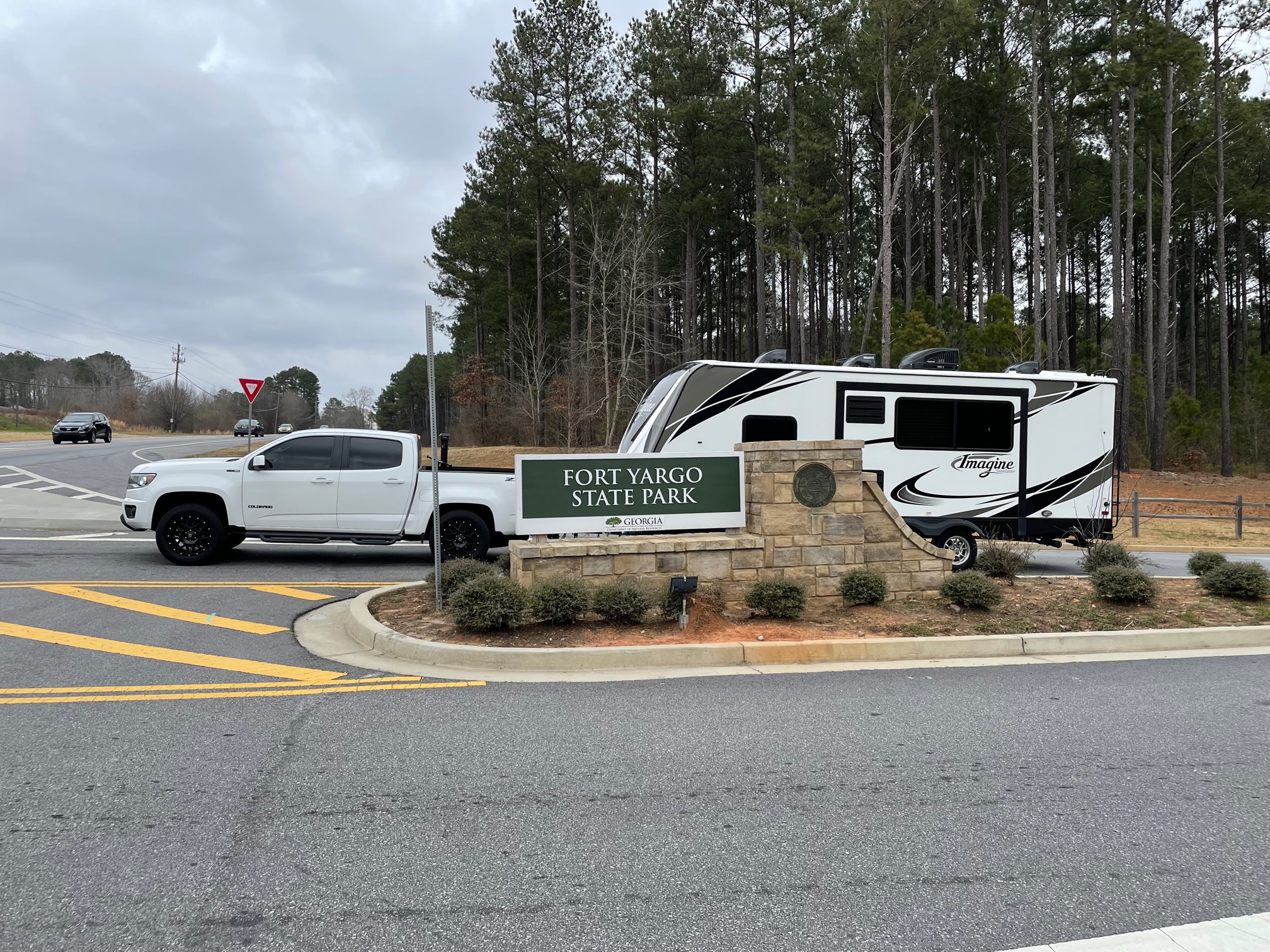 Fort Yargo State Park has two campground loops, 6 yurts, and 16 cottages. In total there are 47 RV campsites and 12 walk-in campsites. Many of the campsites are waterfront and we scored one of the best sites in the campground.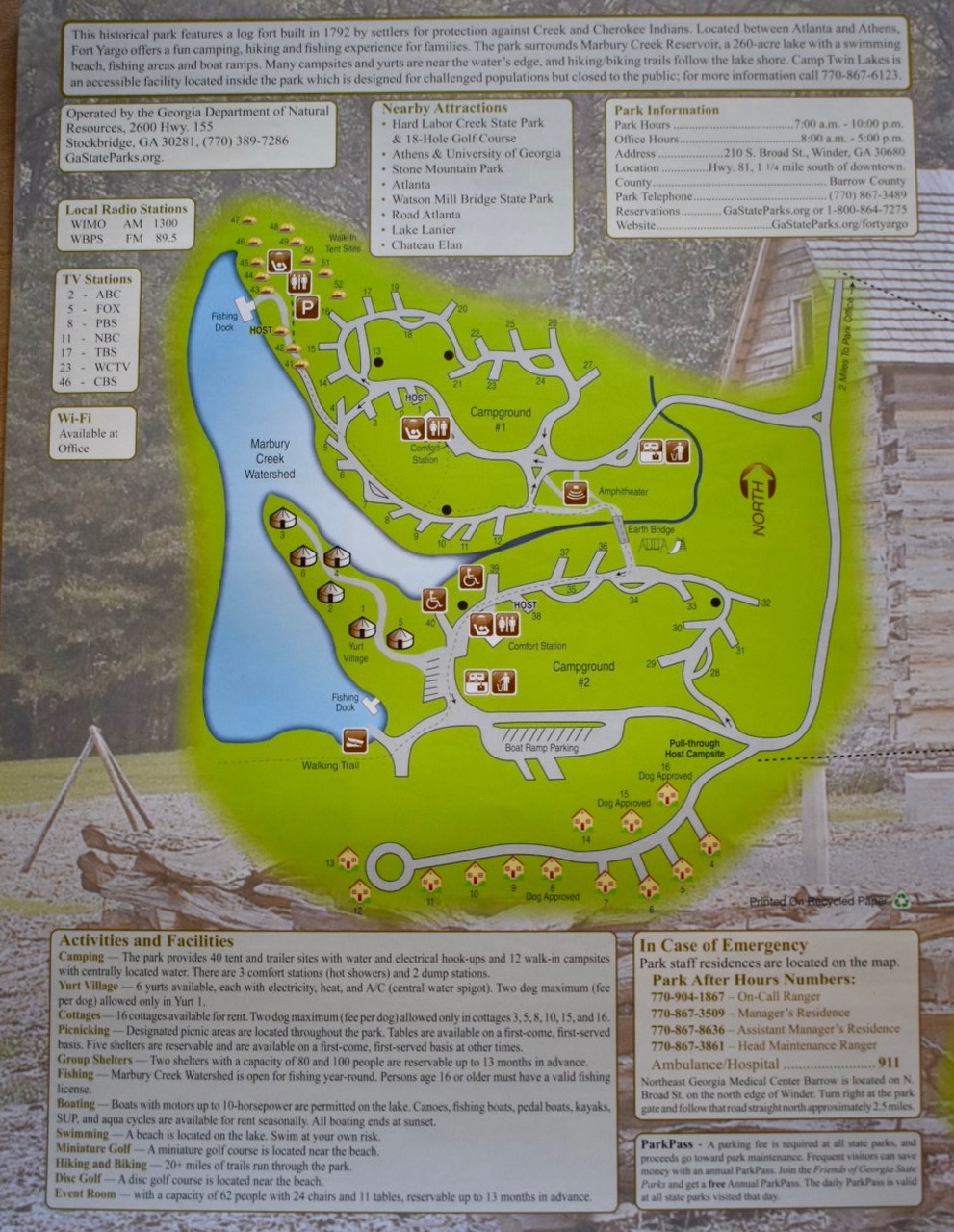 Campsites 6 and 7 are in my opinion the best campsites at Fort Yargo State Park and many would agree. They are both hard to get and you must book well in advance. We reserved site 6 months in advance.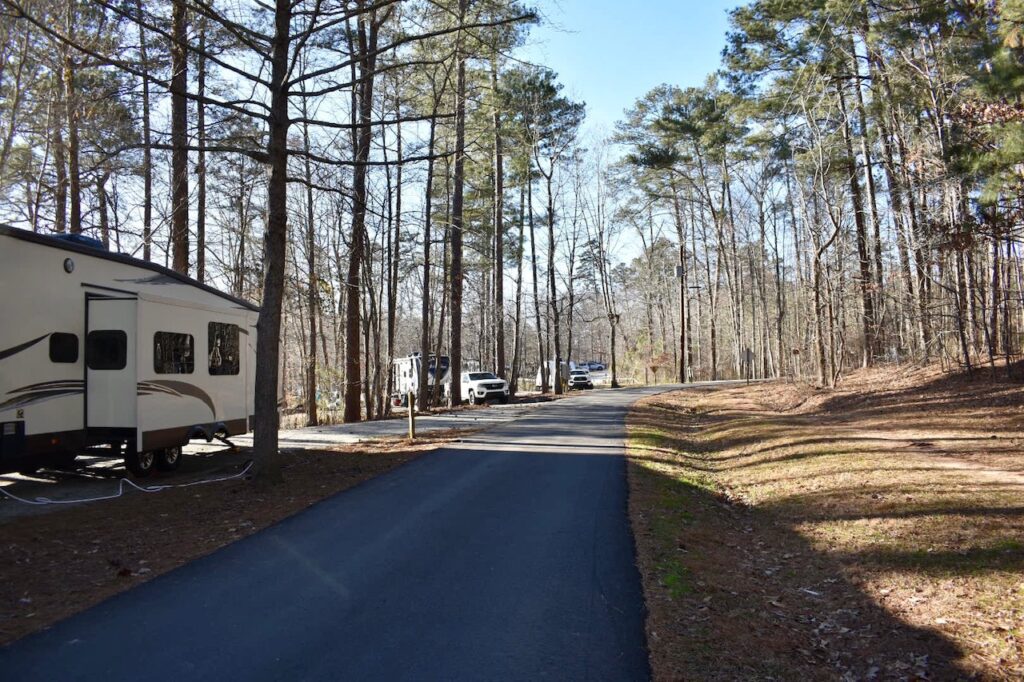 Campsite 6 is a 30-ft back-in, waterfront campsite. It is perfect for putting kayaks in the lake directly from the site and has a great view. There were two trails coming off the campsite down to the water with a couple great tree options for hammocks. The site has a ledge on the opposite side of the firepit that made us nervous with our two-year-old. Thankfully no accidents happened. We had to use our levelers under the passenger side wheels.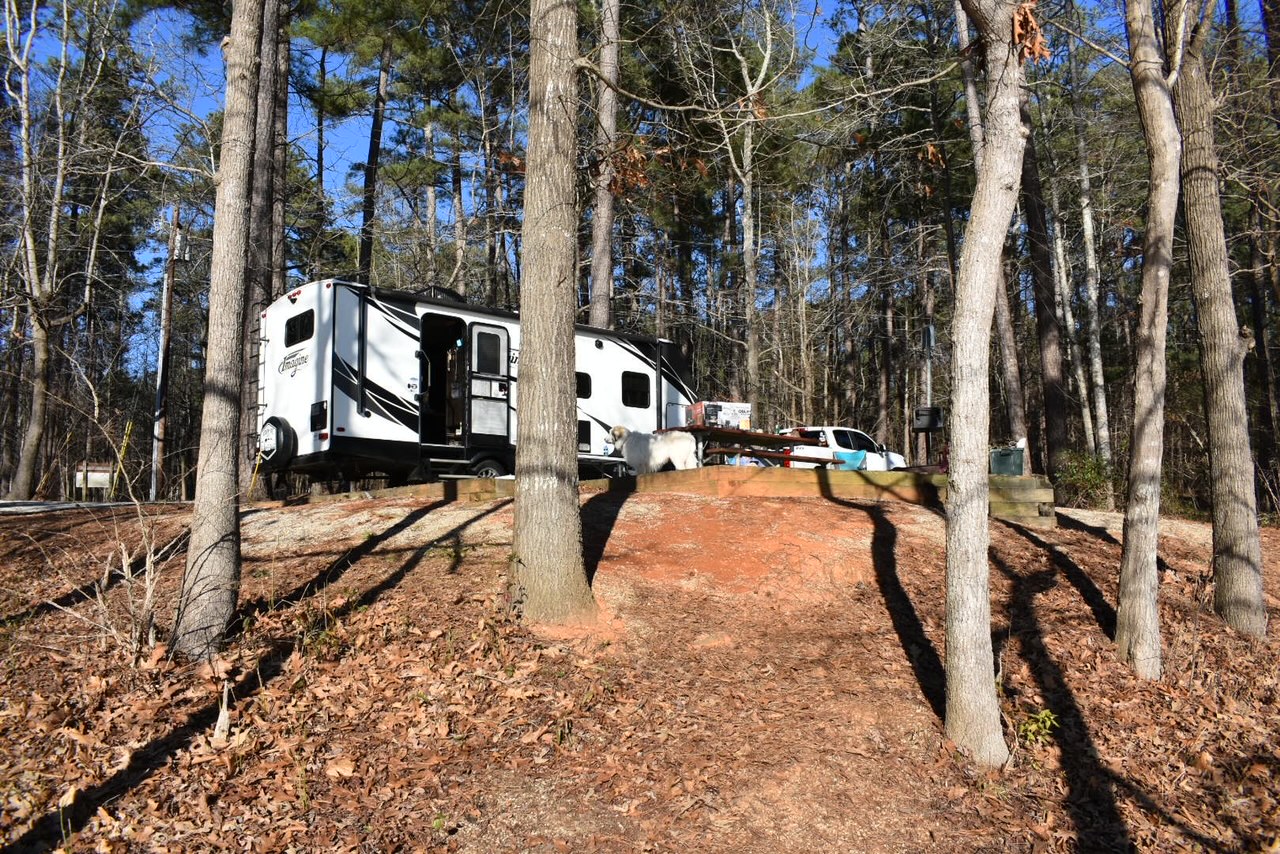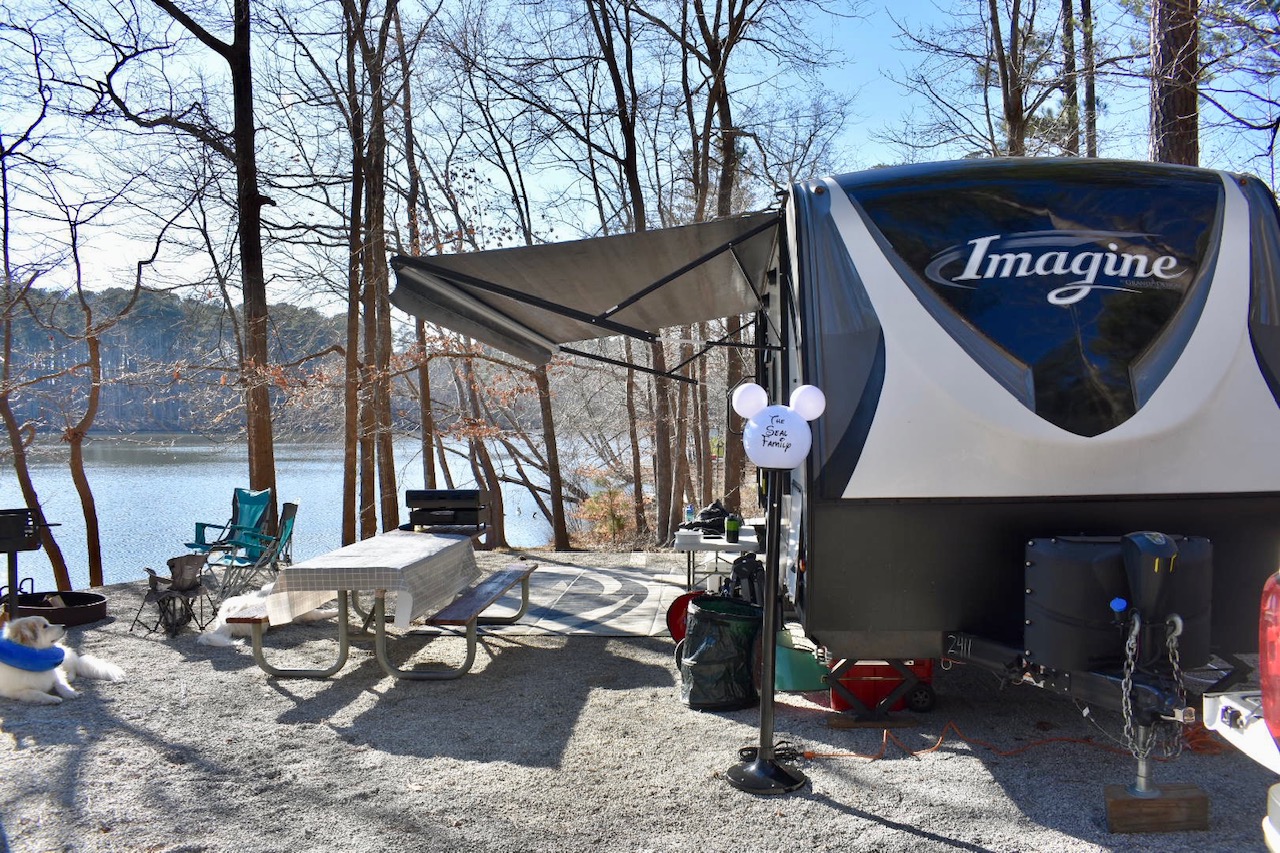 On the outdoor living side of campsite 6 there is a decent amount of woods between the site and campsite 7. This provides privacy, which is important for our family. Campsites 5 and 6 shared some of the path and lakefront area which would be ideal if two families booked together. We had great neighbors all weekend so it was never an issue. We still felt as though the camper itself provided some privacy on that side.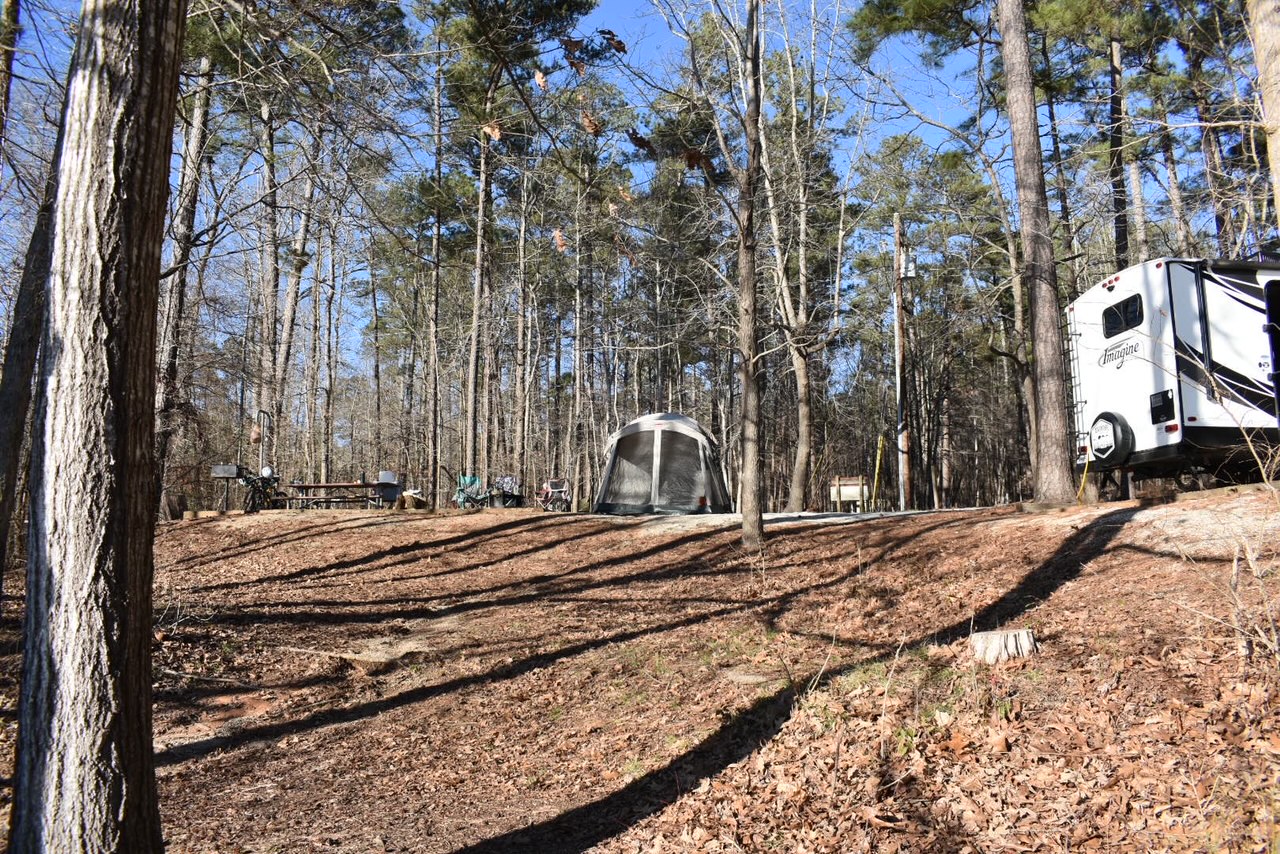 Campsite 7 is a large pull-thru site with steps down to a trail that leads to the lake. The fact that it is pull-thru would be a huge plus to most campers, making it a favorite for Fort Yargo State Park. It is also one of the only sites in that loop that larger RVs could fit in.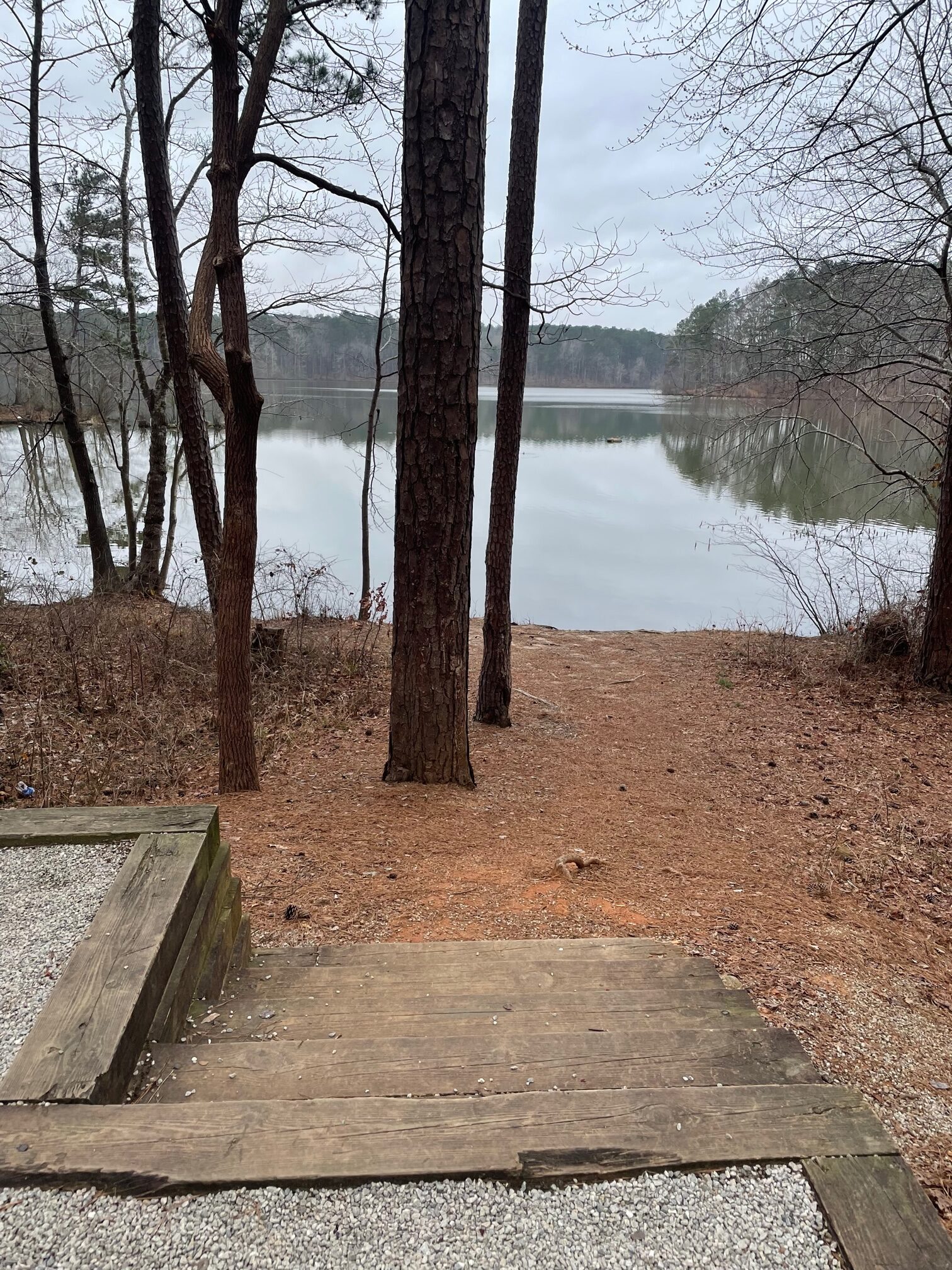 Campsites 8–11 are also located on the lake, but the sit closer together than site 6 and 7. Campers in site 9 left early on Sunday so I was able to take photos of the site. The different levels for the camping pad made the site interesting. My family members explored the yurts on our walk and they came back and said yurt 3 is the best with 6 being a close second place.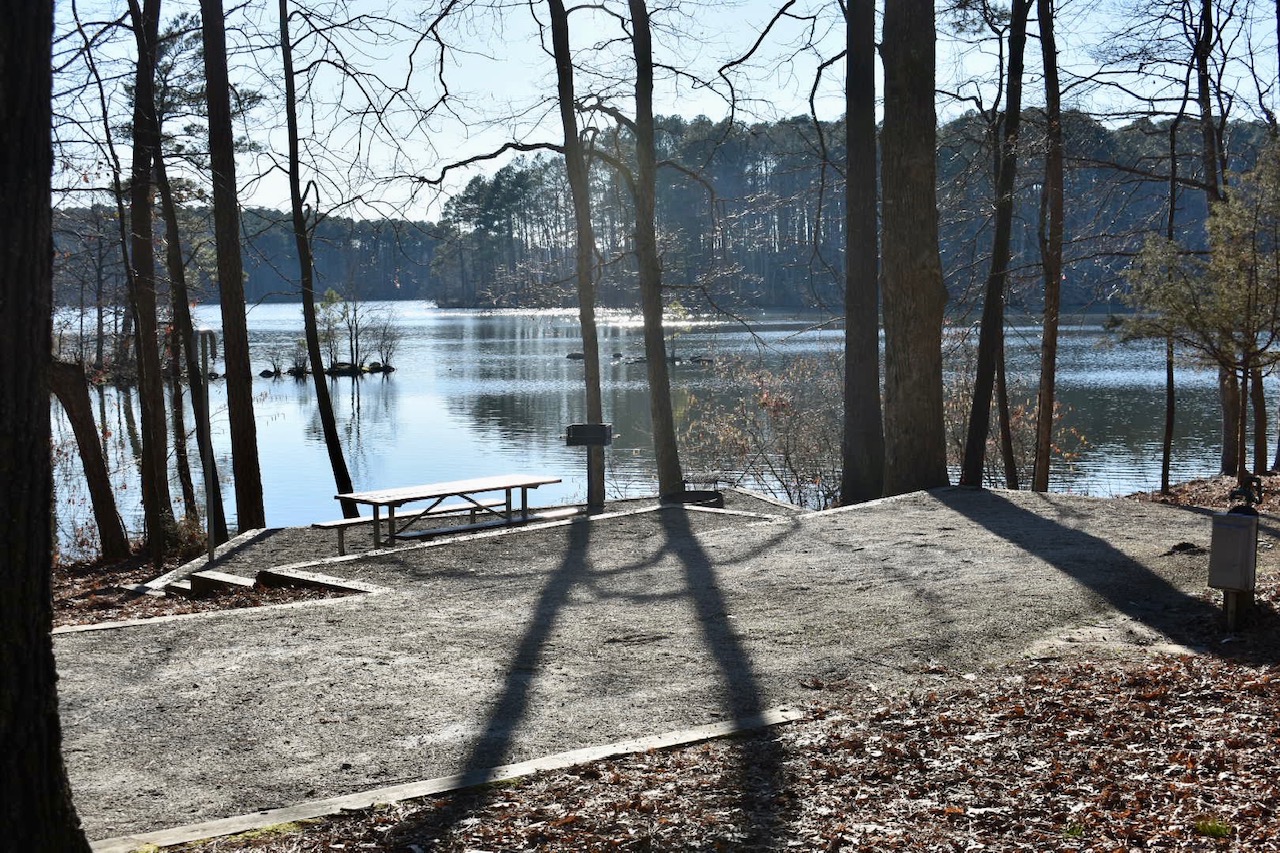 One aspect of the campground that I didn't realize until we were there was that the trail goes directly through the campground. It was right across the road from our site so there were many people that walked past throughout the weekend. For this reason I would choose site 7 over site 6 so that our dogs wouldn't see everyone walking past as the camper would block them from the trail.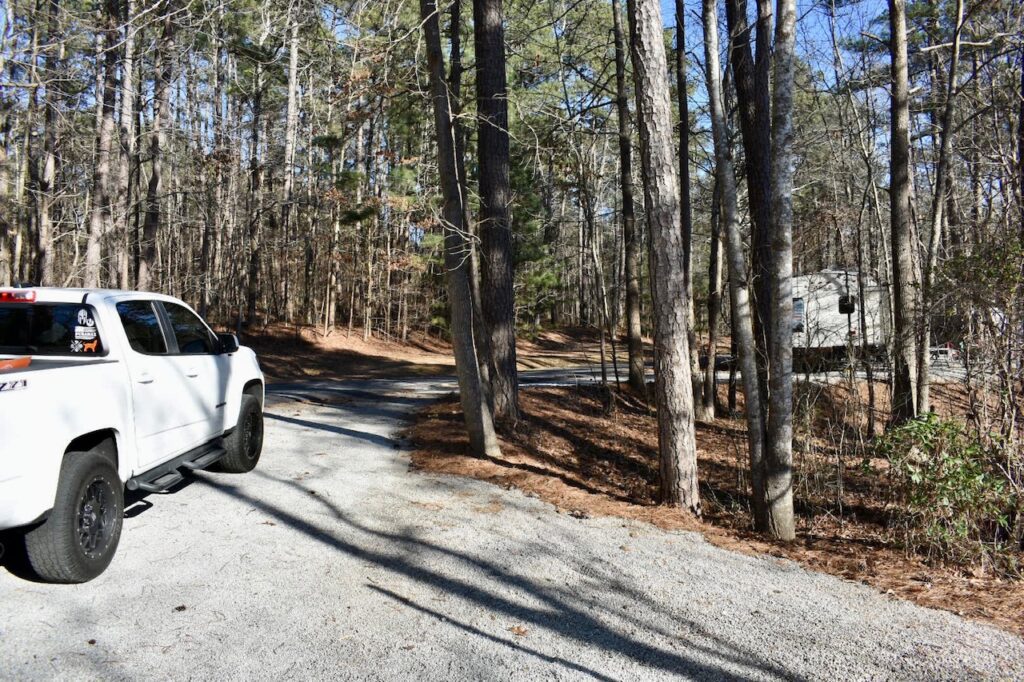 Our family isn't mountain bikers or fishers and for that reason we would rank many other state parks ahead of this one. It would be nice if there were other trail options for hikers. The one trail is 6 miles long around the lake and it was too far for our two-year-old. We walked the campground loops and drove over to the visitors center to explore.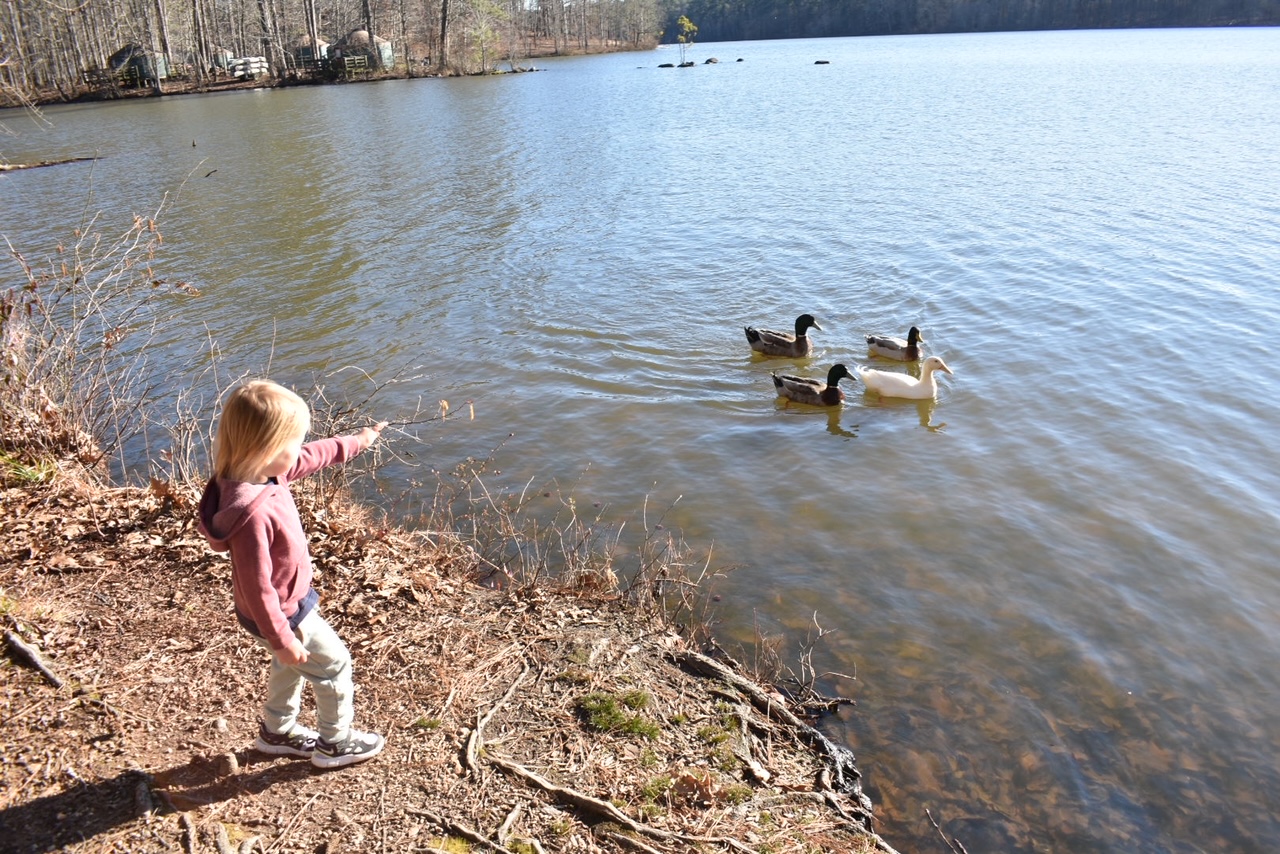 The visitors center is gorgeous. It opened in May of 2019 and provides a meeting space, store, patio with lake view and large fire pit. We also explored the large beach pavilion, dock, and small boat rentals. They were in the process of building a new bridge to connect the visitors center and fort across the lake.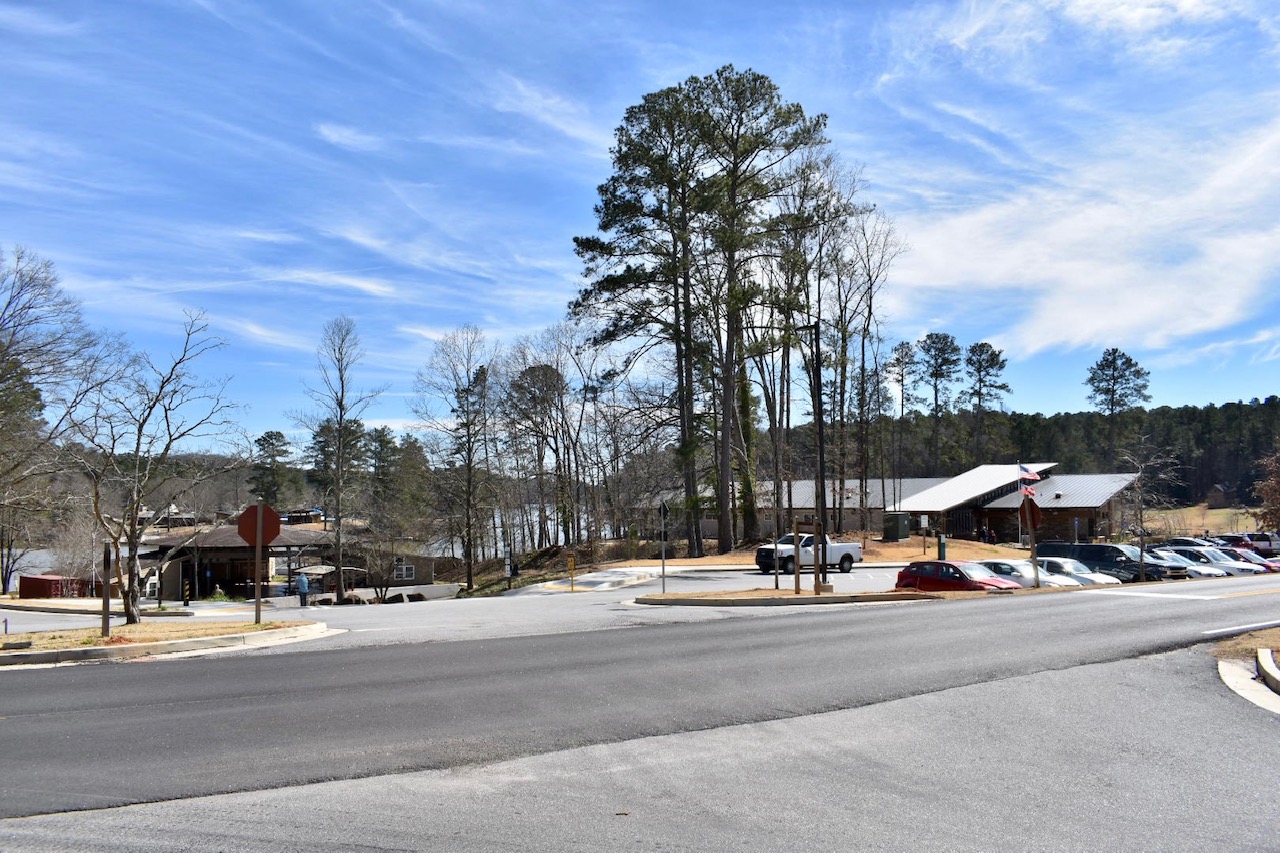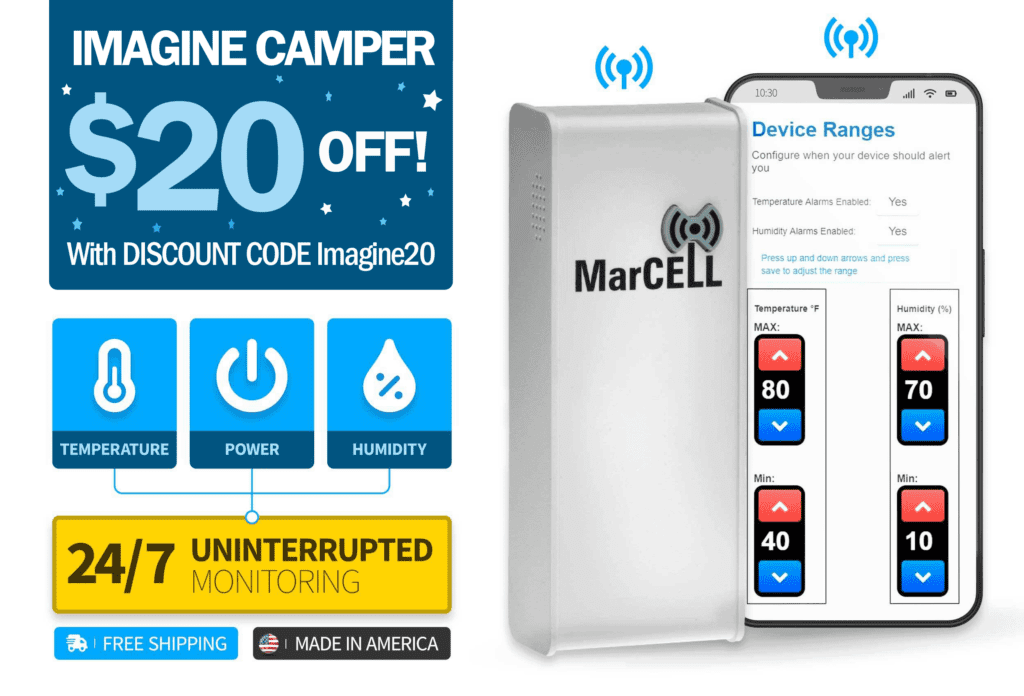 Across the lake is the disc golf course, putt-putt course, beach, and pavilion. The putt-putt course was one of the best I have seen at a Georgia State Park. The beach was large and clean. This is the only spot on the lake where you are allowed to swim.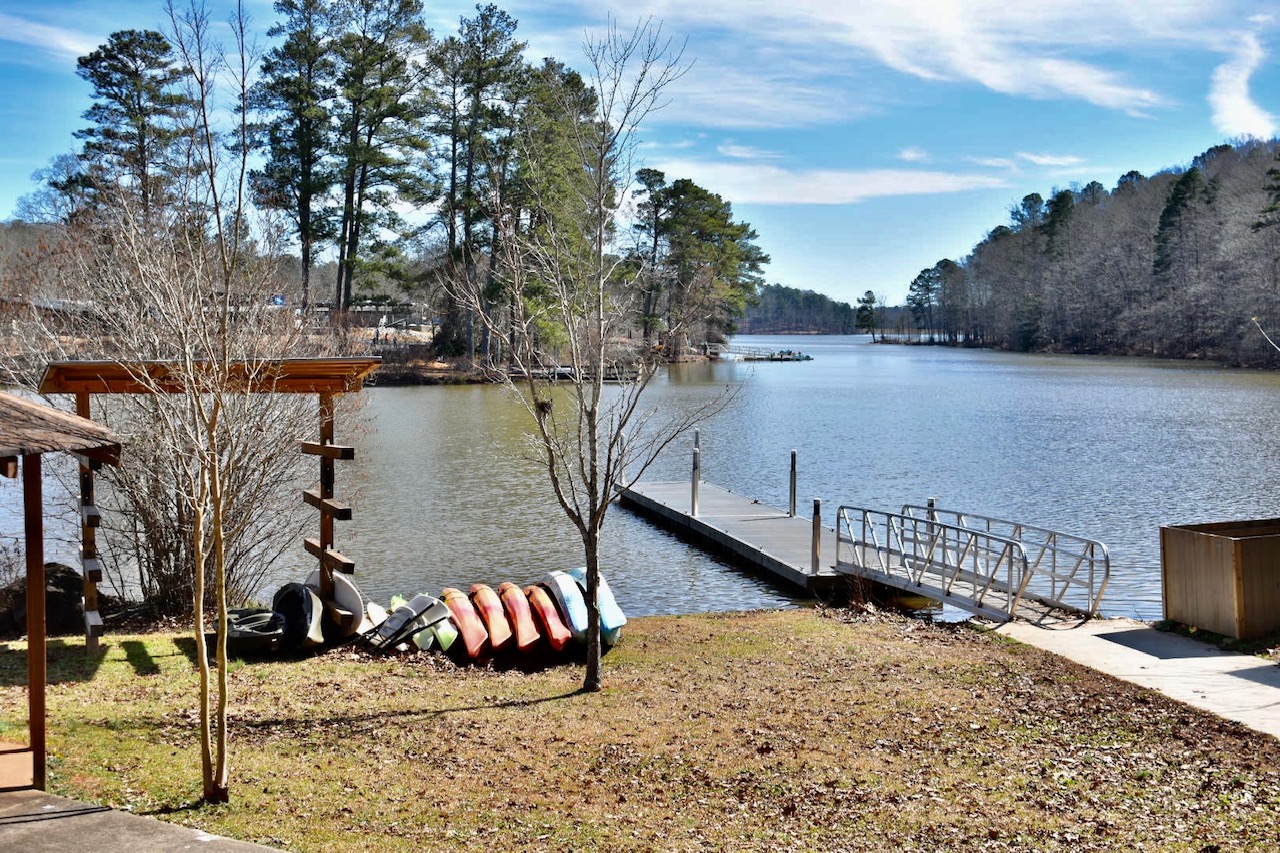 When arriving on Friday night our GPS wanted us to turn into the state park at the area B entrance. Thank goodness we missed it because this is not the entrance for campers, in fact it would have been locked up at our arrival time in the evening. Park entrance A is the correct entrance for campers and is marked with a big Fort Yargo State Park sign.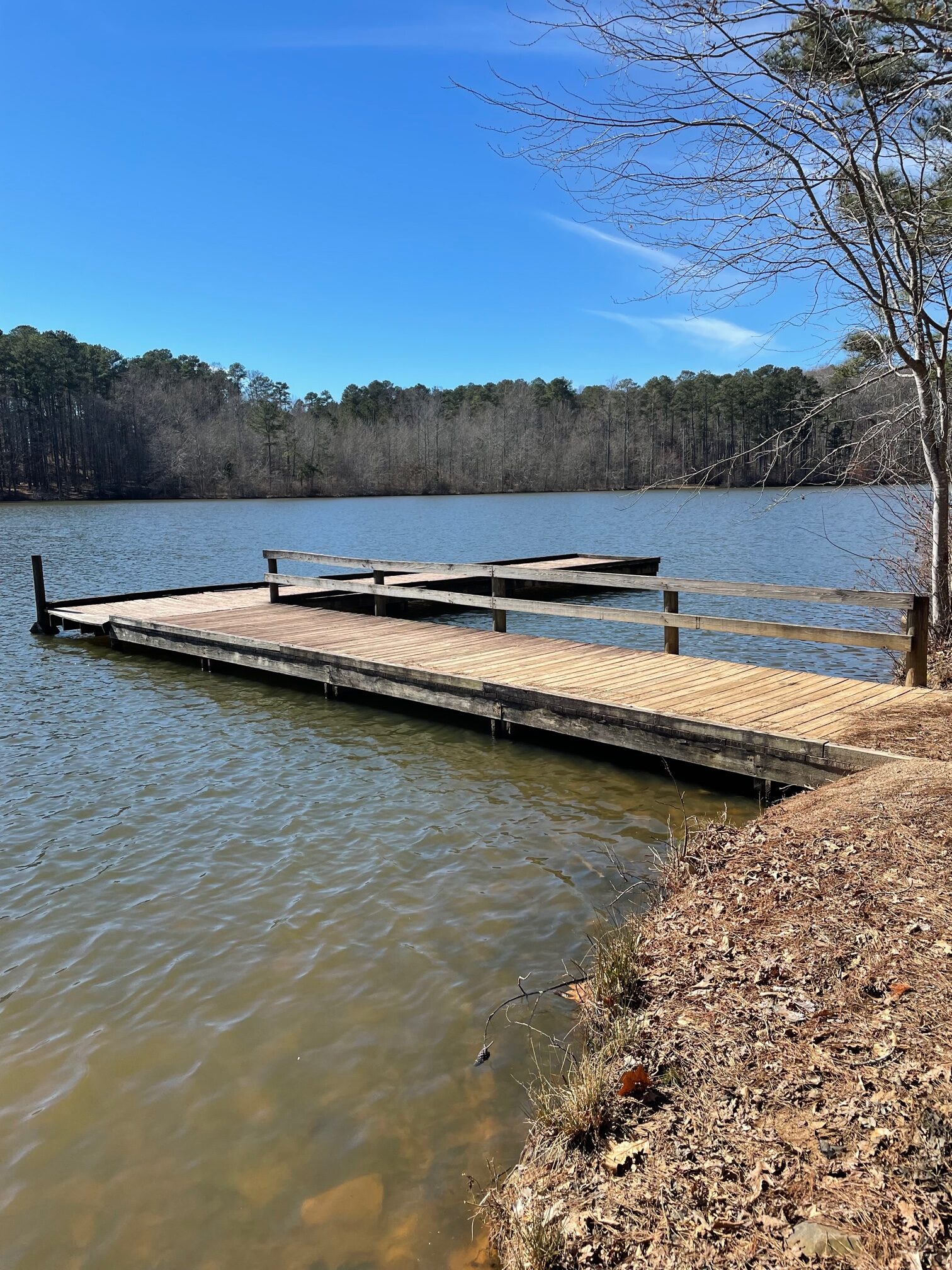 Firewood is sold by the camp hosts for $5 and they have small wagons for you to use to get the wood back to your site. I had not seen this before—what a nice amenity. One of our instagram friends is currently the camp host at Fort Yargo State Park and it was nice to finally meet them in person. We enjoyed campfires with them on Saturday and Sunday evening.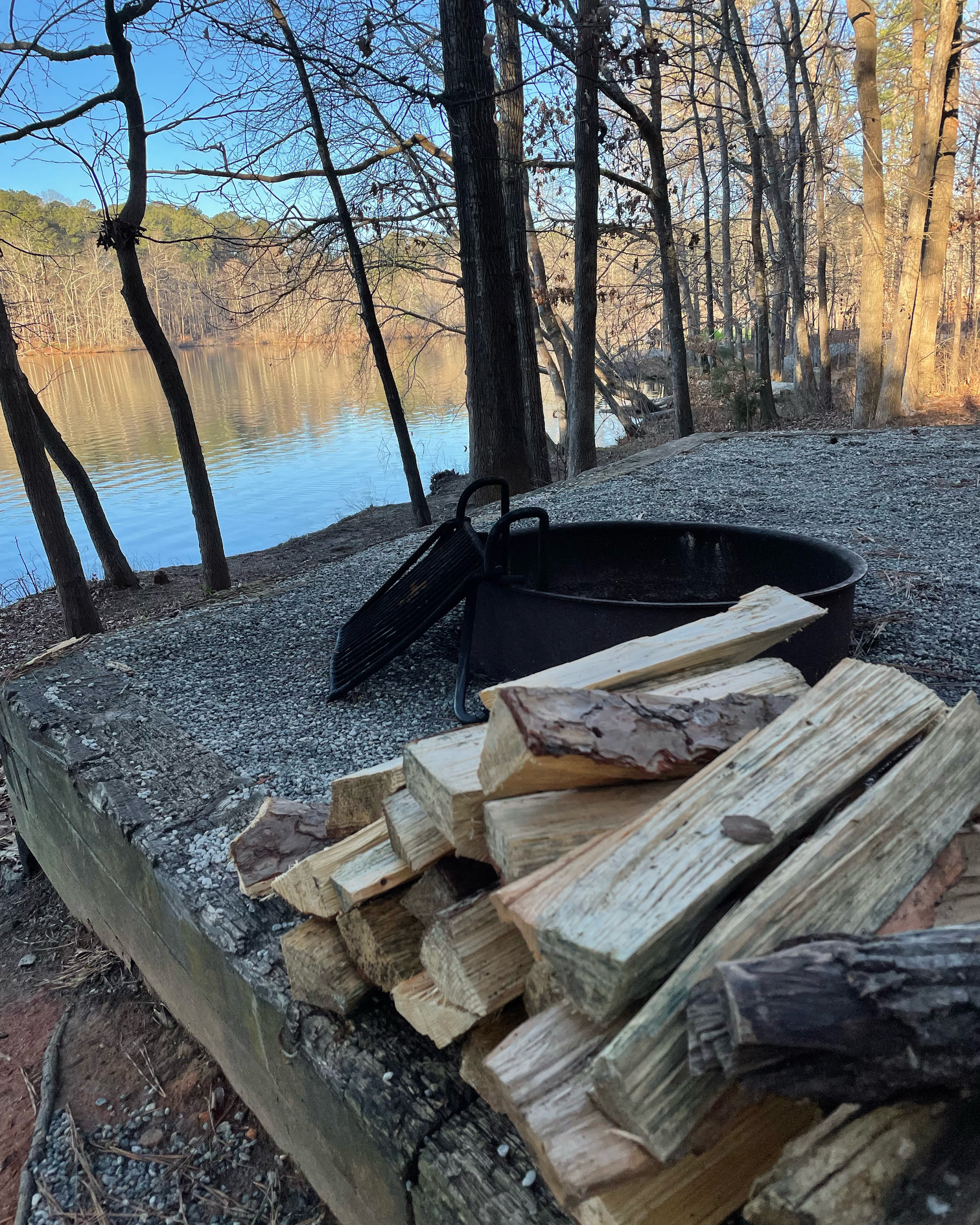 Another feature I had not seen before was the summer camp located inside the state park. Camp Twin Lakes was built in 2009 as a fully accessible camp for special needs children. This is a private camp that can be seen across the lake from the visitors center and has its own drive before you get to the campground.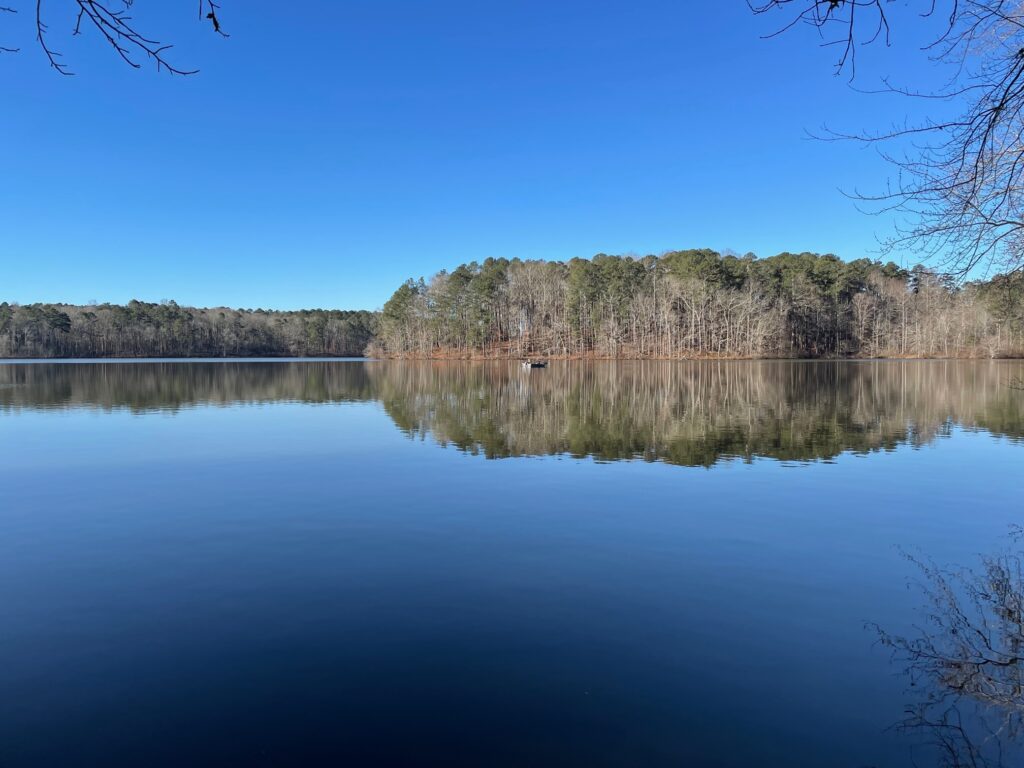 Fort Yargo is located just a couple miles off highway 316. Right off the exit there is a Chick-fil-A, Waffle House, Publix, Target, and more. It's a great state park if you need to be in Athens, GA or in Gwinnett.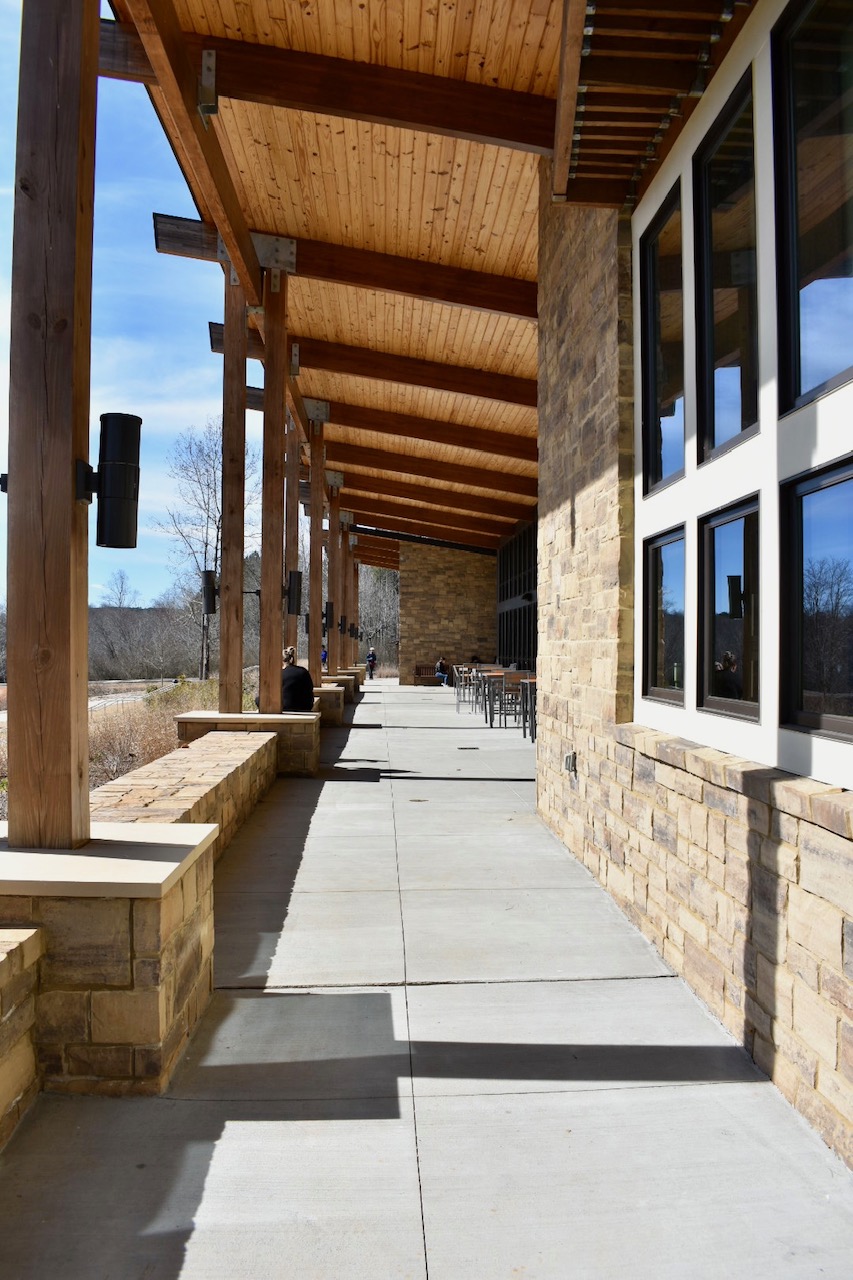 Things we learned at Fort Yargo:
1. Heather's birthday is at the end of February and I jumped on the Blackstone Griddle bandwagon (finally) and bought her the 22in. We took it on this trip, but still needed to season it. That whole process took us about an hour and we blew through our two 1-pound propane tanks. While I think the 1-pound tanks will be great for cooking, we probably needed more for the seasoning process. I am going to purchase the hard cover from Walmart for our next trip. Send all your favorite recipes our way!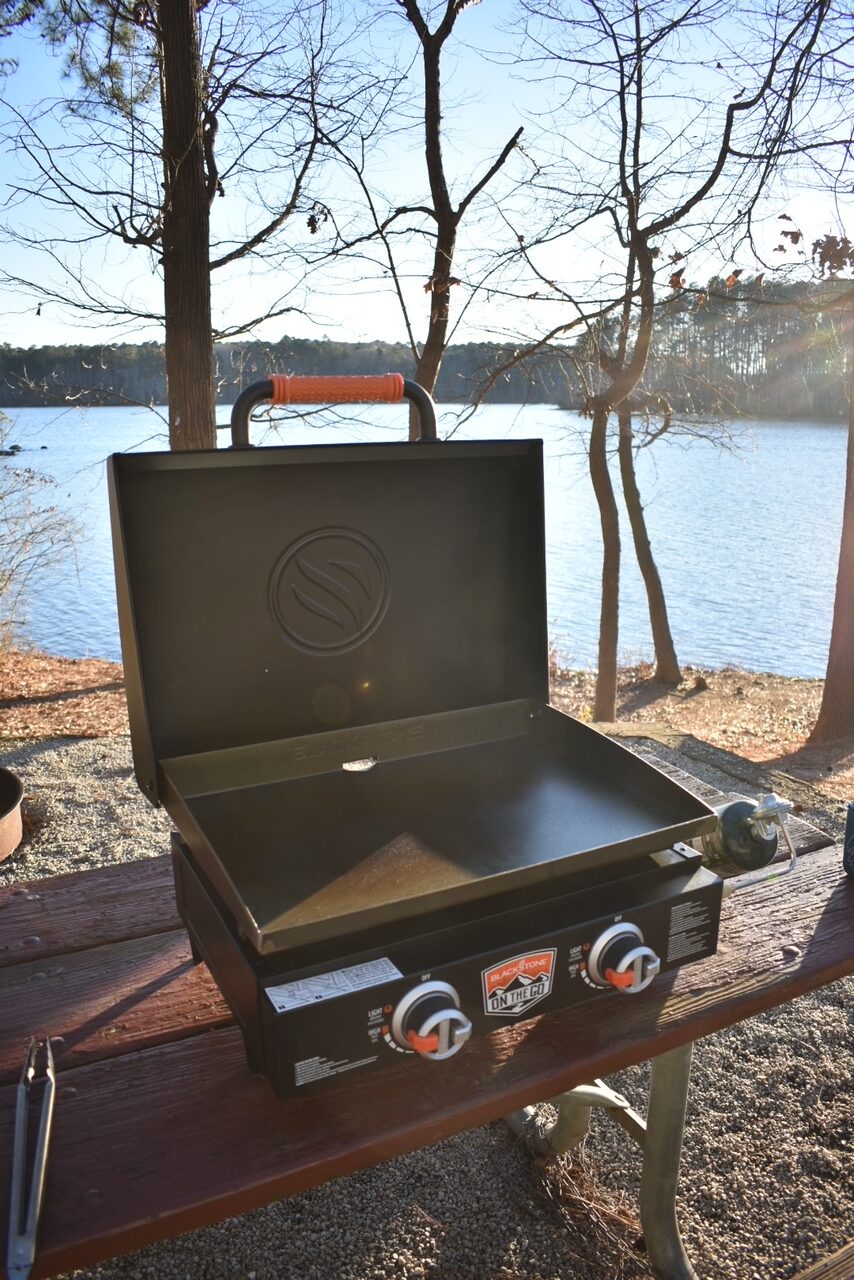 2. Our youngest pup suffered from what we believe to be a Brown Recluse spider bite a couple days before this trip. We noticed her licking the same spot over and over, which with Great Pyrenees usually means a hot spot. Unlike her sister Cedar, Summit has never had a hot spot. We found the bump and monitored her pain level. Took her to the vet for antibiotics and pain meds. It is healing well now, but having a dog in a cone for the truck ride and camping trip was not ideal.