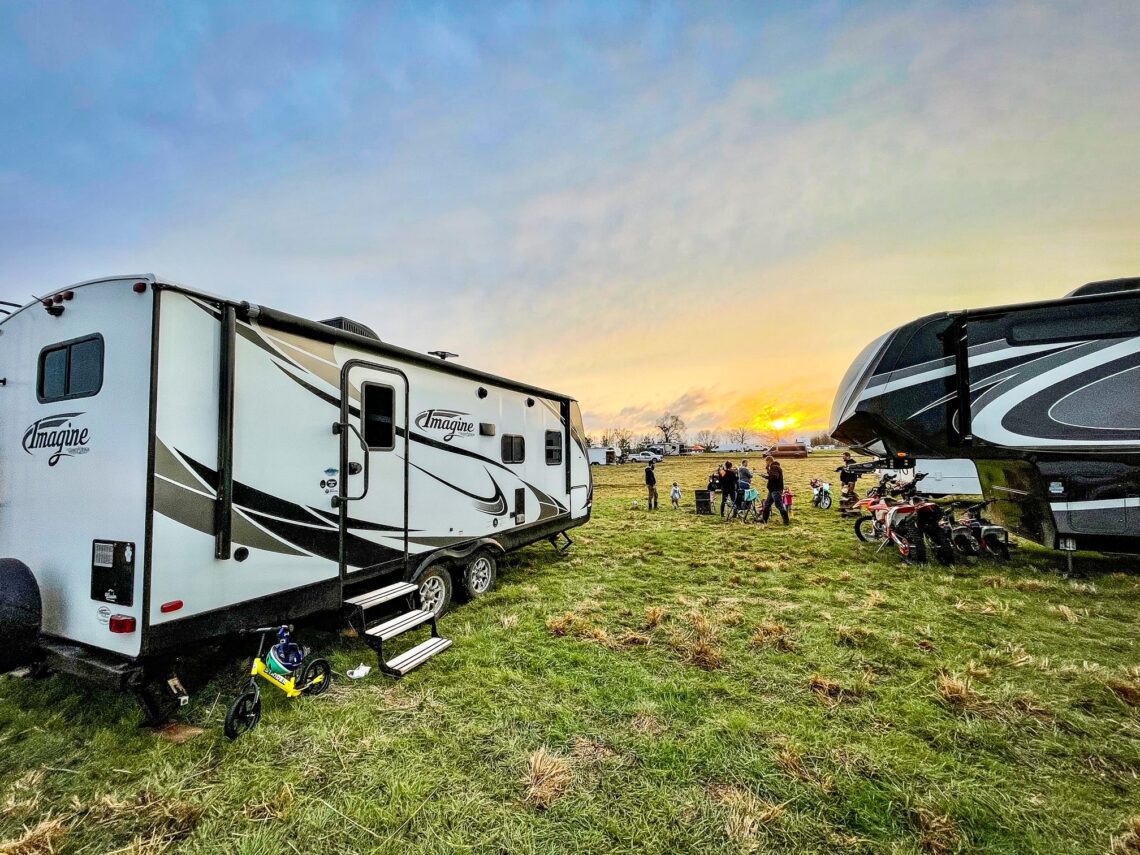 Boondocking – Greensboro, GA
03.18.22-03.20.22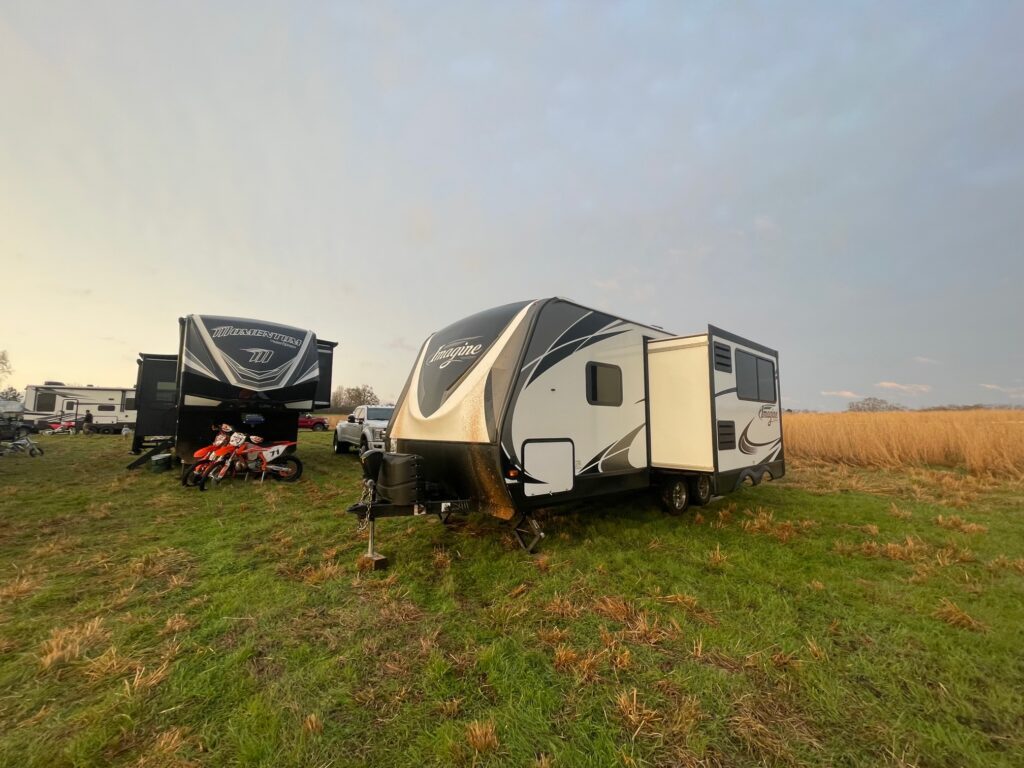 Boondocking – When you camp without water, electric, and sewer hookups. Sometimes referred to as dry camping.
In the six years that we have owned our camper, we made reservations and stayed at campgrounds with electrical and water hookups. This trip was our first time boondocking and everything went great with the process—we are already looking forward to the next time.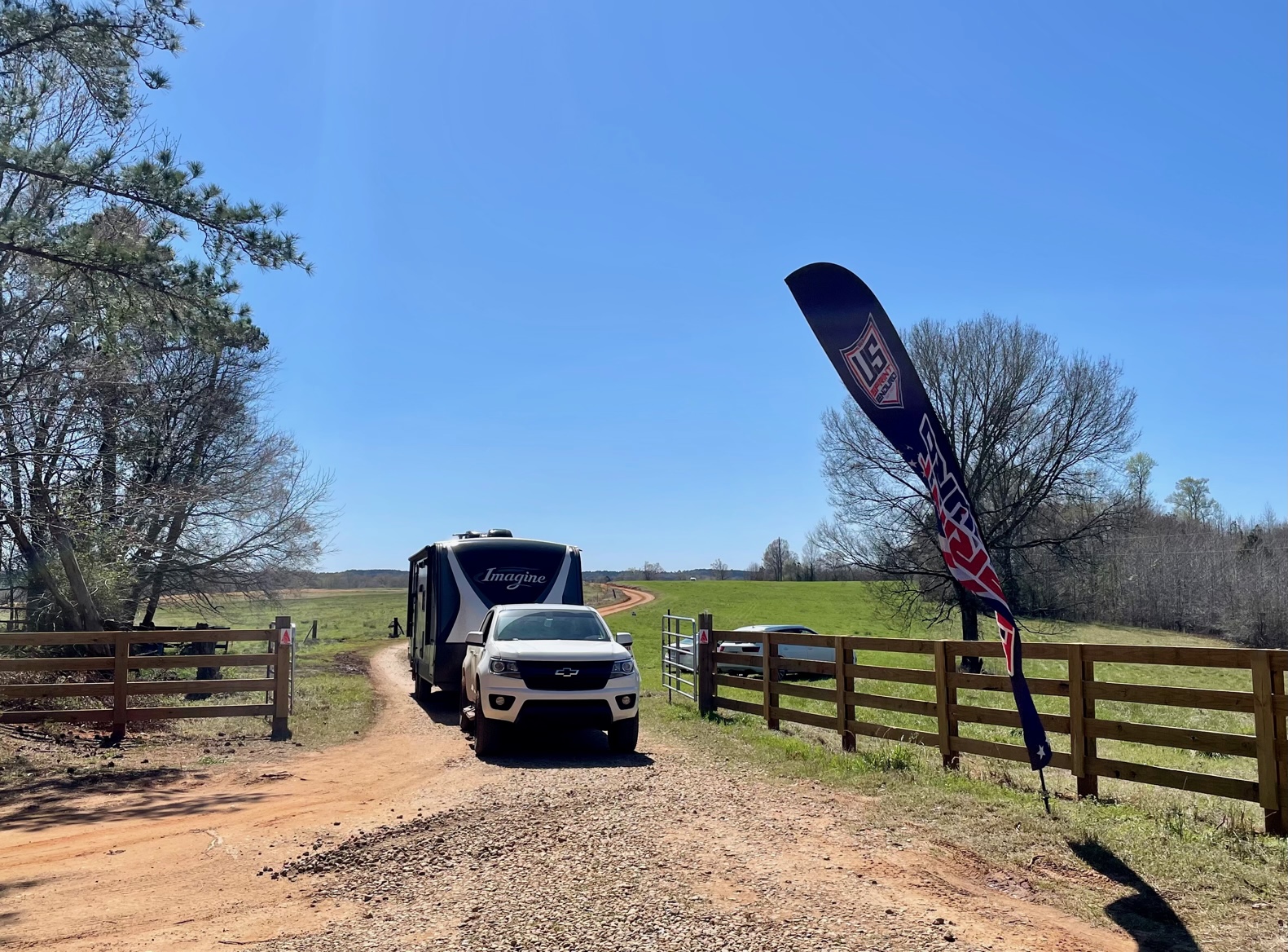 Our friends from Virginia came down to Greensboro, GA for a US Sprint Enduro dirt bike race. All five family members raced during the weekend, including the three little girls. As soon as we were invited, we canceled our reservation at the state park and started researching generators.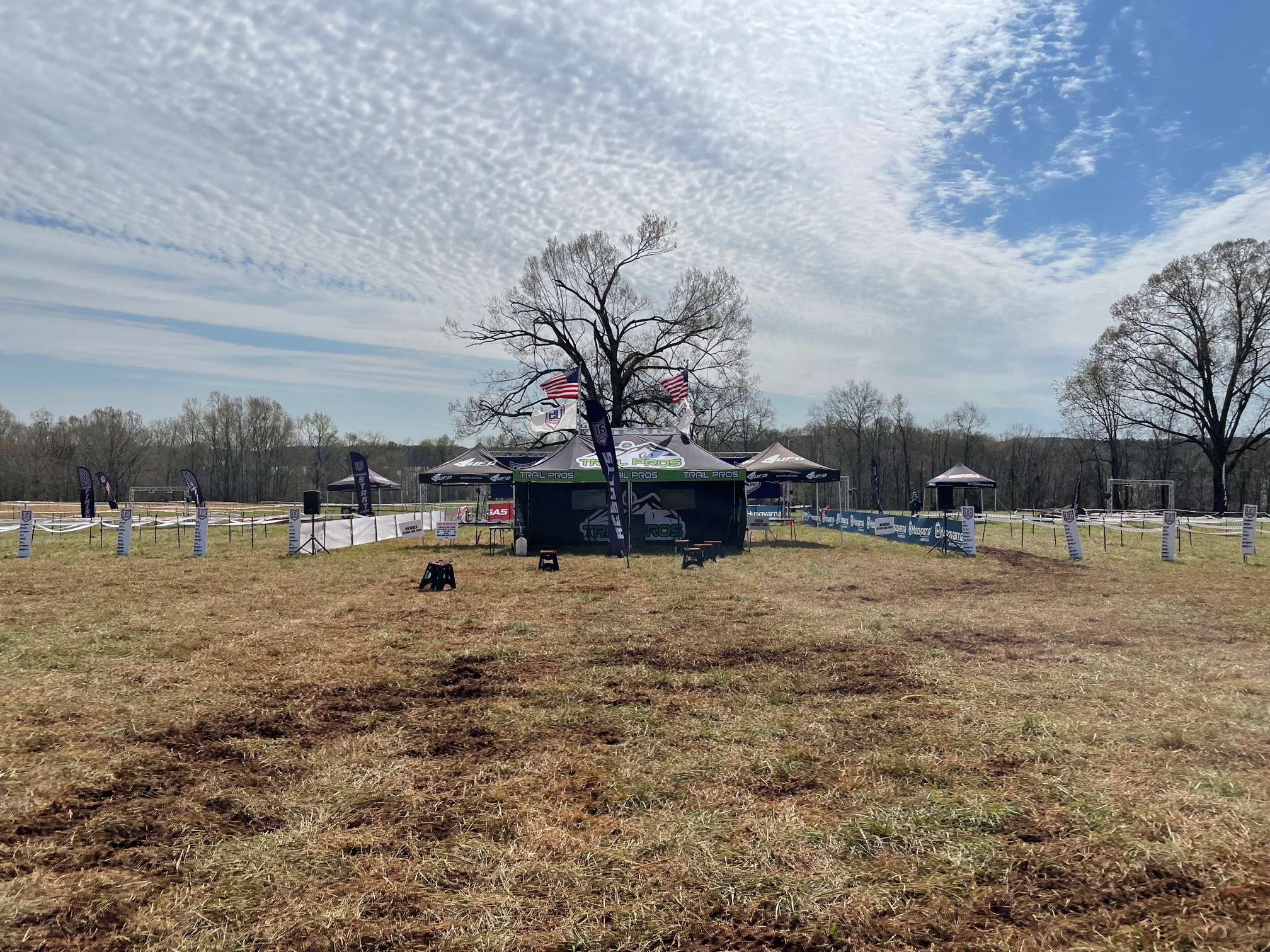 We've had our eye on the Harbor Freight 3500 predator for a couple years and regret not buying it earlier. The total price after the President's Day deal and taxes was high $700s. Two hundred dollars more than two years ago. At the track it seemed to be the most popular and it was the generator recommended by our friends, as well. It worked great all weekend for us and was quieter than we expected.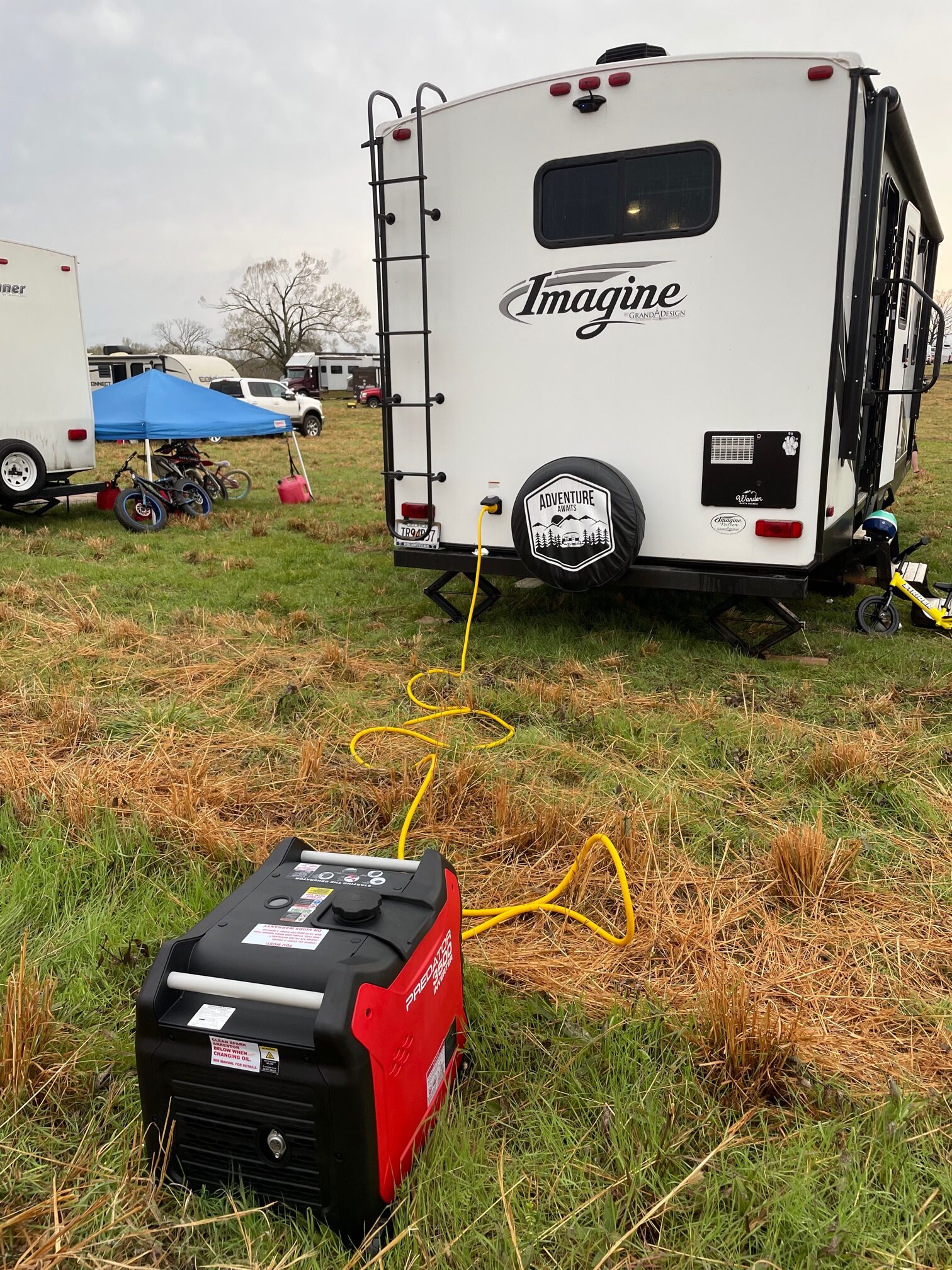 A couple of days before our trip we filled the fresh water tank for the first time to make sure there were not any leaks. Grand Design says not to travel with a full fresh water tank and a couple people messaged me saying not to, but there's also many people that do—including our friends. There is a risk that the camper would not hold the tank. I think this may be similar to traveling with your propane on. Some people say not to and others do it all the time. Our camper traveled great with the fresh tank full.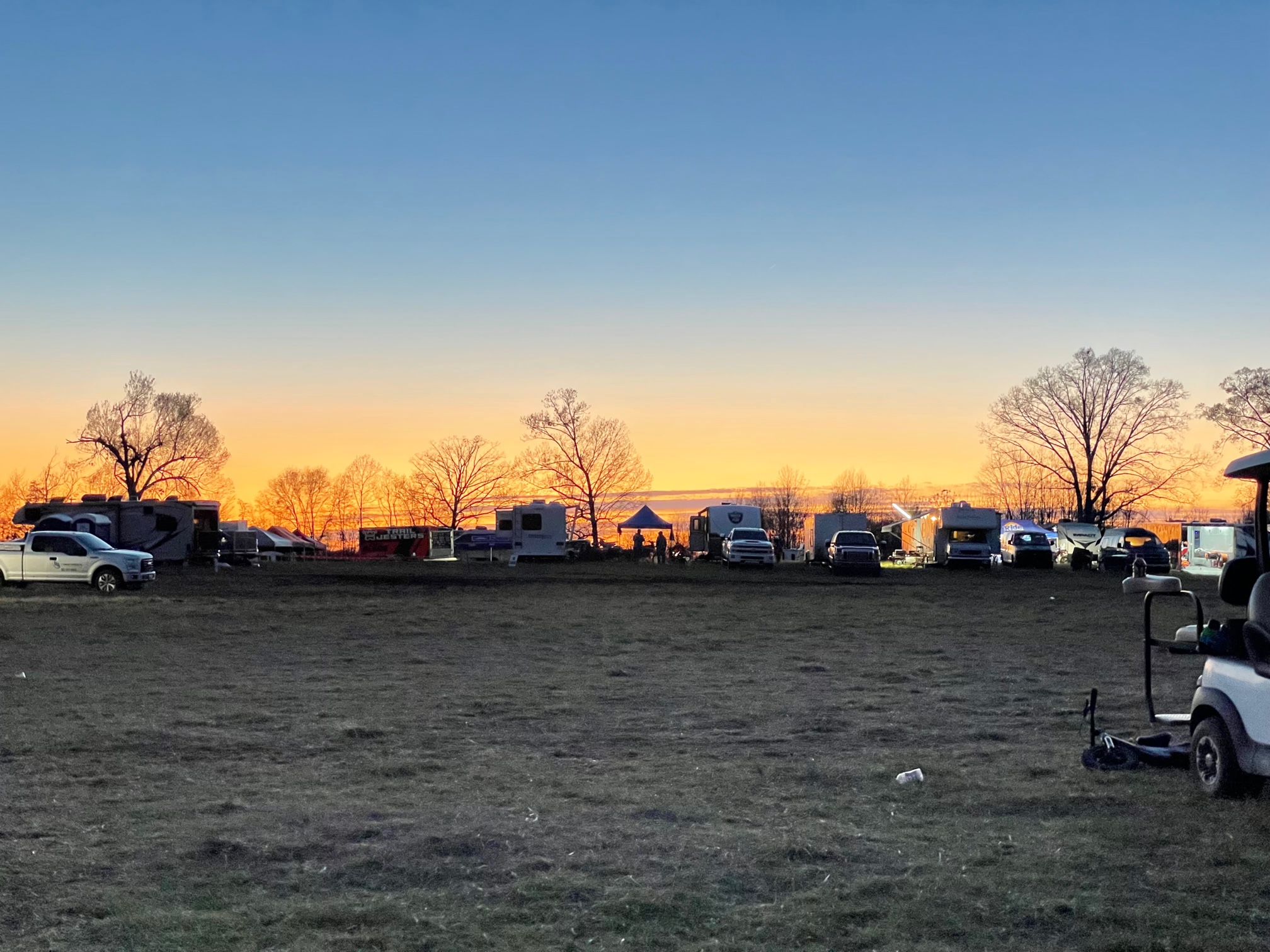 The camping took place on Boswell Farm in Greensboro, GA and the place was gorgeous! It poured on Friday so we took boards to put under the tires to make sure we did not sink into the ground. We only ended up needing one on the slide side to level the camper. While the field had many holes and divots, we were able to find a flat spot to camp. It backed right up to the grass field and race track.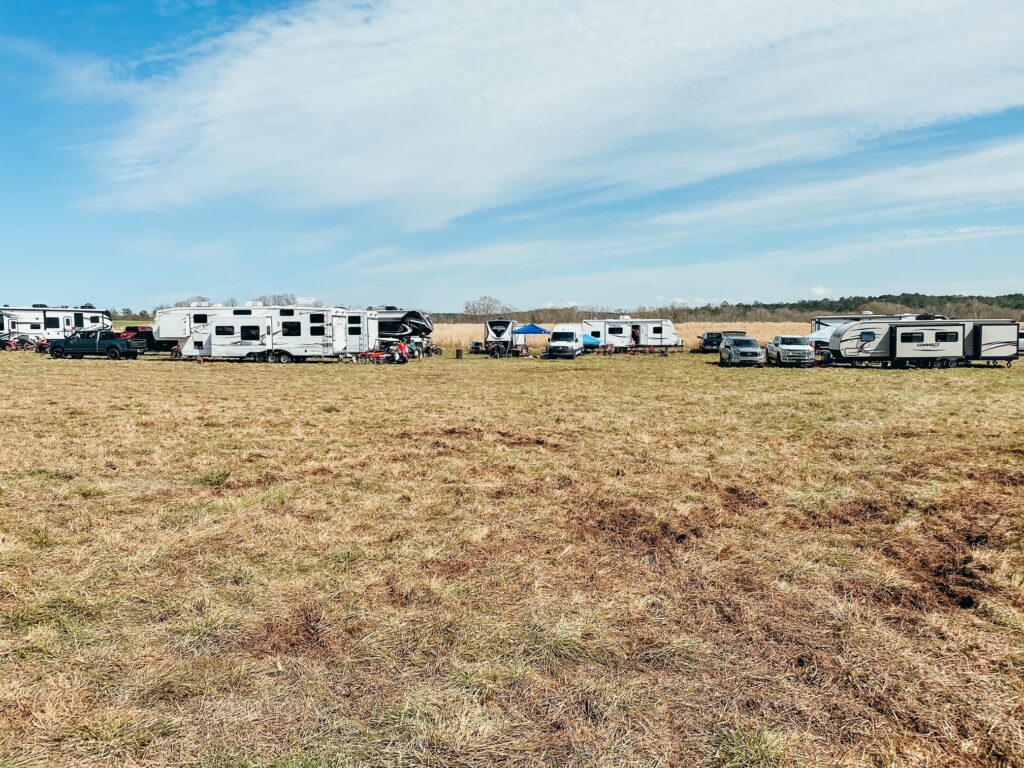 We ran the generator all weekend, mostly to put in some hours on it because it's brand new. We used about nine gallons of gas in total, running the A/C during the day on Saturday for the dogs. March in Georgia can still be a bit chilly, especially the nights. We had to turn the heat on Sunday morning when we all woke up shivering. Heather and I each showered once a day and had plenty of water in the fresh water tanks for that. We did not use any water to clean dirty dishes, saving that process for when we got home.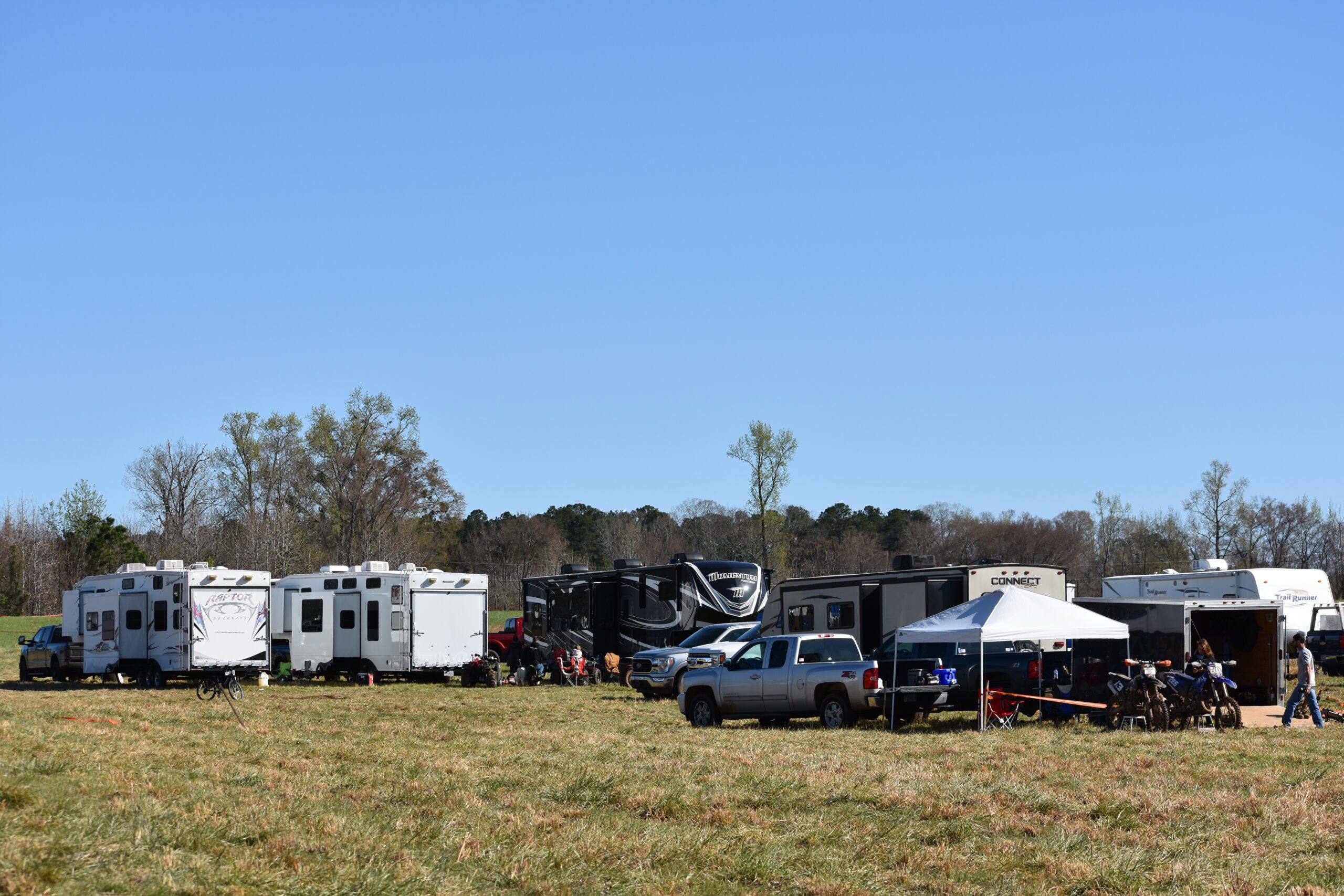 After driving through Atlanta on Friday afternoon we made it to the track before the sun went down. Three other families were already there and set up. Each family had large toy-haulers filled with dirt bikes and other toys. They set up a barrel drum for fires and it put off more heat than the new fancy solo stoves. The kids ran wild all over the field the entire weekend. Dirt bikes were running sun up to sun down and our daughter had the best time.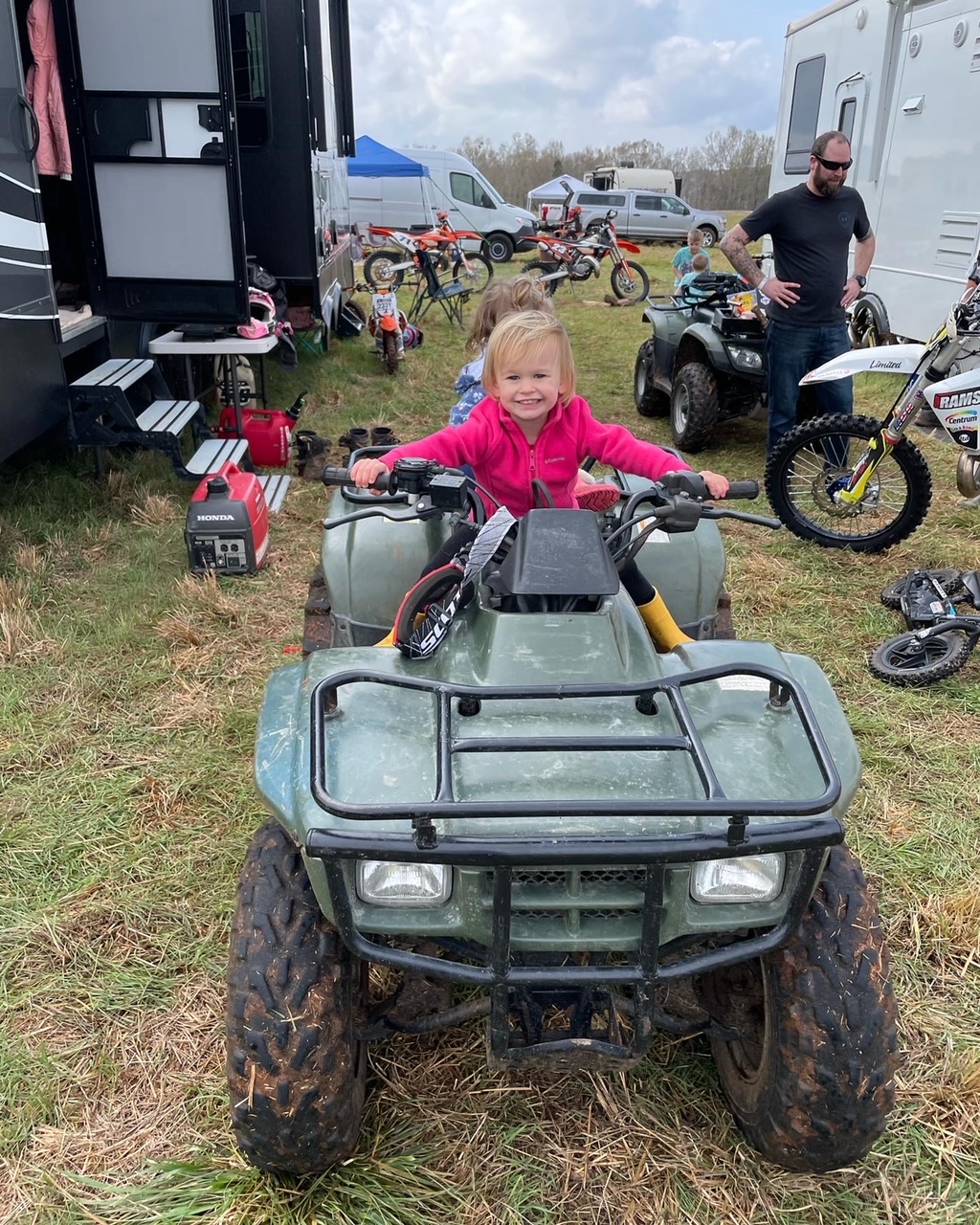 The US Sprint Enduro had two tracks, one grass track and one track that ran through the woods. The micro riders (ages 4-6) only raced on the grass track and went for best time out of the day. The best time from the weekend wins the entire race. The kids did the grass track three times Saturday morning and three times Sunday morning. Adults switched back and forth between the grass track and woods, riding each one three times a day. It was a lot of fun to watch the races, but it was also super exhausting. Can't imagine being the parent (pit crew) between the kids' races and then turning around and racing all afternoon.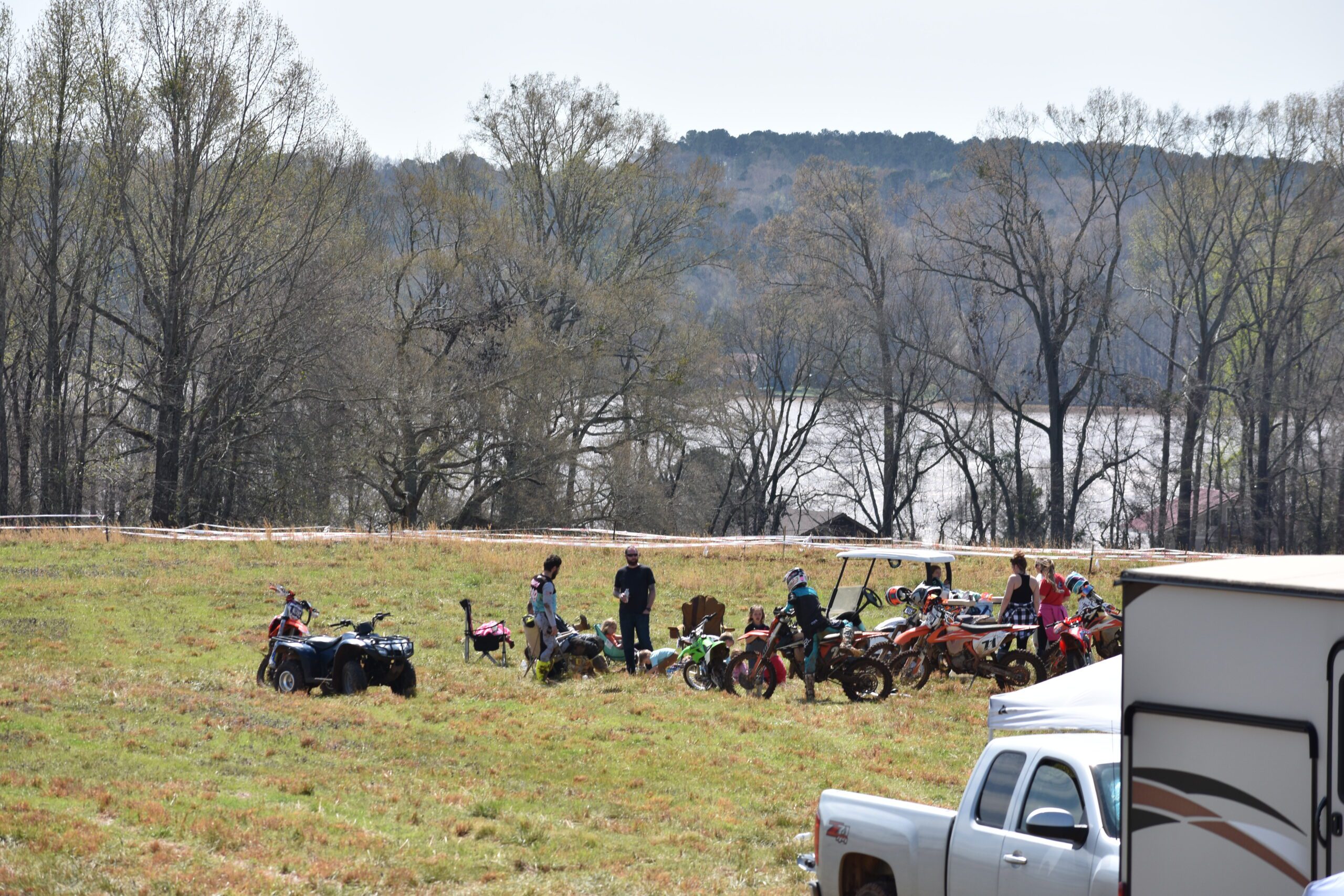 There wasn't anywhere to dump our tanks at the race track of course. The state park down the road from us wanted 35$ to dump, which is equivalent to a reservation for one night. Cabela's used to have a dump station, but they removed it about a year ago. Thankfully there is a rest area on highway 20 with a free dump station in the truck parking. We pulled right in on a Friday afternoon, went through our process, and another camper showed up just as we were finishing.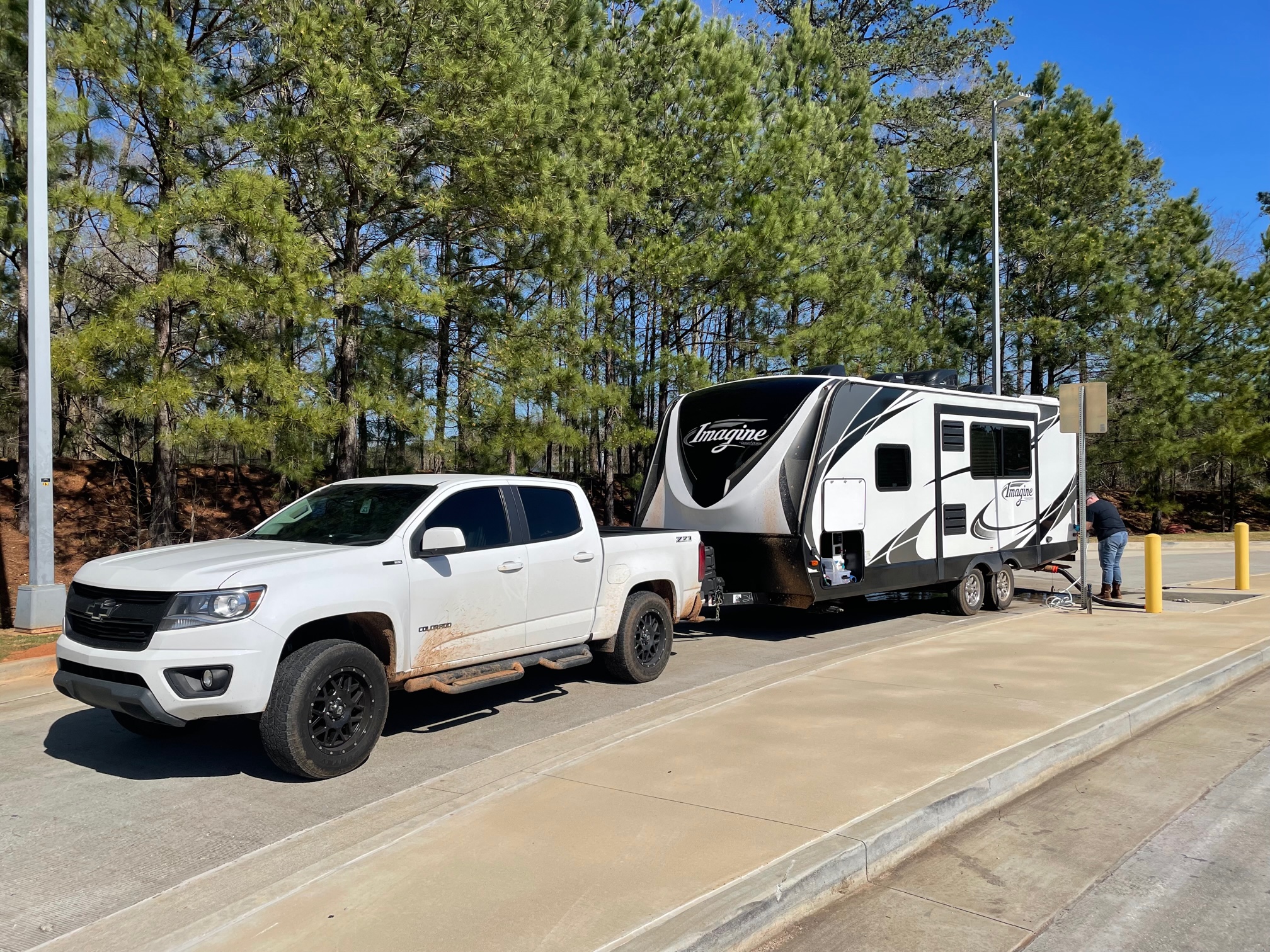 We really like everything about boondocking and are looking forward to doing it again. Not going to be searching for Walmart parking lots any time soon, but if we need to stop we know we can make do.
Things we learned boondocking:
1. Boondocking comes with a little unknown. If you haven't picked up on it yet, we plan quite a bit when camping. A lot of research goes into our camping trips as we always want the best site available. It was a tiny bit stressful to us to have zero idea about where we would be backing our camper in for the weekend.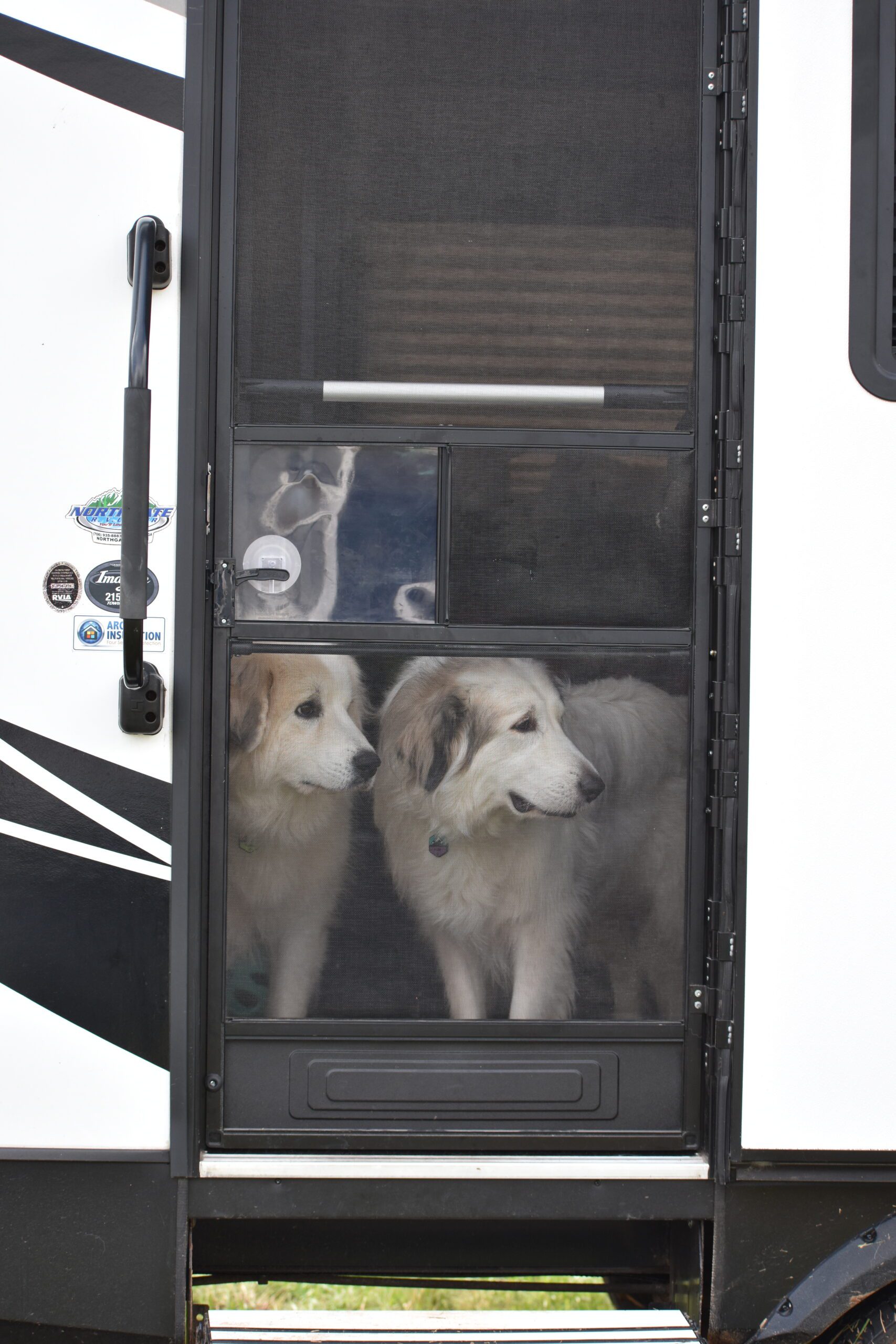 2. The Marcell temperature monitor came in handy at the race track to let us know when it was time to turn the A/C on. It sent us a text message when the camper went above 74 (the number we set the monitor to.) The dogs stayed in the camper most of the weekend, but were still happy to be with us. The monitor would also have been great in the instance that we ran out of gas and the generator turned off. We were close by the whole time, but not necessarily within ear shot. If you are shopping for a temperature monitoring system, you can find more information on Marcell here.