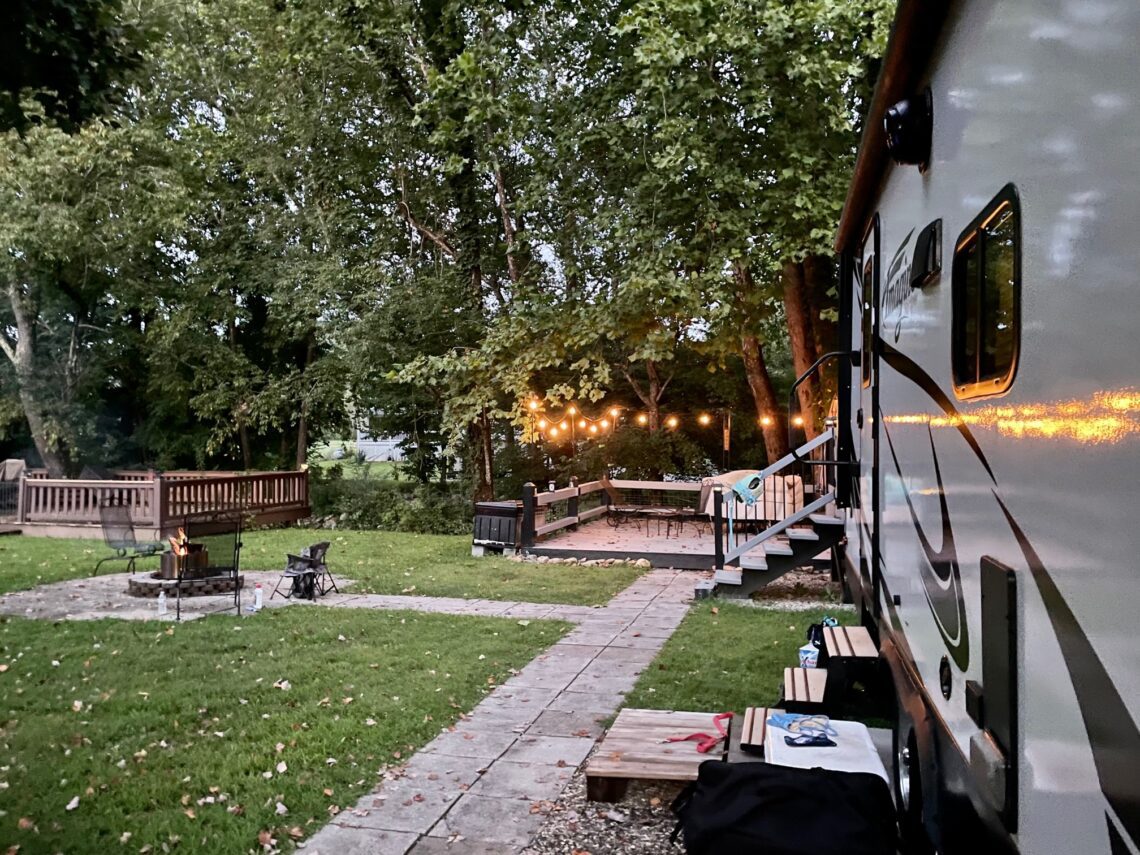 09.02.22-09.05.22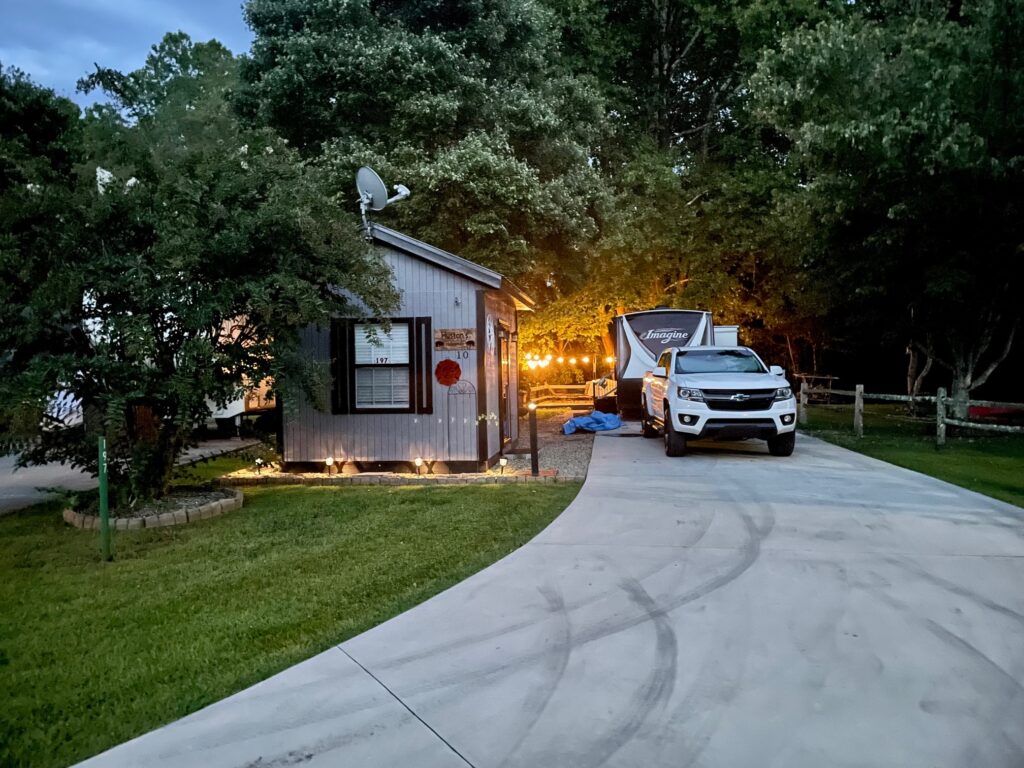 Campsite that backs up to a North Georgia river? Count me in!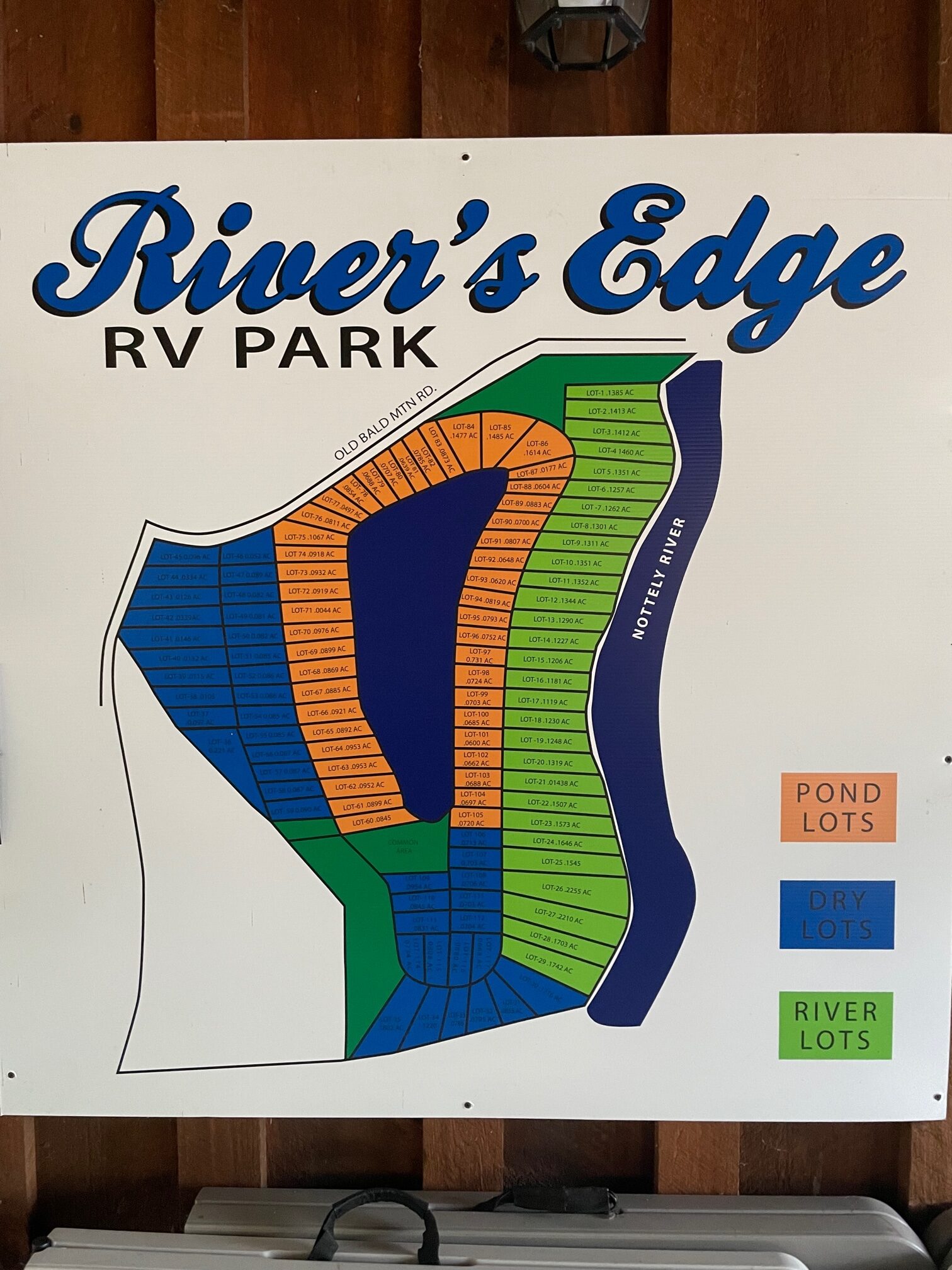 River's Edge RV Park is a private campground located in Blairsville, GA on the Nottely River. The first phase of the campground has 117 RV lots, a pond, river access, and a clubhouse. Our friends, James and Michelle, own a back-in site on the river and let us use it for Labor Day weekend.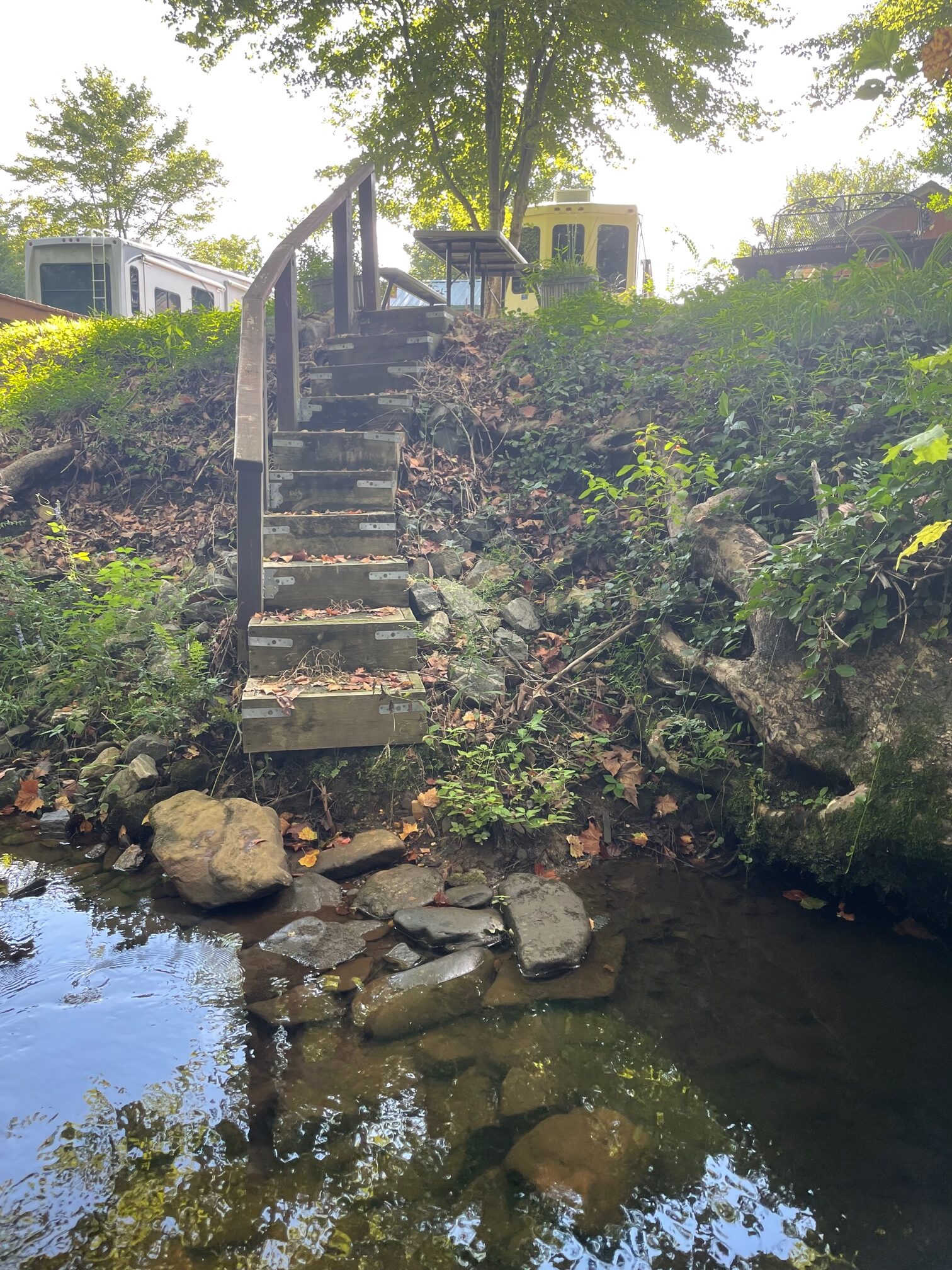 River's Edge RV Park does not have a website and you can only find information about phase II through Facebook. There are very few photos on the internet about this RV Park. James found out about River's Edge through a friend, it seems to be pretty exclusive. When a lot does become available for purchase it is posted to Zillow.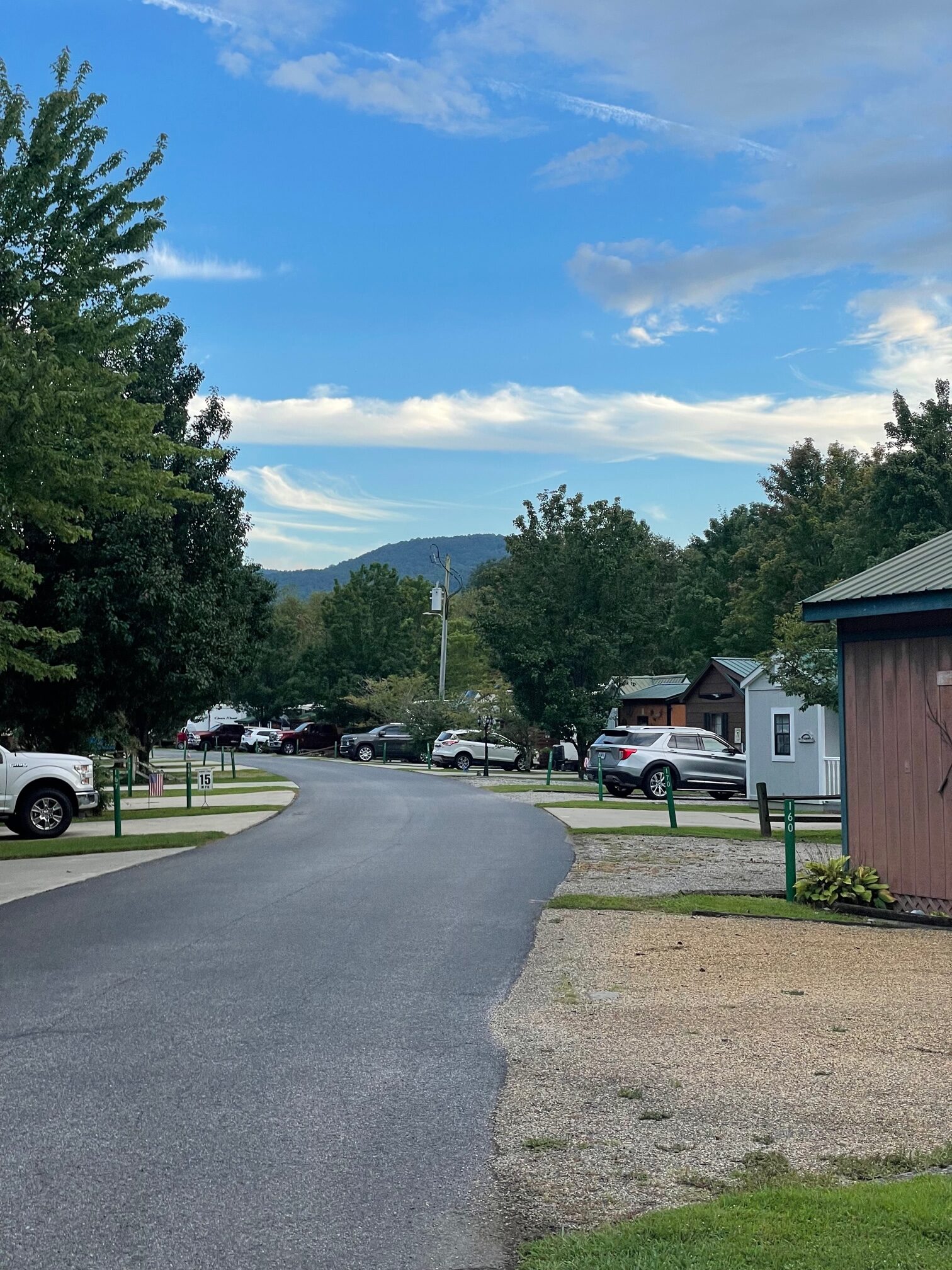 From the main road you would never know the campground is located in the valley. It has views of the mountains, but the most appealing attraction is the Nottely River. Some owners have built steps down to the river and decks that overlook it. Michelle and James's neighbor let us use their steps to play in the river on Saturday. We did not bring any floats with us, but it would be great for tubing.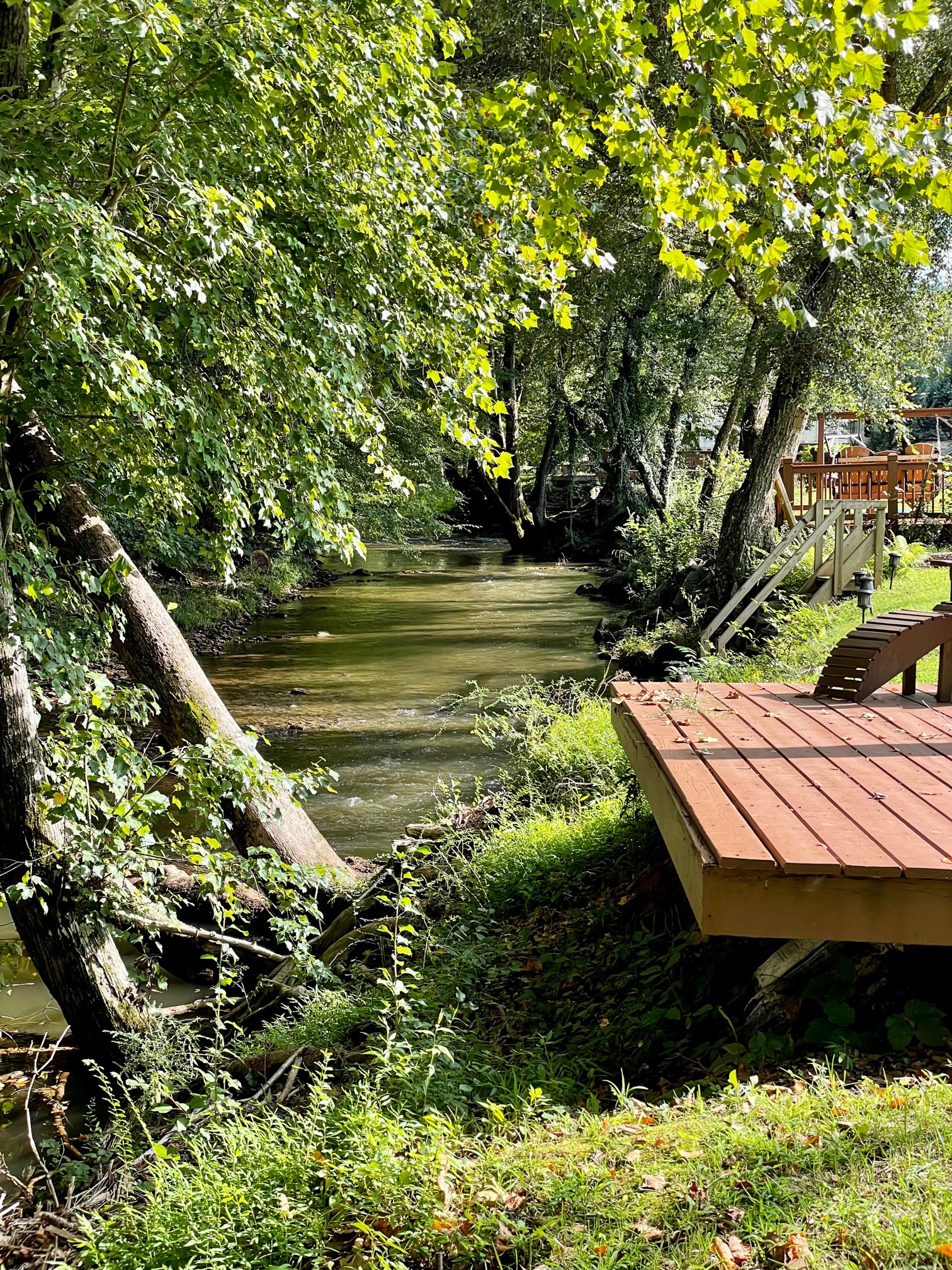 The lot we stayed on was paved, full hook-up, and looked over the Nottely River with a beautiful deck. Michelle and James purchased this lot in 2021 to use as a home base because they travel full-time. The lot has a large shed that they use for storage, extra sleeping arrangements, and a work room. It even has air conditioning.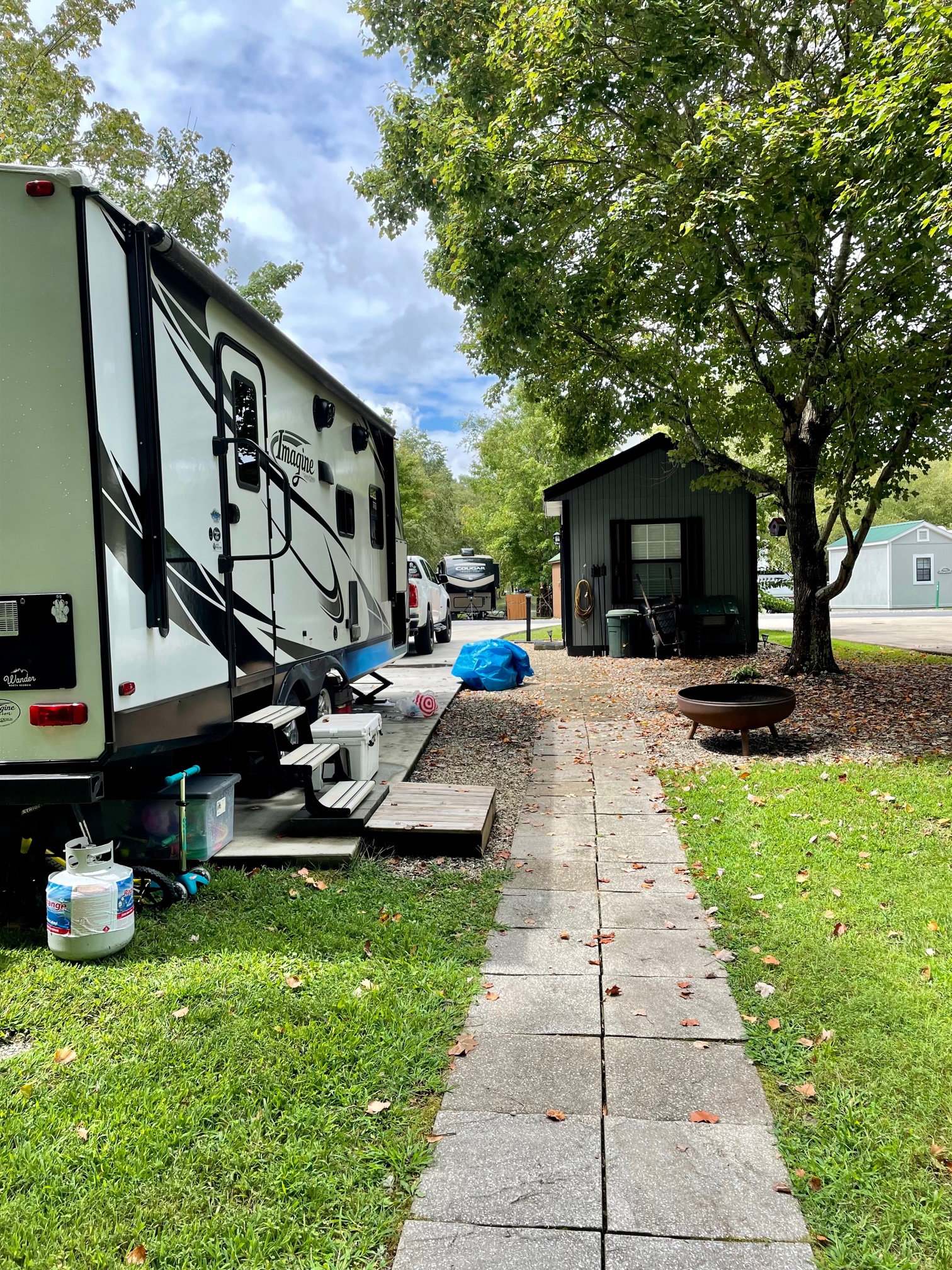 The outdoor living space is located on the back of the site. Michelle and James built a fire pit to put their solo stove on. They have a toy hauler so they built a tall deck that the porch of their camper connects to. Our daughter loved this deck and thought that it was her stage for the weekend.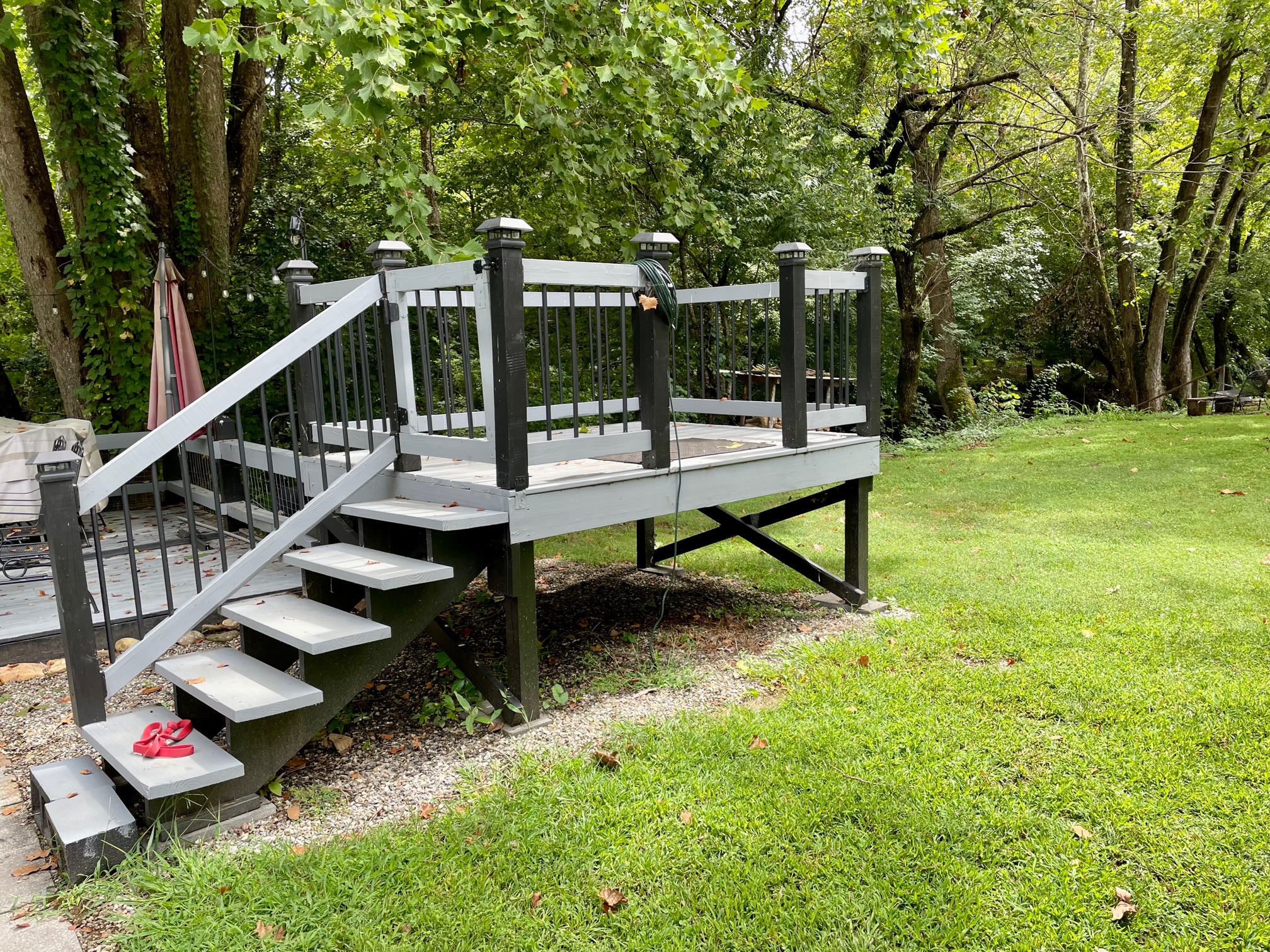 Most campsites on the river have decks that look out onto the water. Because of the way the lots are set up there is not much privacy in these sites. Michelle and James really like their neighbors, so there is no issue with it. While we were there, the neighbors directly to each side of us were gone for the weekend. Majority of the park was filled with campers who leave their rig there permanently, set-up and ready for a vacation. About 20% live at River's Edge RV Park.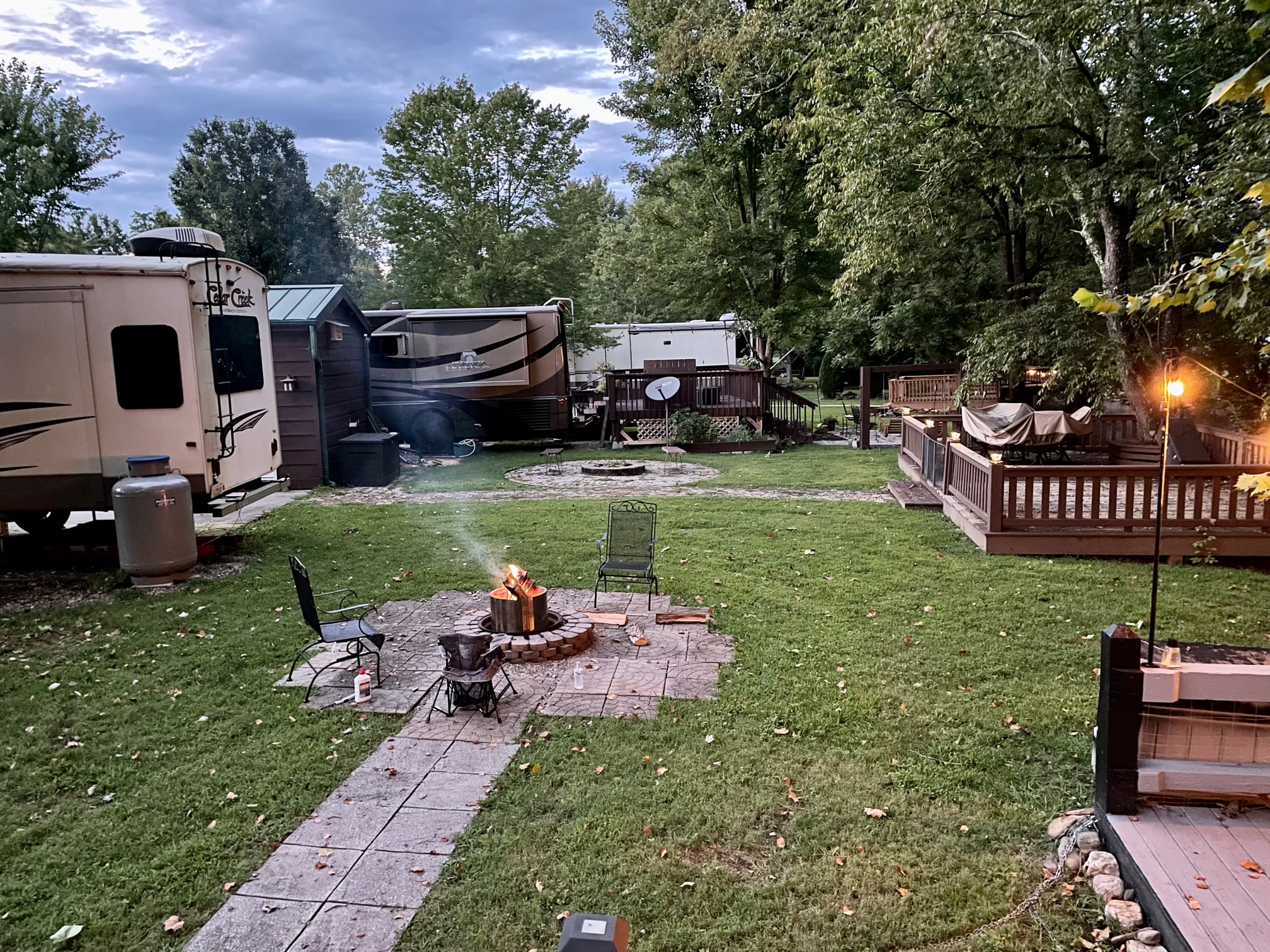 One of the popular RVs in the campground was the "cottage" camper. Multiple brands make this type of travel trailer. It's a trailer the size of a fifth wheel, but it's apparent this is what you would buy if you are going to remain stationary. This is not the type of camper you take to different state parks each weekend.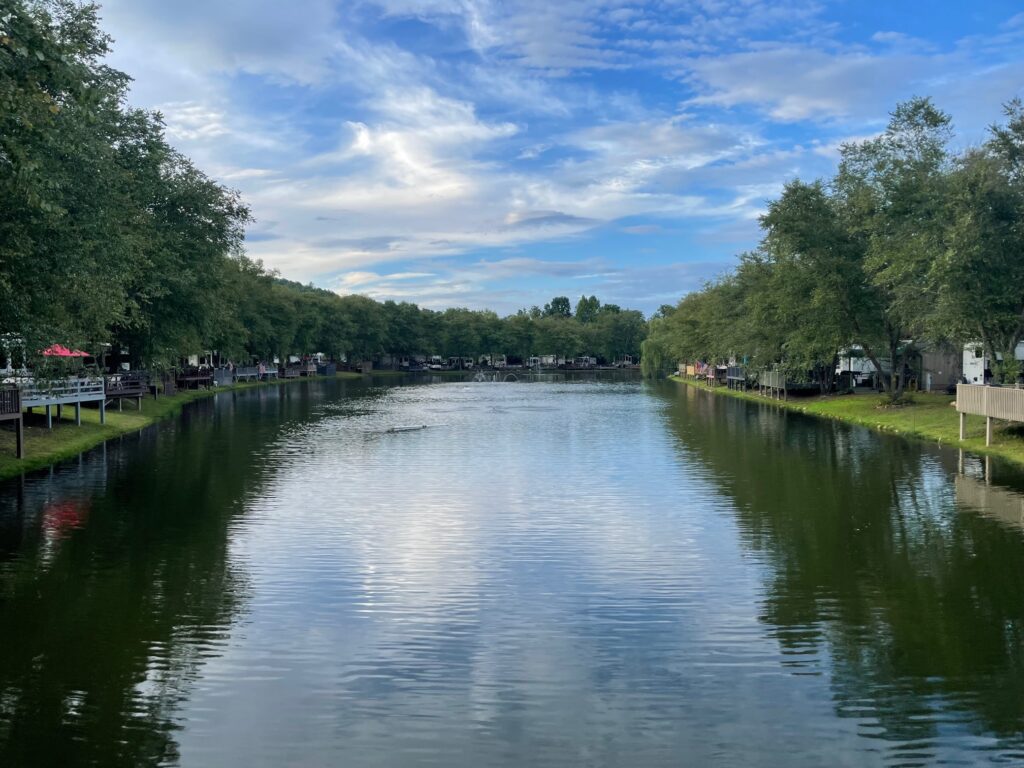 Although River's Edge RV Park did not have a playground or swimming pool, it was perfect for kids to ride bikes and scooters. Our daughter had a blast riding her scooter around and around the half-mile loop all weekend.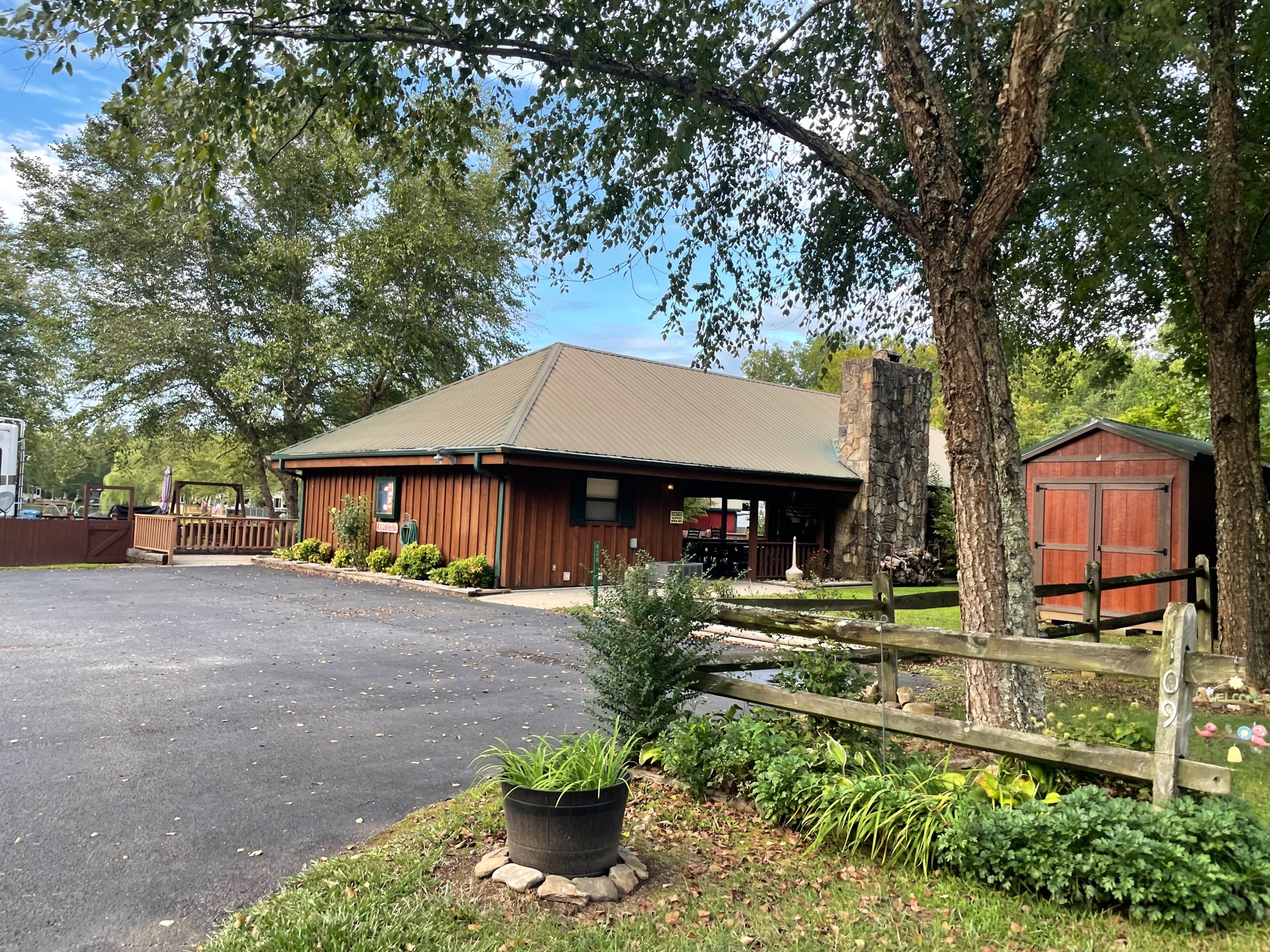 When we visited over Labor Day weekend there were a couple of lots for sale or rent. Lot 52 was for rent for $650 a month including electricity. Lots 22, 28, 29, and 83 were also posted in the club house as for rent. Lot 6 had a posting for sale including its Cedar Creek Cottage for $187,000. The clubhouse had a couple of rules posted on the bulletin board. These rules include all of the normal campground rules except the following. Only travel trailers, fifth wheels, and motorhomes are allowed—no pop up trailers or tents. Only two pets per lot. The HOA fee is $550 per year.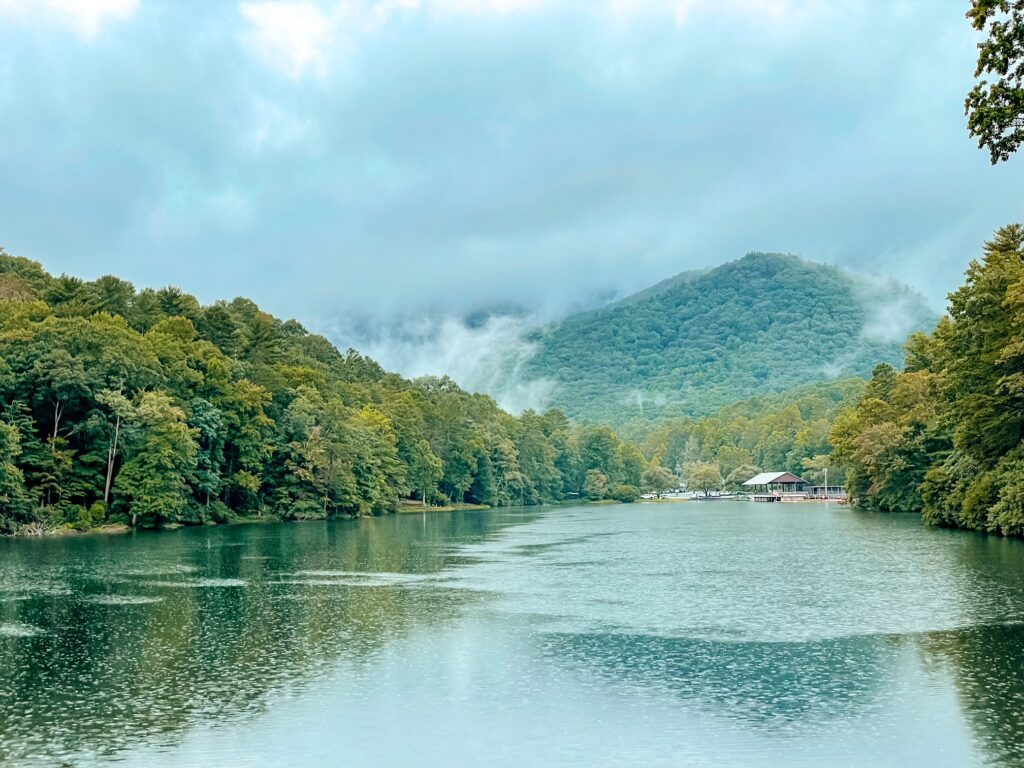 River's Edge RV Park is located just three miles away from Vogel State Park, the best state park in the state. We drove over to Vogel State Park on Sunday to enjoy the Trahlyta trail around the lake and to the waterfall, not letting the rain ruin our fun. Our two-year-old daughter made it one mile before needing to be picked up. The total mileage of that trail is just about 1.5 miles. We also drove through the state park to see their recent renovations. Since our stay there in 2017 and 2018, they have put in sewer hookups on many of the campsites. A new bathroom was put in the place of the campsite we were in a couple years ago. All of the campsites have new numbers.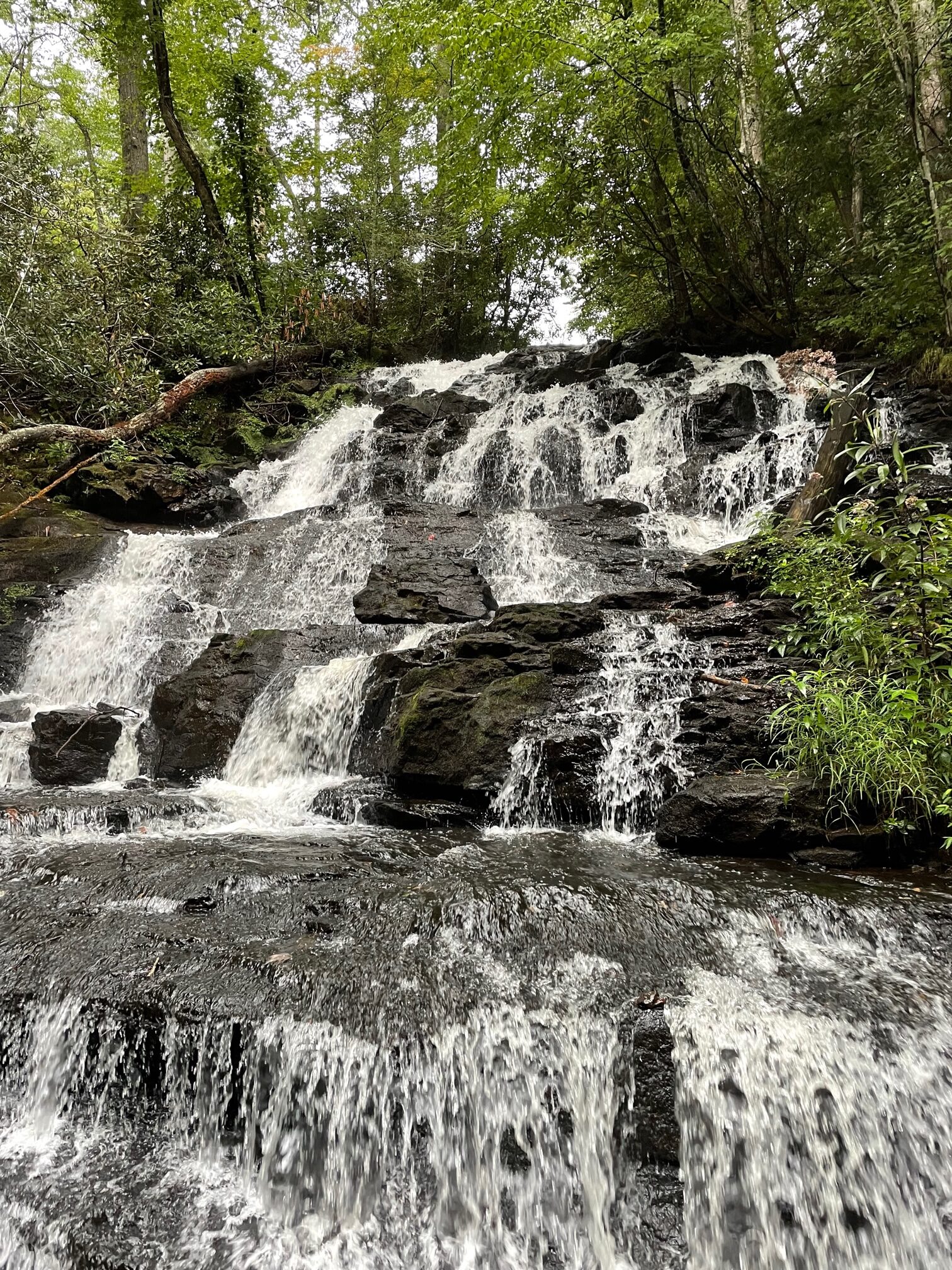 Sunrise Grocery is located just one mile north of River's Edge RV Park. This store is famous in town for the different array of goods for sale. We specifically went for the need of firewood, but of course walked out with more. It is a small farmers market with fruits, veggies, and boiled peanuts. There is a huge candy selection, t-shirt collection, and jarred goods.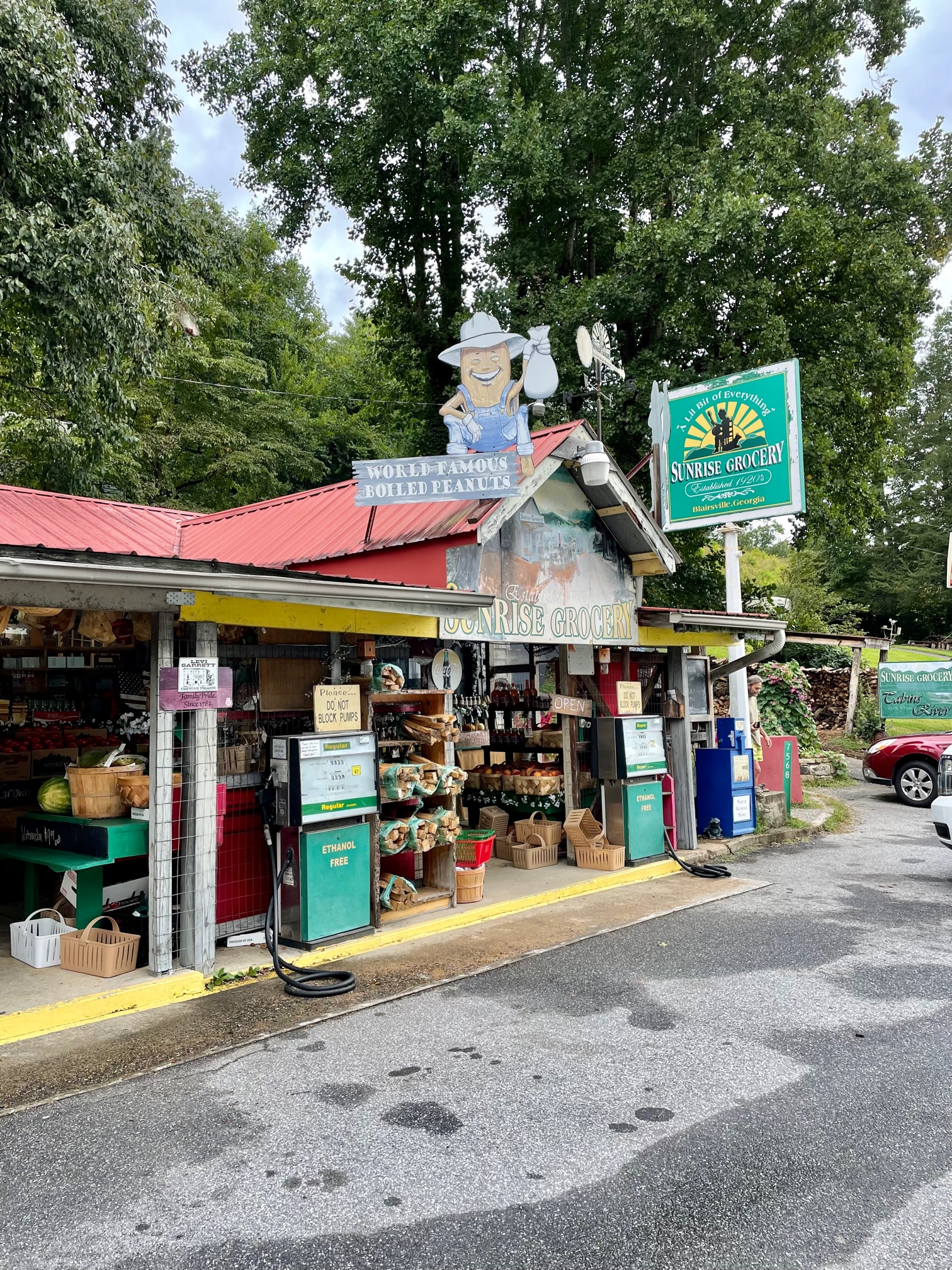 Downtown Blairsville is about eight miles from River's Edge RV Park. On Saturday morning we drove into town to try Hole in the Wall, a breakfast restaurant, but the wait was too long so we walked across the square to Cabin Coffee Company. They also had a line to order food, but it moved fast. Their cinnamon rolls and coffee were delicious.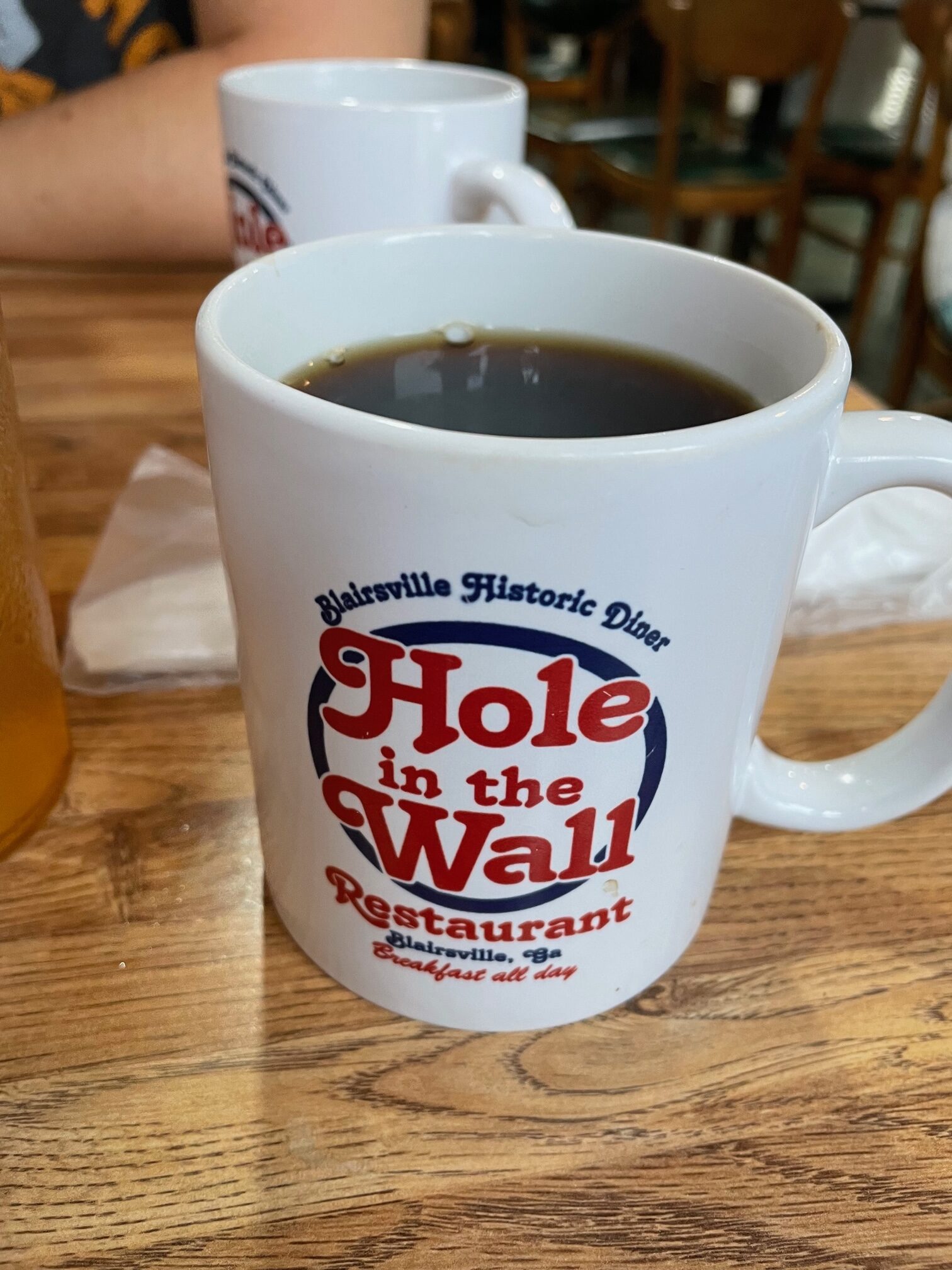 After breakfast we walked over to the Heritage Festival where they had tents for vendors, food trucks, and live music. We bought a candle from a local artist and a balloon animal for our daughter.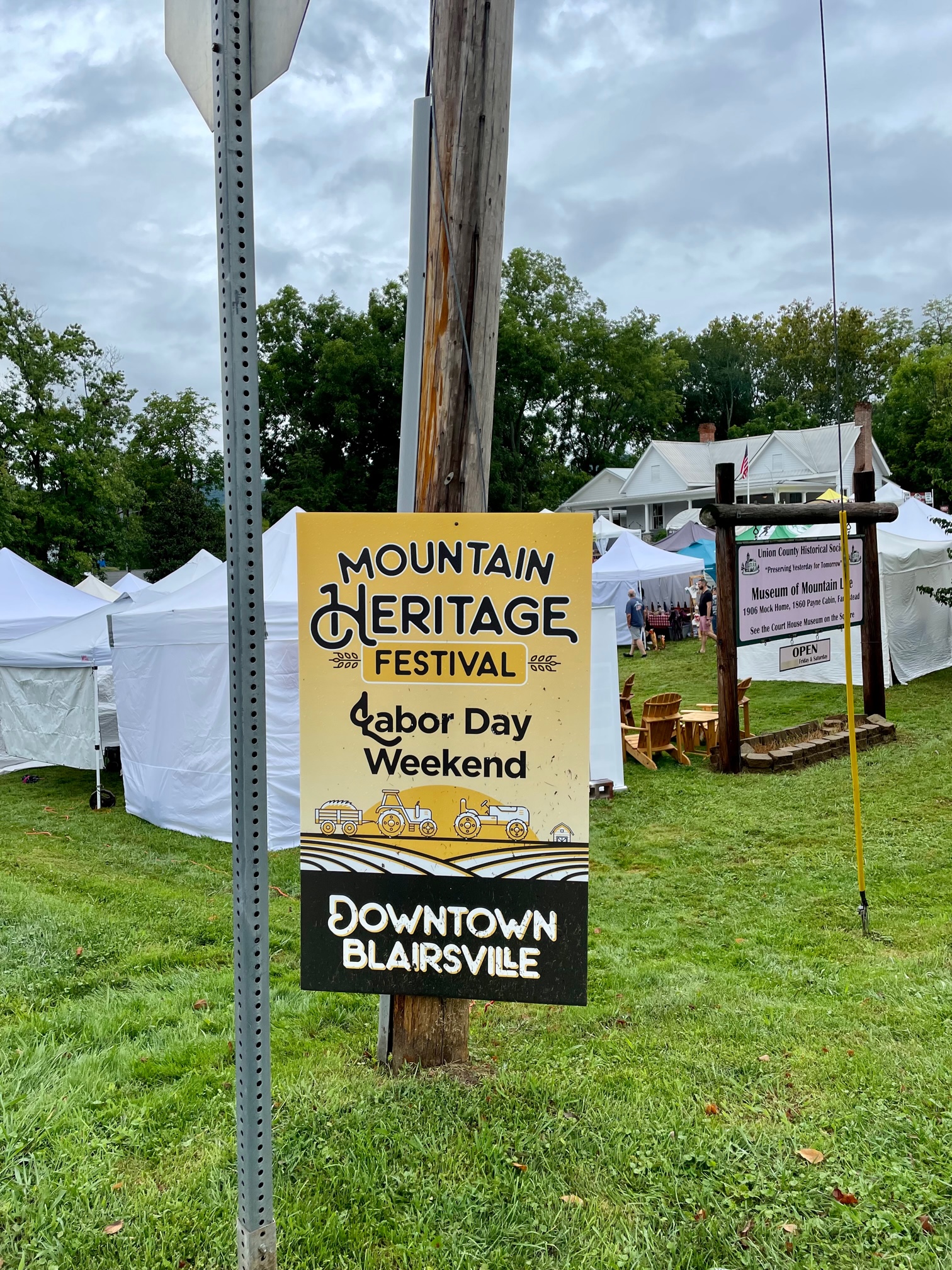 Grandaddy Mimm's distillery is located just outside the square. The tastings are $5 to try eight different liquors. We loved the Apple Brown Betty Cobbler and bought extra as a gift.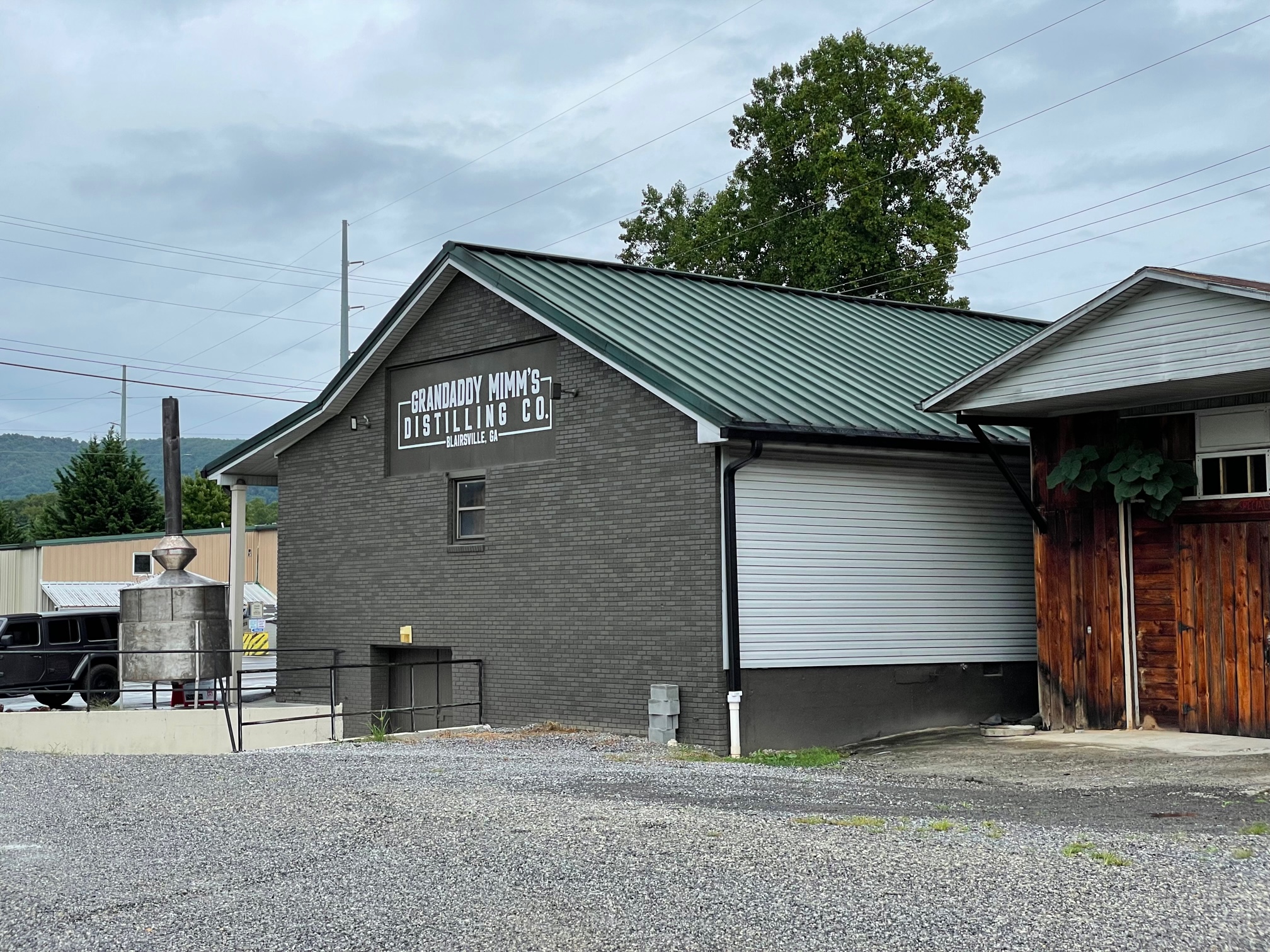 After a late nap time on Saturday we drove up the mountain to visit Brasstown Bald, the highest peak in Georgia. We arrived at 4:30 p.m. without realizing that their shuttle, visitors center, and museum close at 5 p.m. We could have still visited the overlook after closing, however with a two-year-old our hiking level is not what it used to be. The employees were super nice and we decided to return the next day—weather permitting.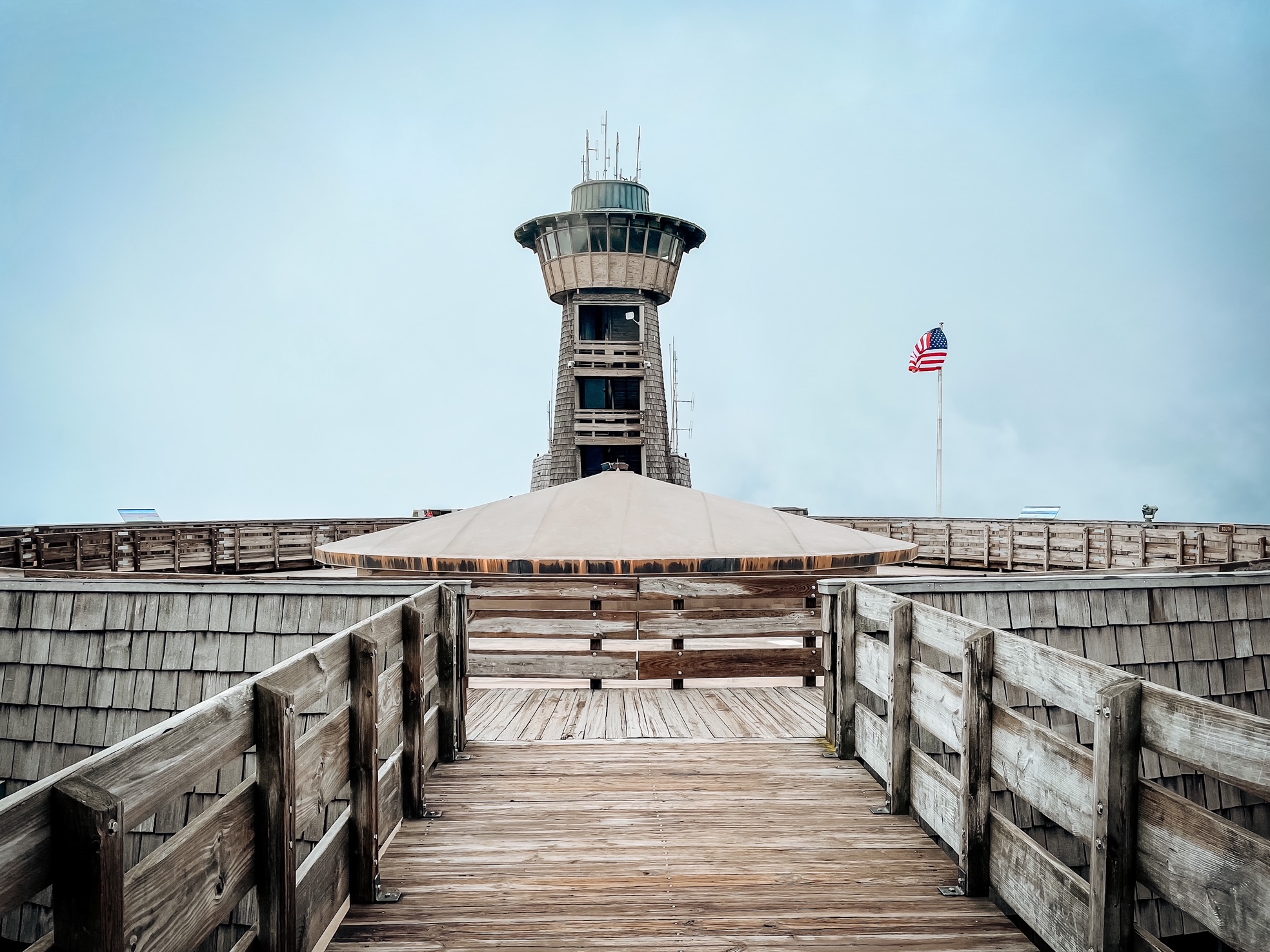 It rained all day Sunday. I found a live camera online that shows two viewpoints of Brasstown Bald and checked the camera a couple times throughout the day. Mid afternoon it cleared up enough for us to attempt visiting the overlook. To enter the park it costs $7 per adult, kids are free. This price includes the shuttle or there is an option to hike. We arrived just in time to get about 5 minutes of views of the storm clouds rolling in over the mountains. Minutes later, clouds surrounded us and we had zero views. We still had a great time and will go back when the skies are clear. Highly recommend checking out the live cam before driving up the mountain.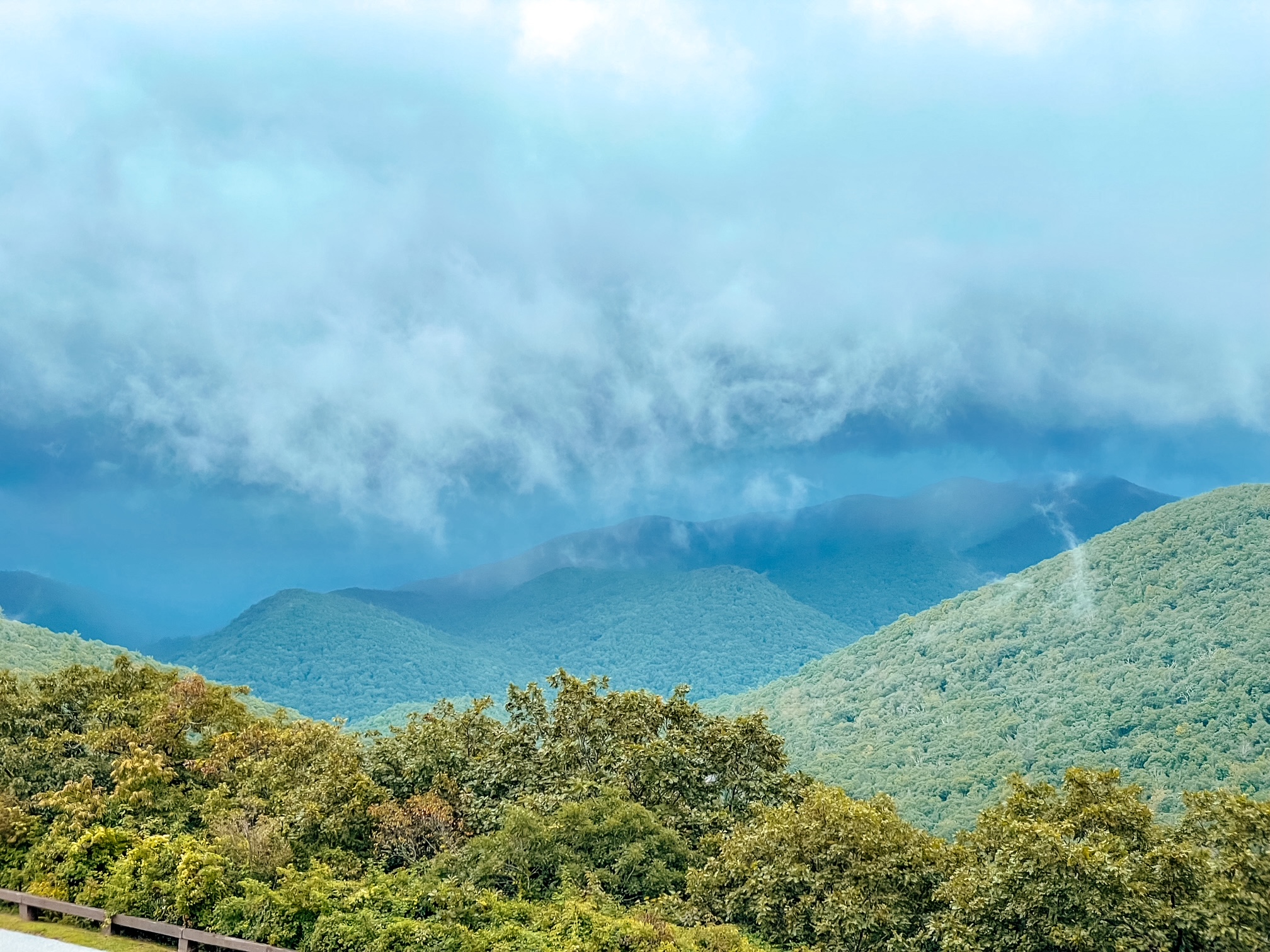 It rained quite a bit all weekend, but we did not let that ruin our fun. It was amazing to watch the Nottely River grow as the days went on. Thankfully River's Edge RV park did not experience the flooding that other parts of North Georgia did.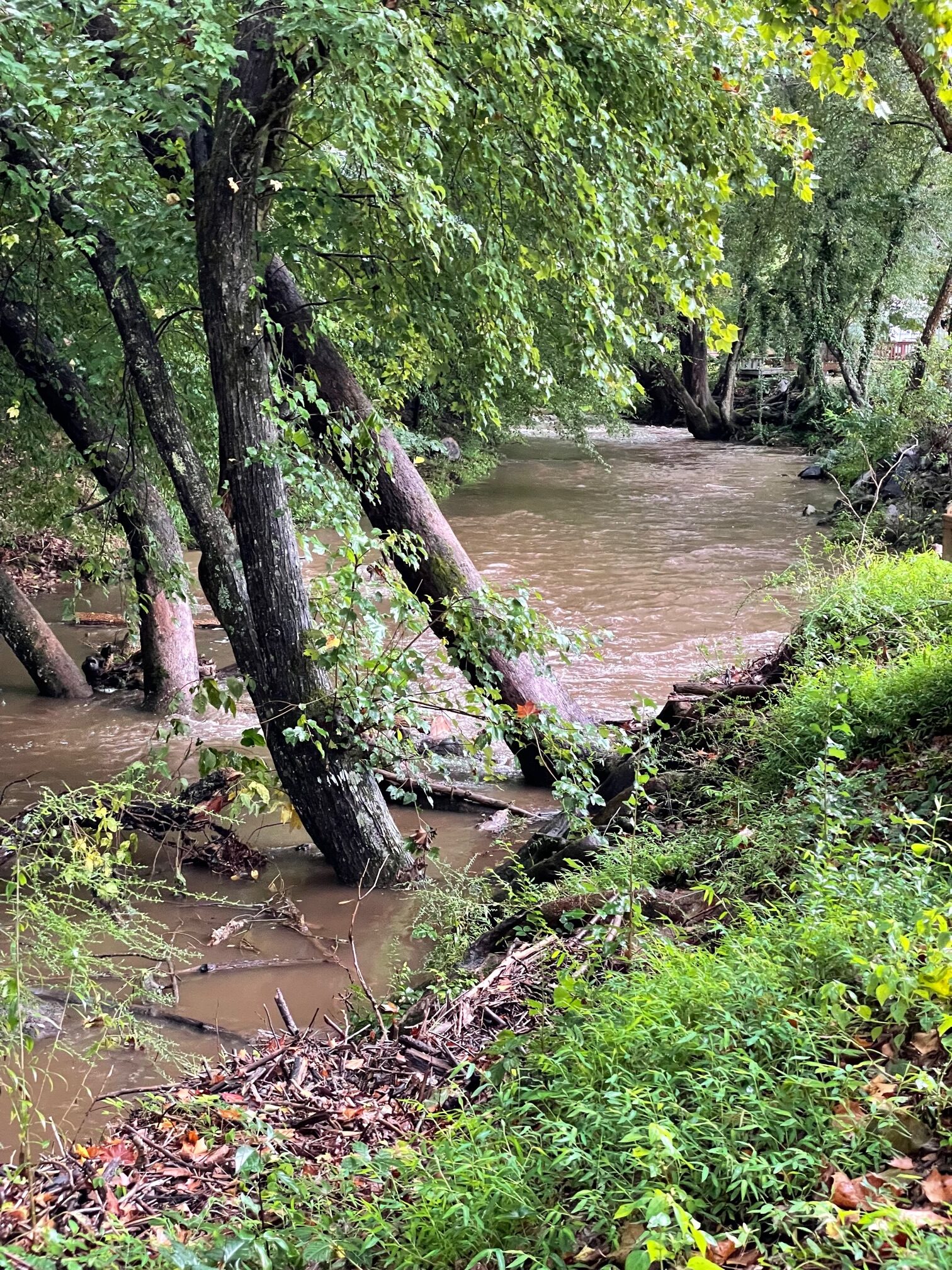 Things we learned at River's Edge RV Park:
1.When visiting tourist destinations we leave our dogs, Cedar and Summit, in the camper. They usually sleep the entire time we are gone with the lights off and radio on. To ensure their safety we purchased the Marcell Temperature Monitoring System six years ago. It sends us text alerts if the camper loses power. More details on why the temperature monitor is necessary here. Be sure to use our affiliate code to save $20 on your purchase.  Imagine20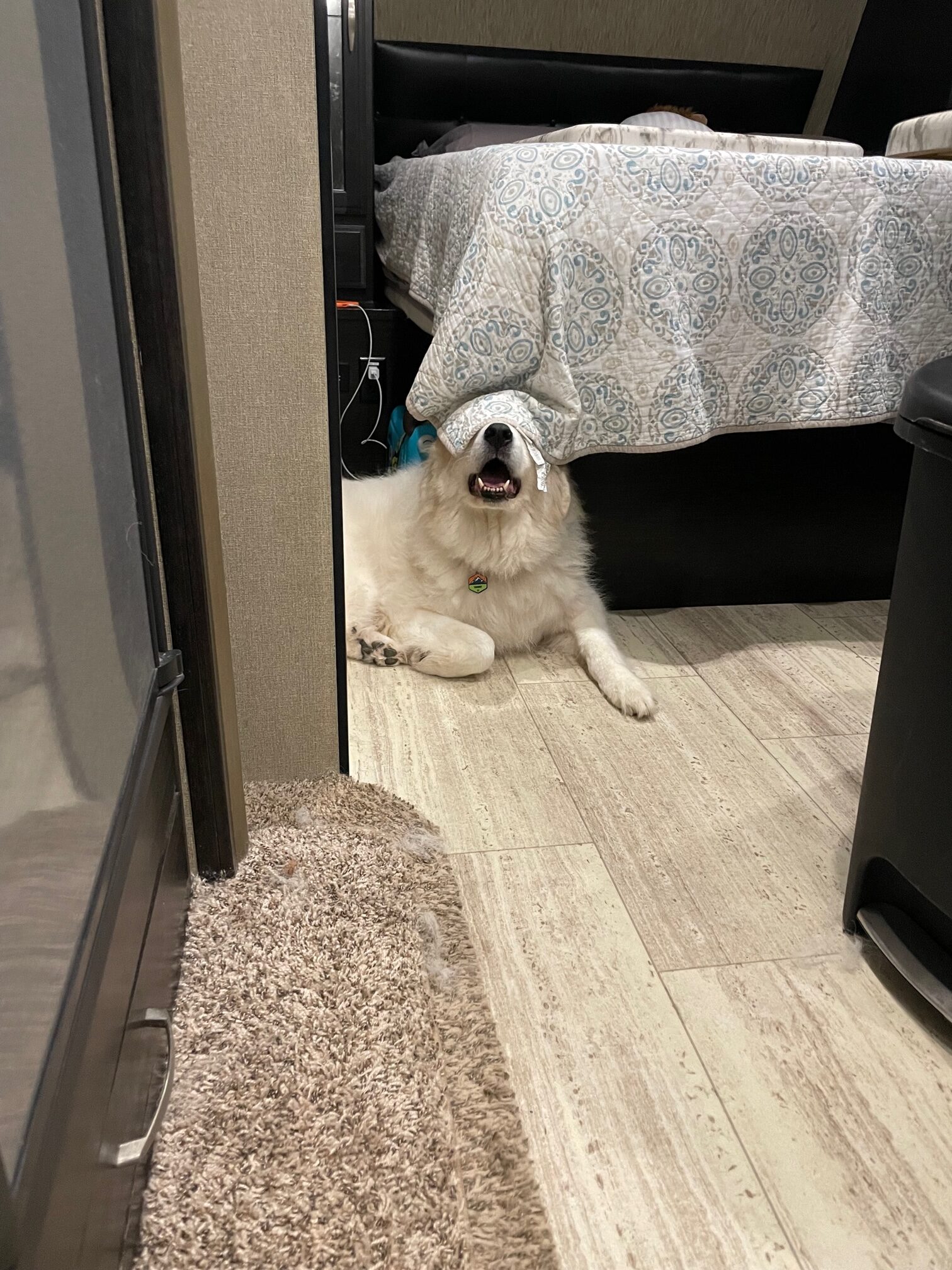 2. You just can't avoid the traffic through Blue Ridge and Ellijay. I'm not sure how locals deal with it, but on Highway 5 the traffic lights are so poorly timed that everything backs up. It took us an hour longer to get home on Monday because of the traffic and rain.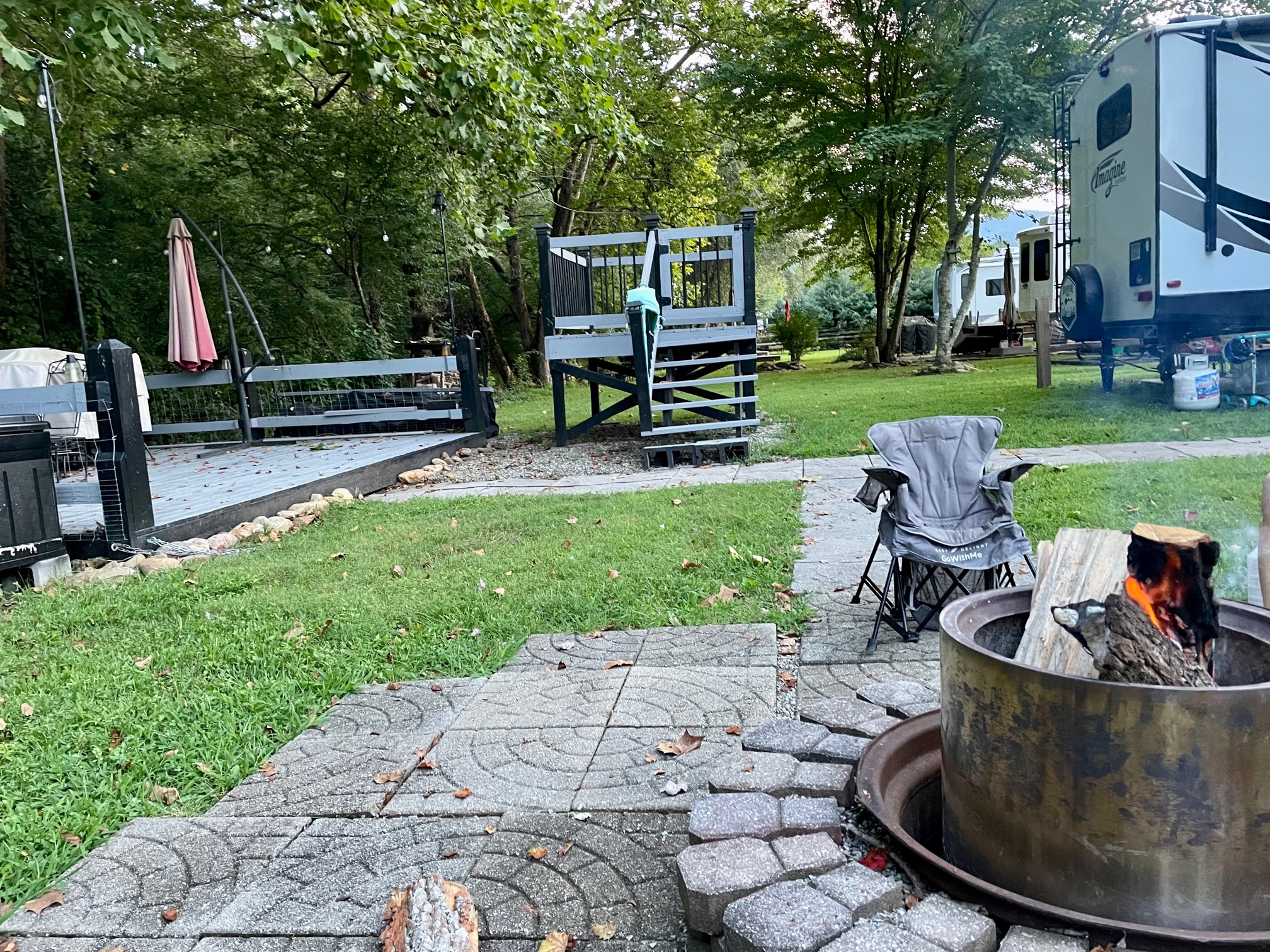 We are so appreciative of Michelle and James letting us use their lot at River's Edge RV Park over the holiday weekend. It's a great location and campsite to enjoy our time together as a family. We can't wait to visit again.