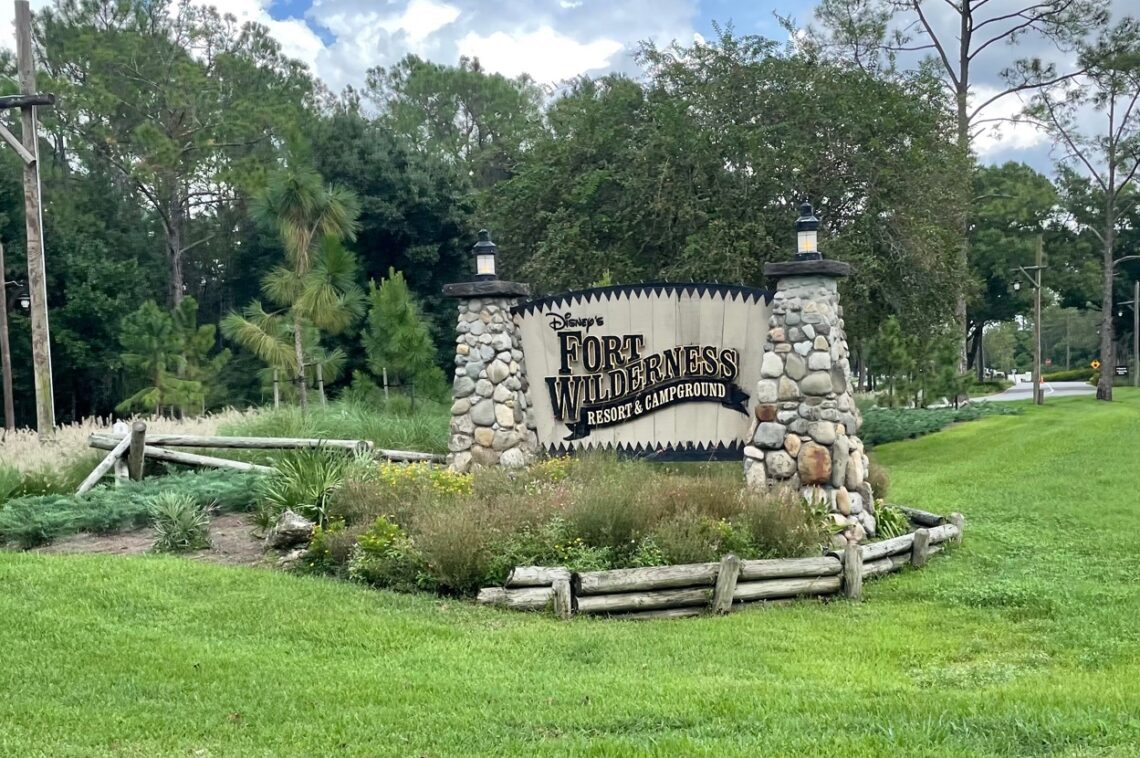 Fort Wilderness Resort & Campground
09.18.21-09.22.21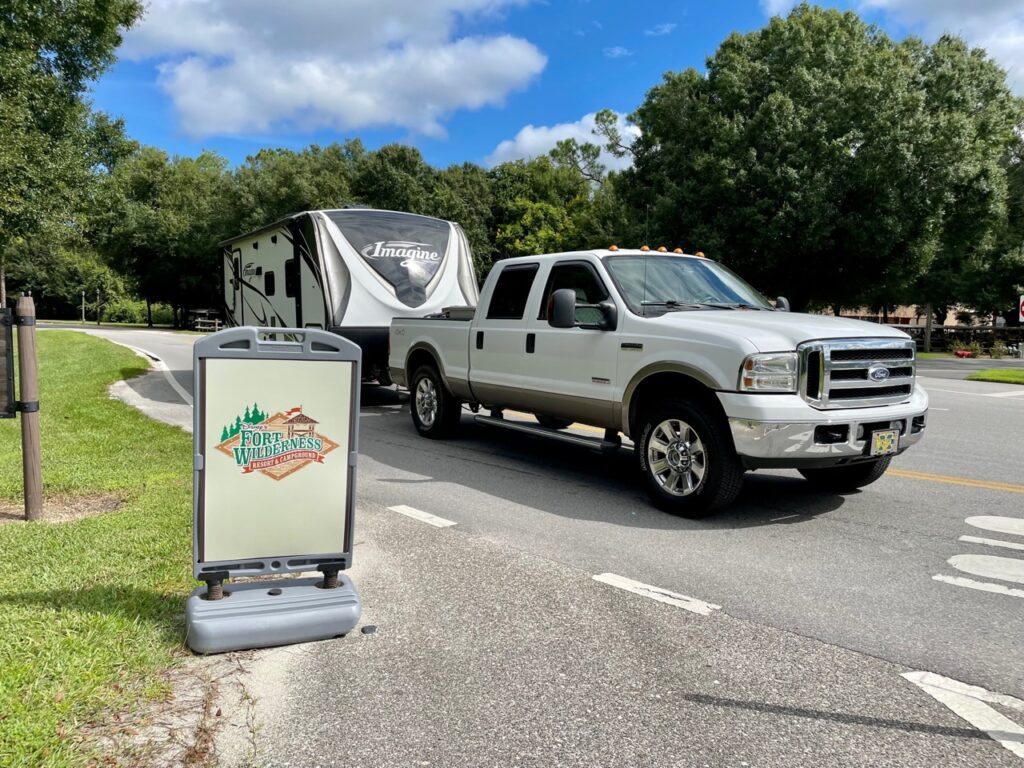 Camping at the most magical place in the world? Sign me up!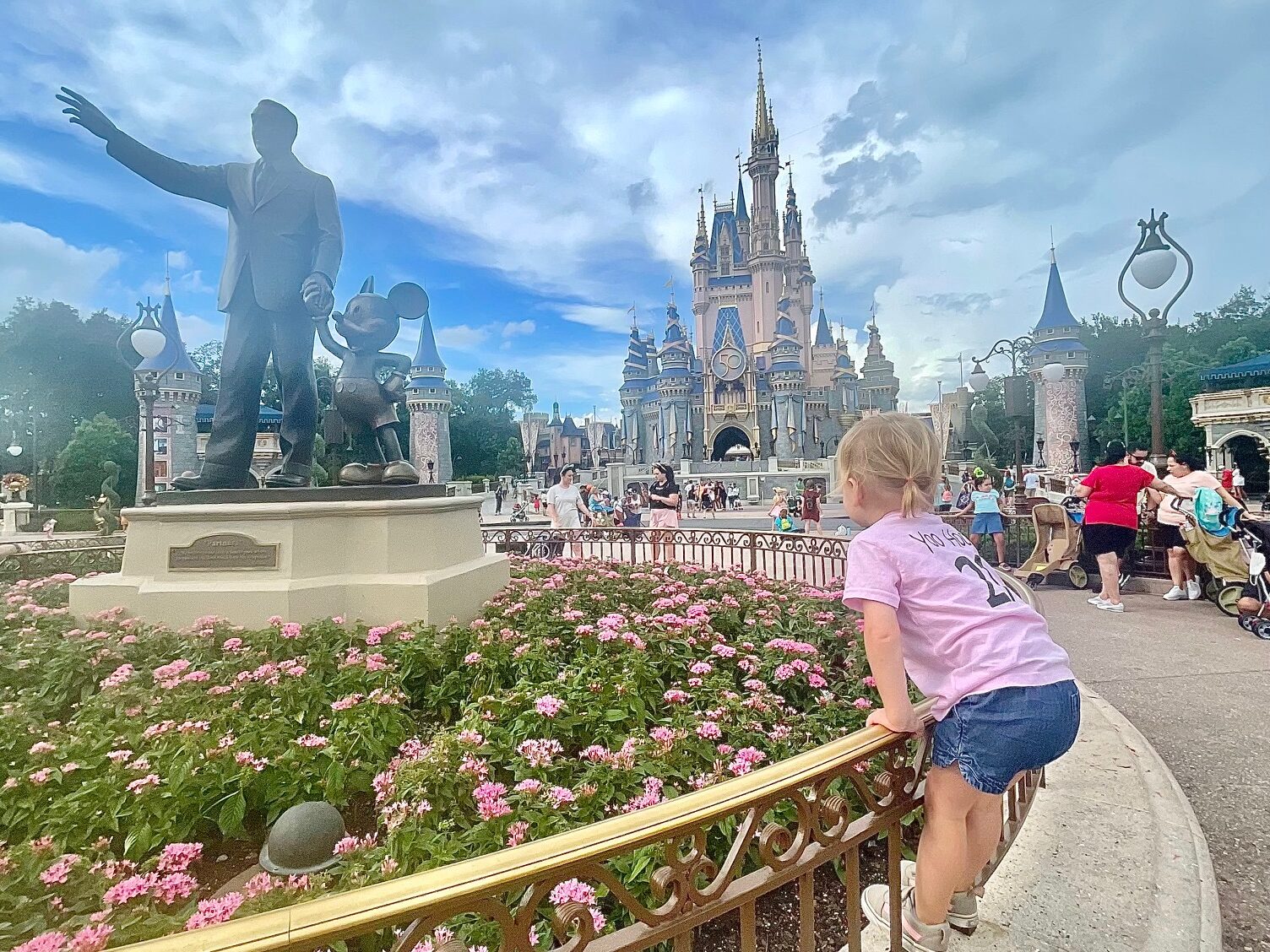 Honestly, when we purchased the camper I didn't even have Fort Wilderness on my radar because everything about Disney is so expensive. However, for a Disney resort, the prices are affordable.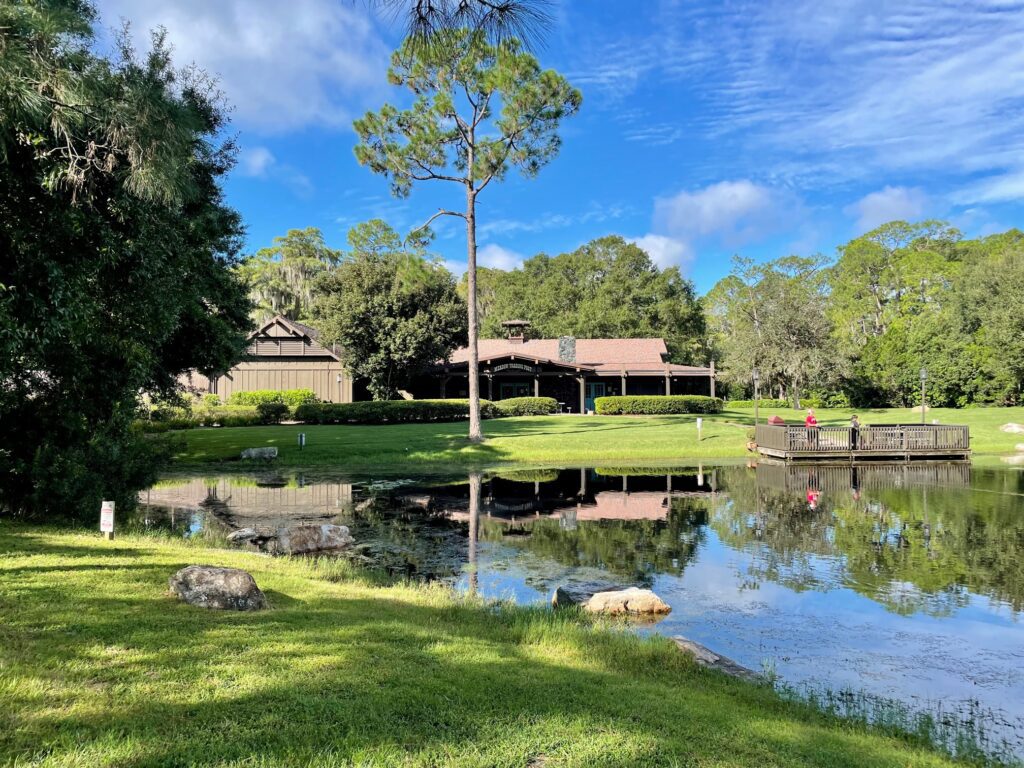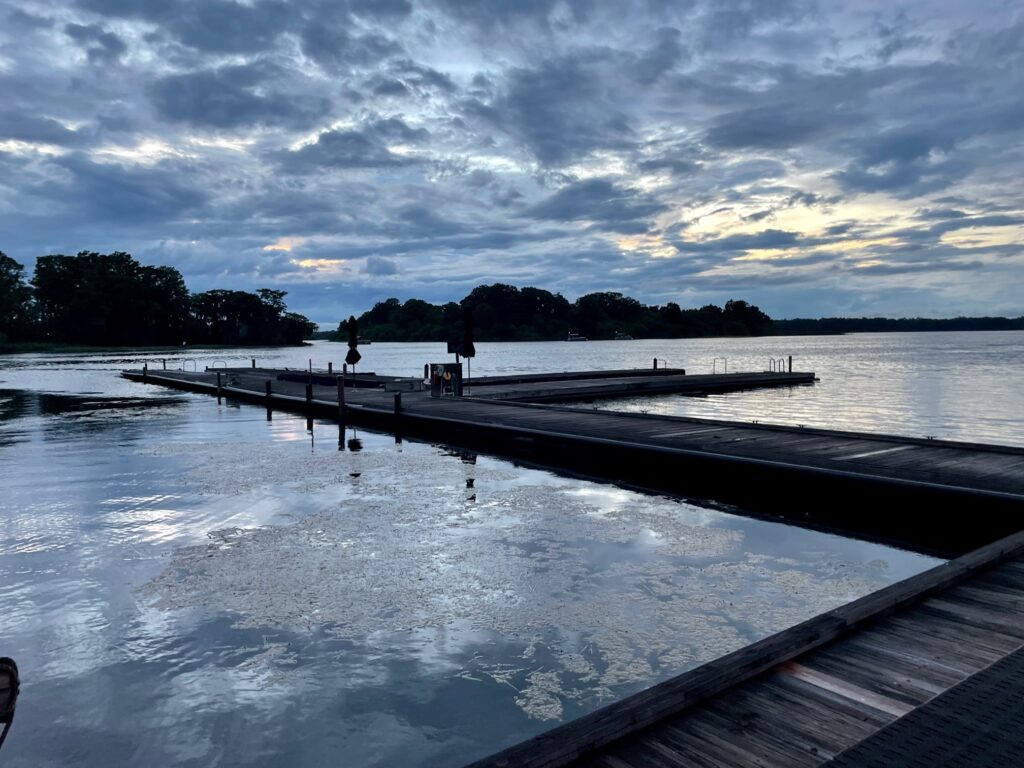 Fort Wilderness Resort and Campground is located in Lake Buena Vista, Florida—about ten minutes from the Disney World parks. The Disney resort has more to offer than we could fit into our four-day stay. The campground offers two pools, horseback riding, pony rides, archery, fishing, movie nights, arcade, and multiple playgrounds. Rentals are available for biking, kayaking, canoeing, and motorized boats. Waggin' Trails dog park is also available for the pups to enjoy.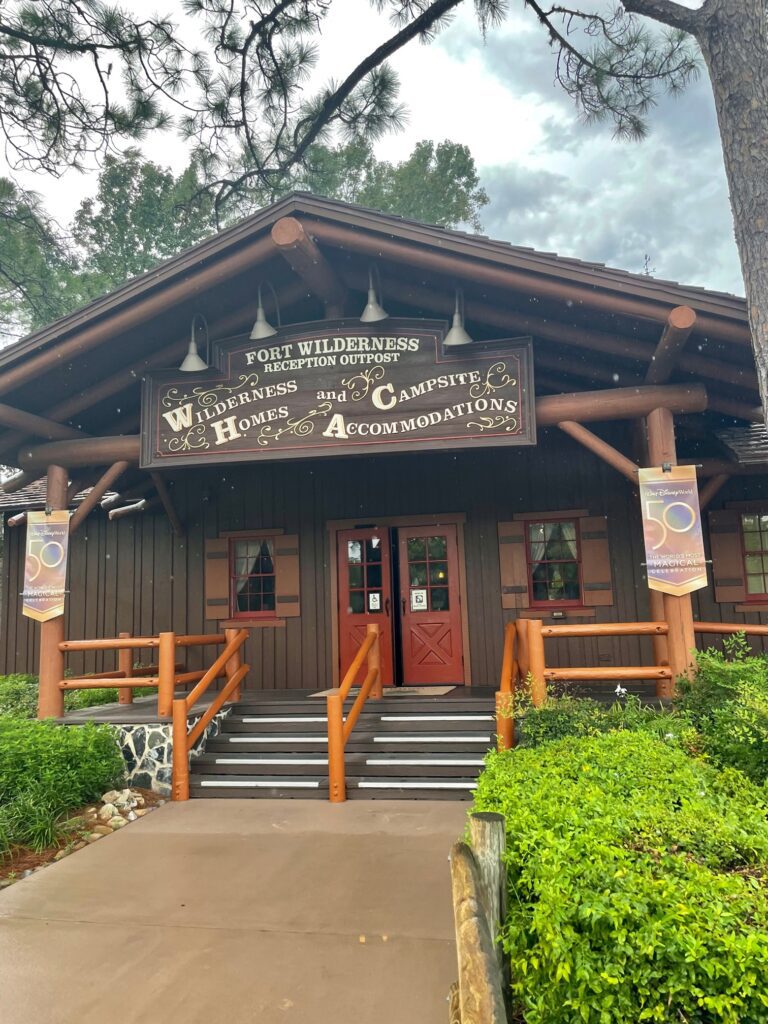 We were able to use the wifi provided in the resort from our campsite. I have heard that in the evening people tend to have trouble with it, but we did not. Each loop has a self-service laundry room for $6 total to wash and dry. We took advantage of this on our week-long vacation. If you are flying into Orlando you will receive a complimentary shuttle to Fort Wilderness from Orlando International Airport. Included in the stay at the resort is free parking at all of the Disney World Parks. The campground does have a bus service to take guests to the parks, but we took advantage of the complimentary parking at Hollywood Studios.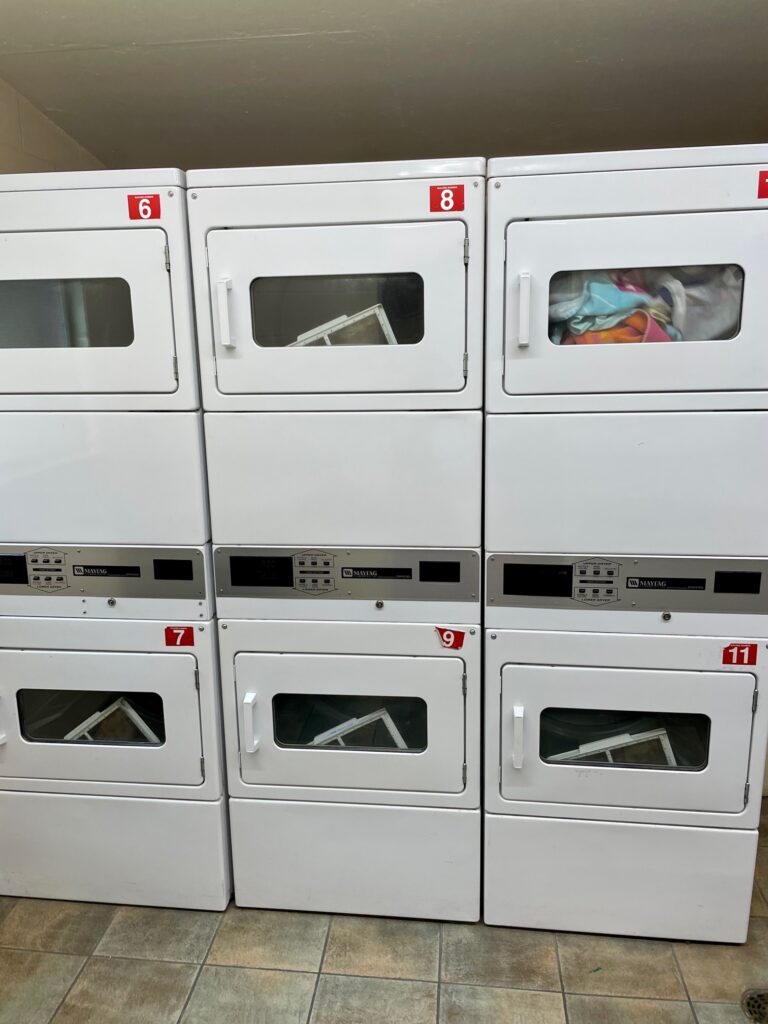 If you have been to Magic Kingdom before you know that you must get there by ferry. Fort Wilderness Campground has their own ferry to the park from the campground. Strollers and wheelchairs had no problem getting on the boat and it was a quick ride to and from the park. The first ferry picked up at 8 a.m. All Disney Resorts (including the campground) get into the parks 30 minutes early. We took advantage of this on Tuesday, or Magic Kingdom day. We were able to take photos on Main Street, in front of the castle, and explore the stores a little before the official opening at 9:00 a.m.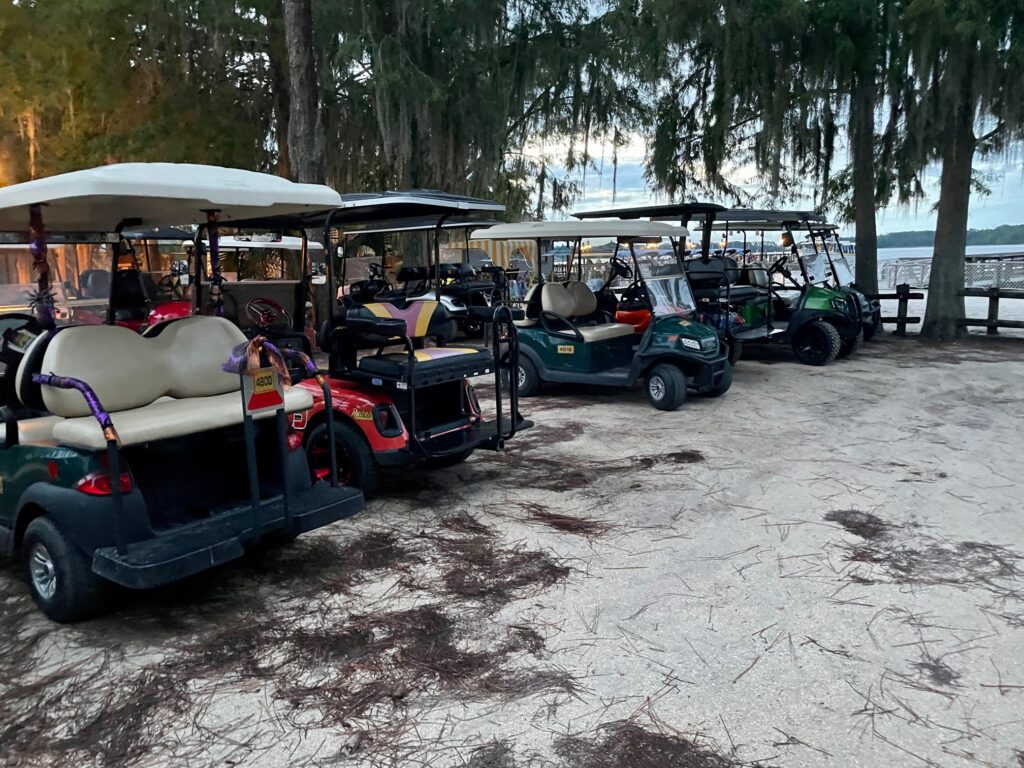 Now that we have briefly discussed what Fort Wilderness Resort and Campground has to offer, let's go over the pricing. When we booked about 8 months in advance, they were running a deal on preferred and full hook-up campsites. Every type of campsite was booked except the most expensive one, Premium Meadow. These sites cost about $170 and are the most expensive sites. The perk of a Premium Meadow site that that you are in close proximity to the Meadow Trading Post, Meadow Swimmin' Pool, Bike Barn, and Campfire Area. The sites are paved, offer full-hookup, and are the largest of the site options. Loops that are Premium Meadow include: 1400, 1000, 900, 800, and 600.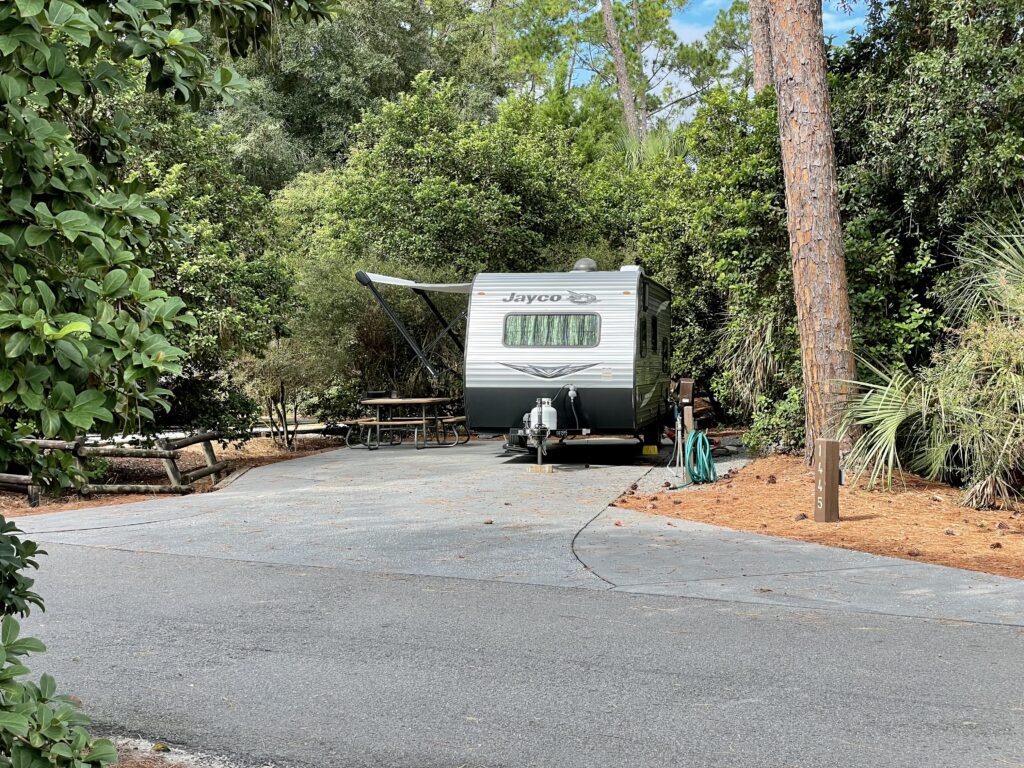 Other loops still offer full hook-up, but some sites are not paved and as you can see in our photos the driveway is plenty wide enough for the truck and golf cart, some are not. Premium sites run about $150 a night, have a concrete driveway and sewage hook-up. Loops with premium sites in Fort Wilderness are 400, 500, 700, 1100, 1300, and 1200. The only advantage to the Premium Meadow sites is the proximity to the amenities of the campground. If you bring your own golf cart or rent one then this may not be important to you.
Loops 100, 200, and 300 are Preferred campsites with smaller outdoor living spaces. Most of the outdoor living spaces on these campsites are located on the back of the site. Preferred sites still have sewage hook-ups and they have the advantage of being close to the Marina where you can board the ferry to ride to Magic Kingdom. Prices for these sites are about $130 a night.
Loops 1600, 1700, 1800, 1900, and 2100 are referred to as Full Hook-up sites. They are the same size as Preferred campsites, they just do not have the location advantage and therefore are a couple dollars cheaper, $120 a night on average.
Fort Wilderness Resort and Campground also offers tent sites and cabins for rent. Tent sites are located in loops 1500 and 2000. The Cabins are in loops 2200-2800 and have their own pool.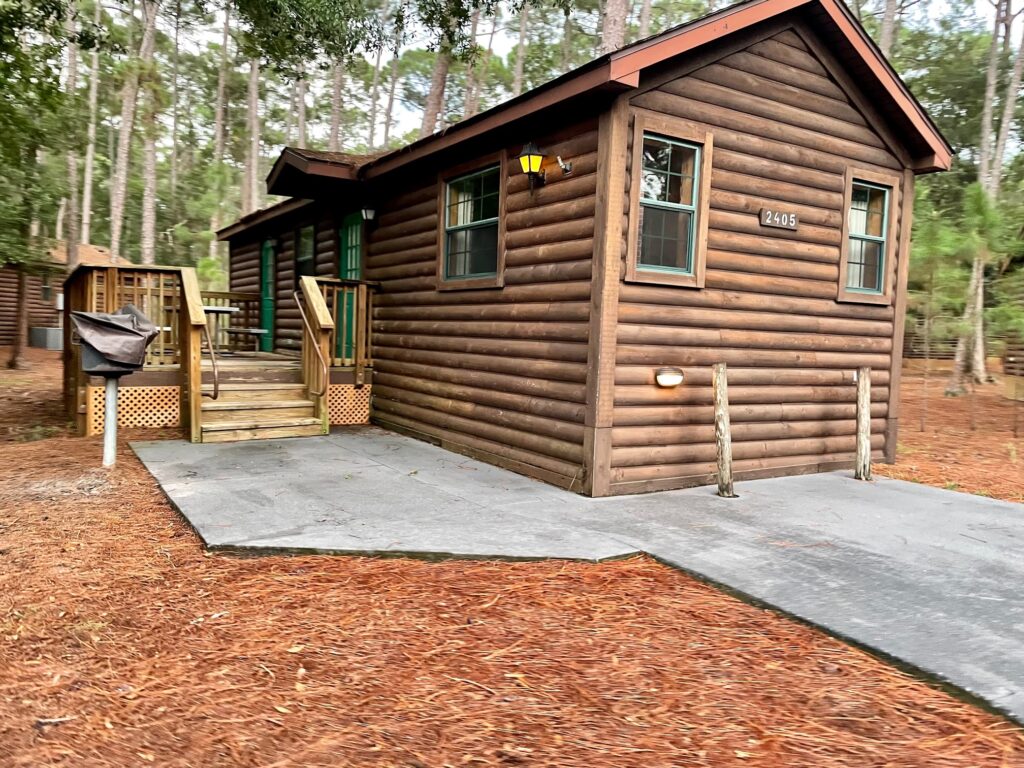 Prices can vary based on weekday vs. weekend, holidays, and times of years. The prices above were based on of the rates calendar on their website for the month of October 2021. We did not use a Disney Travel Agent to book our vacation, though I know many people do. They can be there to help you try to pick up a canceled site for an upcoming date when the park is completely full. Disney does offer deals sometimes on their website, so be on the lookout for those.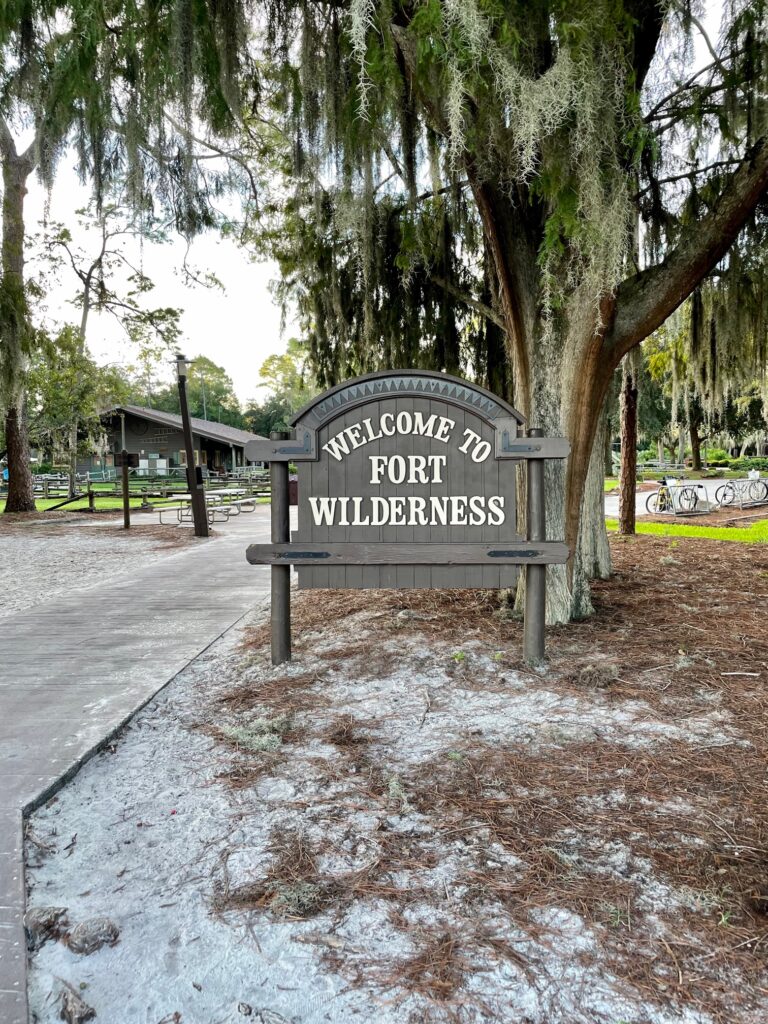 The whole campsite and loop process is overwhelming to me, someone that does quite a bit of research on campgrounds and campsites before booking. With Fort Wilderness Resort and Campground you can only pick your type of campsite when booking. The day of (if you do online check-in) you will receive your assigned site. If you want a specific site or loop people have said you can fax a letter to your campground about three weeks ahead of time with your preference and/or call the campground a couple days before. We were thinking that it's Disney, surely there isn't a bad site in the most expensive loops.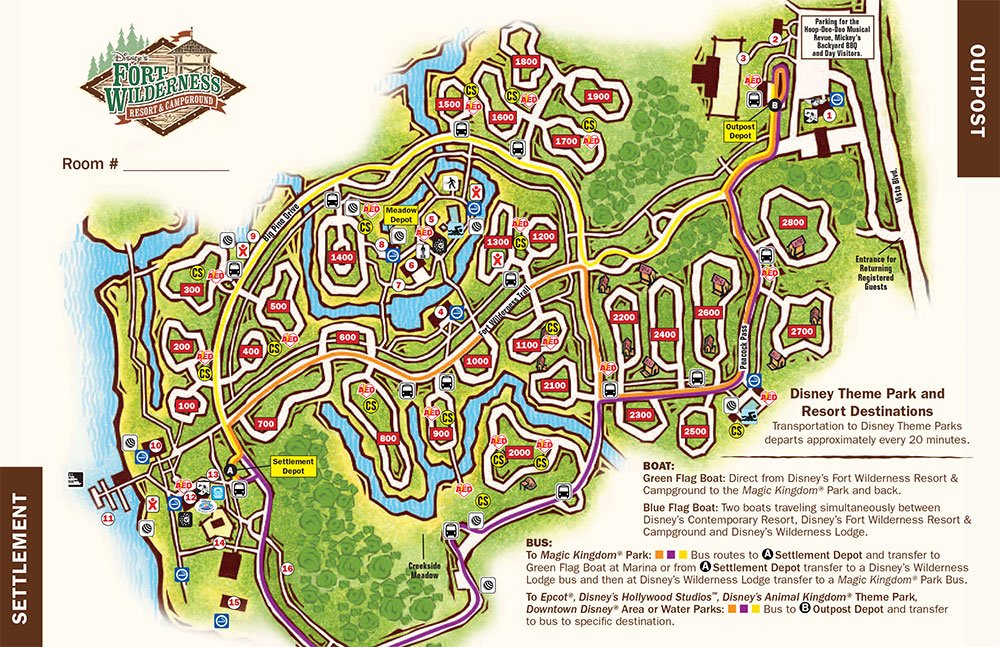 We were wrong. On Saturday morning when we were leaving Reed Bingham State Park and heading toward Orlando we got the text that our site was 1434. I've heard great things about this loop, but when doing further research through facebook I saw that someone switched out of this site because the one next to it was better. We decided to see the site in person because everyone has different opinions based on what they like. Immediately, I knew site 1434 wasn't for us. It's location is nice, being close to the bathrooms and the campfire area–but the outdoor living area was right on the road. The curve of the road went from the back of the site to the front of the site and was only about a foot from our pad. This is not ideal for a two-year-old and two large dogs.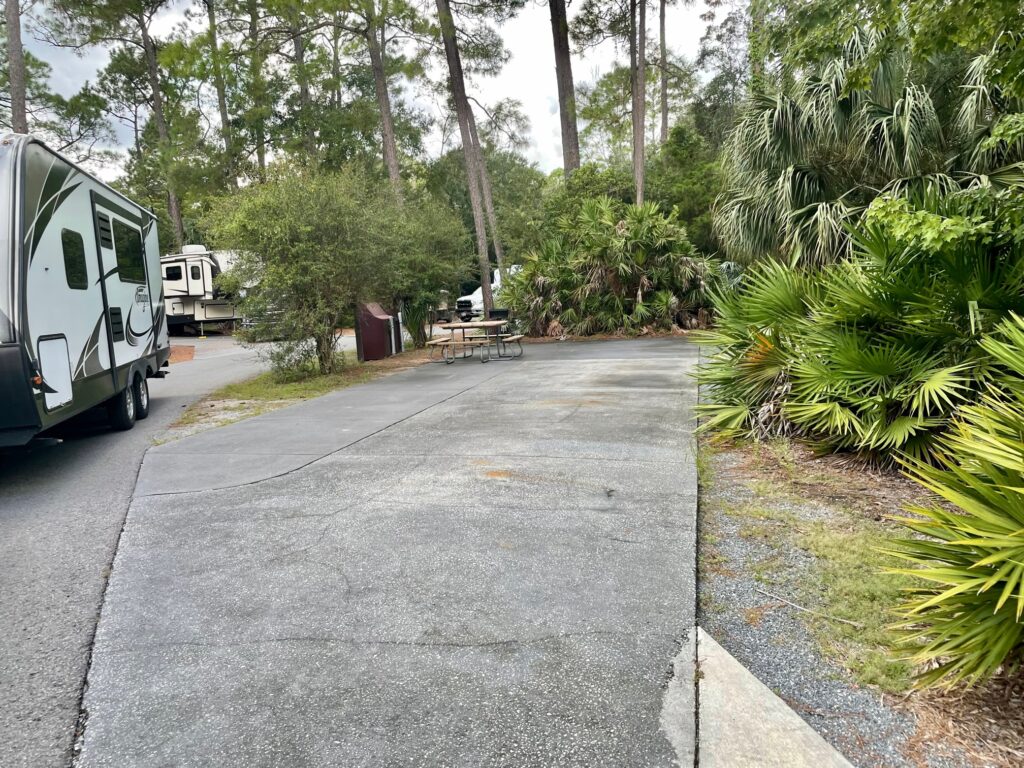 I called the campground phone number on the reservation email and asked to be switched to another site. They were very accommodating and asked if we had one in mind. We kept driving the loop while on the phone and mentioned site 1446 that was empty. The person on the phone said they would call us back after they made sure the site had not already been assigned to someone—thankfully it hadn't.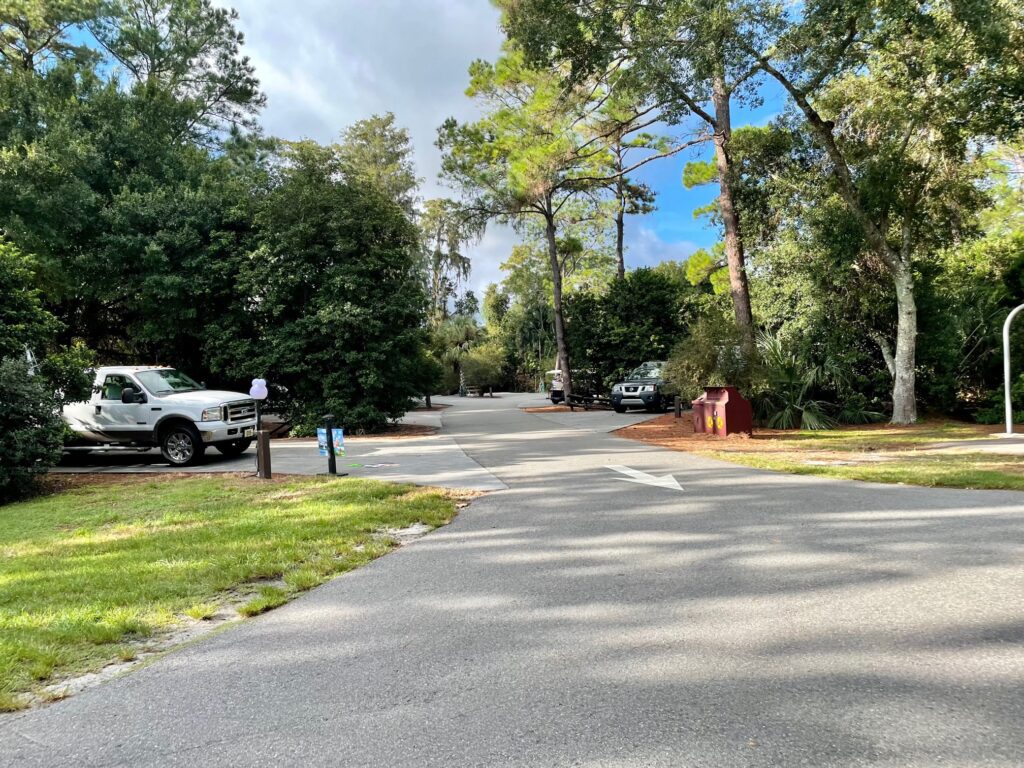 Site 1446 was fabulous for our family! The site seemed to be larger than site 1434 and because it was located at the end of the loop it did not have another site to the left. The camper provided privacy from the site to the right. Through the trees we had our own small trail to the tetherball court for loop 1400. Most loops have this along with a basketball goal. The basketball goal was right across from our site. The bus stop for loop 1400 is also close by since the site is at the front of the loop. We really liked site 1446 and liked it better than many other options in the campground.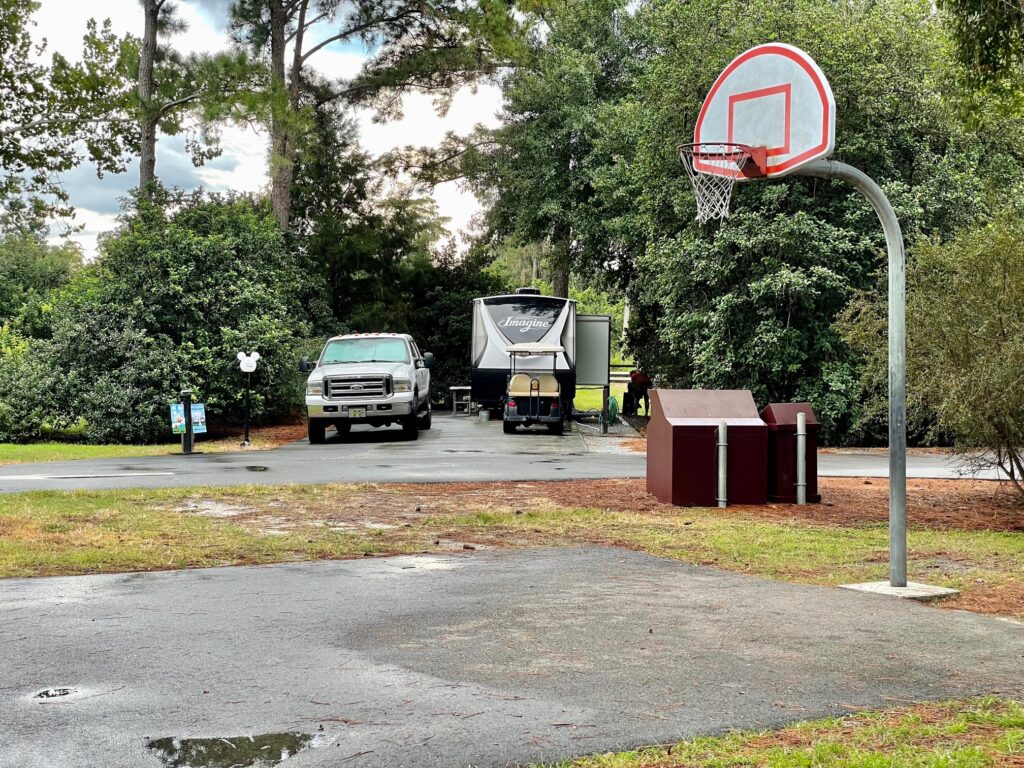 Since this was a camping trip like no other we decided to go all out and spend the extra money on a golf cart rental. It added to the experience, but is in no way necessary as the campground has a bus service within the campground. None of the attractions within the campground have vehicle parking spots, only golf cart parking. We rented the golf cart through the campground, but there are other companies in Orlando that will deliver to the campground. The golf cart rental was $63 a night. We spent little time hanging out outside our camper because we were either at the parks or exploring the campground via golf cart. Campers even refer to this activity as "looping."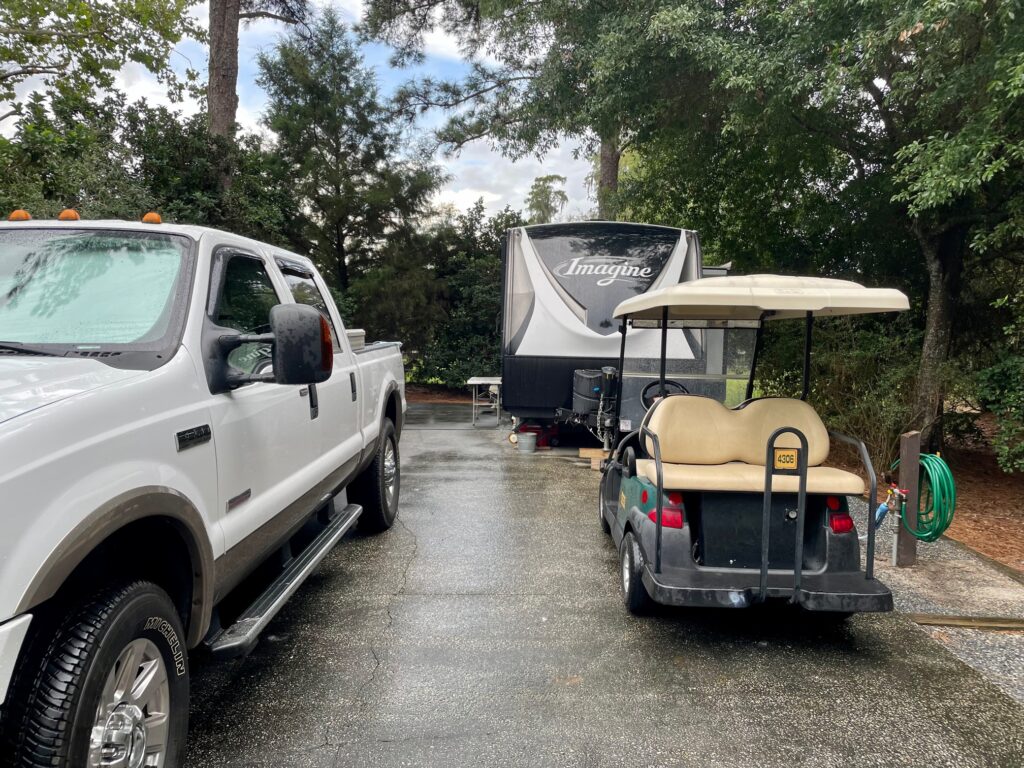 Fort Wilderness Campers started the scavenger hunt in the campground in the fall of 2020. We had so much fun participating while we were there. Information for this activity can be found in the facebook group " Original Fort Wilderness Scavenger Hunts." In summary, campers will bring small gifts to hide around the campground. Photos and hints will be posted in the group and campers of all ages will try to be the first to find the prizes. This is not organized by Disney, though the campground has asked the admin to follow certain rules, such as not hiding food (that the deer might get into.)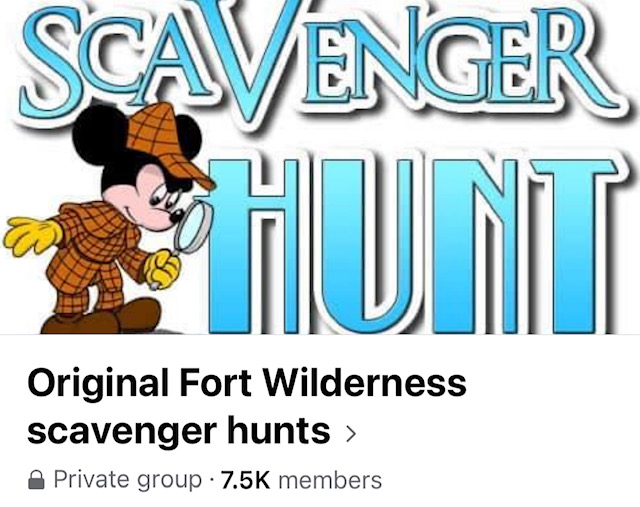 We were so excited to find Minnie Ears, a Mickey tumbler, and an activity bag that came in clutch during the long car ride home. It was even more special to see who found the gifts that we hid. The mother shared a photo of her daughter so excited to find the Buzz Lightyear toy. We posted in the group "Walk your pet and get some cinnamon for dessert to find Buzz." The toy was hidden on the pet trail in loop 700, named Cinnamon Fern Way.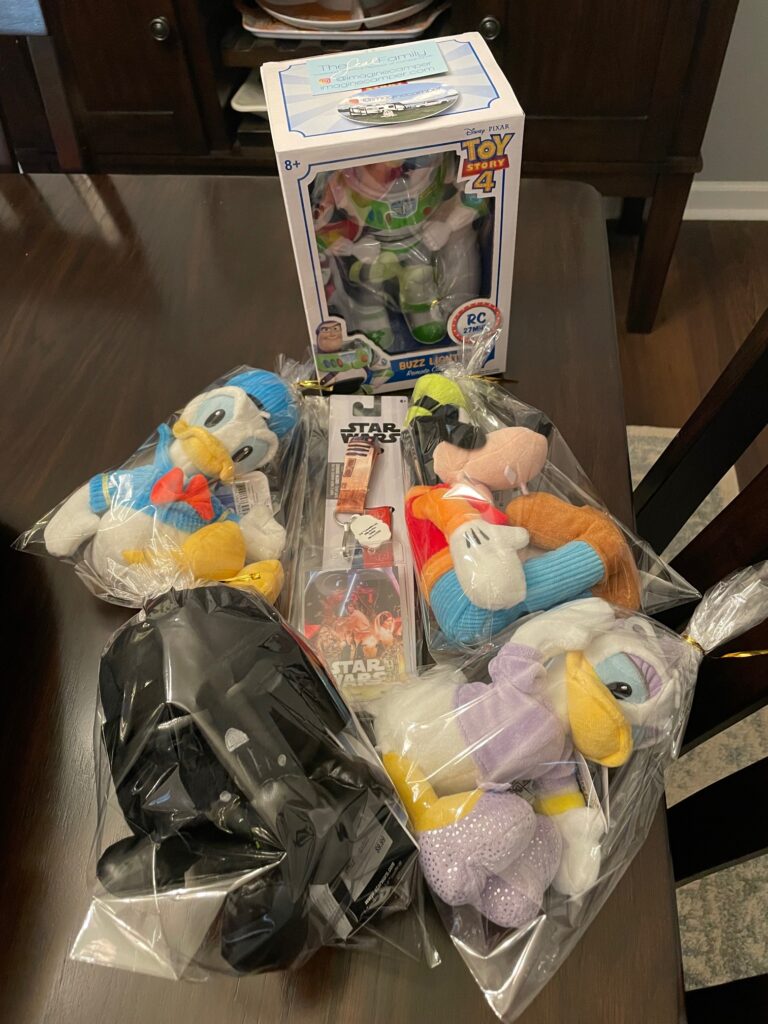 Random Fort Wilderness Facts:
1. The campground puts on a "Movie Under the Stars" at 8:30 p.m. throughout the month. The schedule of movies can be found at the check-in center or posted outside the bathrooms/laundry.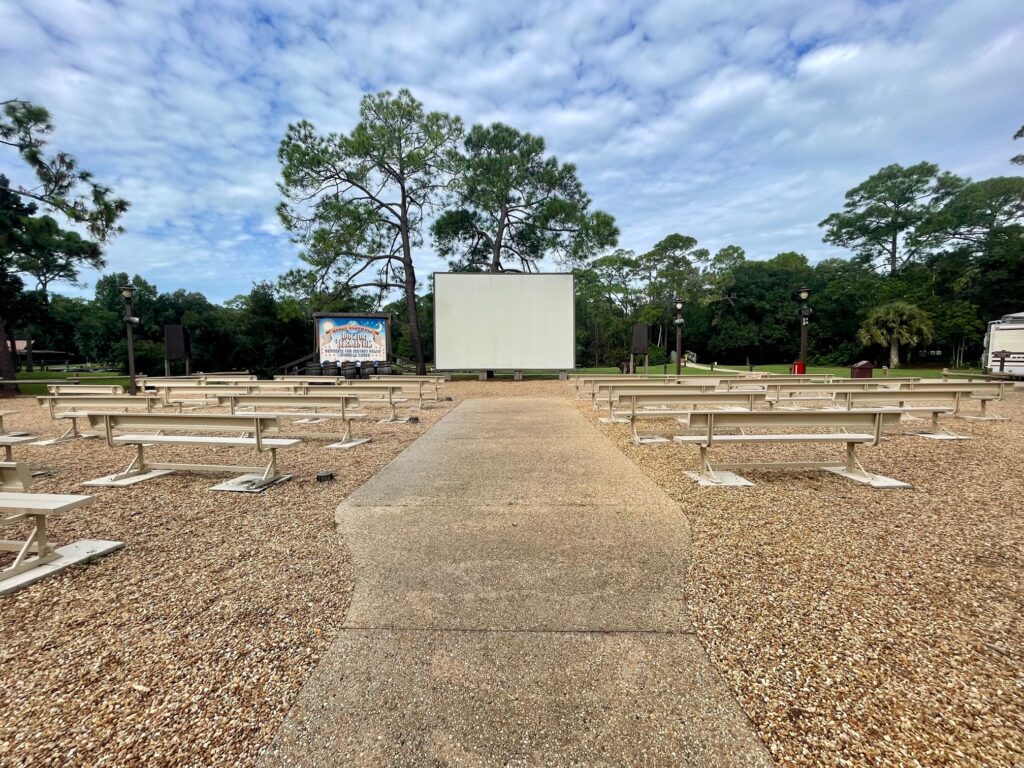 2. You are only allowed to have a firepit with you that is enclosed. The popular Solo Campstove would not be allowed. Campsites do not have fire pits.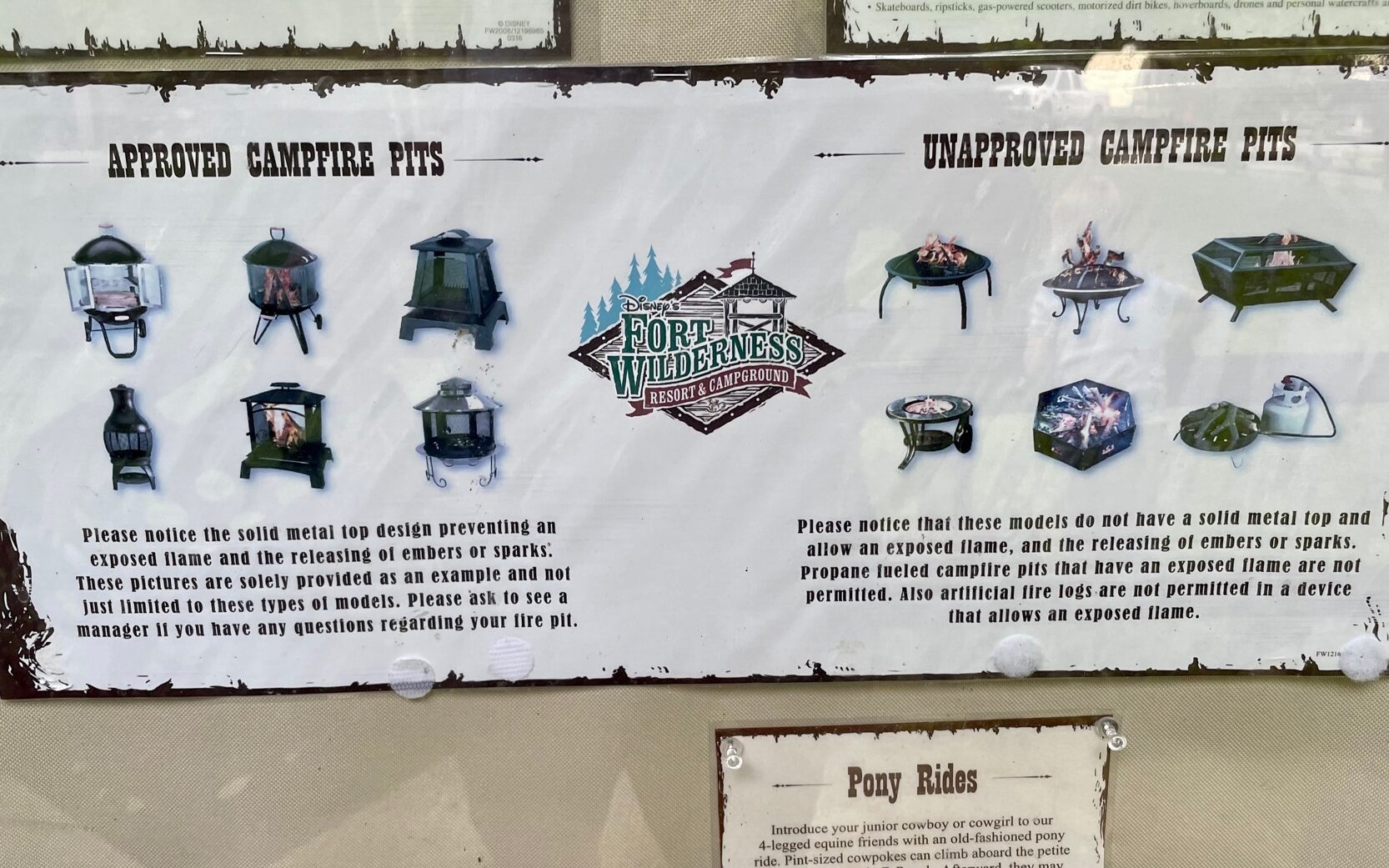 3. Other activities that we did not have time to participate in, but were offered while we were staying there include; Mickey's Tie-Dye, Swimmin' Hole Jamboree, and a signature craft. On Saturdays the campground organizes games by the pool and field in the Meadow.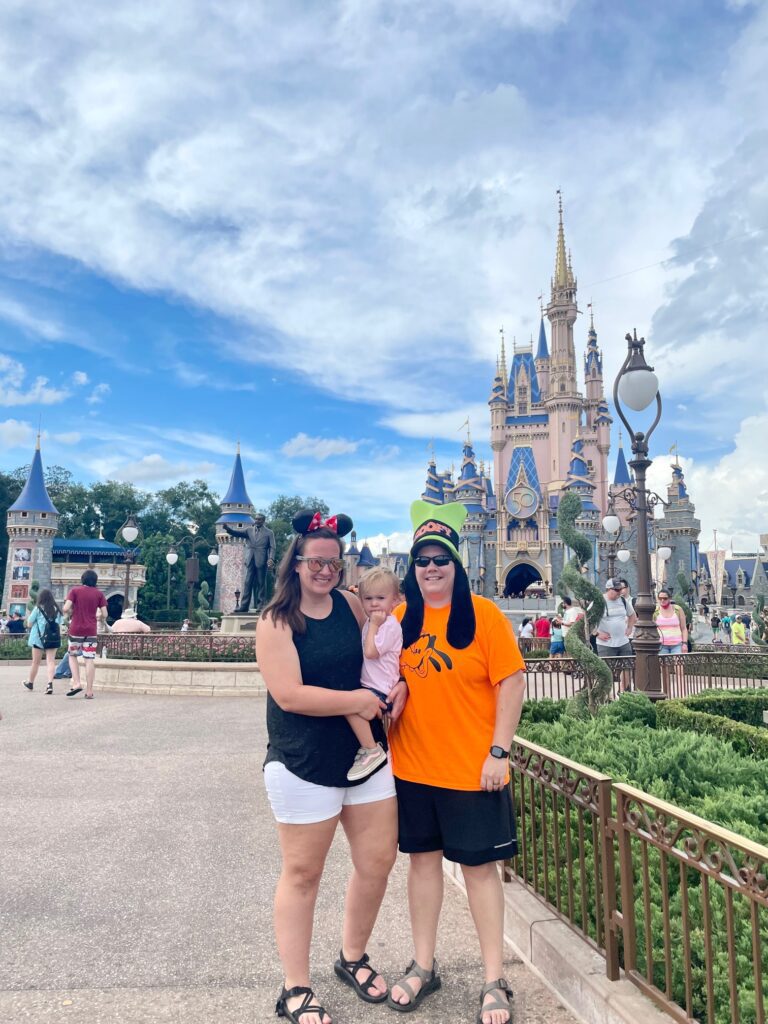 4. Food Trucks come to the Settlement and Campfire Area on Tuesdays and Wednesday from 5:30-9:30 p.m. This was everything we needed when getting off the ferry after a day at Magic Kingdom. The Mexi fries were amazing!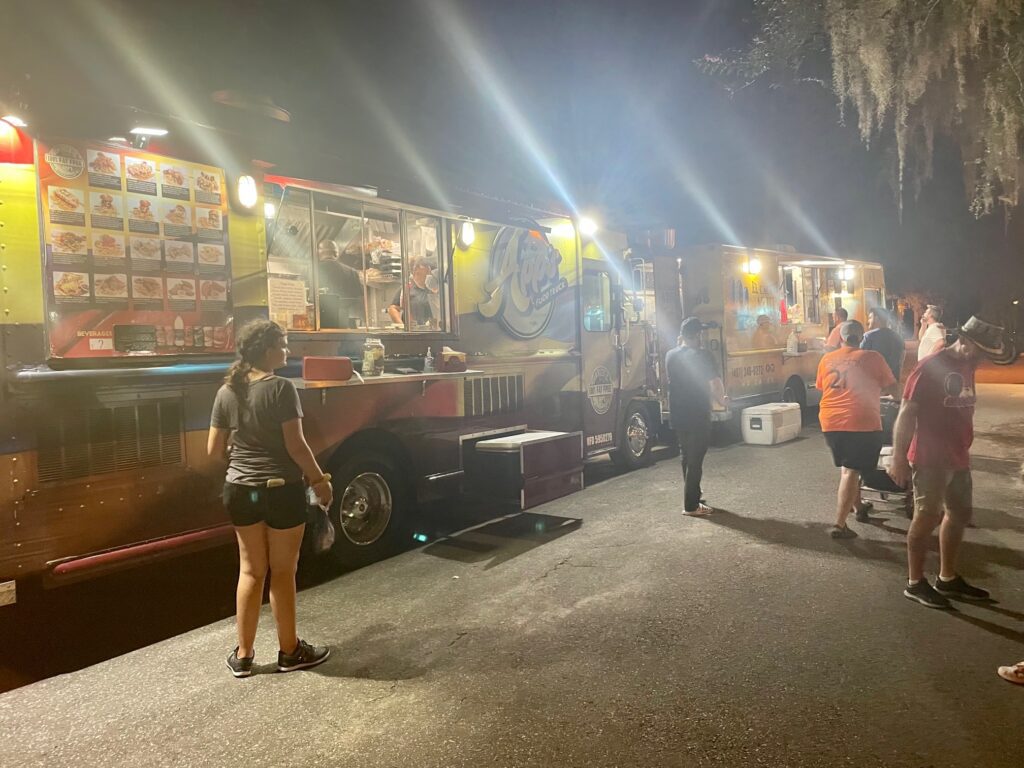 5. The fireworks from magic kingdom can be watched from the dock at Fort Wilderness Campground. The only thing we wished was that we were able to hear the music that went along with the show.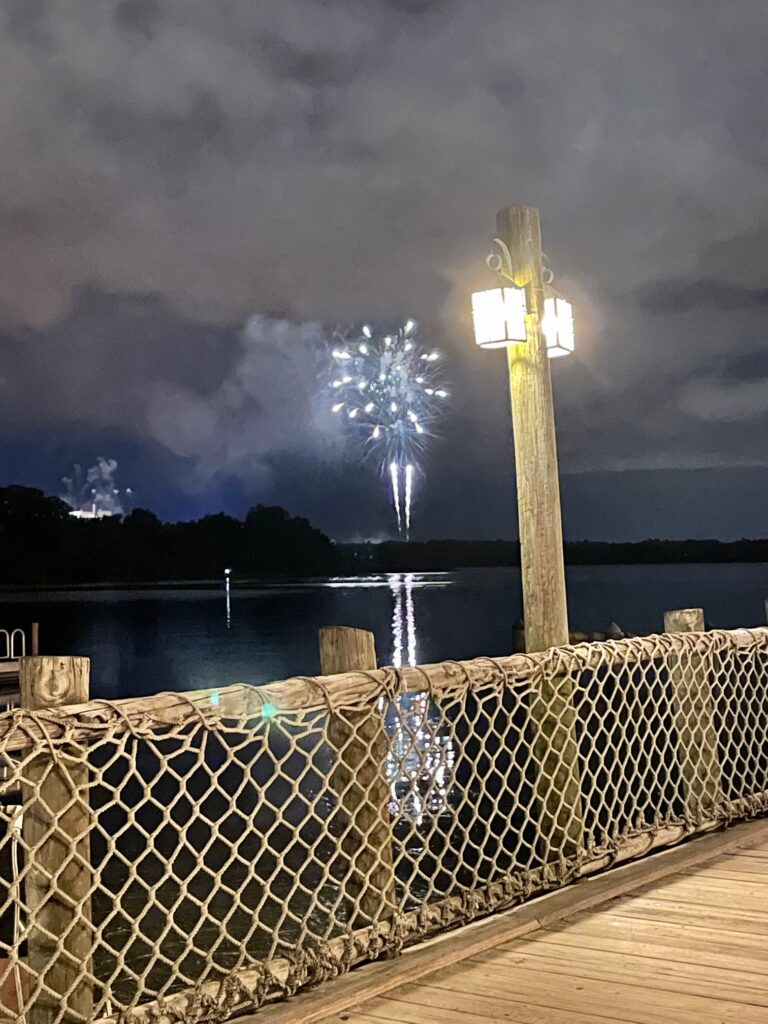 6. Every night at 9:45 p.m. there is an electrical water pageant (boat parade) on the lake with music.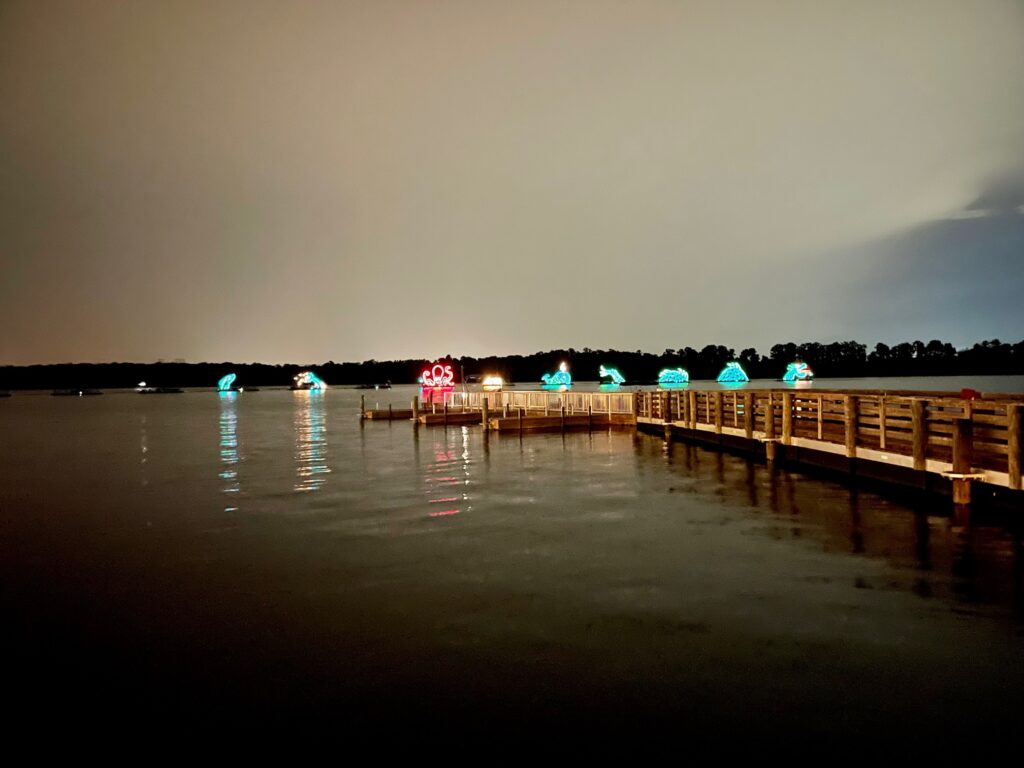 On Monday, our non-park day, we enjoyed some time at the Meadow Swimmin' Pool and our almost two-year- old even wanted to go down the big corkscrew slide….twice. Our daughter enjoyed the fort-themed water play area that only smaller kids were allowed to play in. At the pool there is a concession stand, ping pong table, and pool table. If we had someone to stay with our daughter I would have loved to enjoy the hot tub after a long day at the park.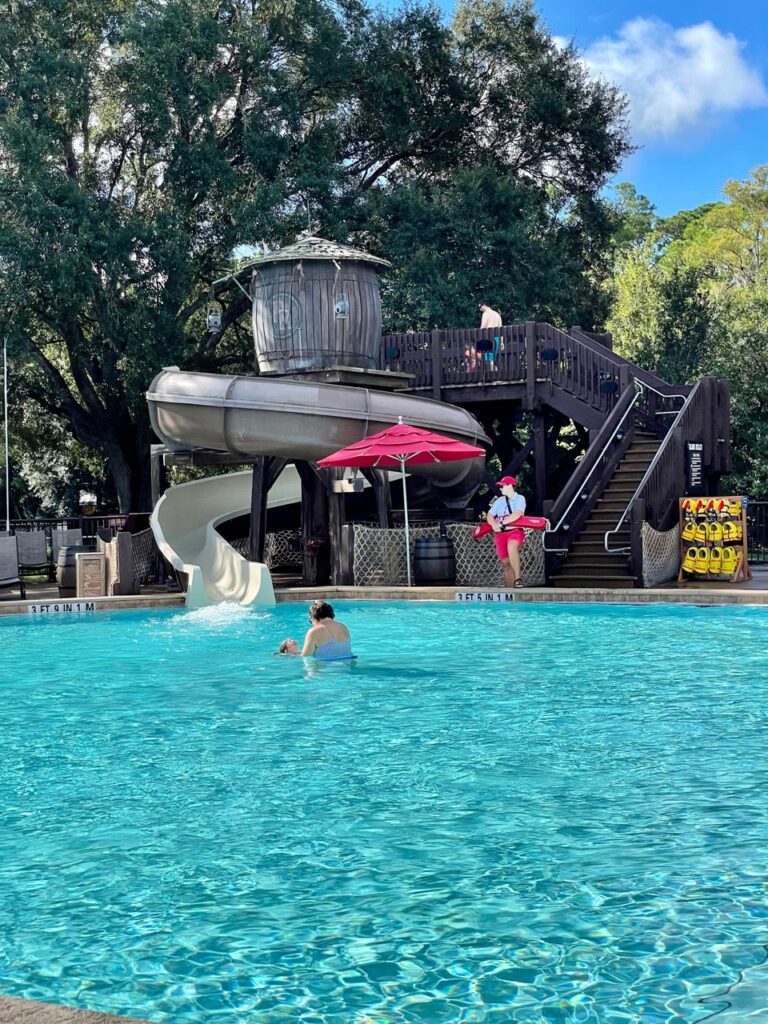 On Saturday we had reservations for the Disney restaurant "Trail's End" in Fort Wilderness Resort and Campground. All of the Disney Resort style restaurants are serving the food family style at the moment (covid protocol.) To me it was a huge waste of food. If we didn't like something that was served it would then be thrown away. Trail's End food wasn't great, though I have seen people raving about the fried chicken- they don't have that on the current menu. We did get the fried chicken from PJ's takeout next door. PJ's was delicious, but Trails End was a one and done for us.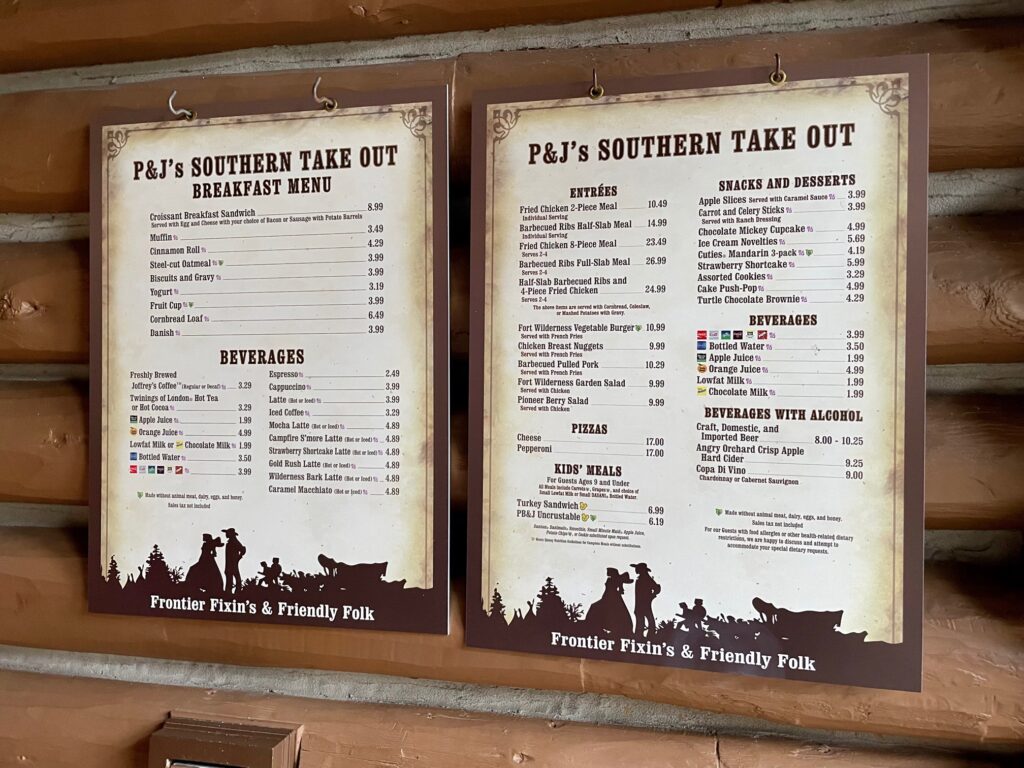 To add a little magic to all that we were already experiencing I put in a little request with the Pixie Dusters (@pixie.dusters). I started following Lisa and Susie and their amazing chalk art on instagram about the time we booked Fort Wilderness. It just so lined up that Lisa would be there during our stay. Heather is a life-long fan of Goofy, so I had Lisa leave Goofy in chalk on our site. We came back from the pool on Monday to her finishing up her work and it was so good! Thankfully it did not rain the rest of our stay so we got to keep enjoying it. Give them a follow on instagram and maybe they will leave some pixie dust on your site while you are there!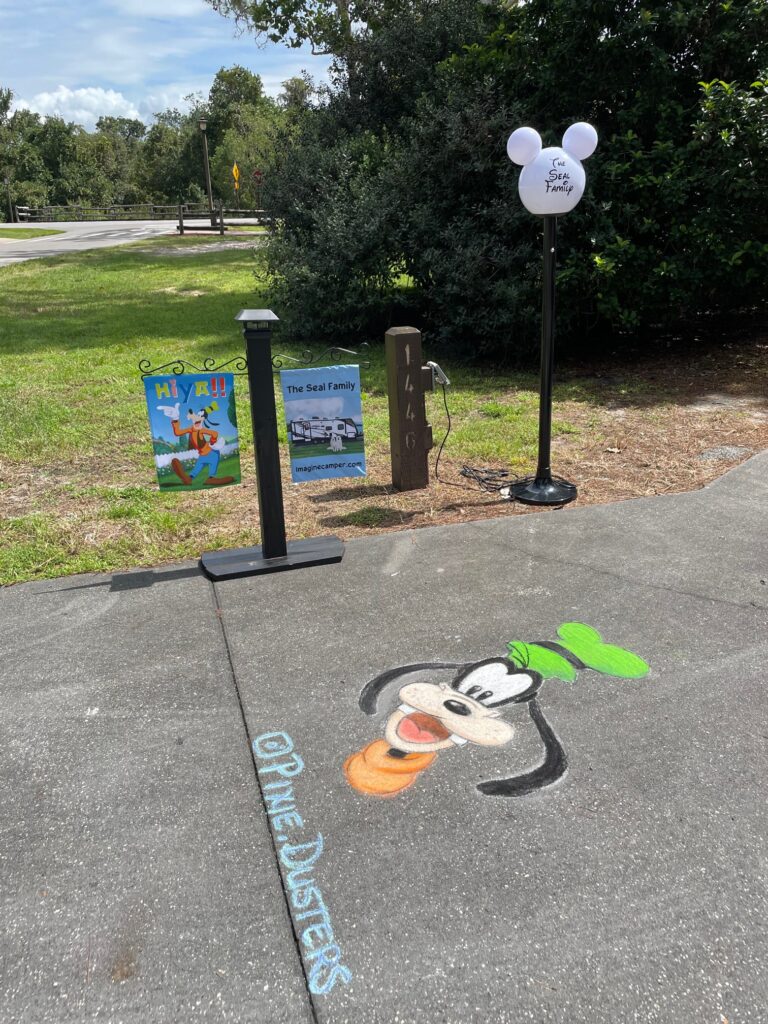 Things we learned:
1. We have caught the Fort Wilderness bug. It's real and I'm doing everything I can to control it. Disney is expensive, but we all deserve some magic in our lives. Fort Wilderness really is an amazing campground. People will book sites there and not even have tickets to go into the Disney parks. Can't wait till we go back!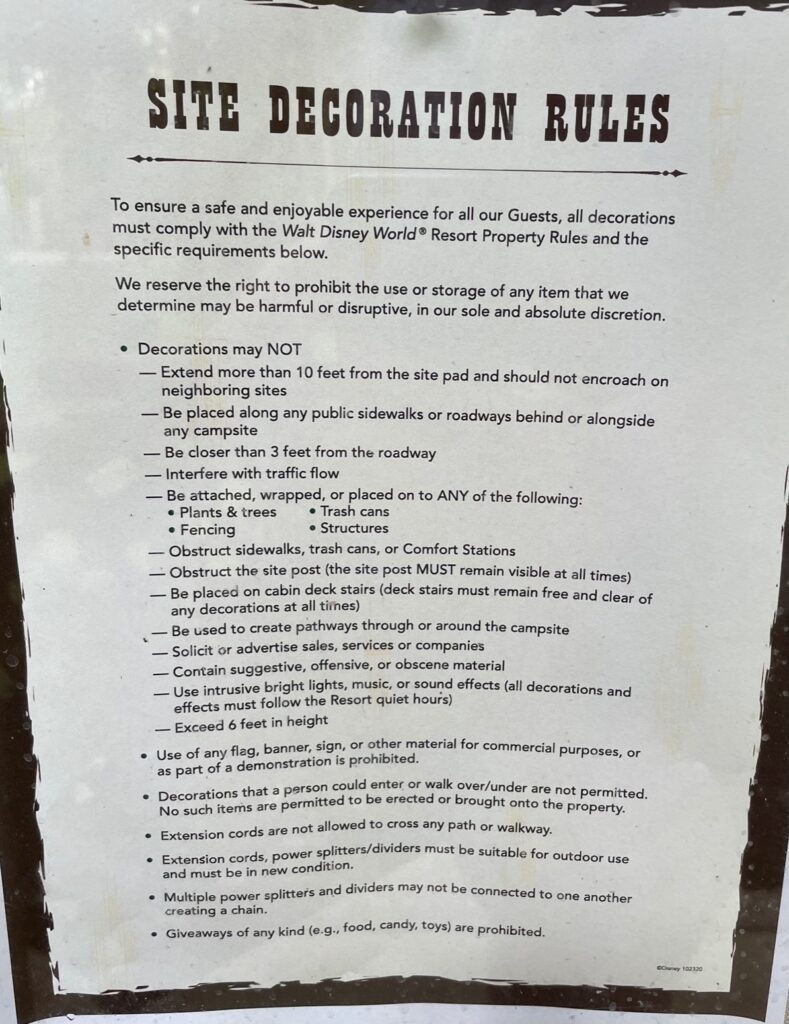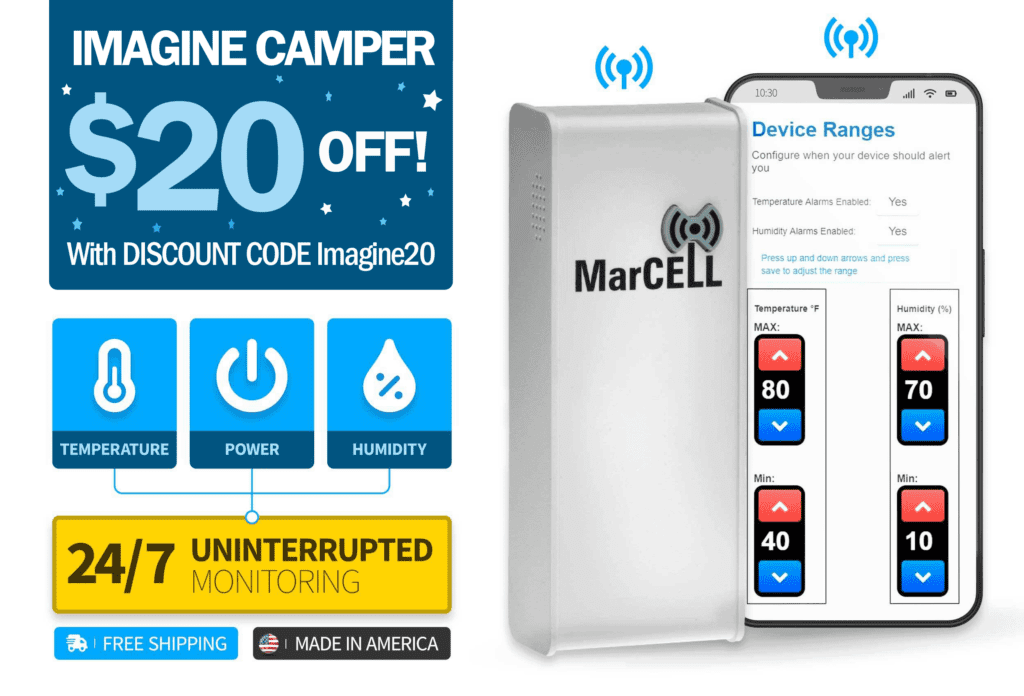 Please follow and like us: