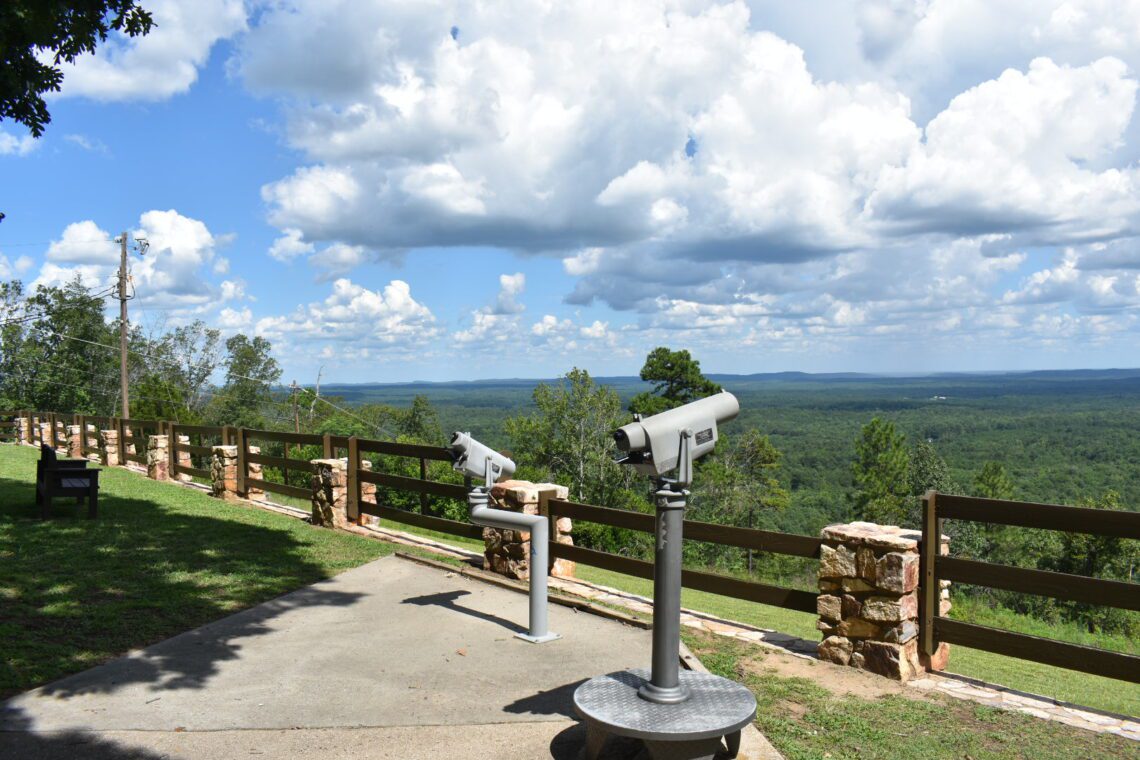 7.13.17-7.16.17
FDR State Park is located southwest of Atlanta in Pine Mountain, GA. It is Georgia's largest state park, over 9,000 acres and plenty of trails to hike. For a History/Nature lover like me, this park is a dream. The most popular spot is an overlook that President Franklin D. Roosevelt often used for a picnic, called Dowdell's Knob. At the overlook a full size bronze sculpture can be found of FDR himself and a grill that FDR built. There are multiple historical sites at the park that FDR had the Civil Conservation Corps build during the Great Depression. The Liberty Bell Pool is a fan favorite, and overcrowded during the summer so we did not visit this trip. Even the park office is a history lesson in itself, but also the views behind the building are AMAZING.
Just down the road from the campground you can visit the Little White House to see where FDR received his treatment for polio. The fee is 12$ per adult to tour the house that has been made into a musuem. Roosevelt's stables are also still there and offer different length horseback rides throughout the park.
The park is located down the road from Callaway Gardens. Callaway Gardens offers lodging options, a huge golf course, spa services, and water sports on the lake. The admission on the website says 25$ a person, but I can't imagine that we paid that to get in. I believe at the gate the lady may have given us a different price when we told her what we were there for.
The campground has 140 tent and RV sites with water and electrical hookups, some located around a small lake (Lake Delanor). The lake would be great for fishing or kayaking, but we did not take the kayaks on this trip. The campground seems to be split up into four sections for tents and RV, not including the cabins that are located on the lake. Friendly camp hosts can be found sprinkled throughout the campground. We visited the well stocked trading post multiple times for firewood and ice.
We arrived in the evening of Thursday. Heather was going to commute to and from the campground to work, about a hour one way. We drove through the campground two or three times trying to find the perfect site in the dark. (Before Georgia State Parks became site specific.) Many of them were already taken. We reserved a 40ft site ahead of time and ended up choosing site 525. This particular site was level and offered a semi private outdoor living area looking into the woods. The picnic table was full cement, which we don't prefer because it can't be moved, however this one was placed in a great location on the site. The fire pit was in the back corner which we utilized in the evenings when it wasn't raining and even cooked a meal on it.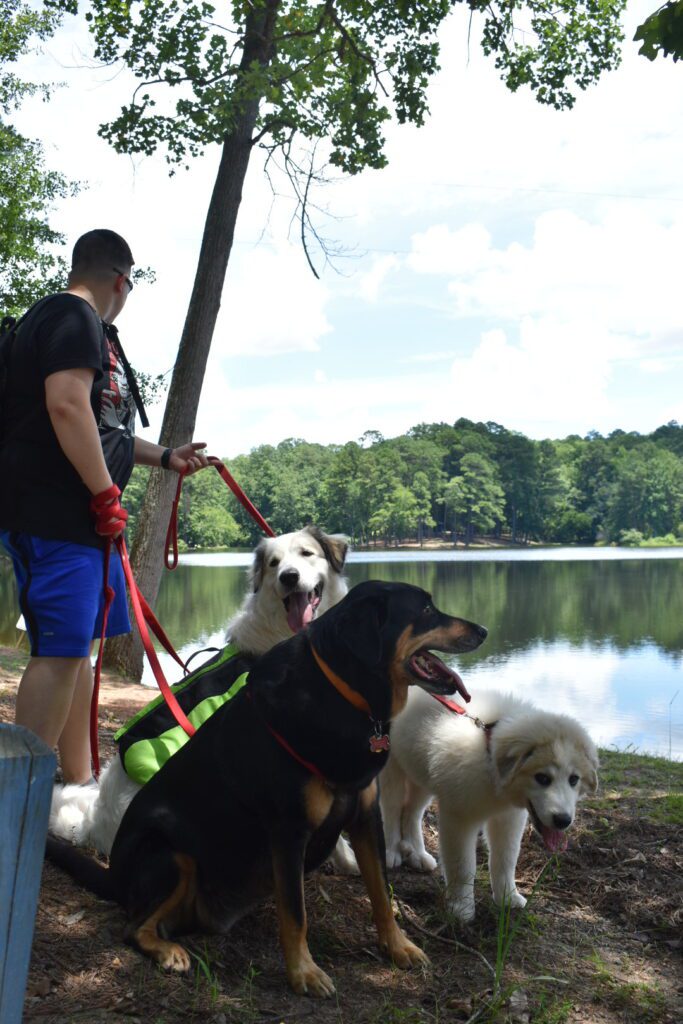 It wouldn't be a Seal camping trip if something didn't go wrong though. Saturday morning Heather had to go into work for a couple of hours. I slept in and started the morning with the usual routine of taking the dogs outside, one at a time is easiest to handle. So I start with Summit, the youngest who can only hold her bladder for so long. Unfortunately when exiting the camper and shutting the door, I locked myself out. No camper keys, no cell phone – just me and Summit. Anyone that has a camper with a deadbolt knows that this can happen easily if that lock is turned. After realizing that I am locked out of the camper, I take Summit on a walk around loop 5 where our site is located, contemplating how I am going to solve this issue. I've got two dogs inside the camper that haven't been out yet and I'm getting pretty hungry. Luckily the campers next to our site were very friendly and let me use their cell phone to call Heather. She was an hour away and still needed to stay at work a little longer. You could tell the nice lady next door felt bad for me, I just felt like an idiot.
Besides being locked out Saturday morning I enjoyed Heather setting us up at the campground a little earlier than the weekend. I got to enjoy a couple extra days on my own relaxing with the pups.

This particular weekend we were not up for long hikes, however I hope to visit this park again because there are SO many pretty trails. Fortunately Dowdell's Knob, the outlook that President FDR picnicked at, has a parking lot that you can drive right up to. We did visit Callaway Gardens for a couple hours on Saturday. Driving through the Gardens I wished we had bikes because the trails were gorgeous. We hiked a couple of them, but our favorite part was visiting the Butterfly Garden. We did our own driving tour of the park and got out at a couple spots. The beach was very crowded and we weren't there to swim so we skipped that part. Besides the Butterfly Garden I really enjoyed visiting the chapel. It was gorgeous and a rushing creek with large rocks to jump on was located right outside. We left the gardens to head back to our dogs and the site for dinner. If we had planned better we could have stayed for the fireworks, but we heard them from our site.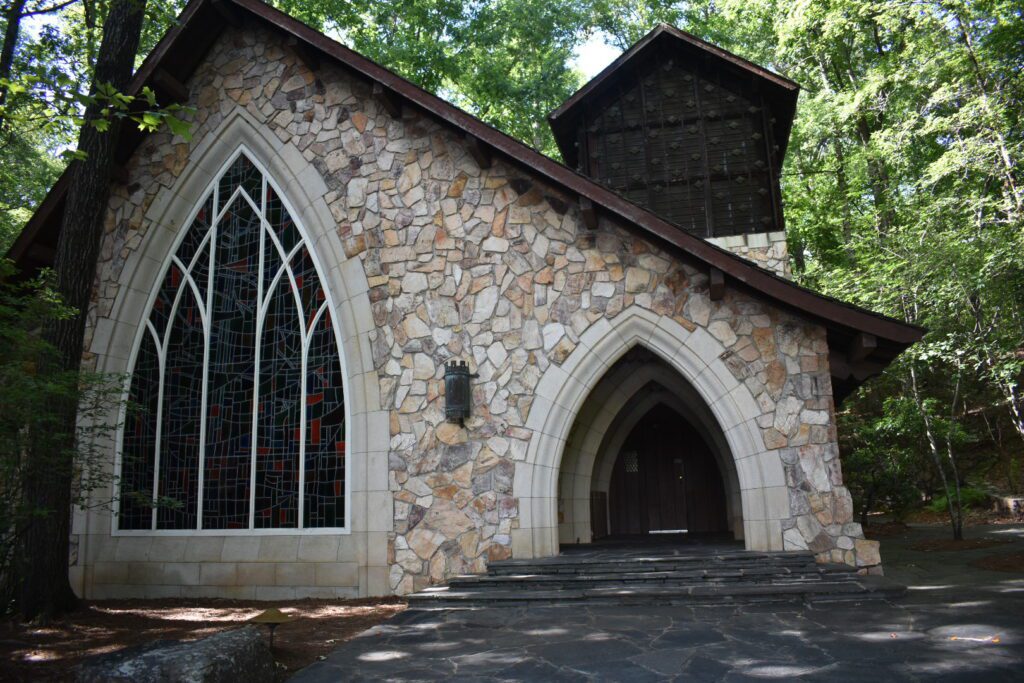 It rained quite a bit over the weekend so we spent some time indoors in the evening. We cooked pizza in the oven of the camper one evening, it was delicious! We watched a couple movies and spent the weekend relaxing.
Things we learned:
Always have a set of keys on you when leaving the camper.
You don't have to get everything done in one weekend. We can go back to these places!
Thank goodness for overlooks with parking lots, when you just really aren't feeling a hike.