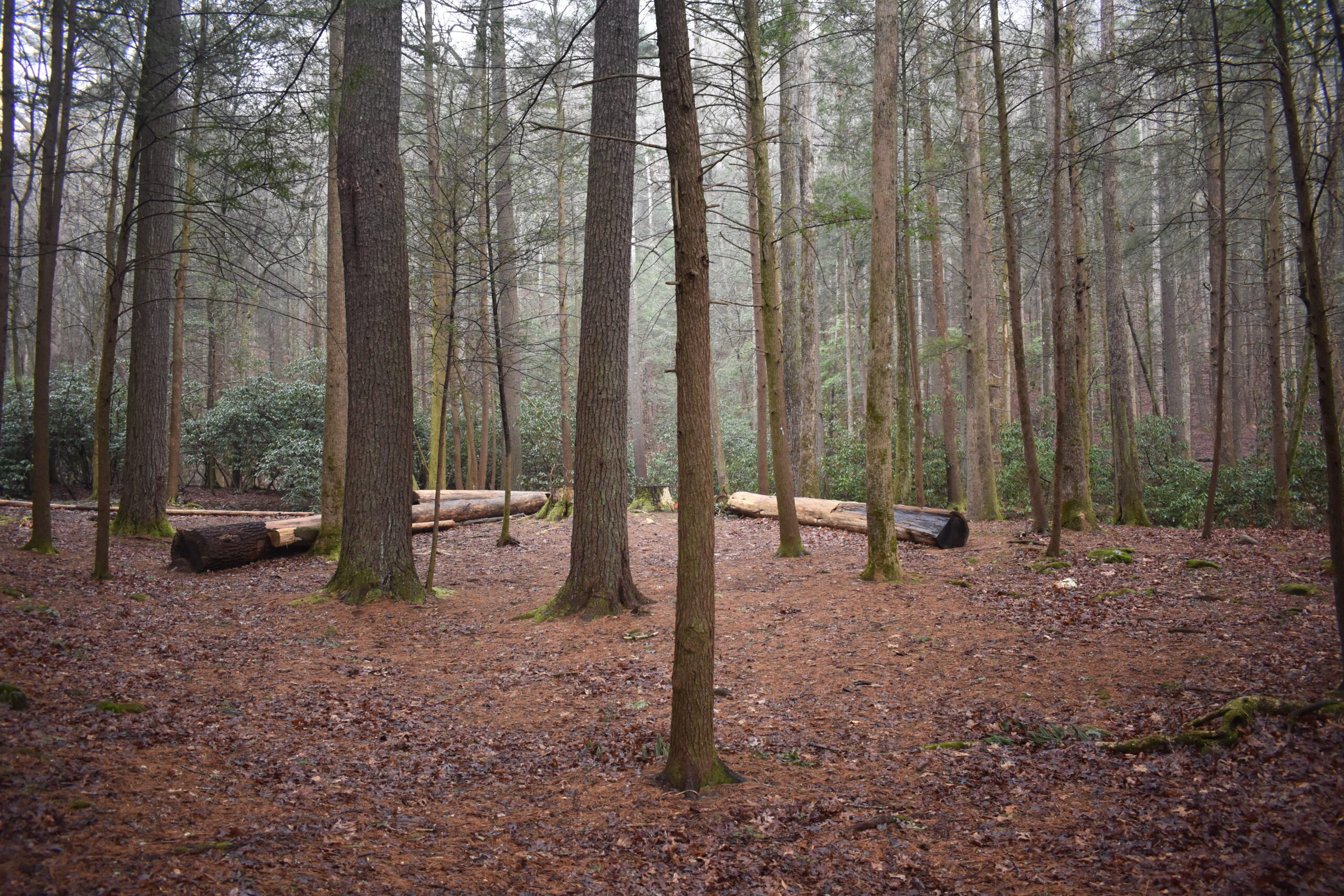 3.16.18-3.18.18
Is it possible to have too much room at a site? Contrary to some opinions, sites at Vogel can be rather large. We stayed at a site one over from our last time here [First Trip to Vogel] because this one was a pull thru. Thanks to the new reservation process we knew exactly what we were getting. Site 45 was even level side to side, just had to lower the front. For more details on the campground/park–make sure to check out our first trip to Vogel.
You can't pick your neighbors though. The site was much closer to the road than the back-in sites at the creek. A camper with seven children pulled into the spot behind us. There was zero parenting happening as the kids hit our camper and truck with a soccer ball -no apology from the kids. I know other campers were annoyed as well because the kids were running through sites to get to the creek. I'll be fine if I never hear/see a pogo stick ever again.
We strategically positioned our truck so that we wouldn't be looking at their site or have to see the kids playing in the road. We also didn't have to watch the dad wash his truck in their spot. I still can't believe the camp hosts didn't say anything to him.
Site 45 was so large it could have fit four cars and a camper. It would be great for a larger group. We saw multiple large travel trailers, fifth wheels, and class As in the back by the creek. The road in is tight, you have to drive over a one lane bridge to get to the back by the creek, but it's worth it. Just have patience when driving through the campground. Also when exiting, swing it wide into the next lane to avoid the big stone wall. I do think they should reevaluate some site sizes. In the front, by the playground, many sites seem to be 20 ft sites, however they are labeled 40 ft. I would be very unhappy if I ended up in a site like those.
We hiked the Bear Hair Gap trail last time we visited Vogel so I wanted to drive over to DeSoto Falls and hike that trail. It's on the other side of the mountain, be prepared for all the motorcycles that drive dangerously around you. Unfortunately, DeSoto Falls was closed due to storm damage from hurricane Irma…. over six months ago. Bummer. On the way back to Vogel we stopped at Mountain Crossings at Neel Gap, formerly an inn. Couldn't pass up buying this Star Wars inspired shirt. The store is 30 miles from the beginning of the Appalachian Trail and the first place along the way stocked with gear and food. Many hikers will give up at this point and not continue north.
We also stopped at Helton Creek Falls on the way back. After a LONG drive down a gravel road we arrived at a small parking lot. A short hike down and up to see the waterfall. It was actually really tall, with two levels.
The ranger came around at 9 p.m. Saturday night frantically telling everyone about the storm that was coming. I didn't even notice the lightning until he said something. The wind wasn't bad in our part of the campground, however he explained in other places it was really picking up. We cleaned up everything outside, which made for easy packing on Sunday when we prepared to leave. Thankfully the storm blew over, we just received some light rain.
Things we learned:
1. Pull thrus are great for less work when arriving, however sometimes they create less privacy.
2. A small tarp for the firewood pile is a great investment.
3. First trip after months off will be like camping for the first time all over again. What is the routine?
Please follow and like us: